Simple template invoice
This Simple template invoice is customizable in MS Word, OpenOffice or Mac Pages. It shows the company info, description, unit price, sales tax, shipping and total due to be paid. It has field for the company name and slogan including the addresses of the both the seller and the buyer. The template design is very simple and neutral and will work for well for most companies. The template is easy to edit so if your company has its own corporate look you can change this template to fit your style.
The invoice also has the description of the product(s)/service(s) that have been purchased, quantities, description, shipping and handling charges and tax due. The clear flowing layout is a makes it very easy to understand and to use the template.
To customize this template just put your company name and slogan at the top right-hand side of the document immediately followed by your physical and postal address. Enter unique invoice number and the date of the invoice on the right.
The space below is for customer address. Two address spaces are provided since billing address of your customer might be different from the shipping address. The left address (bill to) is for billing address, and the right address (ship to) is for the shipping address.
The space under, "comments or special instructions" is to provide additional information regarding the order, payment, or shipping. This field is optional. Depending on the nature of your business, you may want to remove it from the invoice.
Next, we have a table showing salesperson responsible for this order, P.O. (purchase order) number, the requisitioner, shipped via, the F.O.B. Point, and terms of the sale.
The main part of the invoice is the with information about products sold:
the quantity
product/service description
unit price
total amount owed
Add up totals to calculate "subtotal" value. Enter "sales tax", and your price for shipping and handling. Calculate final amount due by using this formula: (SUBTOTAL X SALES TAX / 100) + SUBTOTAL + SHIPPIG AND HANDLING.
At bottom of the invoice templates you can add payment terms. Sample text in this template is a notice to the buyer that all payments need to be settled within 30 days and information telling the buyer who should be contacted if there are any questions. There is also a polite note thanking the buyer for their business. You can use the same or similar information, or you can use this space for something else.
Extension:
doc
Software:

Microsoft Word 2007

Filesize:
45.5 KB
License:
Creative Commons
Downloads:
123618
Rating:


Type:
Free download
Uploaded:
December 17, 2009
Author:
admin
Please see preview of Simple template invoice below.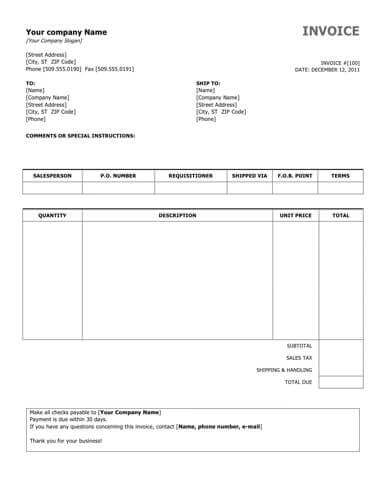 Similar office templates