Invoice for hourly rate
Developing an invoice for the businesses requires a lot of time, calculating the taxes applicable on the goods and then determining the sub total takes a lot of efforts and time. In today's fast paced world, where everything is achieved within seconds it's no wander you don't need to spend hours of your time to have an invoice: just download one from our site and start using immediately. This invoice automatically calculates the sub total by adding tax into it. It is very easy to use even for a newbie who does not have any experience with Excel.
Invoice for hourly rate template can be used for hourly rate business type with salestax calculations and definable sales tax rate. The template is developed on Microsoft Excel which ensures perfect calculations within seconds without putting in a lot of efforts. By mentioning the hours and the rate charged per hour along with adding the percentage of tax applied on it, the sub total is calculated automatically for you. It is the most convenient method of making the calculations since the chances of errors are minimized. The employees don't need to spend time adding up amounts; the total automatically appears on the invoice. If changes are made in the quantity of products or the amount charged per hour then the total is automatically adjusted.
The template is very simple to use and to customize. First, replace dummy logo image in the top left corner with the logo of your company. Right next to the logo, add your company name and address; there are total of 6 lines so you should have place for the web site address too.
The top right corner is for the word "Invoice" which identifies the designation of the document. Right under the title, place the date of the invoice, and a unique invoice number.
The table of the invoice itself is quite simple. The column headings are:
Description: enter detailed description of services delivered


Hours: enter the number of hours spent on this project


Hourly Rate: enter your hourly rate before tax


Amount: do not enter anything into this field. This field contains the formula to calculate total amount based on the information you have entered in other fields.


Subtotal: do not enter anything into this field. This field contains the formula to calculate subtotal amount from multiple "amount" fields above.


Sales Tax: enter sales tax. The percentage sign is there by default so you just have to enter the number, i.e. "7".


Total: this field is calculated automatically and it's the total due including tax.


Please see preview of Invoice for hourly rate below.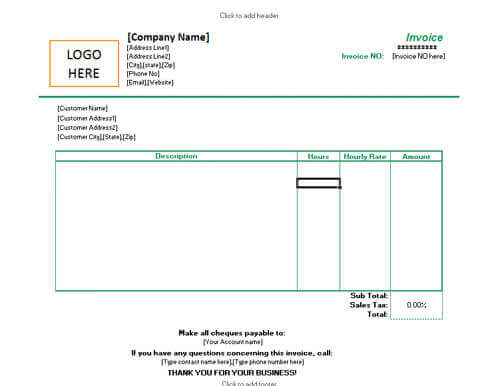 Similar office templates