Blank Invoice Template
Business transactions require authentication. An invoice helps to generate that validity among the dealers and it helps in maintaining the records. Many smaller business owners can make simple hand-written invoices. Large corporations use expensive complicated software. Medium-size businesses often opt to use an invoice template that can be filled out either by hand or on a computer and printed our or sent to customer by email as PDF. You can download different types of invoice templates on our site, make changes if needed, and they are ready to be used by your company. The template below is a simple blank invoice template.
The blank invoice templates have great benefits for the people who use them, as they don't require much time to prepare. A template can be downloaded instantly; it can be edited as per required by the organization in order to issue the customers an invoice on the purchase of a product. This invoice template is designed in a way that it takes less than five minutes to make a proper invoice for your company by using the template as the foundation.
This Blank Invoice Template can be used by any company who manufacturers and ships products as it includes information about shipping. If you do not ship products you should use one of the templates that does not allocate any space for this information, for example Simple Service Invoice
The invoice is made of the following fields:
invoice number
invoice date
company information: name, logo, slogan, complete address and telephone numbers
invoice shipping info table, 6 columns:


Sales rep
P.O. number
Ship Date
Ship Via
FOB
Terms

main invoice table, 4 columns:


Quantity
Description
Unit price
Total
Please see preview of Blank Invoice Template below.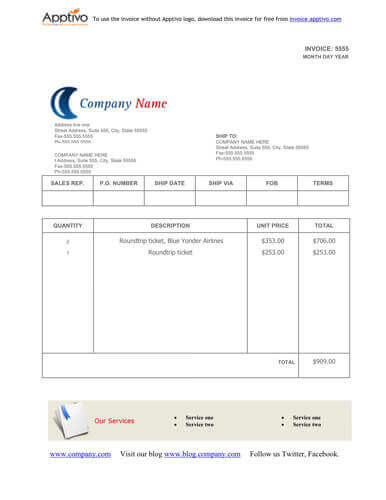 Similar office templates