Invoice sample for Word
An invoice is a bill trade document issued by a vendor to the buyer, indicating the products or services sold quantities and agreed prices for same. This invoice requests that the buyer needs to pay the trader as per the agreed trade terms. The template below is a general invoice template for all types of businesses.
This Word Invoice Template is fully editable. The template is made of the following fields and components:
Company logo
Document heading "Invoice"
Fields

Date
Invoice number
For
Bill to

Your company's address
Table with description, quality, amount, subtotal, sales, tax, tax rate, total
Text field for payment terms and other info
Banner to promote your company and products
Text footer
The template is quite straightforward and easy to use so you should not have any problems working with it. If you would like to know what the template is made of before downloading please see detailed description below.
Using Invoice sample for Word
When filling in the details you begin by writing the date, unique invoice number and the for field which is the project service and description, the office where the invoice would be sent this being the contact name, company name, address and telephone number of the buyer.
Next, write down the description of the products/services bought, quantities and amount before taxation. A figure(s) is summed as a sub-total. Note that this total is before sales tax is applied. Write the tax rate applicable, then any other amounts that may be due such as shipping charges and so on. Finally, the total due is at the bottom.
On the left-side, at the bottom of the description part is a polite notice telling the buyer, which company name to write the check in for settlement, also there are details of the contacts of the contact person, is case there are any questions. Fill in their name, telephone and email address of this person and that is it.
Use footer space to promote your company, products and services. You can include simple text (bullets points are the most effective for this purpose), or create HTML links to your web site where the customer will find more information.
The text footer can be used for your company's web site address, link to Facebook or Twitter page, or Linkedin page.
This template can be customized in Microsoft Office Word, OpenOffice, or Mac Pages. Download the template by clicking "Free download" link below, and customize the template according to the needs or your organization.
Please see preview of Invoice sample for Word below.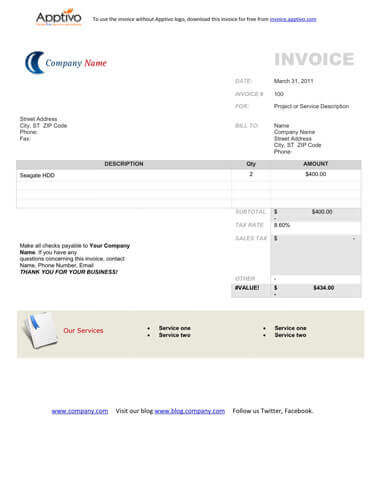 Similar office templates