Boy birthday party invitations
A template for a little boys birthday party. You add his age, address etc. Everything else is done!
Your child's birthday is one of the most special and memorable events of his or her life and every parent want to celebrate it in their own unique style. Some people like throwing big parties while some resort to family gatherings with a few very close friends. Whatever the nature of the party is, without one thing the party is incomplete and that is an invitation card.
Boy birthday party invitations, as the name suggests, is an invitation for a boy birthday party. If you are looking for a girl birthday party invitation, we have one of those too.
The images of party poppers and caps make it clear right away that the invitation is for a birthday party. Blue color is usually associated with boys so the background color of the boy birthday party invitations is powder blue.
Boy birthday party invitation wording
Sample text is provided for those who do not know where to begin. The heading of the template will indicate the age of the boy and makes it clear what the invitation is about in a very pleasing and polite manner.
Followed by the main headlines are the minor details that are mentioned at the end of the invitation. These details start off by mentioning the name of the birthday boy. The other very important details to specify onto the template of the cards are the time and location. The last pointer is the RSVP which the guests can use in case of any problem or query to inform the host of the party. Get the cards printed and distribute them at least a week before the even.
Please see preview of Boy birthday party invitations below.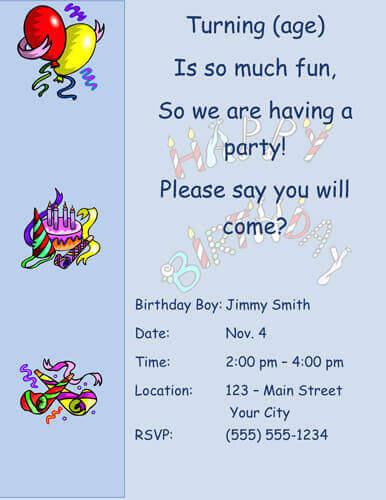 Similar office templates