Floral header free invitation template
If you are planning to throw a party, you may want to write up some party invitations for your guest. The invitation message serves as the reminder to the guests, so that they don't miss the special occasion.
DIY invitations made with desktop software are gaining wide spread popularity these days. This is easy to understand: by making your own invitation you make sure your message is exactly the way you wanted, one of a kind. Invites are often not just easy to create, but also free to make, and free to send. They save you money and they save you time.
If you are creative person and have a good knowledge of desktop software you can always create your own printable invitation from scratch. If you don't know how to make one yourself or simply don't have the time, just browse our site to find the template you like: we offer variety of party invitation templates with different themes and designs.
The template below is Floral header free invitation template. It is made of a floral pattern background, the word "Invitation", the invitation details (fields "to", "cc", "from", "date", "regarding"), and the message itself.
The heading currently says "Invitation" but it can be changed to the name of event or to the date of the event. You can also change the color and font for the heading.
If you are using this invitation for private you may want to remove invitation details fields (fields "to", "cc", "from", "date", "regarding") as they make your invite very formal. Another solution is to make them less formal by changing the text for those fields. If you are using this template for business, you may want to keep those.
To use this template simply download it to your computer. The file can be opened in MS word, OpenOffice or Mac Pages. The template is quite straightforward and simple, so you should not have any problems to customize it the way you like it.
Since the template is fully editable you can use it as a birthday party invitation, wedding invitation, bridal shower invitation, baby shower invitation, professional flyer invitation, promotion flyer or a gift certificate.
Benefits of using online invitation template
Consider using printable invitation template to create an online invitation. No printing, no paper, no mailing, no cost. Just send this invitation to your guests by email. Simply download the invitation template free of cost and enjoy the great experience of inviting your friends, family, relatives and colleagues.
Extension:
doc
Software:

Microsoft Word 2007

Filesize:
294 KB
License:
Creative Commons
Downloads:
7315
Rating:


Type:
Free download
Uploaded:
November 21, 2009
Author:
admin
Please see preview of Floral header free invitation template below.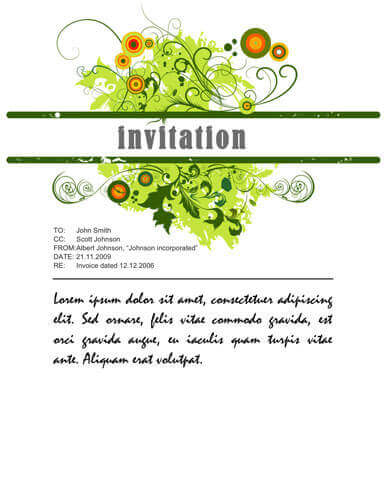 Similar office templates