Free Certificate templates: download, edit, and print your gift
Design your own gift certificate at home
Hloom.com has more than 200 DIY certificates to help you create professionally-looking certificate in a matter of minutes. Templates are organized in themes, and have appropriate designs, backgrounds and layouts. Each template has instructions to help you understand how to use and/or edit it. You may also make changes to the templates to create your own designs.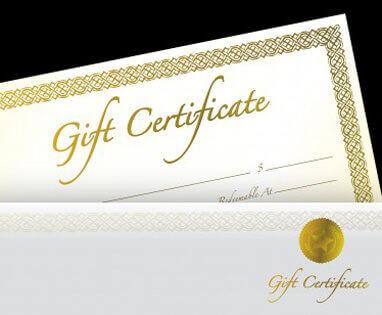 Browse the category to find the template you like, download it and customize it with MS Office, OpenOffice or Mac Pages. Once the design is finished you could either get the print outs at home or take them to professional printing company. In case of printing at home, consider printing on a premium stock (textured, glossy, cotton, thick, etc.) to achieve a professional look.
Browse our collection of free certificates
These free Certificate Templates are compatible with Microsoft Word, OpenOffice, and Mac Pages and could be used either as commercial or non commercial gift certificates.
Could not find free gift certificate you were looking for? Let us know and we will do our best to add it to our collection. Use "template request" form on the right side of this page to send us feedback and suggestions. Have you found our collection useful? Please recommend this site to your friends, share on facebook or twitter, or add a link on your site. Stay in touch by following our site on Facebook or subscribing to RSS feed.
A few other useful resources for certificate templates (gift, award, and other)