Free invoice templates and samples for Excel and Word
Professional templates for any type of business. Browse and download hundreds of pre-made samples.
Free Invoice Templates for small businesses, service companies, freelancers, and consultants. Our professional and easy-to-use printable invoice templates are designed to help you look professional and keep your accounting straight and simple. Just chose the file that works best for your business, download to your computer and enter your own data. It is that easy.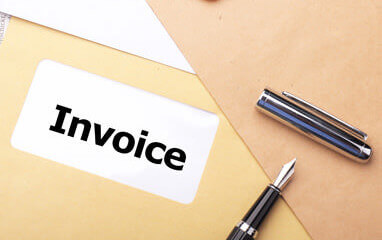 Our templates come in a variety of types to suit the needs of different type of businesses. They range from simple invoices for small businesses to the very complex invoices for large sized organizations. The different formats that can be downloaded include, all purpose formats that can be applicable to nearly all types of businesses, formats for companies who manufacture and sell products, formats for companies who provide services only, and formats where both products and services are listed on the same invoice. We also have a number of proforma invoice samples.
Invoice is a business document that is issued by the sales department to the customer. It serves multiple purposes both for the business itself as well for the purchaser. Invoice acts as an evidence record, in case any dispute arises between the buying and the selling party. There are certain statutory requirements that all the legal businesses must meet, for instance, preparing books of accounts and conducting audit in accounts.
Creating invoice on your own could be a time and effort consuming task. Asking for expert's help in this regard could get costly. For businesses having a tight budget and limited time, the free samples are of great help. These samples form the basic structure and layout of the invoice and provide blank spaces for the information to be filled out about the transaction taking place. This makes the whole invoicing process much simpler and easier. Containing all the necessary details and particulars of the invoice, the samples can be downloaded from our site for free. They are completely customizable and editable to suit to your business needs.
Download free editable invoice samples
All documents are free: no registration, no installation, no hassle. These files are compatible with Microsoft Excel, Microsoft Word, OpenOffice, Google Spreadsheets, Mac Numbers and Mac Pages. Just pick the best suitable type of invoice from all the available categories and fill in the information and details about the transaction in the spaces provided.
Most popular formats
Free Invoice templates for Word / OpenOffice / Mac Pages
Simple template with remittance slip
Minimalistic format with details for shipping of products, sales tax, and shipping charges. Remittance slip can be detached.
Simple template invoice
Standard format with the following fields: company info, description, unit price, sales tax, shipping and total due to be paid.
Simple sales invoice
Formal design for any type of business that sells and ships products.
Work estimate template
Format to estimate the cost of each activity that will be carried out as part of the project.
Blank Invoice Template: Banded Row
Multi-purpose template for all types of businesses. Includes table to describe all information, Product description, Amount, and Calculates tax.
Simple template for invoice
All purpose format for any types of businesses.
Black header simple Invoice Template
Nicely designed theme that is applicable to all types of businesses.
Blank Invoice Template
This format can be used by any company who manufacturers and ships products as it includes information about shipping.
Billing Invoice Sample
Billing invoice sample for services (repairs, installations, cleaning).
Sample of Invoices Template for Word
This page lists different samples created in MS Word.
Free Invoice Template for Word
This sample will work well for most types of businesses. Purple color theme, place for comments and marketing information in the footer.
Invoice sample for Word
Standard format with table for description, quality, amount, subtotal, sales, tax, tax rate, and total.
Green gradient Billing Invoice Template
Free billing invoice for companies who ship their products to customers with place for shipping info, tax, discount. Attractive design with green color theme and gradients.
Simple Sample Invoice
Simple format for product shipment with the following info: ordered quantity, shipped quantity, part number and description, price and total.
Simple Billing Invoice Template
Simple Billing Invoice Template applicable to all types of businesses.
Word Invoice Template example
Format where both taxable and non-taxable products in the same table. Formal neutral theme with blue colors.
Travel Invoice Template
Sample for travel agency. Includes columns for services, description, amount per traveler, and total amount.
Travel Invoice Template
Sample specially designed for travel agencies.
Microsoft Sample Invoice Template
Basic format with billing and shipping details, as well as the table for product information, subtotal, tax, and shipping.
Simple blue product invoice
Simple sample with space to include serial number, product ID, product name, cost, and amount.
Packaging slip handwritten invoice
Packaging slip that can also be used as an invoice or receipt to list shipped items.
Travel service invoice
Sample for a company providing travel services.
Sales Invoice with remittance slip
Standard sales invoice format with remittance slip.
Simple sales invoice sample
All-purpose generic sample.
Simple template invoice background
Sales invoice with background image showing amounts.
Free Invoice templates compatible with Excel / OpenOffice / Mac Numbers / Google Spreadsheets
Free invoice format download
Simple xlt template for products (unit price and quantity) with sales tax and shipping calculations.
Small business invoice
Template for small businesses with hourly rate payment type. It calculates sales taxes and total automatically; you can define sales tax rate.
Sample invoice with optional sales tax
This spreadsheet automatically calculates the total based on the data you enter: quantity, sales tax (yes / no option), and unit price.
Invoice for hourly rate
Spreadhseet for hourly rate business type with salestax calculations and definable sales tax rate.
Simple sales invoice excel
A simple spreadsheet template for an invoice which calculates a sales tax and total.
Work estimate template calculates total
Work estimate offer spreadsheet for projects. Calculations with hourly rate.
Sample Invoice Calculates Total With Tax
Automatically calculates subtotal, tax rate, sales tax and tax. The spreadsheet comes with place for company info, billing and shipping address, description, amount.
Sales invoice calculating total blue
This simple spreadsheet shows company info, description, quantity, sales price, amount, tax. It automatically calculates subtotal, shipping charges and tax.
Free invoice template calculating total
Simple invoice best suited for company who manufacturers and ships products. Includes table for shipping information and another table to list quantities of products sold.
Other useful resources to make invoicing easier