Free Sales Invoice Templates
Download free Sales Invoice / Purchase Invoice Template (MS Word / MS Excel)
SALES INVOICE, also known as PURCHASE INVOICE is a commercial document issued by a seller to a buyer. An invoice will indicate details about the transaction and usually will show the products or service being purchased, quantities and the prices, name and address of both buyer and seller. A sales invoice may also include payment terms, delivery terms, and other information. Sales / Purchase invoice simply indicates that money is owed or owing by one person / company to another person / company.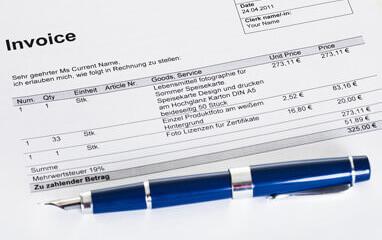 Confusion often comes from the fact that different terms are used to describe the same document. Both Sales Invoice and Purchase invoice refer to the same type of document; the distinction in the name is purely contextual. A buyer may refer to an invoice as a Purchase invoice since him or his company is making a purchase. A seller may refer to an invoice as a Sales Invoice since him or his company is making a sale.
Both Sales Invoice and Purchase Invoice are often simply referred to as simply an invoice. Other terms that might be used are billing invoice, or simply bill.
When it comes to an invoice template, there is no absolute one-fits-all rule on what it should include and how it should look. The look and content of an invoice will differ depending on company, industry, and a country. Some countries regulate invoicing practice, so be sure to check if there certain information must be included, or if it must be included in a certain way.
Some information is fairly common to all Sales Invoice templates:
Title (i.e. invoice)
Seller and buyer contact information: name, address, phone, email
Date
Invoice number
Itemized list of goods or services with description, price, and quantity
Total amount charged
Some invoice templates will also display additional information:
Your company's logo
Purchase order
Payment terms
Delivery terms (for tangible items)
If this is relevant, you should also include tax payments, and tax breakdown. In Europe, companies subject to VAT (value added tax) must include VAT identification number.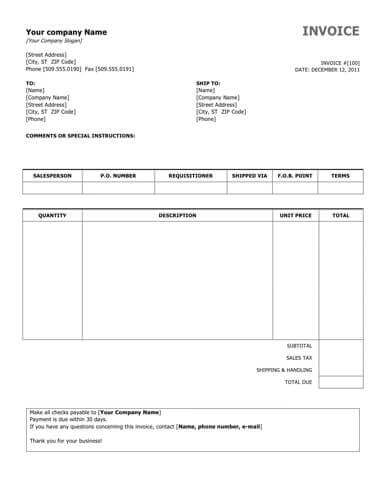 Description:

This template shows the company info, description, unit price, sales tax, shipping and total due to be paid. It has field for the company name and slogan including the addresses of the both the seller and the buyer. The template design is very simple and neutral and will work for well for most companies. The template is easy to edit so if your company has its own corporate look you can change this template to fit your style.

Size:
46 kB
Format:
doc
License:
Creative Commons
Downloads:
64,363
Type:
Free Download
Uploaded:
2009-12-17 13:23:00 / 2644
More Sales Invoice Templates
An invoice is expected pretty much anywhere where buying and selling takes place. Our free Sales Invoice Templates are available online for free download. We hope they will help you to save time and spare the hassle of creating professional documents from scratch.

Free Sales Invoice in Excel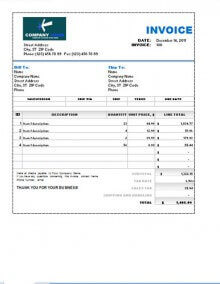 This free simple invoice template shows company info, billing and shipping address, description, amount. It automatically calculates subtotal, tax rate, sales tax and tax. You can edit and customize this template with Microsoft Excel to fit you needs.
Sample Invoice Calculates Total With Tax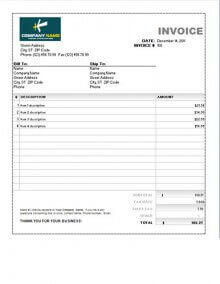 This invoice automatically calculates the sub total, the applicable sales tax (just enter tax rate), and the total. The template is fully customizable: download and edit Microsoft Excel, Mac Numbers of OpenOffice
Simple purchase invoice excel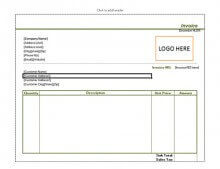 A simple invoice which calculates a sales tax and total. Very basic design, green color theme. By default, this template only supports Landscape orientation.
Typical purchase invoice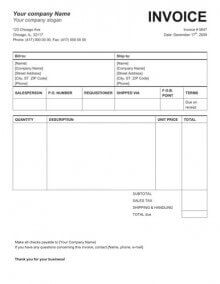 This is a typical Purchase invoice. It has space for contact info of both seller and buyer, slogan and the company's name, invoice number, customer ID, document title, shipping information, P.O. number, terms of sales, and a table for detailed list of products with unit description, price, quantity, and total amount owed. Sales tax and shipping charges can be added to subtotal.
Word Invoice Template example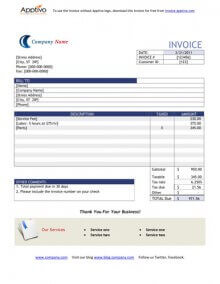 Very simple Microsoft Word template with standard fields. The invoice includes fields for description, taxed or not, amount column. Included are subtotal, taxable, tax rate, tax due, other, and total. Feel free to add your company logo and information.
We do have more!
Please like or share to unlock additional 17 samples.