Free Proforma Invoice Templates
A Proforma invoice is a document that is issued by the supplier to the buyer to confirm the commitment to sell goods for a certain price and at certain terms. This type of invoice is not used for accounts receivable / accounts payable and does not replace commercial invoice. Proforma invoice is sent to the buyer before the commercial invoice. It acts like a quotation and it is otherwise known as a preliminary invoice. It acts as a binding agreement and creates the sale. If there are no changes to price, quantity, or terms the content of commercial invoice that will follow the proforma invoice, will be pretty much the same. However it is not uncommon that the final sale details are different from what was quoted in the proforma.
A proforma invoice template contains all the details of the importer and the exporter, as well as information about the goods involved in the transaction. The details about the goods usually will include the descriptions of the items sold, number of units, commodity codes of the items, price per unit of each individual item, and the total costs. The invoice might also include such information as the number of packages to be delivered, type of packaging, units of measure, and unit weight.
Below you will find a number of templates that will help you in creating different types of professional proforma invoices.
Standard Format Sample
This is one of our most popular proforma templates. The design is very simple and professional; it includes main components one expects to see in such invoice:
Shipper's name and address
Receiver's name and address
Date
Invoice number
Mode of transport details
Number of packages and weights
Items with description, price, and quantity
Tax rate, shipping and handling rate
Company logo
If your business requires additional fields (i.e. discounts, terms of service and payment, estimated shipping date and validity date), you can easily modify this template to suit your needs.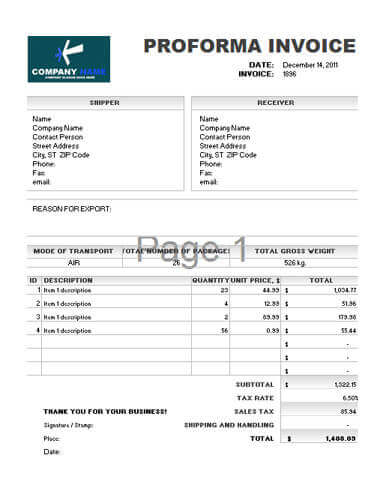 Description:

Sample of professional proforma invoice template in excel.

Size:
46 kB
Format:
xls
License:
Creative Commons
Downloads:
31,215
Type:
Free Download
Uploaded:
2009-12-19 10:51:00 / 2713
More samples
Below you will find more proforma templates. There are different designs, and different content. We hope you will find exactly what you are looking for. Don't see what you need? Send us a message and we'll do our best to add a missing template to our collection.

Simple free proforma invoice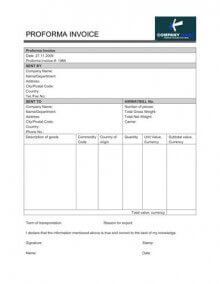 This template shows company info, description of goods, quantity, commodity code, unit price and total value.
Simple blue theme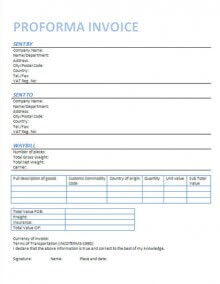 This free proforma sample shows importer and exporter info, description of goods, quantity, commodity code,unit price and total value. Basic design, blue headings
Free proforma invoice banded rows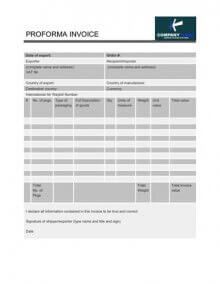 Standard format with the following fields: number of packages to be delivered, type of Packaging, full Description of goods, quantity, units of Measure, weight, unit Value, and total value.
Basic proforma invoice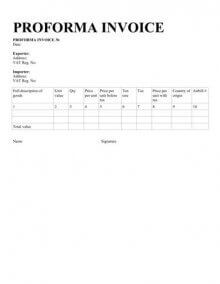 Very simple desig with basic data for creating professional invoice.
Blue banded row theme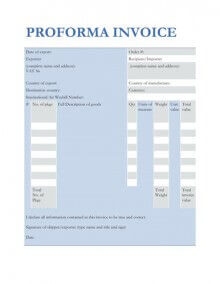 This template shows importer and exporter info, description of goods, quantity, commodity code,unit price and total value.
Proforma Invoice Template
This template includes the following columns: description of goods, commodity code, country of origin, quantity, unity value currency as well as subtotal value currency and the total value currency.
Compact format sample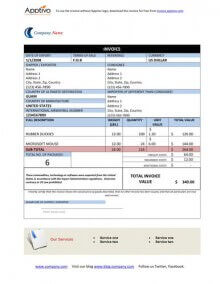 This invoice can be used as both proforma and commercial invoice for product import / export. Includes information about the shipment of products from one place to another: products transported, shipping details, and the number of packages.
Detailed Proforma Invoice Template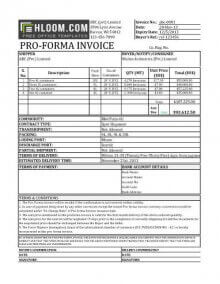 A detailed proforma invoice, include space for item number and description, pack sizes, number of containers, quantity, unit price, and total. Total and amount due are calculated automatically with formulas. Number of fields for additional information such as commodity, contract type, packing, ports, delivery, and payment.