Free Service Invoice template: free invoice samples
Download free Invoice Template for Small Businesses (MS Word / MS Excel)
Find below free service invoice templates for small businesses that require simple, easy to use and free invoicing tool to bill their customers.
Free Service Invoice Templates are perfect invoicing tool for companies who don't sell physical products. Our free samples are suitable for freelance projects, consulting, handyman work, housecleaning and babysitting, landscaping and gardening, auto repairs, catering, child care, pet care, tutoring, and many other services.
Invoice templates are a good alternative to expensive and complicated invoicing software. If you have a small business that does not issue many complex invoices a simple template is often all you need to get the job done.
On this page we have put together collection of different Service Invoice Templates. They are all free to use for personal and commercial use, no fine print. You can even distribute those as long as you link back to our site – see Creative Commons license for full details. You can also see other invoice templates we created.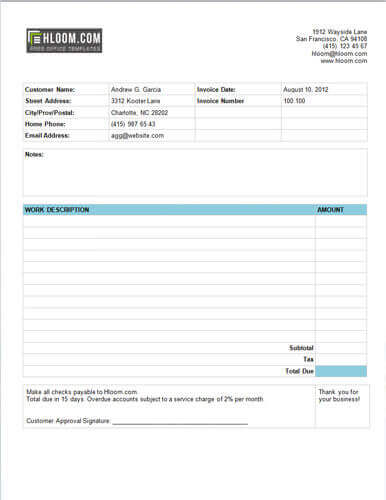 Download Free Service Invoice Templates
Different services call for different type of invoices. In addition to the very basic format above we have a number of different formats to suit different type of uses. Below you will find service invoices with hourly type of billing, for labor only and for labor and parts, with and without taxes, with and without additional charges, with same tax for labor and products, and with different tax. We have templates for Microsoft Word and Microsoft Excel. You can open those without any problems in OpenOffice and Mac iWork (Mac Pages, Mac Numbers). For Word templates you will have to manually add line totals and make the calculations yourself. If your billing is simple, this should be enough to invoice your customers. For more complex invoicing needs see spreadsheet templates where amounds are calculated automatically and all you have to do is enter prices and rates. See small icon in template description to see the format of a template.
Simple Service Invoice Template hourly
Description:
Simple format for billing by hour. Enter description of provided work, the rate per hour, and the number of hours billed. Calculate each line's total and add everything up to get total due.
Format:
doc
Size:
46.5 kB
License:
Creative Commons
Downloads:
423
Type:
Free Download
Uploaded:
2012-08-12
Basic format with banner
Description:
Another basic format where all you need to enter is a description of work and amount billed. You have to manually add lines and tax to calculate total. Marketing banner in the footer of this invoice allows you to advertise other services your company provides.
Format:
doc
Size:
54.5 kB
License:
Creative Commons
Downloads:
346
Type:
Free Download
Uploaded:
2012-08-12
Basic format for billing hourly with banner
Description:
Format which provides a table for outlining line item number, description of work provided, hours, rate, amount, subtotal, tax, and total due. Marketing banner on the bottom of the page can be used to advertise products and services.
Format:
doc
Size:
75 kB
License:
Creative Commons
Downloads:
320
Type:
Free Download
Uploaded:
2012-08-12
Simple service invoice
Description:
This invoice is perfect for service companies who use parts that are billed to client. This sample includes part name, part id, quantity, price for unit. Calculate each line's total for parts and add labor without a breakdown to the subtotal.
Format:
doc
Size:
38.5 kB
License:
Creative Commons
Downloads:
3281
Type:
Free Download
Uploaded:
2010-07-02
Colorful free invoice hourly
Description:
Sample for hourly billing with attractive bright design. Customize by entering company info, description, price, hours, rate and payment info.
Format:
doc
Size:
54 kB
License:
Creative Commons
Downloads:
3065
Type:
Free Download
Uploaded:
2009-12-17
Simple articstic design
Description:
Artistic design with green table headers and shadowed box to enter customer information. Standard fields include description, hours, rate, and subtotal. Each line's subtotal needs to be manually added to calculate total due.
Format:
doc
Size:
63 kB
License:
Creative Commons
Downloads:
303
Type:
Free Download
Uploaded:
2012-08-12
Service Invoice Template for Freelancers
Description:
Simple and easy-to-use format for freelancers. Describe your project, enter payment terms, due date, and lead time. Break down project into smaller projects and list each service along with description, number of hours, and rate per hour. Enter tax rate into provided field. Each line's total, subtotal and total due is calculated automatically from the data entered.
Format:
xls
Size:
34.5 kB
License:
Creative Commons
Downloads:
436
Type:
Free Download
Uploaded:
2012-08-12
Sample Service Invoice spreadsheet
Description:
Enter description, hours billed, and rater per hour. The spreadsheet calculates each line's total, subtotal before tax, total tax and total due. You can add additional misc charges into "other" field.
Format:
xls
Size:
38.5 kB
License:
Creative Commons
Downloads:
305
Type:
Free Download
Uploaded:
2012-08-12
Basic service invoice spreadsheet
Description:
This is very basic format, all you need to do is enter service description, amount billed for the work, and the tax rate. Total due is calculated automatically by spreadsheet formula.
Format:
xls
Size:
36.5 kB
License:
Creative Commons
Downloads:
308
Type:
Free Download
Uploaded:
2012-08-12
Format for labor and parts
Description:
This invoice is for companies who bill customers for parts and labor. Different tax rate is applied to parts and labor. Enter amounts billed for parts and labor, and the tax rates. The formula calculates subtotal for both parts and labor before and after tax, and the total due.
Format:
xls
Size:
38 kB
License:
Creative Commons
Downloads:
213
Type:
Free Download
Uploaded:
2012-08-12
Format for labor and products together
Description:
This invoice format is for companies who bill for both products and services. The invoice comes with two sections, one for products, and one for services. In product section you can enter quantity, description, and a price. In service section you can describe work and add a price. The total for both sections are automatically added together in the bottom of the invoice. You have "total items" and "total services". You can also add your tax rate and grand total is calculated automatically.
Format:
xls
Size:
75.5 kB
License:
Creative Commons
Downloads:
3325
Type:
Free Download
Uploaded:
2009-09-09
Format for hourly billed labor and parts
Description:
This format is used for invoicing of work billed hourly and the parts. The top section is for labor. Enter hours and rate, and the formula calculates line total. The sum of all lines gives subtotal before tax. Enter tax rate to get labor's total after tax. The bottom section is for parts. Enter price and quantity, and the formula calculates line total. The sum of all lines gives subtotal before tax. Enter tax rate to get parts' total after tax.
Format:
xls
Size:
38 kB
License:
Creative Commons
Downloads:
202
Type:
Free Download
Uploaded:
2012-08-12
Format for hourly billed labor and parts same tax
Description:
This format is used for invoicing of work billed hourly and the parts. The top section is for labor. Enter hours and rate, and the formula calculates line total. The bottom section is for parts. Enter price and quantity, and the formula calculates line total. This format uses the same tax rate for both top and bottom section. If this is not the case, see "Service invoice for hourly billed labor and parts different tax"
Format:
xls
Size:
37.5 kB
License:
Creative Commons
Downloads:
173
Type:
Free Download
Uploaded:
2012-08-12
Labor and product invoice with different tax rate
Description:
This invoice does the same job as "Service invoice for hourly billed labor and parts". The only difference is the design – gray gradient table headers.
Format:
xls
Size:
61.5 kB
License:
Creative Commons
Downloads:
501
Type:
Free Download
Uploaded:
2012-05-12
Save time and download them all
External resources for similar invoice samples