How to Write a Cover Letter in 2023
Learn how to write a cover letter that could get you hired! This guide will make it easier to create a cover letter with writing tips, examples and ready-to-use templates.
Use This Template
Featured In:
Table of Contents
Here are more resources that can help you
Key Cover Letter Elements
A cover letter is a one-page document that complements your resume and introduces you to a potential employer. Before you learn how to write an effective cover letter, familiarize yourself with its sections. Every section matters!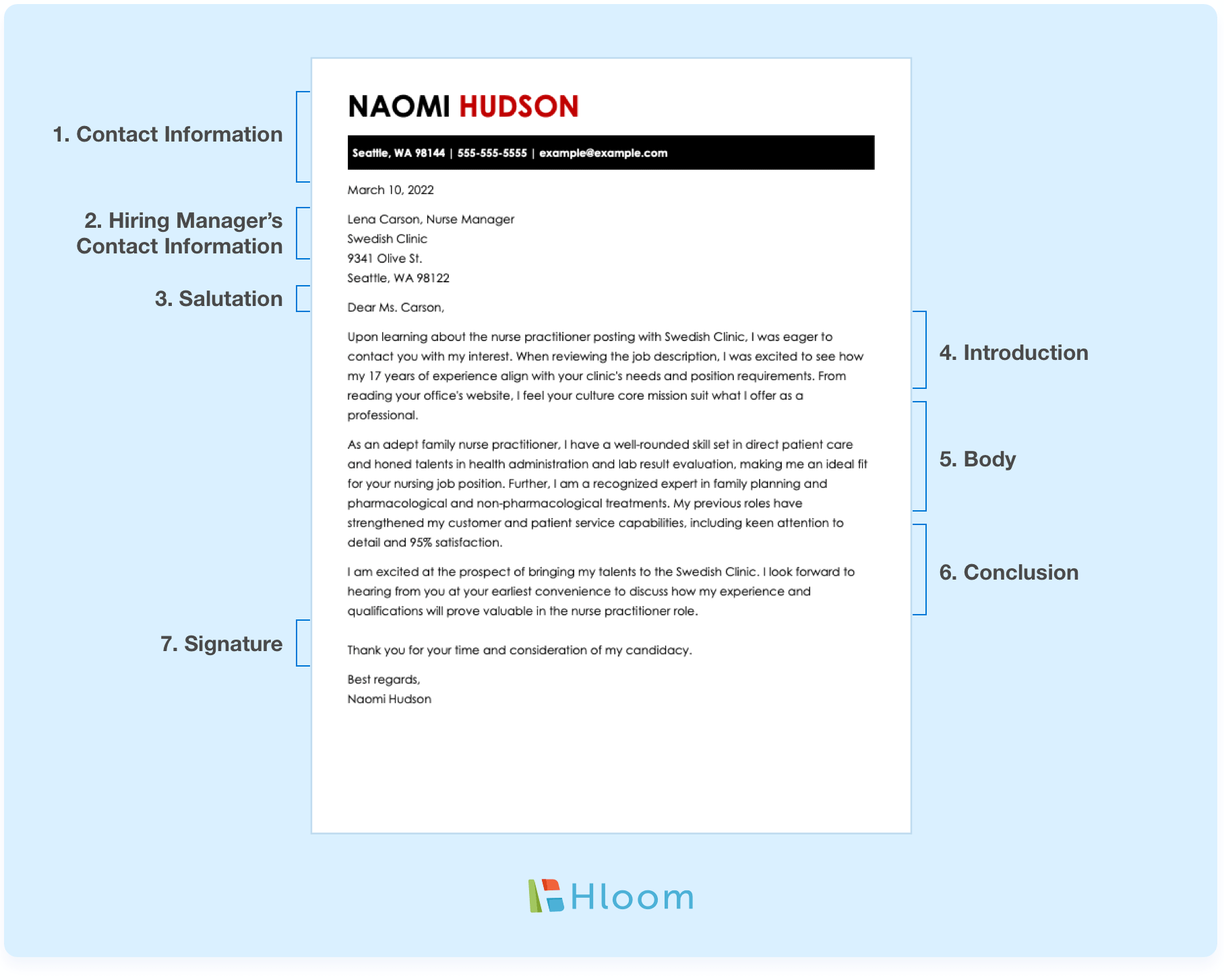 Before You Write a Cover Letter
Before writing your cover letter, do some preparation first. Follow these steps to make the cover letter writing process faster and easier.
Have your resume on hand.
A cover letter should complement, not repeat your resume. Keep your resume nearby to ensure that you are not repeating its information in your letter. Use your cover letter to expand skills on your resume, especially those that could use narrative, like how you achieved record-breaking sales.
Research the company.
Whether you've been interested for a while or just learned about the company through a job posting, always research the company before writing your cover letter. Visit their website, search for any news, and ask around. Beyond what they do, get an idea of their work culture and use that to set the tone of your letter.
Keep the job posting accessible.
Don't close that job ad tab yet. In it, you'll find keywords of what the company is looking for in a candidate. Enthusiastic, teamwork, communication and data-driven are examples of keywords in a job ad that you could include in your cover letter.
Compile a list of skills that go hand in hand with the job description.
Now that you have your resume and the job post, make a list of skills you could bring to this position, whether soft skills, like communication or teamwork, or hard skills, like marketing, writing and sales. If you need ideas on what skills you could add, look at our resume skills guide.
Get inspired with cover letter examples.
Check out our cover letter examples to get a better idea of how a cover letter should look and what it should include.
How to Write a Cover Letter
It's time to write your cover letter. We'll go section by section to ensure it's done correctly. It's important to remember that a cover letter is a business letter and ‌you must maintain a professional and respectful tone, even if you're applying for an unconventional company.
Be concise. Aim for a one-page cover letter that includes the skills the company is looking for and the achievements that make you stand out.
1. How to write a cover letter heading
The heading contains your name, contact information, professional social media presence — LinkedIn, GitHub, Twitter — and online portfolio, if applicable. Including your address and current job title is optional.
It follows this format:
Name
Title (optional)
Address (optional)
Phone Number
Email
Portfolio
Professional Social Media (LinkedIn)
Once done with the heading, hit enter twice and add the date. Hit enter once again and add the company's contact person, their title and company address.
It should follow this format:
Name
Title (optional)
Address (optional)
Phone Number
Email
Portfolio
Professional Social Media (LinkedIn, etc.)
Date
Name
Title
Company's Name
Company's Address
In the end, your heading should look like this:
Lauren Williams
Editorial Assistant, Luxury Plate
Chapel Hill, NC 27516
(555) 555-5555
example@example.com
LinkedIn.com/in/username
Twitter: @username
April 1, 2023
Andrea Schmidt
Editorial Director
Ram Publications
123 Main Street
Chapel Hill, NC 27516
If that takes too much space for your liking, you could also add the heading to the top of the page, similar to some resume templates, like so:

2. How to write a cover letter greeting
Be specific and personal. Search for the person in charge of hiring for the position, often included in the job advertisement. If it is there, you're in luck. Just confirm their name and job title through the company website.
Remember to check out the company's bios, or professional social media profiles, for preferred pronouns. When referring to the recipient, always use "Mr.", "Ms.", "Mx." or "Dr." Never use "Mrs." or any other title, as it would seem you're assuming the person's marital status, which doesn't come into play in a business letter.
If the job ad does not include a contact, search the company's website to see if you can find who is in charge of the department and address the letter to that person.
Bad Example
To Whom It May Concern,
Dear Sir or Madam,
Good Example
Dear Ms. Smith,
Dear Dr. Sinclair,
Dear Mx. Williams,
Dear Editorial Department,
Dear Marketing Director,

3. How to write cover letter opening paragraph
Have you ever heard of an elevator pitch? It's where you have to convince someone to buy a product in the time spent on the elevator, meaning not long. The opening paragraph of your cover letter works the same. You have just a few seconds of undivided attention to state your case and keep them reading.
Be direct, confident and concise. In writing a cover letter, make an immediate connection by stating why you want to join the company and why you're a candidate to consider.
Don't waste valuable space saying your name or that you're writing to express interest in a job. Your name is already on the heading and they already know you're applying for a job. Do tell them why you're excited about the opportunity, and why you're a good fit while using keywords from the job post.
Let's look at these examples:
Bad Example
I am writing to express interest in the editorial assistant position at Today's Bride magazine. I believe working for the magazine will surely further my journalism career.
Good Example
I first read Today's Bride magazine in fall 2014, and immediately fell in love with its couture bridal photography, engaging articles and overall creativity. When I learned about your opening for an Editorial Assistant through your copy editor, Asha Wagner, I knew I had to apply. Because of my two years as an editor's assistant at Luxury Plate and five years of success as a sales associate at Bridal Couture Boutique, I am confident that I am the best candidate to fill this position.
The bad example is vague and generic. In the good example, we find out when she first learned about the publication, her previous work experience, and who referred her to the job.

4. How to write cover letter body paragraphs
In the body paragraphs, you will expand on your qualifications and provide concrete examples. You can also use a bulleted list if you're more comfortable writing that way. However, do not repeat what you have on your resume.
Always tailor your writing to the employer's needs.
Whether you have experience in the position or are making a career change, make sure the skills you include in the cover letter align with the position. Let's say you are a hobby photographer applying to be a social media manager. Talk about how you've doubled your audience in three months through short videos and audience engagement.
Quantify your accomplishments.
Put a number to your real-life examples. A "photography intern that helped produce eight photoshoots in three months" or "a digital marketer that increased paid subscriptions by 35% for a client through a digital guerilla marketing campaign" makes a bigger impact than an intern with photoshoot experience or a digital marketer knowledgeable in paid subscriptions.
Show your enthusiasm and company knowledge.
There's a reason you want to work for the company, whether it's their values, their products, or how they're disrupting an industry. Show you understand what they're doing by tying it to what you bring to the table. For example, "I've followed your broadcast media campaign and seen increased sales of the product. My digital marketing experience and out-of-the box approach to sales could help you reach an even wider audience."
Let's look at these examples:
Bad Example
I'm an eager learner and team-minded worker, willing to work hard to demonstrate my skills.
I have a bachelor's degree in communications, and a digital marketing certification. I have worked in bridal show productions and I am a very creative person.
Good Example
You need an editorial assistant with a fresh outlook that understands the ins and outs of bridal wear and can craft a message that will attract a younger audience.
In my last position at Luxury Plate, I raised their online audience in 35% and assisted in the production of 28 photoshoots and short videos for social media.
While at sales in Bridal Couture Boutique, I assisted designers in creating custom-made gowns for our clients.
The bad example is vague, giving information already available in the resume and not providing concrete examples of their abilities and skills. In the good example, we see numbers and scenarios of how she used her creativity in a related field. A hiring manager can visualize what the candidate could bring to the company.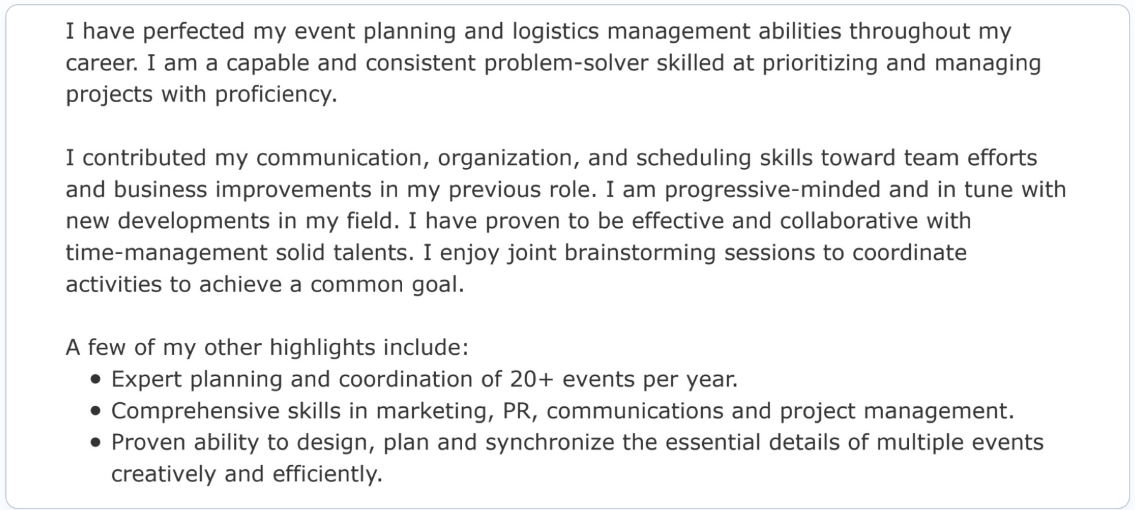 5. How to write a cover letter closing paragraph

The closing paragraph is your chance to seal the deal. You want to end up on the interviewing side, so make a strong closing statement using these steps:

Reinforce your value: In one or two sentences, show the hiring manager how you could become a valuable asset to the company using your skills.
Share your availability: In an enthusiastic tone, emphasize your desire to talk with the employer to discuss the position further. Adding a simple: "I'm available to discuss this opportunity at your earliest convenience" would suffice.
Express your gratitude: Show your respect and good manners by expressing gratitude for their time and consideration.

Here are some examples of a cover letter closing paragraph:

Bad Example

I'd love to join the company.

Thank you and hope to hear from you soon.

Good Example

As shown by my internships and freelance collaborations, I'm a creative self-starter and would bring fresh ideas to Today's Brides. I'd love to connect a younger audience with this iconic publication.

I welcome the chance to learn more about the opportunity and to further discuss this iconic publication.

Thank you for your time and consideration.
6. How to write a cover letter closing salutation
Remember, this is a business letter, and even when applying for an unconventional company, you must maintain a professional voice. A simple closing salutation will suffice.
Thank you,
Thank you for your time,
Regards,
Kind Regards,
Sincerely,
Respectfully,

Proofread and Format Your Cover Letter
You're almost done writing your cover letter. Now, it's time to proofread. Make sure there are no spelling mistakes or grammatical errors that distract from your skills and experience. Online tools, like your own word processor spell check, and another pair of eyes, can help in this process.
Also, verify that every single name — from the company to the recipient, their title, even your own — is spelled correctly. Your writing will reflect your professionalism and care.
Upgrade Your Cover Letter
Now you have all the steps on how to write an effective cover letter. If you want to take it to the next level, and save some time, check out our Cover Letter Builder. Select your template, add your skills and work experience, and you'll be done in no time.
Electrician

Cosmetologist

Restaurant Manager
Match Your Resume to Your Cover Letter
Create a personal brand by matching your resume to your cover letter. You can do this by using the same heading, fonts and colors. Check out our resume templates to find a style that will make an impact.
Customer Service Rep.

Event Coordinator

Financial Analyst
Cover Letter Writing Checklist
Is your cover letter one-page long?
Are you addressing the right person?
Does your introduction include your skills?
Are you including keywords from the job ad?
Are you quantifying your accomplishments?
Are you telling the reader that story that shows your soft skills?
Are you reiterating how valuable you would be to the company?
FAQ
Where can I find free cover letter templates?
Our library of cover letter templates offers free downloadable and premium templates that will elevate the look and feel of your document. Whether you're looking for a basic design or a more contemporary style, we've got what you need.
What if my cover letter is longer than one page?
If your cover letter is longer than one page, it's time to edit. Be concise. Remember that there will be time to expand on your achievements and skills once you get the interview. A cover letter is the introduction to get you there.
How do I approach salary requirements in a cover letter?
Salary should not be approached in a cover letter. The cover letter is about getting you in the door and showcasing what you could offer the company. Salary requirements are discussed during the interview process.
What do I include in a cover letter if I just want to be added to a talent pool?
For a talent pool or general application cover letter, you will want to follow the same steps. If you have a particular department in mind, use them as the cover letter recipients. Always remember to show off your quantifiable achievements and soft skills. If you need inspiration, our cover letter examples can help.
What would make writing a cover letter easier?
We understand that applying for a job can be a time-consuming task. Our Cover Letter Builder can help you write an effective cover letter that could get you hired. Simply select a template, then a writing style and add your experience and skills and done!