Featured In:
Table of Contents
Here are more resources that can help you
Writing a good resignation letter can make the difference between leaving a job with glowing recommendations and leaving valuable networking opportunities behind. On this page, we'll teach you how to write a letter of resignation that will keep you in your employer's good graces and help you transition into your new role on your terms.
Plan Your Resignation First
The most important aspect of a resignation letter is to be clear and direct about your decision and reason for leaving. How you plan your resignation will naturally simplify how you approach your resignation letter, which is why we prepared this series of steps you should follow once you've decided to resign from your job:
Establish your reason for resigning. Prepare the official narrative you want to share with your employer for your resignation. Finding a new job opportunity, changing careers or citing personal reasons are acceptable reasons for resigning. Sometimes your reason for leaving a job is not as positive as these. However, when it comes to the reasons you will have on paper for resigning, it's best to stick to non-controversial reasons. If you had a terrible experience at work, vent your frustrations somewhere else. A resignation letter is not the place to express your dissatisfaction with your employer.
Decide on an ideal last day of work. Resignations can be immediate or span a longer transition period. You should analyze your role in the company and decide what would be an appropriate time to resign for everyone involved. As a full-time employee, you should give the standard two weeks' notice. However, the right time frame depends on your needs and how you want to transition. For example, depending on local law, contractors and freelancers can present their resignations immediately with no consequence, as it's established in their contracts. On the other hand, employees with more stake in their company, such as a department head, would do well to phase out their resignation weeks if not months in advance.
Pick an appropriate date to present your resignation. Taking your boss, co-workers, and company into consideration when presenting your resignation is a great way to end things smoothly with your employer. Generally, no one likes it when a colleague decides to disappear without notice. If your situation allows it, consider giving your immediate supervisor a heads-up about your plans to resign and settle on a last day of work that serves you and the rest of the team.
Learn How to Write a Resignation Letter
Elements of a Resignation Letter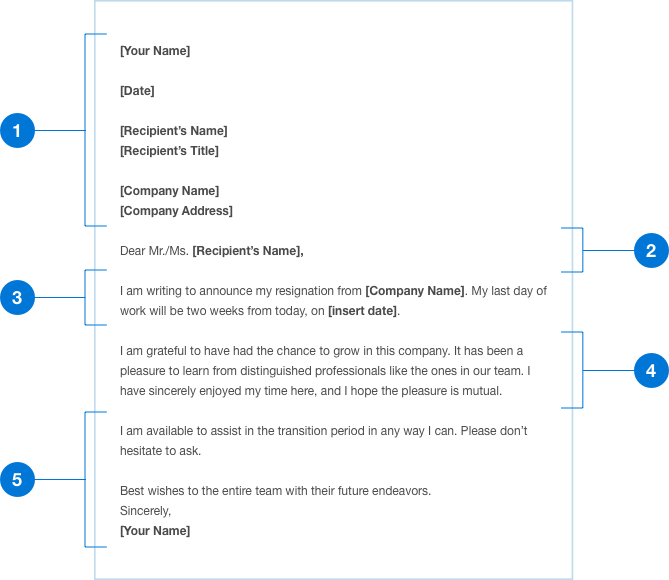 A resignation letter is a short business letter that can be broken down into five essential sections. Dividing your letter of resignation into these easy parts will help you stick to an established script. These resignation letter sections cover all the basics so you don't have to stray off topic and potentially say something damaging or out of place.
Let's begin.
1. Heading
The heading for a resignation letter should begin with your name and title and list the date you're presenting the resignation letter. Below, include the recipient's full name and their official title. The recipient should be your direct supervisor. Next, include the recipient's address which should be the company address. This address consists of the company's name, street name and number, city, state, and ZIP code.
2. Address line
The professional way to address your employer in a resignation letter is always using Mr. or Ms or official title, i.e., Dr. as a descriptor, followed by the person's full name. For example, "Dear Dr. Eve Wozniak,"
3. Resignation announcement
Begin the body of your letter by immediately announcing your resignation. In these first few sentences, establish the reason for resigning and your last day of employment (if applicable). State your reasons plainly and directly, and avoid unsure or hesitant language — keep it strictly professional.
4. Statement of gratitude
Next, include a statement of gratitude. Even if you've had mainly a negative experience at this job, briefly highlighting one positive aspect allows you to resign in the best terms possible. Disparaging co-workers or the company itself would be a huge mistake, as this letter stays on record forever and could follow you throughout your career.
5. Closing and signature
Close your letter by stating any willingness to cooperate with the transition process, whether recommending a replacement, assisting in training the new employee, or participating in the hiring process. The initiative of offering a helping hand shows you're still a team player and are not leaving with negative feelings.
Resignation Letter Examples by Reasons for Leaving
Once you have an idea of the type of information you need to share in your resignation letter, you can dive into writing it. Our Cover Letter Builder allows you to quickly write a resignation letter by taking care of the design elements and the formatting, so all you have to do is politely state your reason for resigning, and you're done.
There are countless reasons you may want to leave your job: a new job, taking time off from work, or going back to school. If there's no other reason you're quitting than because of issues you have with the company, you should at least express it respectfully.
Review the following resignation letter examples with specific reasons for resigning, and take note of the tone and the information being shared.
Resignation Letters for Family Reasons: Events that interrupt our ability to work full time or work at all are bound to come up when you have a family. Whether it's a family member's passing, taking time off to be a parent or a sick family member in need of critical care, be direct about your reasons, but don't worry about getting into detail.
Resignation Letter Due to a Better Opportunity: Almost everyone will have to leave their current job to advance their career at other companies or industries. The key to writing this type of resignation letter is to be grateful for the knowledge you've gained at your current job and stay away from any criticism.
Resignation Letters Due to Health Reasons: When writing a resignation letter for health reasons, the amount of information you can share is entirely up to you. However, it's important you know you're protected by law not to disclose your medical information. Read your employment contract beforehand and take note of any leave benefits you may have so you're informed and ready to assist with the resignation process.
Resignation Letter Due to Academic Reasons: In this type of resignation letter, you can express your interest in returning to the company after completing your studies. Always consult with your employer before resigning since they might be able to hold the position while you study, and even assist you financially in your studies in exchange for working for them for some time.
Resignation Letter for Short-Term Positions: Whether it's a temporary position, a seasonal job, internship, or even a job you just started, it's essential to state your gratitude for the opportunity and give timely notice.
Do's and Don'ts When Resigning
The process of resigning is more than just abruptly handing in a letter. To maintain a standard of professionalism and order, we offer these tips to consider before, during, and after you hand in your letter of resignation.
Do
Talk to your manager first: If you're having a hard time in your job, try reaching out to your superior or an HR representative for help. However, if you do not see any improvement and you're sure you're ready to quit, go ahead and send your resignation letter.
Keep it professional: Although your resignation letter is a confidential document, once it's out there, you never know who will see it. Think carefully about how you express yourself. When you resign, the impression you leave is as important as the impression you wanted to give in your job interview.
Give your letter in person:If you're physically able, hand your resignation letter in person to your direct supervisor. It lets them know you're serious about your decision and how it impacts the workplace. If you have no choice but to send it by email, at least take the time to create a document to send as an attachment.
Don't
Discuss it with colleagues: You don't want word of your potential resignation getting around before you formally tell your manager.
Stray from the standard format: Your resignation letter should only be one page long and cut to the point quickly. Think of this letter as a formal notification instead of a conversation with your employer about your frustrations. That should be left for a face-to-face verbal discussion another time.
Forget to prepare for the job search: Quitting is just the first step toward the rest of your career. We always recommend you browse a couple of job boards or even apply to any ads before quitting. You should also make sure you have an updated resume ready for any potential interviews that come up.
Farewell Email Announcement to Co-Workers or Clients
After announcing your resignation to your boss, you can share the news with colleagues or clients via email once you have officially completed the process. These two farewell email text templates are straightforward and courteous. Fill in the blanks with the appropriate names and edit them to fit your personality.
Resignation Announcement Email for Colleagues
Dear [Name of Department/Name of Team],
I will be leaving the [Your Title] position from [Company Name] effective [your last day of work]. While excited about the next steps in my career, I will greatly miss my time working with the entire team.
Thank you for the guidance, support and patience you have shown me throughout this time. It's been a pleasure collaborating with all of you in this department.
I wish the team continued success.
Sincerely,
[Your Name]
Resignation Announcement Email for Clients
Dear [Client Name],
I am writing to inform you that I have resigned from [Your Title] position at [Company Name]. I will continue working with all my clients until [your last day of work].
I will be coordinating a transition with [Name of your Replacement], who will take over your account. [List a couple of your replacement's skills or qualifications]. You can contact them at [Replacement's email].
Thank you for giving me the opportunity to work with you — [Include one positive aspect about your professional relationship and the service you've provided].
I wish you all the best in your future endeavors. You are in good hands.
Warm regards,
[Your Name]
Create a Resignation Letter In Our Builder
You can easily use our Cover Letter Builder to create a professional, accurately formatted letter of resignation. It automatically builds your letter's heading, leaving you only to compose a few short paragraphs based on what you learned on this guide. Our builder's integrated spell-checker will take care of any typos, and the instant-save feature will keep all your work secure in the cloud.
Build Your Letter
Gabriela Barcenas
Gaby is Hloom's resident writer, a certified professional resume writer (CPRW), and a baking enthusiast. She likes to defend the use of the functional resume to her friends in HR. She graduated from the University of San Francisco with a B.A. in English and Creative Writing and wrote about career growth, tech startups, education, fashion, travel and lifestyle culture throughout her career.