What is a Resume?
A well-written and detailed resume is a crucial tool in any job seeker arsenal. The resume is traditionally used by hiring managers in the United States to measure a job candidate's qualifications and aptitude for the open position.
This document can follow three formats: a chronological, functional or combination format. This writing guide will give you detailed instructions on how to create the most popular resume format — the chronological resume. However, we do have a dedicated format writing guide to provide you with some additional tips if you're interested in the other layouts.
As we mentioned, the chronological resume is the most recognized format. It is very popular with recruiters and hiring managers because your work history is front and center. To successfully write this document, you'll need to include the following sections in this order:
1
2
3
4
5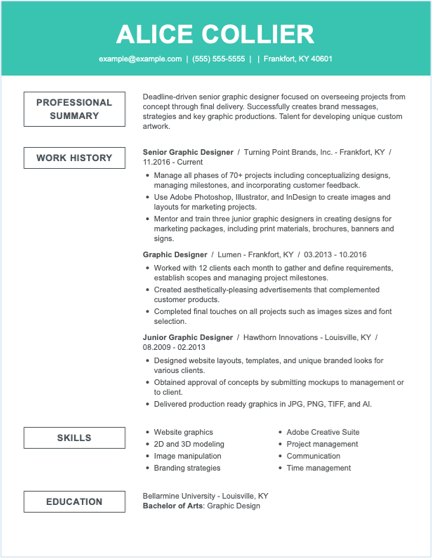 Pro Tip: You might see resume examples with reference sections. These are considered outdated –– most hiring managers and human resource departments won't reach out to references until the''re ready to make an offer at the end of the interview process and will contact you directly with a list of reference requirements. Feel free to omit this section on your resume, as it costs you valuable space that you could dedicate to your work history or skills.
How to Write a Resume
Now that we've introduced the five primary sections of a resume, you're ready to start writing. Read on to learn what to include in each section and how to structure your resume.
Pro Tip:
If you hit a hiccup in the writing process, subscribe to our
Resume Builder
. It's designed by professional resume writers and includes pre-written responses, job-related skill suggestions, and additional writing tips per section.
1. Include Contact Information

There's no point in creating a great resume if a recruiter isn't able to contact you for an interview. It's vital that you include your complete contact information in the header at the top of your resume.

Read on to learn what exactly to include in your contact information section.

Your name: This will be the first item read on your resume. You are establishing a professional relationship. Use your full professional name, and don't include inappropriate nicknames. Consider making your name slightly larger than the rest of the header.
General location: Include your city and state so employers can know if you're a local applicant. Some studies have shown that hiring managers have a preference for employees with shorter commutes, so this might act as an unconscious benefit to your application. You no longer need to include your mailing address, as most communications are handled through phone calls and emails.
Phone number: List a number that links to a professional voicemail greeting in case you can't receive the call.
Email address: As we mentioned –– conventional mail is outdated. Most HR departments and hiring managers will communicate with you through email. Consider making a dedicated email for job applications that uses a professional handle like your first and last name. This dedicated account makes it easier to track communications during your job search.
Social media links: If you work in an industry that requires work samples, add live links to your professional websites, blogs or online portfolio. You can also include your LinkedIn portfolio. Remember, these are supplemental sites that help create a fuller idea of your professional expertise –– they don't replace your resume.
Pro Tip: Do a deep dive through your personal social media channels and scrub your accounts of any content that might offend or violate a potential employers' employee code of conduct or mission statement. Employers may visit your personal accounts along with your professional sites while researching you as a candidate. For example, it's a good idea to delete any photos or references to heavy drinking or drug use.
Below is a list of popular social media sites that you should review:
This section is a short explanation of your qualifications and lets employers immediately know what you can bring to the table as a job candidate.
A professional summary must touch on your hard and soft skills, be concise and address a problem you can help the company solve.
Pack it with relevant facts about yourself and your background.
Be intriguing enough to pique an employers' curiosity about you.
Include a quantifiable metric that relates to a professional achievement and tie it to the open job.
Focus this section on the needs of the role and the company, not your professional needs.
For your professional summary to accomplish these goals, look closely at the job description for emphasized or repeated responsibilities. These phrases, also known as resume keywords, are used by hiring managers and applicant tracking systems to eliminate the first batch of candidates who don't meet the job qualifications. You can spot these keywords by scanning a job posting for any special font treatments like bolded or italicized words, repeated responsibilities or special job duties listed in bulleted lists.
Pro Tip:
Here's a summary example that might work well for a recent grad:
"Hardworking recent college graduate seeks an entry-level marketing position. Recently graduated at the top of the class with a degree in marketing and a minor in creative writing — eager to put knowledge to use in a busy marketing department. Past experience includes a proven track record of being a team player who can pivot between assignments with ease."
Unlike a resume objective statement, which typically expresses the job seeker's wants, a professional summary should focus on what you, as a candidate, will offer the employer. Identify the problem the company is trying to solve with this hire and then explain how you will solve that problem.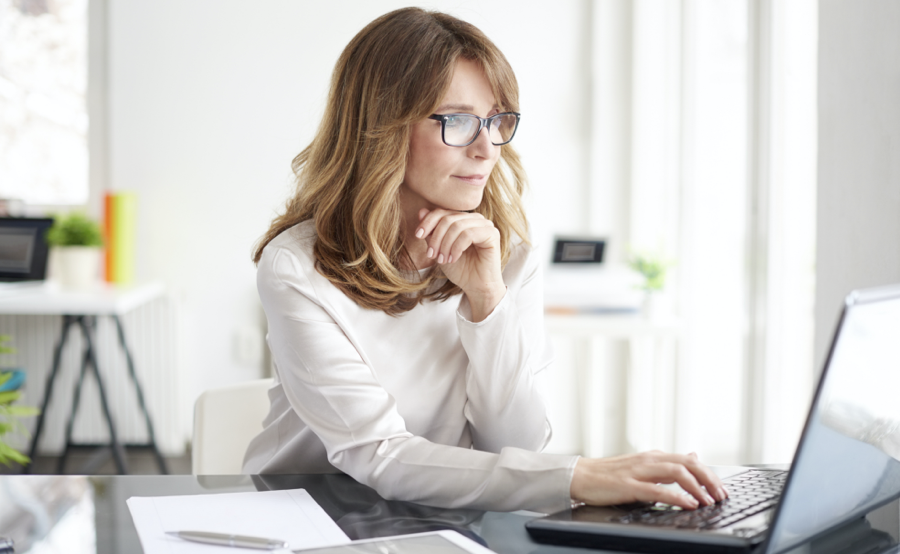 3. Showcase Your Work Experience

The length of this section will depend on how long you've been in the workforce. A general rule of thumb is to add a page to your resume for every 10 years of experience — this section should take up most of that allotted space. Remember, your entire resume should be written in the third person — no first-person pronouns. Use four to six bullet points to break up copy.

Elaborate: Do more than recount your past duties and responsibilities. Shed light on your accomplishments and achievements by using data to quantify those achievements. For example, if you introduced a new supply-ordering system that saved the company money by reducing duplicate orders, explain it with percentages and financial savings. "Consolidated weekly orders into monthly orders, thereby reducing duplicate orders and cutting spending by 7%."
Be active: Use action verbs to describe your duties. Recruiters and hiring managers read several resumes on any given day — use dynamic words to stand out in your experience section. For example, suppose one of your responsibilities was to order office supplies. In that case, it's more interesting to read that you "executed and maintained a new system for ordering supplies" than it is that you were "responsible for placing orders."
Use relevant experience: Don't stuff your resume with every job and responsibility you held. Tailor your resume by focusing on the needs of the job at hand and what you can provide. If you're a recent graduate or have a limited job history, this can be tricky. In these rare cases, you can list relevant summer jobs, part-time work, volunteer opportunities or internships that you've held. It's still important to name any similar past work experience, and specifically call out the qualifications and qualities that made you good at your job — even if your past roles don't relate to the current job you are seeking.
4. Elaborate With Skills

This section gives you another chance to highlight your technical know-how. As we mentioned before, list six to eight of your hard, soft and technical skills.

1.

Hard skills: These are objective and measurable qualifications you should present to a recruiter or hiring manager in your resume. Because they're concrete, they serve as strong verification to a potential employer of your ability and skill set. Hard skills can include:

A degree or a certificate in a specialized field
Computer-programming abilities
Machine-operation proficiency
The number of words that you can type per minute
Foreign language proficiency, e.g., speaking French fluently

2.

Soft skills: These skills are also helpful for you to showcase. However, unlike hard skills, soft skills are more subjective and harder to quantify. Most interpersonal skills fall under the umbrella of soft skills. These skills can include:

Motivation
Communication
Multitasking
Organizational ability
Grace under pressure
Punctuality

3.

Technical skills: These fall under a specific umbrella of hard skills –– they involve nuanced or niche-specific technology and computer-based abilities. Technical skills often require more education, training or hands-on experience. They are very advantageous to showcase on your resume, especially if you're applying to a job in the realm of computers and technology. These specialized skills can include:

Data analytics
Data modeling
Technical writing
Digital marketing
Experience using various trade-specific computer programs

You need to pick and choose these six- to eight-skills wisely. Will the skills you include make someone want to hire you for this role? Your hiring manager might be personally impressed that you can speak fluent French, but it's best to save that fact for the interview portion of the job search if the job you're applying to will never make use of this skill. Visit our Skills Library to review over 100 skills,

Personalize this section for each job you apply to. Scan the job ad for those crucial keywords we mentioned earlier and echo the exact same language it uses for skills. If it calls for a candidate with "strong customer service skills," you need to duplicate this language in your skills section. Rephrasing the wording even slightly, like using a different tense, can make it challenging to get your resume past applicant tracking systems (ATS).

This step only takes a few minutes, but it might be the difference between getting your resume into a hiring manager's hands or getting deleted by a computer program before you even meet a human decision-maker.
Pro Tip:
Here's a skills section example that you could use for a standard customer service resume:
MS Excel — Advanced (Macros, Pivot Tables)
Bilingual in French and English
Strong team player
Excellent conflict-resolution skills
Familiar with POS programs
5. Display your Education

Employers are interested in your education, although the amount of detail you offer in this section changes depending on when you graduated. If you graduated more than three years ago, this section is sparse. You can list the name of the school you attended, the date of graduation, and the type of degree you earned. However, most hiring managers will be more interested in your practical work experience if you've been out of school for a few years.

If you graduated less than three years ago, it's OK to elaborate on this section since you don't have as many years of professional experience to showcase on your resume. You can list your grade point average (GPA), special awards or commendations you earned, or any specialized classes or coursework related to the open job.

Structure your resume's educational information with the following format:

University name, city, country or state.
Full dates you were in school. For example, January 2016–Present, 2013–2017, or list your anticipated date of graduation.
Degree title (B.A., MFA, etc.)
Your major and minor, if applicable to the job you are seeking.
Only include your GPA if it is 3.5 or higher, and if you are still a student or recent graduate.
Pro Tip:
Here's an education section example of a recent graduate with only one year of post-grad work experience.
Harvard University
Cambridge, MA
MA in English Literature, minor in French, 2019
3.7 GPA
Upgrade With Resume Templates
Now that you've wrapped up your resume writing, formatting and designing a visibly appealing resume to match your professional accomplishments can be daunting. We make it easier with subscription-exclusive templates that you can customize, save online and quickly tweak for each job application.
Architect
Bank Teller
Medical Assistant
Operations Manager
Restaurant Manager
Software Engineer
Build a Resume
Resume Writing FAQ
What should a resume include in 2021?
2021 is a strange year — your resume needs to adapt to a suddenly competitive job market, especially if you're changing jobs due to struggling industries. A resume written in 2021 needs to include transferable skills, aka skills that can easily transfer from one industry to another. These skills tend to be soft skills like customer service, conflict resolution, management experience or language fluency. Here's a list of 50 transferable skills that can help you.
How do I write an objective statement for a resume?
A resume's objective statement is not commonly used and has largely been replaced by the summary statement we mentioned above. You can write this section if you're applying to an internship, re-entering the workforce, or changing your career and want to explain to the hiring manager why you're making this change. If you fall into those job-seeking qualities, you need to do the following in three sentences to successfully write an objective statement for your resume.
Explain your professional goals for the job.
Demonstrate transferable skills that relate to the new job.
Address the specific needs of the new position.
Proofread for keywords and grammar.
Can a resume be more than one page?
Your resume can be more than one page if you have over 10 years of formal work experience. We generally advise that you dedicate one resume page to each decade of experience, although you don't want your document to exceed two pages unless you're applying for an executive position.
What's the best resume format?
There are three commonly used resume formats that you can pick from: the chronological, functional, and combination format. The best resume format that you can use depends on your professional needs, although we'll quickly summarize the pros of each version to help you narrow down your decision. You can also find detailed writing guides examples, and downloadable templates alongside each format.
1.
Chronological resume: This is the most commonly used and recognizable format on the job market. The chronological layout prioritizes your work history and paints a clear picture of your professional accomplishments and career trajectory. Our chronological writing guide delves into deeper details.
Best suited for: Job seekers with more than seven years of experience, steady and long employment at each role, no work gaps in between jobs, and steady promotions throughout your work history.
Avoid if: You're a recent graduate –– since your work history sits near the top of this document, your lack of experience might look like a flaw, especially if it's compared to other applicants with more years of experience. You should also avoid this job if you worked several short-term contracts or frequently changed jobs. Hiring managers won't know your reasons for the short commitments to each job –– they normally see job-hopping as a red flag.
2.
Functional resume: A skills-based resume relies on your work experience based on technical achievements, not on work experience linked to specific jobs. The resume has different sections dedicated to your qualifications, your technical skills, digital skills and soft skills. Our functional writing guide delves into each section.
Best suited for: This format is perfectly suited for job seekers looking for work in a specialized field like medicine, dentistry or research. It allows you to elaborate on your medical or academic training and field of study, as well as how it relates to an open job position. You can also use this format if you have years of formal work experience, but lengthy work gaps or short-term employment. This format avoids listing dates of employment, so you can really make your experience stand out and speak for itself.
Avoid if: You have several years of experience, have multiple promotions and plan to apply to a senior or management position. Since this format avoids job titles and doesn't tie accomplishments to specific roles, it's difficult to track your career progression and measure leadership potential.
3.
Combination resume: This resume format combines the best of the chronological and functional resumes. It retains the traditional work history structure that hiring managers are familiar with so that you can showcase accomplishments linked to each position, but shifts your skills section above your work history so that hiring managers can quickly scan your abilities and decide if you're suited for the role. Learn more about the combination resume.
Best suited for: Although this resume works well for most applicants, it is ideal for recent graduates who have studied and trained for specific positions but don't have many years of formal experience.
Avoid if: You rely on short-term contracts, freelance work or frequently change jobs. Although the nature of your work depends on short-term stints, hiring managers won't know that when they view your resume. The short-term commitments can look like job-hopping red flags if they aren't viewed in the right context.
What's the difference between a resume and a curriculum vitae?
There are several differences between a resume and a curriculum vitae (CV.) A resume is a short one- to two-page document that quickly summarizes any relevant work experience you have that may relate to an open job position. It is commonly used in the U.S. for most job positions.
The CV is a much longer and detailed document that summarizes most of your professional and academic accomplishments. It also includes dedicated sections to your publications, lectures, conference presentations or attendance, professional affiliations, and more. This document is rarely used in the U.S. outside of the academic, research, entertainment or federal fields. You'd most likely use this format if you're applying to work abroad –– the CV is commonly used by job seekers through Europe, Asia and the Americas.