Resume Objectives Guide with Examples
An objective statement, also known as a career objective or a resume objective, is a two- to three-sentence paragraph near the top of your resume that helps to contextualize your resume. Learn when and how to write a resume objective, plus review well-written examples from our resume writing professionals.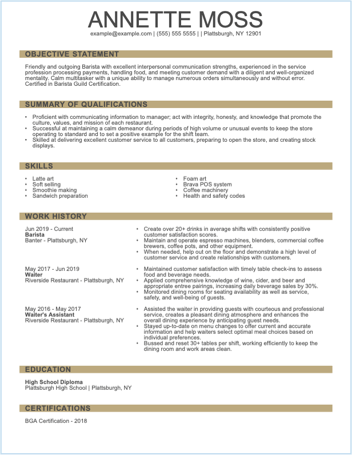 Use This Template
Rate this Template
Featured In:
What is a Resume Objective?

A well-written resume objective helps to personalize your resume, create connections between your qualifications and the needs of an open job, and directly appeal to hiring managers by showing you have the skills they're looking for.

The resume objective accomplishes this by doing the following:

Explaining what you hope to learn or accomplish if employed by the hiring manager
Specifying how a professional relationship with the company helps you gain that knowledge
Sharing how you can help the company by gaining this learning opportunity.

We'll teach you whether your unique job search needs requires a resume objective, how to decide if an objective is right for your resume, and how to write an interview-winning statement in this writing guide.
Should You Write a Resume Objective?
Before we can teach you how to write a thoughtful and compelling resume objective, you need to decide if this is the right resume tool for you. Let's delve briefly into the basic build of a resume for some context.
A standard resume in its most recognizable format, the chronological resume, consists of these five standard sections.
Contact information
Resume objective or summary statement
Work history
Skills
Education
Other resume formats might shuffle the order or add additional sections, but every resume will always include these five building blocks. As you can see, you get to choose between writing a resume objective or a summary statement. Although they both exist near the top of the resume and make a personal appeal to hiring managers, these paragraphs use different tactics to bond with hiring managers and are not interchangeable. Let's briefly compare the two and, if you decide a resume objective is the best statement for you, we'll teach you how to write one with confidence.
Summary Statement: A modern update to the resume objective, this paragraph helps to show how your skills will benefit the company's financial and operational bottom line. We usually recommend using this approach on your resume, as hiring managers are looking for skilled workers who can quickly join the team and contribute to easing a workload. Hiring managers are more interested in how you can help them, rather than the reverse.
Resume Objective: Also known as a career objective or objective statement, this paragraph helps you explain what you hope to accomplish or gain if employed at this new company. We don't usually recommend this approach, as it's harder for hiring managers to determine how you lighten the workload if you only mention your aspirations.
Although we recommend that you write a summary statement rather than a resume objective, there are a few job-seeking instances when an objective statement helps you.
You can include a resume objective if you're a recent graduate, changing careers, relocating, or re-entering the workplace. Each of these career circumstances can seem like a hiring red flag without the proper context. We'll explain how to provide the correct context and demonstrate strong examples below.
1. Entry-Level Employees
As someone freshly entering the workforce, it's OK to have little- to no-formal experience. However, you probably do have a plethora of acquired skills and knowledge from internships, volunteer work and your education. A resume objective is perfect for you because it allows you to do the following:
Contextualize your informal experiences for the open job.
Outline how you hope to grow and develop your professional experience within a role.
Example:
"Recent engineer graduate looking to obtain an entry-level associate engineer position. Eager to apply recent engineer applications, functions and practices to the overseeing of construction projects and earn practical on-site experience for future growth within your company."
2. Career Changer
Changing your career can look like a red flag without the proper context. Hiring managers might wonder if your previous experience applies to the open job, or if training or onboarding you will be a lengthier process than a similarly-skilled candidate with relevant experience. Here's why an objective statement helps you more than a summary statement in this instance. You can:
Explain your interests in the job and your reasons for applying.
Contextualize your previous experience concerning the open position's requirements.
Explain how your seemingly unrelated expertise can fill the needs of the position.
Example:
"An architect with over seven years of experience designing and overseeing residential, commercial, and academic exhibit projects. My proven project management and urban planning experience makes me an ideal Project Management candidate for your equal design initiatives."
3. Re-Entering the Workforce
Resume writers, career coaches and hiring managers might warn you to avoid large gaps between employment. But there can be so many reasons to temporarily leave the workforce; raising children, caring for a family member, pursuing a new degree or a time-extensive career training program. A resume objective helps you:
Explain work gaps and your reason for re-entering the workforce.
Contextualize the skills you developed away from the workforce for this new job.
Example:
"Took a career hiatus to care for an ailing family member. During this time, I applied my time management and organizational skills to maintain all medical appointments and manage a multigenerational household with varying needs. This experience makes me perfectly suited for a project manager role within your university. "
4. Relocating
Although there's been a recent rise in remote working, most hiring managers still suffer from an unconscious distance bias and prefer to hire nearby job seekers. A resume objective can help you avoid getting disqualified from consideration by doing the following:
Explain why you are relocating.
Assure the hiring manager that you're applying to the open job due to a prearranged move and plan to live near this potential place of employment.
Refocus the conversation and hiring direction on your achievements rather than your current location.
Example:
"An experienced Email Marketing Manager with over 10 years of planning and launching successful retail marketing campaigns with 42% open rates and 18% click-through participation. Planning a family-related move to the Los Angeles region and eager to apply my retail experience to your growing business."
5. High School Graduate
If you recently graduated from high school, a resume objective statement can benefit you as much as it would a new entrant to the workforce. Although you may have some after-school work experience, it may seem small compared to your informal experience, volunteer work and school work. A resume objective can help:
Refocus the resume on your community service, after-school, and casual experience like babysitting or school club participation.
Contextualize the skills you developed in school like research, organization and time management for the requirements of an open job opportunity.
Example:
"Highly energetic and responsible graduate eager to apply my skills to an au pair position with your family. I have group caretaking experience as a Group Aide with the YMCA, am fully certified in adult and child First Aid, and am a registered mandatory reporter for the states of California and Arizona."
6. College Graduate
If you recently graduated from college, you might have a lot of relevant experience from your classes, internships and extracurricular activities linked to campus organizations, as well as some formal work experience. A resume objective can help you play up those experiences and align your qualifications with the open job requirements by:
Drawing attention to internships and practical, work-related coursework.
Contextualizing skills that you developed through organizations like your campus newspaper, farming club, student political groups or greek life.
Example:
"Recent biology graduate with an emphasis on cell biology and microbiology. Internship experience with data analysis for a major medical laboratory's clinical trials. Additional laboratory experience as a student research assistant for my university's department head. Eager to apply these clinical and data skills to your medical research lab."
How to Write a Resume Objective
If you decide that a resume objective is right for your resume, it's time to dive in. We'll show you the difference between poorly-, fairly-, and well-written resume objectives, and explain where each version succeeded or failed to impress a hiring manager. We'll also give you some helpful advice on properly writing a clear and interview-winning resume objective.
Each of these resume objectives were written for a recent high school graduate applying to their first sales associate position. They have some sales and customer service experience from fundraising events and properly showcase this in their opening statement.
A Poor Example
"I'm seeking a new job and am very interested in your open Cashier and Sales Associate position. I believe that I could benefit from perfecting my customer service skills and money managing skills."
Why is this a poorly-written example? The hiring manager doesn't learn anything new or beneficial about you.
This job seeker says they're looking for a new job. The hiring manager can safely assume this since the person is applying for a different job.
The job seeker says they want to perfect their customer service and money management skills, which the hiring manager can safely assume based on generic sales associate job descriptions.
The job seeker doesn't outline how their existing skills can transfer to the new job. The hiring manager doesn't see a clear reason to hire this person.
A Fair Example
"Recent high school graduate eager to showcase my energy and enthusiasm in your entry-level position. I have some sales and cash-handling experience from school bake sales that I'm eager to expand on."
Why is this a fairly-written example? The hiring manager learns a bit more about this candidate than was gleaned in the first example.
This job seeker informs the hiring manager that they're an entry-level candidate due to their interest in the position.
The job seeker shares their informal, but highly relevant, cashier and sales experience.
The job seeker forgets to tell the hiring manager how many years they've run bake sales, so the hiring manager can't know if the candidate has worked one event or several unless it is mentioned below.
An Excellent Example
"A recent high school graduate interested in applying to your entry-level cashier and sales position. I have two years of informal experience in sales and cashier work through my extracurricular activities. Eager to expand on my existing experience in customer service, money handling, and upselling of baked goods."
Why is this a well-written example? The hiring manager learns quite a bit about this job seeker.
The job seeker recently graduated and is interested in the entry-level position.
The job seeker has a specific number of years worth of experience in job-related skills and will need less training than an inexperienced candidate.
The job seeker understands their limitations and expresses eagerness to grow and learn on the job.
1. Keep it Short
First and foremost, your resume objective needs to be short, sweet and to the point. This paragraph segues into your work experience and skills sections in two- to three- sentences.
First sentence: Introduce yourself and the reason why a resume red flag (career gaps, career change, or lack of formal experience) actually works in both your and the hiring manager's favor. For example, explain how taking a break between jobs to care for a family member resulted in relevant personal experience, or how you recently graduated with relevant academic experience gained in a lab or research class.
Second sentence: Tell the manager which role you'd like to fill and which company goals you can help them meet.
Third sentence: End strong and relate your seemingly unrelated experience to the requirements of the job by using quantifiable metrics. For example, if you organized medical appointments and dietary schedules for an ailing family member, you can note the percentage of times you arrived at appointments on time, how many alternate routes you planned in case of last-minute delays, or how someone's health visibly improved once you implemented a new diet for the client. You can find additional advice on incorporating these metrics in the advice below.
Example:
"Experienced project managers are eager to relocate to the New York region to work on your exciting new venture. With over 7 years of managing emerging technologies, I can bring practical experience to your start-up. I have experience handling teams of 50 people, delegating tasks, and meeting delivery deadlines and expectations with a 93% success rate."
2. Personalize your Objective for the Job you Want
A resume objective is also your opportunity to share your personal interests and professional passions. Your resume will summarize your skills, education and experience, but this section is your only chance to write about why you're applying to this job and let your personality shine through. You can talk about relevant hobbies, why you grew interested in that hobby, and how you can apply those learned skills to the open job.
Example:
"A talented copy and marketing SEO writer with over 12 years of experience in retail, travel and lifestyle industries is eager to apply professional and personal experience to your travel site. As a member of various travel forums and memberships, I'm eager to share my accumulated experience and hacks to your customer base and community."
3. Use Job Advertisement Keywords
Most companies rely on applicant tracking systems (ATS) to screen resumes and help whittle down the pool of applicants. ATS can eliminate as many as half of the resumes it screens, so it's very important to use resume keywords. These keywords are scattered throughout the job advertisement –– you can identify these by scanning the ad for repeated duties and responsibilities that are emphasized in bold font or bulleted lists, or for any tasks labeled as important.
It's important to organically use these keywords in both your resume objective, and throughout your resume. We'll teach you how to write a tailored objective for the following sample Cashier job post, using the keywords that we identified in bold print.
"Family-owned pharmacy is hiring Cashiers in Los Angeles, CA.
Pharmacy offers a full range of benefits including: medical, dental, vision, 401(k), paid time off.
Cashier daily tasks include: operating a cash register, collecting customer payments, bagging merchandise, and maintaining the checkout area.
Experience is not required for this Cashier position.
Get started with your Cashier application today!"
Example:
"I was very excited to learn about your entry-level cashier position. Although I don't have formal cashier experience, I'm eager to prove my customer service abilities developed by collecting customer payments and bagging purchases from bake sale fundraisers. "
4. Add Quantifiable Contributions
Focus on how you can help the company. You can best do this by defining how successful your related experience was. For example, if you're interested in a job related to data analysis, you can detail well-graded projects from your introduction to data or advanced data analytics courses and your process for inspecting, cleaning, and modeling the data.
Example:
"Highly skilled search-engine marketing manager looking to help establish data-driven departments at your marketing agency. Launched the first data-driven SEM branch at an established career-growth company, published new online sales pages, and saw financial growth of our job-seeking tools grow by 56% in the first quarter of launch."
5. Include Job-Related Certifications
Regardless of your reason for writing a resume objective statement, you probably have plenty of related experience that can benefit both you and a hiring manager. It is very important that you highlight those skills in this section, as you don't want to make the hiring manager dig for it in your resume and risk missing it. Here are some job-related certifications that you can feature in this section.
Licences
Certifications
Specialized Degrees
Relevant Coursework
Example:
"Young nanny and au pair looking to care for a small family of three or less children. Am fully up to date on my child, infant and adult First Aid certifications, am trained in preparing vegetarian, gluten- and dairy-free meals for dietary restrictions, and graduated with a sociology degree in childhood development."
6. Express your Ties with the Company
Your personal connection to a company or genuine interest in a company's ethical, cultural or financial goals can be equally important to landing a job interview as your skills and experience. If you're interested in contributing to the growth or success of a company based on these reasons, you should mention it in your resume objective. Hiring managers can detect genuine interest and passion, and this can be good for you if the company in question truly believes in its mission.
Example:
"Experienced Architect and Interior Designer with over 10 years of volunteer experience in urban planning and development. Interested in working full-time with your design non-profit organization and creating safe spaces for the general public, applying the same human right and social change practices that benefited me as a child of working-class immigrants."
Help Perfect Your Resume Objective
Get a step above your fellow job seekers with our professional writing help. Our online Resume Builder features resume objective tips, pre-written suggestions, additional advice for every resume section, and easy-to-customize templates.
Accounting Assistant
Cosmetologist
Freelance Writer
Line Cook
Office Assistant
Build a Resume
Accounting Assistant
Cosmetologist
Freelance Writer
Line Cook
Office Assistant
Build a Resume
Resume Objective FAQ
How long should the resume objective be?
Your resume objective must be informative but brief. Ideally, this is a two- to three-sentence statement that outlines your professional goals, experience and relevant skills. We know it's tempting to flesh out this section and include additional details, but your resume objective is just one section of your resume. Keep it brief.
What are common mistakes when writing a resume objective?
Here are a few common mistakes that you can make while writing your resume's objective statement.
Focusing too much on yourself: The original intent of a resume objective was to indicate your needs, expectations and requirements from the job. However, it evolved with modern resume-writing practices and now looks at your potential employment as a partnership with the hiring manager and company. Your resume objective should focus on what both you and the company can gain from hiring you.
Using weak action verbs: Take a proactive approach and avoid the passive voice or weak action verbs. You didn't "help organize sporadic sales events," you "organized monthly sales events that increased profit margins by 17%." You need to be honest on your resume, but it's OK to hype your skills and assert your value.
Using a resume object instead of a summary statement: We mentioned that a resume objective is best for entry-level workers, recent grads, career changers and re-entries to the workforce. If you're not one of these job seekers, you're much better off using a summary statement that lets you highlight your career success. Learn how to tackle that resume tool in our resume-writing guide.
Does a resume need an objective?
Whether or not you decide if a resume objective suits your current job-seeking needs, your resume absolutely needs a statement near the top of the page. This brief paragraph is your opportunity to add personality to this document. Think of it as a written elevator pitch — your resume objective or summary statement introduces your personality, while your work experience and skills sections outline your accomplishments.
What can I put on my resume instead of an objective?
We've mentioned the resume objective's modern sibling, the summary statement, before. If you're not a fresh graduate, a new worker, changing careers, or re-entering the workplace, we strongly recommend that you write a summary statement on your resume. Unlike the objective statement, which answers how both you and the hiring manager benefit from employing you, a summary statement does the following:
1.
Explains how you fit the exact needs of the open position.
2.
Relates experience, skills and professional achievements to the open position.
3.
Relates your past accomplishments to the future success of the company.
We cover how to write an appealing and convincing summary statement in our resume-writing guide.