Applicant Tracking System (ATS) Resume Templates: The Complete Guide + Free Templates
Use This Template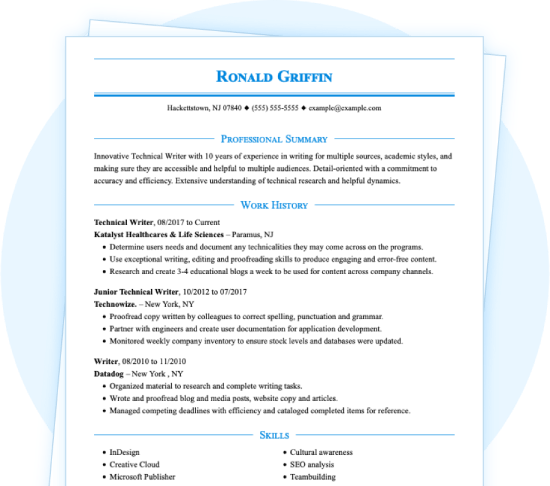 Featured In:
Table of Contents
Here are more resources that can help you
An ATS-compliant resume can be your ticket to finally landing that coveted job interview. If you're applying for jobs constantly and not getting a callback, it could be because your resume isn't ranked highly on applicant tracking systems (ATS). Learn everything you need to know to overcome this obstacle with the help of our complete ATS resume guide and ATS-friendly resume templates.
Premium ATS Resume Templates
Check out our premium ATS resume templates below! They are professionally-designed and easily customizable for the best resume writing experience.
Acclaimed

Standout

Essence

Insightful
What are Applicant Tracking Systems?
Applicant tracking systems (ATS) are software programs used by companies that allow them to collect, analyze and rank resumes. ATS parse resumes to identify keywords and skills the employer deems relevant for the role. The ATS takes into account the number, recurrence and placement of keywords in your resume to rank it.
The purpose of an ATS is to discard the less-qualified resumes and make way for ideal candidates. However, qualified candidates can be passed over simply for not having an ATS-compliant resume. You can learn to tailor your resume to bypass these systems by using an ATS resume template.
What is an ATS Resume Template?
An ATS resume template is a document that allows your resume to be read easily by an applicant tracking system. These templates should be impeccably designed but simple. Images, tables and uncommon formatting are omitted as they can result in jumbled-up sentences and erased information on your resume that won't pass ATS. A resume template optimized for applicant tracking systems prevents these errors altogether.
Free ATS Resume Templates
Browse these free ATS resume templates categorized by resume format. The type of resume format you choose is crucial to determine how you'll organize and prioritize your resume's content. These resume templates are designed to maximize the ATS reading of your resume, whichever format you choose.
Chronological ATS Resume Templates
The chronological format, preferred by most employers, highlights your work experience. Pick one of these templates if you've had a long and steady work history.
Functional ATS Resume Templates
Functional resumes are ideal for candidates who have no previous work experience. Instead, this format puts a focus on the valuable skills you can bring to the job. If this sounds like you, check out the following templates.
Combination ATS Resume Templates
For a balance of work history and skills, the combination format is the way to go. This template is great for junior- to mid-level job seekers who have notable skills or accomplishments. Candidates who are changing careers can benefit from this format as well.
How to Make an ATS-Friendly Resume?
You can create an ATS-friendly resume yourself if you follow specific design criteria and choose the right keywords. The ultimate goal is to create a simple and efficiently organized resume that will be read easily by both an ATS and a recruiter.
Follow these steps to write your own ATS-friendly resume:
1. Tailor your resume to the job description.
The job ad will give you a clue as to which keywords you should include in your resume. Take note of any repeated requirements and skills. If you possess them, include those keywords throughout your entire resume. Remember to use the exact wording. Some ATS won't take into account synonyms. However, don't simply copy-paste the job ad into your resume. Recruiters will notice this and consider it cheating.
2. Maximize the way you add keywords.
Including the right keywords is not enough to craft a high-ranking ATS resume. The more of these keywords you have and the further atop the page these keywords sit, the higher the ATS systems will rank your resume.
Don't fall for the old trick of hiding multiple keywords in white-color font on your resume. The ATS will flag these words, and when a recruiter sees this, they'll know you tried to cheat the system. Instead, be strategic and populate your resume sections with keywords that reflect your top skills and achievements.
3. Use full spellings and abbreviations.
Always include the entire spelling and the abbreviation of a skill, role or certification when applicable. For example, if you're an expert in search engine optimization, write this whole phrase and add the acronym "SEO" in parentheses at the end. Since you never know which form the ATS will favor, your safest bet is to include both.
4. Include full dates in your work experience.
Many people don't know that the ATS also ranks your resume based on how long you executed your skills. For example, if you include customer service skills in a job you had for 36 months, the ATS will give you a higher score than if you only worked for 12 months at the job.
Always include the exact start and end date (month and year) of all previous jobs. If you include the year without the month, the ATS will award only one year of experience to the skills, even if you worked longer.
5. Avoid images, charts and other graphics.
The ATS will ignore anything that is not text, so the system will disregard any valuable information you include in the form of an image. Tables and columns confuse applicant tracking systems too. They can't understand the lines or text boxes that divide your information. Instead, the ATS reads the entire text from left to right, resulting in tangled sentences that don't make sense.
6. Use the correct title for each section.
Keep the titles of each resume section standard. This isn't the place to get creative writing your resume. Atypical titles like "Where I Made an Impact" will confuse applicant tracking systems. ATS are programmed to identify traditional titles like Work History, Skills and Education to determine sections.
7. Use simple bullet points.
Bullet points are an excellent resource for organizing your information. ATS can read them perfectly as long as you use the traditional circle or square bullets; arrows or weird characters will throw off the ATS.
8. Select the correct file type.
Applicant tracking systems favor the .doc file format. However, some ATS can read .pdf as well. Make sure you follow the digital application's instructions and submit your resume in the requested file formats. If the digital application specifies which file formats are acceptable, you're good with those. If they don't specify, go the safest route and submit it as a .doc.
9. Convert your resume to plain-text.
An easy way to test if your resume is ATS-friendly is by converting your document into a plain text file. The plain text version will disregard most of your resume's formatting. With only the text, you'll have a good idea of how the ATS will read your resume. If converting your resume to plain text didn't eliminate any information, you're good to go. If some sentences changed order and it's hard to make sense of them, go back and edit your resume until you get it right.
The Easiest Way to Create an ATS-Compliant Resume!
Our Resume Builder is equipped to create an ATS-compliant resume every time. We offer expertly designed templates that format your information for optimal ATS results. The builder takes care of organizing your resume sections while you focus on providing the right keywords, skills and experience. The builder even offers pro tips and auto-suggested phrases to help you create your most professional resume yet!
Build a Resume
FAQ
What are the top ATS systems?
Taleo, Manatal, iCIMS, Jobvite, Greenhouse and SmartRecruiters are some of the most commonly used applicant tracking systems. There are countless more ATS that companies use depending on their specific needs. For example, Taleo is great for large companies with a high influx of applications, whereas JazzHR is preferred by smaller businesses. If you apply for a job via electronic application, your resume will most likely go through an ATS.
Can ATS read PDF?
Word documents (.doc) are the file format most easily read by all ATS. Applicant tracking systems have trouble reading PDFs since they interpret it as an image, disregarding the text altogether. If an ATS can read a PDF (systems like Jobvite do), make sure the formatting is simple so the ATS can properly scan the text.
How do I know if a company uses ATS?
These days, most companies use applicant tracking systems to organize their hiring process. If you really want to know which one they're using, you can check the job application website's URL for any ATS brand names like Greenhouse, Manatal, Taleo, etc. If you see a brand name, this means the electronic application will send your resume to the respective ATS.
Do ATS systems scan cover letters?
Yes, ATS can scan cover letters if a company chooses to do so. Remember that ATS scan text for the right keywords and skills. Whether the text is a resume or a cover letter is irrelevant to the applicant tracking system's purpose. In fact, because the cover letter doesn't require special formatting or sections, your text won't get jumbled — unless you use a weird, unreadable font. If you're asked to submit a cover letter, make sure it's filled with the relevant keywords to maximize its ranking.