Writer Resume Template: Guide and Free Download Examples
March 06, 2023
|
Gabriela Barcenas
|
Create Your Resume Now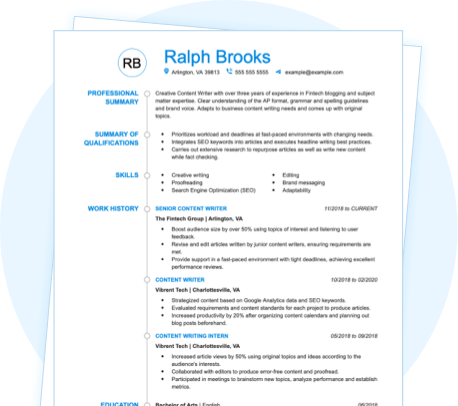 Featured In:
Copywriting Resume Examples
Editor Resume

Writers often rely on strong editors. An editor's resume should showcase your sharp attention to detail, strong written communication, honest feedback, and writing style awareness, as well as your gradual career progression.

Journalist Resume

Journalists have the unique ability to identify, investigate, and report on current events in a fair and unbiased manner. Your resume can specify key reports or editorials that helped inform or Influence the general public.

Technical Writer Resume

A technical writer can absorb complex data and simplify it for the average reader. A strong resume needs to showcase the skills required to quickly understand and explain complex information.
Free Downloadable Resume Templates
Testimonials

This clever resume template helps you offset any work gaps or limited experience by adding positive mentions of your accomplishments. Ask your classmates or colleagues to honestly review your editorial or research skills.

No Nonsense

This modern resume uses bold borders and streamlined margins to create a seamless description of your professional abilities. The focus on your relevant skills means you can promote your writing and communication skills.

Scale

This slightly playful template uses infographics to grade your skill levels. Use this template if you're familiar with multiple word management programs or editing writing styles to various degrees.

Check Box

This elegant template borrows from CVs to showcase a senior writer's accomplishments. Use this template if you have over ten years of marketing or journalism experience and hold prestigious awards in your industry.

Functional Space

This functional resume features an expanded work history that allows you to showcase two projects alongside a dedicated skills section that will summarize your copywriting and editorial skills.

Blocks

This resume follows the inverted pyramid rules found in journalism. Your significant career accomplishments sit near the top of the page, working down to your detailed writing career before ending your academic background's general facts.
How to Write Your Copywriting Resume
Identify the best copywriting skills for the job
Before you can start writing your resume, you need to identify what skills you can share with your potential colleagues or clients. These skills will vary depending on the writing jobs you seek. For example, a technical writer might take a straightforward approach and share their knowledge of data, scientific or engineering terminology, and ability to summarize complex ideas into simplified sentences. A marketing writer might choose to focus on their creativity, storytelling abilities, and persuasive writing style to sway a hiring manager.
Jot down all of the soft, hard, and technical skills you have
Identify and describe all of your professional accomplishments, such as special reports with increased readership, marketing emails with high click-through rates, or collaborative projects that successfully promoted businesses and established new professional ties.
Reread the job advertisement and circle any matching skills or requirements that you share with the open job.
Once you do this, you need to mainly focus on all of the skills and accomplishments aligned with the hiring manager's needs. They are your customer: your copywriting resume needs to pitch you as the best product on the market.
To help you get started, we identified the following list of copywriting skills that frequently appear on content opportunities. You'll showcase six of these in your skills section and rely on the rest to add context and depth to your accomplishments.
Soft Skills:
Writing skills
Written communication
Written education
Creative thinking
Improvisation
Empathy writing
Hard Skills:
Research skills
Technical writing skills
Debate skills
Clear, concise writing skills
Persuasive writing skills
Problem-solving skills
Improvisation
Brainstorming
Understanding user experience
Copyediting
Understand and accept feedback
Interpret and frame customer research
Technical Skills:
Associated Press (AP) writing style
Modern Language Association (ML) writing style
Chicago writing style
HTML knowledge
WordPress familiarity
Content management systems (i.e., WordPress, Sitecore, Adobe Magento)
Product marketing
Search engine optimization (SEO)
Search engine marketing (SEM)
usiness to business (B2B) writing skills
Business to customer (B2C) writing skills
Use a summary statement to sway hiring managers
Most hiring managers dismiss a resume after six seconds. Your summary statement sits at the top of your document and has to appeal to employers within those six seconds to give you a decent shot.
If you identified the main requirements of the open job and have some experience in it, use that specific project to demonstrate your suitability.
For example, if a company wants to hire a marketing copywriter to work on their-party collaborations, you should mention a project that partnered with another person, brand, or company. The collaborative nature of that work, partnered with any quantifiable metrics you have of the project's success, demonstrates your ability to accommodate brand voice requirements and meet project goals.
Showcase your former employment or accomplishments
This section will depend on the nature of your former copywriting jobs. For example, if you were an in-house writer for more than a year at multiple brands, you'll follow a chronological approach and assign your duties and accomplishments to each position, starting with your most recent job.
If you're a freelance copywriter and do months- or quarter-long projects, you may want to take a different approach. You can write a qualification of summaries that focuses on projects, favorable outcomes, and main responsibilities related to desirable copywriting traits. Your qualification of summaries should feature three overarching skills, with two to three examples of your successful writing projects.
"Summary of Qualifications
Copywriting
Focused on B2C writing to create an entry-level blockchain, security, and crypto guides to help new investors identify, obtain, and safely store various cryptocurrencies.
Crypto brokerage saw a 32% increase in customers and a 58% increase of positive interaction with the service upon publication of the material."
Finish the rest of your resume
Your skills, professional accomplishments, and summary statement make up the bulk of your copywriting resume. The remaining two sections usually include the same information as most resumes, although you can add additional proof of your writing prowess.
Your contact information needs to include your full name, address or location, phone number, and professional email. As a professional writer, your resume would benefit from adding links to your writing samples or portfolio. This allows you to control which work samples a hiring manager will see.
Your education section should include your degrees and any writing certifications that are relevant to the open job. For example, don't feature SEO certifications on a print advertisement application, since the ad will never appear online or run through a search engine.
Add a Cover Letter
You may be skilled at marketing other people or products, but it can be hard to balance sharing your accomplishments with bragging. Our cover letter helps you out by suggesting pre-written drafts you can quickly personalize to yourself and an open opportunity.
Build a Cover Letter
Build a Faster Resume
No matter how confident you are on your writing skills, it can be hard to confidently express yourself in one page. We can help you build a faster copywriting resume with job-specific blurbs written by our certified resume writers in addition to exclusive templates, unlimited data storage, and different payment options.
Build a Resume
Copywriting FAQ
How do I write a freelance writer resume?
Since freelancers rely on short-term gigs, you need a writer resume that showcases your skills and abilities over your work history. A functional resume helps you achieve this. We recommend that you follow this freelance writer resume template:
1. Contact information: This short section needs your full name, the general region you live in, phone number, and professional email. Your copywriter resume benefits from adding links to your writing portfolio and work samples.
2. Summary Statement: his introduction needs to tell your professional story. If you're applying to another freelance or short-term contract role, you can focus on your freelance history and timely delivery of written materials. Suppose you're looking for a full-time or in-house writing gig. In that case, your summary statement identifies one or two projects with a noticeable and positive result for the client, such as a social media campaign that increased sales traffic or a successful promotion of new goods.
3. Qualifications of Summary: This section categorizes proof of your accomplishments, in the form of statistics or data, by skill set to help craft an idea of your creative storytelling.
4. Writing Skills: This detailed list of skills needs to focus on the critical aspects of your writing career. For example, you can define what forms of writing you're familiar with, such as email copywriting, product copywriting, technical writing, or user experience (UX) writing.
5. Editorial Skills: A good writer is nothing without strong attention to detail and the ability to self-edit. You should specify which writing styles you're familiar with such as the AP style format.
6. General Skills: Although writing and editorial skills are your main feature, you should still compose a 6-8 item list of social and professional skills that can help mark you as a strong employee and pleasant coworker.
7. Work History: This reduced section should downplay your short-length employment by specifying your former job titles, employer, and general year of employment. Avoid adding specifying dates or responsibilities related to each job.
8. Education: Most education sections follow the same format. Add any relevant degrees or certifications that help make you a strong copywriter, such as a B.A. in Creative Writing or an SEO copywriting certification.
How much does a writer earn in the U.S.?
Pay ranges depending on your level of experience and where you're hired to work. For example, journalists can earn significantly less than advertising writers and a technical writer in Austin, TX, could make more than a similarly skilled writer in Jackson, WY. The Bureau of Labor Statistics recently calculated the average wage of writers across these general industries.
Industry

National Average
National Average
Journalism and Publishing
Scientific and Technical Writers
Radio and Television Writers

Average Hourly Wage

Average Salary

Industry

National Average

National Average

Journalism and Publishing

Scientific and Technical Writers

Radio and Television Writers

Average Hourly Wage

$32.27

$37.42

$31.60

$38.57

$33.21

Average Salary

$67,120

$77,830

$65,720

$80,230

$78,060
How do I become a writer?
A good writer isn't born –– you have to practice your craft and pursue copywriting opportunities. To become an employed writer, you can use the following strategies to increase your job opportunities.
1. Pursue an education in English, Literature, Journalism, or Media Studies. You'll learn to hone your writing, finesse your grammatical skills, and establish a network of peers who may evolve into future business contacts.
2. Invest in a professional website or online portfolio. Most employers want to review your writing samples to ensure you're a strong storyteller before hiring you. An online portfolio makes it easy to share and measure your skills.
3. Register with various recruiting agencies and freelance marketplaces. Although recruitment agencies take a percentage of the wages you earn from each successful job offer, they're a reliable option for starting your writing career. Agencies have established connections with reputable employers and recruiters and can recommend you for jobs before they are advertised to the general public.
Gabriela Barcenas
Gaby is Hloom's resident writer, a certified professional resume writer (CPRW), and a baking enthusiast. She likes to defend the use of the functional resume to her friends in HR. She graduated from the University of San Francisco with a B.A. in English and Creative Writing and wrote about career growth, tech startups, education, fashion, travel and lifestyle culture throughout her career.