Certificate of Acceptance
Doing business in the "good old days" required little more than a handshake and trust in your partner's good name. The complexities of modern business, however, dictate a significant amount of documentation in order to start and complete a project. Understanding how these documents work can benefit both parties and ensure that their business relationship remains solid. Particularly important is the moment of acceptance, when everyone agrees that a project is complete and has been accepted by the buyer.
What Are Acceptance Certificates?
Also known as a compliance schedule or acceptance form, acceptance certificates are used throughout the world. In Quebec they are known as a CAQ, or Certificate of Acceptance Quebec, a type of documentation required for a study permit in Canada.
Depending on your location and the type of work being performed, an acceptance certificate may be required, or at least welcomed. Here some examples of industries that use acceptance certificates:
Building and Real Estate – Real estate acceptance certificates are used to designate that a particular parcel of land is acceptable, or that the required terms of a lease or contract have been met. Realtors may use an acceptance certificate to offer prospective buyers details about their purchase. Sellers may also use this same type of certificate to indicate their acceptance of building work from a contractor. Building consent acceptance, which offers proof that the building is up to code, is another key usage of acceptance certificates in real estate.
Deed Acceptance – Any time you wish to make a capital expenditure on building work, it's likely that you'll need an acceptance certificate. Using a formal document to affirm acceptance provides protection for both the builder and the purchaser that all work meets or exceeds expectations.
Type Approval – Assuring that items are fit for use can be certified through a type approval, or Certificate of Conformity. Type approval exists in a variety of different industries, including marine equipment, mobile phones and the automotive industry.
Therapy Centers – Platelet-rich plasma therapy is a significant leap forward in cellular therapy. Licensing for this natural bio-energetic therapy is handled by a variety of training centers. Having a certificate of acceptance from a renowned training center can build a level of trust with your clientele. Plasma therapy is approved by the FDA for the treatment of everything from face lifting and filling, hair re-growth, scar regeneration, and skin tone improvement.
Successor Trustee – If a trustee becomes unable to perform their function for distribution of properties according to terms of a trust, a successor trustee is appointed. This individual will help administer a deed contract or other items to ensure that the requests of the deceased are fulfilled. If you're the individual designated as a successor trustee, you may need a downloadable Certificate of Acceptance to present to individuals who receive proceeds of an estate.
Technician Certification – In California, for example, the Energy Commission developed 2013 Standards that provide for specifics of acceptance testing. Once a field technician certifies that newly installed equipment is fully operational and meets standards, they are able to offer an Acceptance Certificate to the building owner. The free template you'll find below is an excellent resource for anyone needing to provide an Acceptance Certificate.
Deed Acknowledgement – Acceptance of a warranty deed is a critical factor for real estate contracts, showing that the deed details are confirmed by both parties. Deed Acceptance Certificates are often witnessed by a notary public.
Free Certificates of Acceptance Templates





Creating an acceptance form doesn't have to be difficult. Whether you need a specialized document such as a code compliance certificate or a territorial authority form, free downloadable acceptance certificate templates will allow you to show acceptance of a project or service efficiently and professionally.
Below, you will find a selection of printable designs. Filling in your information is easy, and then all you have to do is print. Prefer to send the form via email? No problem— simply fill the information in, save it in a Microsoft Word format or PDF, and attach the file. The free downloadable template allows you to create a professional impression without spending a dime.
Generic Certificate of Acceptance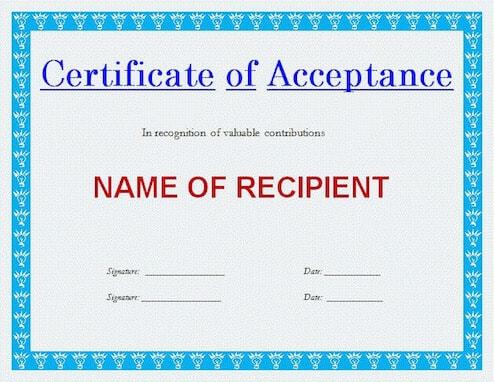 Size: 183 B
Downloads:

1219

Filename: generic-certificate-acceptance.docx
Uploaded: 2017-01-08 14:16:00 / 13013
Download