Cover Letter Examples for All Levels and Job Industries
You've arrived at the complete hub of cover letter examples! Candidates of all levels and industries will learn to choose the example that favors them the most and use it as a guide to write their cover letter. Along with our cover letter writing tips, you will craft a unique document that showcases your best skills and achievements.
Use This Template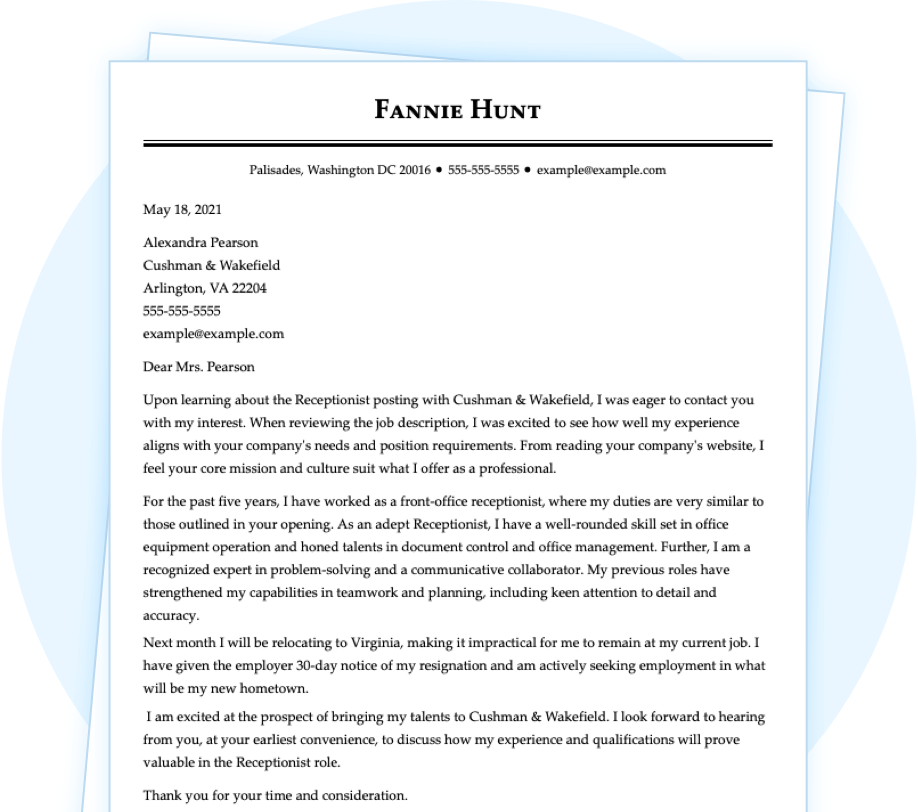 Featured In:
What is a Cover Letter Example?
A cover letter example is a pre-written document that allows you to see exactly how someone would write a cover letter for a particular role. Contrary to cover letter templates — which are all about the visual style — cover letter examples focus on the content. Pay attention to how these cover letter examples are written and what information is showcased, so you can learn to write your own.
Benefits of using a cover letter example
Writing a cover letter from scratch can be a daunting task, especially if you've never written this type of business letter before. A cover letter example saves you time from figuring out the letter's appropriate phrasing and tone. Because these examples were pre-written by professionals, all you need to do is fill the content with your specific skills and achievements and edit any information that's not relevant to your case.
Cover Letter Examples for Different Career Scenarios
A cover letter is a great document to pair with your resume in your job application. Where a resume simply lists your skills and achievements, a cover letter tells the story of how those abilities make you the right fit for the job.
The following cover letter examples will help you create a letter for multiple career scenarios you might face, from needing to relocate for work, applying for a promotion within your company, and applying to your first job out of college.
Cover Letter Examples by Industry
Learn more about the kinds of skills and specific examples of accomplishments you should include in your cover letter. The following cover letter examples are divided by industry, so whether you're working in customer service, education, graphic & web design, and more, you'll find an example for your desired job.
Accounting Cover Letters
Accounting is all about keeping numbers and financial records organized and free of errors. You should showcase hard skills in financial reporting and analysis, bookkeeping, and payroll processing. Highlight soft skills such as problem-solving and communication. Include your familiarity with different accounting software, mathematical skills, membership in local or national accounting associations, additional certifications that you've achieved, or quantifiable statistics related to prior financial growth or successful software migration that you helped initiate.
Account Manager

Bank Teller

Financial Analyst
Administrative Cover Letters
An administrative cover letter should have a wide range of skills. Include soft skills like organization skills, multitasking and delegation. Don't forget to add hard skills like billing, record keeping and accounting. We also highly recommend that you focus on organizational achievements. Successfully migrating physical files into a searchable cloud database, introducing streamlined database policies, quickly adopting new organizational tools, or speeding up an information request review policy are examples of how successful administrators contribute to a streamlined workplace.
Administrative Assistant

Front Desk Clerk

General Office Clerk
Education Cover Letters
Each grade level presents a unique set of educational challenges and surprises — your cover letter needs to present a reasonable approach to your students as well as appeal to administrators. Provide an example of how you plan to connect or encourage your students to learn or how you've adapted to challenging students. If you can, showcase projects with a success rate, such as increased testing scores. As you can see on our cover letter, our sample job seeker introduced new instruction techniques that led to a significant increase in critical thinking and test percentiles.
Elementary Teacher

Special Education Teacher

University Professor
Food Service Cover Letters
As with many jobs in the service industry, food service has suffered some recent economic setbacks. Fortunately, many of the same skills you developed in food service will serve you well inside and out of the industry. An adaptable cover letter should include a mention of your transferable skills. For example, this bartender's cover letter can be adapted to include cash handling in addition to Mr. Schumen's mention of his customer service skills, preparation speed, compassion, and creativity in recipe-building.
Bartender

Catering Server

Restaurant Manager
Graphic & Web Design
A company can appeal to customers through elegant, functional design and aesthetics. Your cover letter seeks to market you as much through its design as it does through an elaboration of your practical experience. Although your resume will list all of the design programs you're familiar with, your cover letter should elaborate on one or two programs that you're particularly skilled in. Refer to the former digital or marketing campaigns you've included in your portfolio and describe your thought- and decision-making process. Your cover letter will be especially impressive if you demonstrate your aptitude with a program listed on the open job posting.
Graphic Designer

UX Designer

Web Designer
Information Technology
Your cover letter should feature your expertise in this department, from highly specialized knowledge of scrum programs to a well-balanced understanding of overarching IT networks. For example, relate your experience with data breaches, network security, and solving computer issues. Include soft skills such as management, collaboration, and organization, as well. Use your letter to elaborate on the experience that you can bring to an organization and provide examples that strengthen the claims you make on your resume.
Computer Network Architect

Data Analyst

Software Engineer
Medical
There's a growing need for medical experts, and your cover letter needs to be well-written to gain access to coveted job placements. Since your resume should include all your relevant certifications and experiences, your cover letter can be used to show examples of how you've gone above and beyond as a medical practitioner. Your soft skills like patience, emotional intelligence, organization skills and time management would be great to highlight alongside examples of career accomplishments.
Dental Hygienist

Emergency Nurse

Medical Assistant
Safety & Security
An effective cover letter for security professionals should include plenty of real-life examples to present their professional skills. For example, you can recount how in your role as bouncer, you needed to constantly scan the crowd, identify problematic situations and promptly diffuse them before damage could be dealt to people or bar property. Your letter should reflect similar communication skills, conflict mitigation and attention to detail, and should cover strength, security certification or weapons permits.
911 Operator

Fire Fighter

Security Officer
Sales
Several of the industry letters under this page cover support for commerce. However, you are the direct link to customers — your cover letter needs to reflect your financial contributions to previous employers and any beneficial information you can bring to a potential new employer. For example, your cover letter could specify the number of sales you make in an average quarter or your curated list of sales leads in addition to your customer service skills, confidence and account management.
Marketing Manager

Salesperson

Social Media Manager
Tips for Using Cover Letter Examples

This list of tips will help you use our cover letter examples to avoid submitting an inaccurate or generic document on your job application, as well as learn how to maximize the information you're sharing.
Edit the existing content but don't copy-paste the entire letter.

Remember that our cover letters are just examples of hypothetical candidates. You should always go in and change the skills and accomplishments to ones that are relevant to you and your career. Never copy-paste our content into a doc and submit it as-is. Employers will detect plagiarism with specific software or with applicant tracking systems (ATS).

Don't repeat what you wrote in your resume.

Add different skills from the ones listed in your resume, including achievements that are better expressed in a narrative style or are unable to fit in your resume. By adding the same skills and experiences you're wasting valuable space to convince your employer of why you're the ideal candidate.

Include accomplishments that respond to your employer's needs.

The job description should give you hints as to what the employer needs from the person occupying this position. For example, if they want a project manager with lots of IT skills, you should mention experiences like taking a month-long seminar to become an expert in multiple software developing programs.

Match your cover letter skills to the keywords found on the job advertisement.

It's important that you phrase your skills and professional qualifications as you find them in the job description so as to score highly on ATS searching for those specific words, and to make it easier for recruiters scanning for particular skills or certifications.

Utilize numbers, percentages and dollar amounts to represent the impact of your achievements.

Adding numbers to quantify your achievements not only gives more validity to your claims of being an expert in your field, but it personalizes your resume. A recruiter might not remember that you had excellent sales skills, but they will remember you grew revenue by 20% by employing sales techniques on your role as a cashier.

Match your cover letter's tone and writing style to that of the company or role you're applying to.

A cover letter can also help you show more of your personality. If you're applying to a fast-paced, demanding accounting firm, you should match that energy in your cover letter writing style by using strong action verbs and conveying confidence in yourself.

Proofread and spell check your letter thoroughly.

A typo or grammatical mistake can be the reason between you and the candidate your employer decides to hire. Don't leave that decision to fate and pass your text through a spell checker or have a copy editor friend to review it.

Don't forget to replace the generic contact and recipient's information with your own.

Last but not least, cover letter examples are a great tool because they show you how well you can make yourself sound. However, don't forget this example is simply a placeholder for your own. You need to personalize it by adding your skills, experiences and personal writing style.
Upgrade Your Cover Letter
Our Cover Letter Builder is the best tool for creating an impressive and personalized cover letter. Our tool takes into account your desired role, years of experience and writing style to create a cover letter that's perfect for you. All you need to do is edit to include more specific skills and achievements, and you can be on your way to acing those job interviews.
FAQ
How do you format a cover letter?
A cover letter follows only one format, that of a business letter. Its structure should include your contact information and the recipient's information at the very top in the form of a heading, followed by a salutation or greeting, the introductory paragraph, a body paragraph where you include the bulk of your skills and experience, and a closing paragraph.
Is it professional to use a cover letter template?
Absolutely. Using a cover letter template gives your cover letter an air of professionalism that a simple text editor can't provide. If you're looking for a design that fits your personal style and desired role, you can check out our large collection of cover letter templates.
What is the best cover letter builder?
The best cover letter builder is the one that will use your information to craft the most personalized cover letter possible. Hloom's Cover Letter Builder will start off by asking you what is your desired role, your top skills, years of experience and working style to create a cover letter that sounds right for you and what you need to accomplish to get that interview callback.