Complete CV Guide + Tips
A curriculum vitae, casually known as the CV, is a highly detailed document that delves into your professional, academic and personal achievements. This document shouldn't be confused with it's simpler but common cousin, the resume.
Although these two job-seeking tools do cover some of the same topics (skills, work experience and education), the CV expands on this information and covers far more of your professional experience. We'll give you a helpful overview and share some of our favorite tools to help you write and perfect your CV.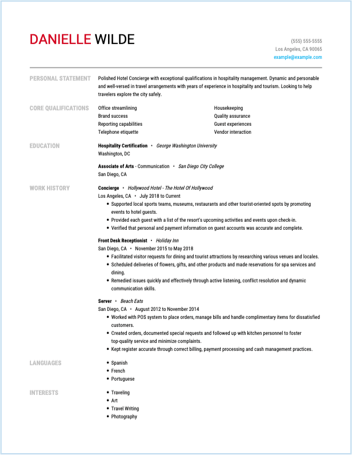 Use This Template
Rate this Template
Featured In:
What is a CV
We mentioned that the resume and CV share similar sections, but that the CV is far more expansive and detailed. Here are the crucial differences you'll need to know before you start using this format.
A CV covers far more of your professional and academic history.
It will be longer that one page, depending on the amount of schooling and work experience you have.
The CV is better suited for graduate degree applications, government jobs, entertainment or international work if you're a U.S. job seeker.
The CV is a more commonly used job-seeking tool than the resume outside of the U.S.
If you plan on seeking international work and pursuing those CV-friendly career tracts, we've gathered some useful writing guides and tools into these helpful pages to help you get started.
You'll find links on how to write a CV, downloadable templates, and an online Resume Builder that lets you add and customize CV-friendly sections.
Anatomy of CV
1. Contact Information
Mandatory section includes your full name, mailing address, phone number, and email address.

2. Career Objective or Personal, Summary Statement
Optional section that conceptualizes the content on your CV to the job or role you're applying to.

3. Core Qualifications
Mandatory section that includes all of your soft (interpersonal) and hard (technical) skills.

4. Education
Mandatory section that summarizes your academic accomplishments, as well a career or educational related training and certificates.

5. Work Experience
Mandatory section that summarizes your professional history, starting with your most recent role.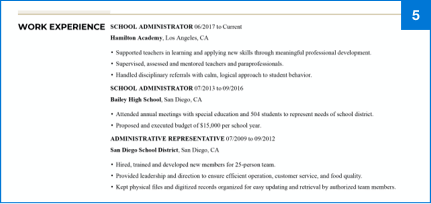 6. Teaching Experience
Optional section that summarizes your educational experience, starting with your recent role.

7. Research Experience
Optional section that summarizes your academic lap or research history, starting with your most recent role.

8. Publications
Optional section that helps establish you as a recognized voice in your field of study/work.
9. Conference Presentations
Optional section if you frequently lecture or present at conference. Indicates your expertise in your field.

10. Conference Attendance
Optional section if you frequently attend relevant conferences. Indicates your updating knowledge and interest in the field.

11. Grants or Funding
Optional section that helps establish academic financial support for your projects.

12. Honors and Awards
Optional section that helps establish your lauded interest in the field

13. Professional Affiliations and Memberships
Optional section that provides additional information about your academic socializing within your field of study.

14. Language Skills
Recommended section if you speak two or more languages at varying levels of fluency.

15. Digital Skills
Recommended section if you specialize in computer or programming.

16. Community Outreach
Optional section that provides additional information about your personal contributions

Job-Winning CVs
Writing a CV from scratch can be intimidating, especially if you need to struck a balance between the information and design on your document. Our Resume Builder includes tools to add sections to our professional templates, giving you the freedom to focus solely on your professional accomplishments.
Build a CV
8 Steps to Customizing your CV:
Step 1: Click the 'Build A Resume' button and select a template. Begin the building process by entering your contact information and work history. Follow the guided steps per section until you've finished curating your work history, adding skills, education, and your summary.
Step 2: After completing the summary section, you'll be able to customize your document by adding and creating your own relevant sections. On the left-hand side of the editing dashboard, click the plus sign that says 'Add a Section,' and that will direct you to the menu with available add-ons such as Accomplishments, Certifications, and Websites. You can also select "Add Your Own" to create your own sections.
Step 3: When you've finished adding a new section, you will be directed back to the editing menu, where you can go over the section with your mouse to move, edit, or delete unnecessary information. That area will be selected, and an icon with arrows will pop on your right. This way, you can organize the layout of your document accordingly.
Step 4: To adjust your document's format, once you have returned to the editing menu, simply select 'formatting' at the bottom of the page, in between 'template' and 'color.' Once in the 'formatting' section, click the gear icon on the far right to reach the 'Custom' menu. That's where you can adjust the margins, font size, font style, and spacing.
Step 5: If you would like to change your template, go back to the bottom menu and select the 'template' tab.
Step 6: If you would like to choose between our custom colors for your document, select the 'color' tab.
Step 7: When finished customizing your document, make sure to click on the 'A' icon at the top left to spell check your work and ensure there are no grammatical errors.
Step 8: Once you're satisfied with your CV, "Save and Next" so your work isn't lost, then you can click "Download" to save the document to your computer.
Your DIY CV Toolkit
Since the curriculum vitae isn't as common as the resume, we know it can be tricky to find helpful information or starting guides. We've gathered our favorite tools to help you get started on your graduate applications or career path.
We shared the general outline of a CV and suggested which sections are mandatory, optional and highly recommended. We dive into a little more detail in our CV writing guide, where we break each section up and give you step-by-step advice and examples to help you write your CV from start to finish.
You understand that a CV consists of multiple sections and vast swaths of information –– formatting that information without overwhelming the reader can be tricky without finding the right balance of font size, margins, and white space. We created a few CVs with and without our builder to give you a proper idea of what your CV should look like before you submit.
CV FAQ
How do I write a CV for my first job?
Before you can write a CV for your first job, you have to make sure that this document is the correct format for you. Use a CV if you're:
Applying to work abroad or relocating internationally
Applying to a graduate degree
Pursuing a federal job
Applying for work in the entertainment industry
Applying for a research-focused career
Applying for academic or teaching positions.
If you're applying to any of the previously mentioned jobs, a CV will help you because it highlights all of your highly-specialized skills and experience, regardless of whether you gained it in a formal or informal setting like volunteering.
Since your CV highlights all of your experience, your CV will follow the same advice as a senior level resume, but you'll need to fold a few of your sections into one section. For example:
Have one skill section instead of dedicated general, digital and language skills sections.
Have one work experience section instead of dedicated work, academic and research sections.
Combine your conference attendance sections.
Combine your Honors and Awards with your Funding and Grants section, if applicable.
Since a CV is so highly detailed, you're best template option should be simple or minimal. There is so much information on your CV that a heavily designed document can make it difficult for the hiring manager to scan or read your document.
We gathered a few of our favorite designs into one template library to help you find the perfect CV for your job search.
Should you put a picture on your CV?
The answer to this question depends on your location. If you're in any of the following countries or regions, you should absolutely add a picture of yourself on your CV:
France
Germany
Mexico
Spain
India
Hiring managers in these countries like to pair a face to the name of their candidates and prefer photos on your CV. However, if you're applying for jobs in the United States or any other country not listed above, you should delete your photo. They're considered distracting and unnecessary.
What should not be included in a CV?
The CV is unique because it holds so much information. However, here are some topics that you should not include on your curriculum vitae.
Date of birth
Gender
Nationality
Private information not pertinent to a job search.