Certificat de bourse d'étude
Recognize Students' Hard Work and Achievements with a Scholarship Certificate
Every year students of all ages and backgrounds apply for various grants, bursaries, and scholarships to make their education more affordable. Scholarships are particularly important, as they are an excellent way to recognize and reward students for their hard work while encouraging them to continue to do their best. It is essential to celebrate students for their academic achievements, and a scholarship award certificate gives them an important document to place in their portfolio.
What is a scholarship certificate?
A scholarship certificate is an award that is given to a winner of a scholarship program. It is a printed document that is granted to the scholarship holder and it includes winner's name and achievements. This certificate can be either framed or placed in their portfolio along with any diplomas or degrees, excellence awards, and letters of recommendation.
an award for a student to further continue his or her education many students wish to get sc Certificate Template For Scholarship
Having a certificate to accompany a scholarship award, which is a form of financial aid that is granted to a student to help them continue their education, is an excellent addition to any student's record as additional proof of their achievements. Scholarship opportunities are awarded based on a number of criteria, including grades, achievements in science, and excellence in sports.
What to Include on a Scholarship Certificate
Since scholarships are awarded for different reasons, the student may want to use the certificate in their portfolio as evidence of their GPA, art talent, or athletic skills, depending on why they received it in the first place. Having clear, concise information about the scholarship will allow the student to easily share what they accomplished to merit the award.
Things you should include:
The winner's full name.
The institution they attended when they received the scholarship.
The date it was issued.
What type of scholarship it was (merit-based, career specific, college specific, athletic, or creative).
The reason they received it.
The name of the scholarship.
The organization or person who awarded the scholarship, with a signature.
Scholarship Certificate Examples
Creating a scholarship certificate to hand to the recipient is an important task. This piece of paper will soon become a meaningful document in the student's portfolio as proof of their accomplishments and should be done so in a professional and elegant design.
Make your next scholarship certificate with one of our professionally designed printable certificate templates to help leave a lasting impression. Simply download award template of your choice and customize it as needed.





Modèle de certificat de bourse d'étude moderne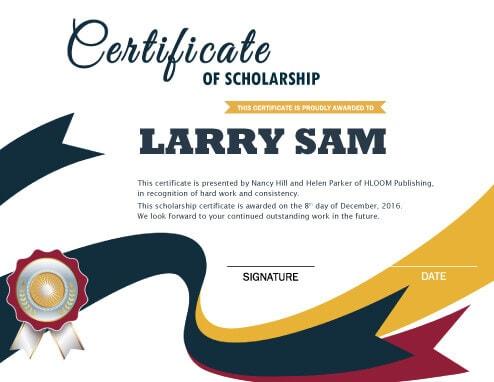 Ce certificat de bourse d'étude moderne possède un style simple et élégant pour un résultat professionnel et attrayant. Les rubans dorés, bleu marine et bordeaux complètent la médaille argentée qui agrémente le coin gauche inférieur. Ce modèle est parfait pour toute attribution de bourse d'étude, par exemple pour encourager la participation à des programmes d'été ou d'immersion académique durant une année, ou pour une excellente performance académique.
Taille : 183 B
Téléchargements :

1798

Nom du fichier : Modern-Scholarship-Certificate-Template.docx
Mise en ligne : 15-01-2017 07:00:00 / 13884
Télécharger
Modèle de certificat d'attribution de bourse d'études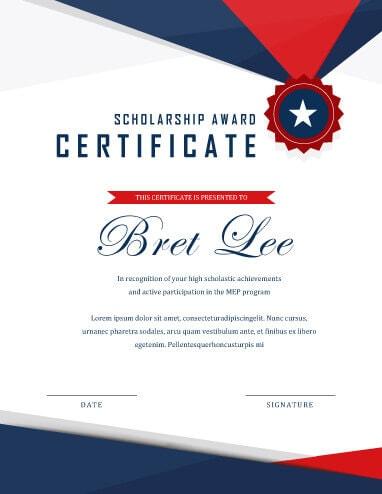 Ce certificat de bourse d'étude imprimable gratuit possède une allure patriotique avec ses motifs bleus et rouges et sa médaille ornée d'une étoile blanche. L'élégante présentation sous format portrait offre tout l'espace nécessaire pour un texte et peut être utilisé pour tout type de bourse d'étude, par exemple pour une bourse qui aide les élèves de terminale qualifiés à minimiser les coûts des études secondaires.
Taille : 183 B
Téléchargements :

1397

Nom du fichier : Scholarship-Award-Certificate.docx
Mise en ligne : 15-01-2017 07:26:00 / 13890
Télécharger
Certificat de bourse d'étude vintage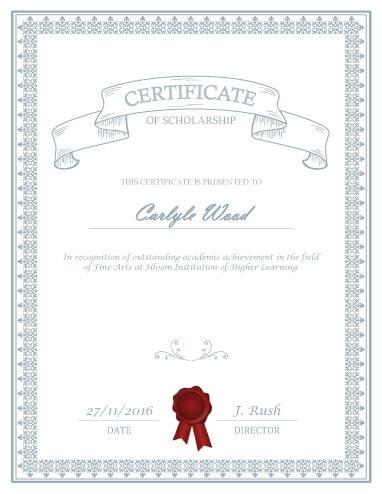 Ce modèle bleu pastel délicat est doté d'une bordure attrayante et d'une bannière classique motif ruban qui confèrent à ce certificat de bourse d'étude une allure authentique et académique. Ce modèle de style vintage est un excellent choix pour de nombreux certificats de bourse d'étude.
Taille : 183 B
Téléchargements :

863

Nom du fichier : vintage-certificate-scholarship.docx
Mise en ligne : 15-01-2017 07:31:00 / 13896
Télécharger