Quality Assurance Resume Samples
Real life example in Word for instant download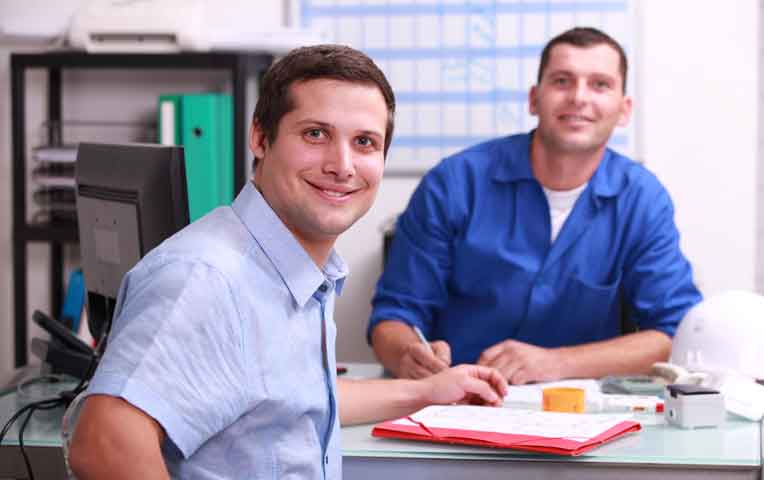 Any business that produces products, from software to food to pharmaceuticals, needs quality assurance staff to control the quality of products, materials, and services. This creates a wide range of different QA positions with different job requirements, responsibilities, and duties.
But don't worry:
the good news is that we're going to look at some do's and don'ts of quality assurance resumes, along with a sample to help get you started.
What to Highlight on Your Quality Assurance Resume
What most hiring managers for QA jobs look for:
Experience: This is an obvious one. Unless you are applying for an entry level position, previous experience in a similar position is going to play a very important role. For an entry level job, experience could be less important, since training is often provided.
Ability to accurately implement and report: Any business that produces products will usually have a number of different tests or measurements that need to be made. Your employer will want to see that you can perform tests and implement and follow procedures reliably.
Automated testing background: If you're venturing down the software path, you'll come across automated testing modules. This is where having a background in computer science or a related field really helps. Showing you have knowledge with automation can go a long way.
Testing and identifying problems: The whole point of quality assurance is to ensure that customers are satisfied with the end product. That means you should be able to do extensive testing, find and identify potential problems. If you can show that you have rigorously tested a product/system in the past and identified a problem, you are golden.
These are just some general things you need to consider; always pay attention to job description to get a clue about skills that would be important for this particular position, and modify your resume accordingly.
Real life Quality Assurance Resume Sample
This is a real life example of a solid quality assurance resume. This sample was used by a student in third year of university, and it had a solid rate of winning interviews.
Quality assurance resume sample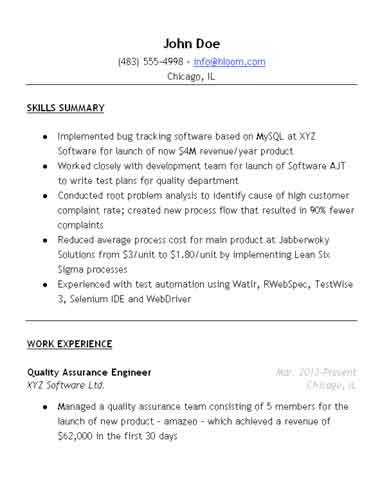 Real life example of a software quality assurance engineer, entry level position with some related experience.
Size: 183 B
Downloads:

3483

Filename: quality-assurance-resume-sample.docx
Uploaded: 2015-04-12 18:27:00 / 7965
Download
Key points about this QA resume sample:
Simple and clean layout: It is very easy to quickly skim and locate important information, resume is well balanced and easy to read
1 page long: The ideal length for a resume – most recruiters agree that resume should be a page long, especially for entry level positions
Lots of metrics: This is a good example of a benefit-driven resume that shows the impact the applicant's work had on previous businesses
Relevant skills highlighted: The skills summary is laser targeted to a typical job description. It includes keywords like implemented, analysis and identify, as well as the results from those skills