Christmas Gift Certificates
Create a personalized Christmas present using our editable gift certificate templates
Whether you've left your Christmas shopping until the last minute, or just want to give a loved one a present that's a bit different, why not consider a Christmas gift certificate? Our range of free templates are downloadable and editable, so you can create a memorable gift without the need for specialized design skills.
Why Use Christmas Gift Certificates?
Here are a few reasons why you may want to consider creating gift certificates instead of giving the same old presents this holiday season:
Save money – You don't need to spend your hard-earned money on expensive Christmas presents. Instead, consider creating certificates that include favors, promises, or free outings.
Get personal – The lucky recipient of your customized holiday-themed gift certificate will love the fact you have created something unique just for them. You could even use uploaded photos to add that extra personal touch.
Show your appreciation – Is there a certain someone in your life who has given you unwavering support throughout the year? A Christmas gift certificate is a great way to repay that person.
Christmas Gift Certificate Ideas
A gift certificate provides an opportunity to give a friend or family member a thoughtful present that has been made especially for them. If you're stuck for ideas, here are some gift voucher suggestions that cater to various tastes:
Spoil your mother with a luxurious winter pamper package and create a themed gift certificate to match.
Book a special festive dining experience for your parents and create a tangible present they will love in the form of a restaurant gift certificate.
If it's time you finally pulled your weight at home, use a gift certificate to make a promise to your parents that you'll do particular household chores during the holidays.
If you love the idea of gift certificates, you can create them not only for the Christmas season but also for many other holidays and occasions including birthdays, weddings, Mother's Day and Father's Day.
How to Use a Free Resume Template
Adding certifications to a resume can help it stand out. You can create a new resume or update an existing one in our Resume Builder. It has free resume templates that are editable and customizable to your style, voice and needs. You can also count on expert recommendations personalized to your industry of choice and years of experience.
How to use a resume template
Following these easy, guided steps, you'll finish in minutes:
Select your level of experience: Whether you are starting out with no experience or have already been working for a decade, you will find a resume template to suit your needs.
Choose your resume template and color: If the recommended resume templates do not feel like you, select another from the Traditional, Modern or Creative categories. You can also view them all at once or change them during the preview stage.
Start from scratch or upload your current resume: If you already have a resume, upload it, and the builder will format it to fit your new resume template. You could also start from scratch by answering a few questions to populate the page.
Input your information: Add your contact information, work history and skills to the resume template. For skills, you can add them on your own or add the builder-suggested skills by jobs and industries.
Add any extra sections: Need more? To include those recently earned certifications, simply add sections to the resume template.
You will finish creating or updating your resume in a few minutes!
Build a Resume
Free Gift Certificates Examples
Whatever the present this holiday season, gift it with extra Christmas cheer using our range of festive-themed gift certificate templates. Traditional or modern, classic or artistic, we're sure to have a template to suit your needs. All you need to do is download a free template, customize the text, and either print it out or save it electronically then send it to a loved one for a unique, personalized gift.
Blue Snowflakes Christmas Gift Certificate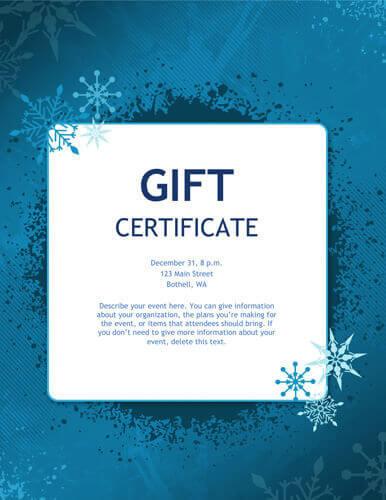 The cool blue design of this gift certificate offers a wintery feel, and the addition of snowflakes adds a touch of elegance — a perfect gift for that special someone.
Size: 183 B
Downloads:

17840

Filename: Blue-snowflakes-Christmas-gift-certificate.doc
Download
Santa Claus Ho-Ho-Ho Gift Certificate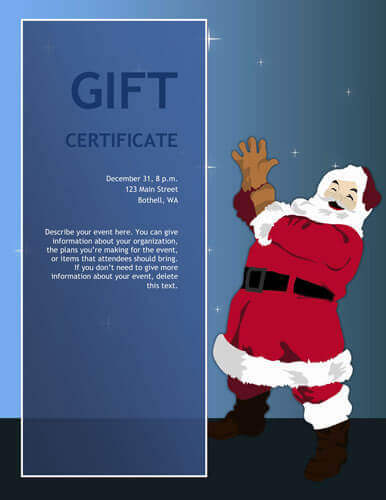 Spread the Christmas cheer with this gift certificate bearing the iconic image of a jolly Santa. What better way to say "Merry Christmas!"
Size: 183 B
Downloads:

10554

Filename: Santa-Claus-Ho-Ho-Ho-gift-certificate.doc
Download
Red Christmas Tree Gift Certificate Template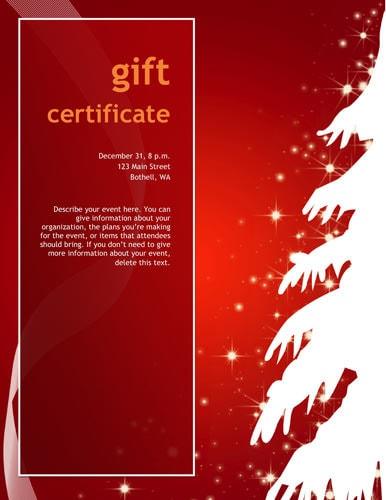 Create a gift certificate with a classic feel using this template that shows a snowy white Christmas tree set against a festive red background.
Size: 183 B
Downloads:

8676

Filename: red-christmas-tree-gift-certificate-template.doc
Download
Red Christmas Decoration Gift Certificate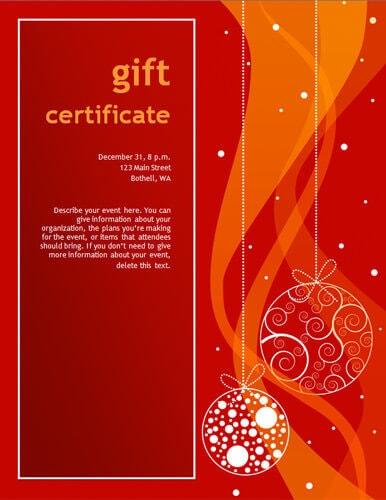 This artistic gift certificate template features a festive red background and stylized decorative baubles. It also has a large section for you to include your special message.
Size: 183 B
Downloads:

9731

Filename: Red-Christmas-decoration-gift-certificate.doc
Download
Red and Yellow Stars Holiday Certificate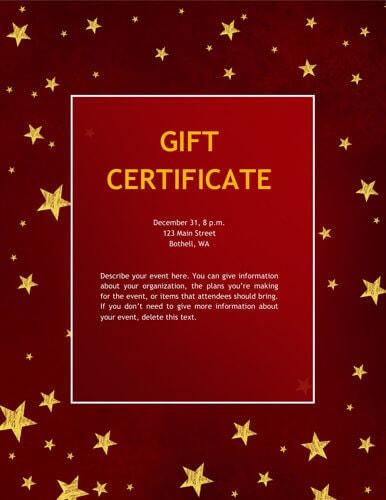 Twinkle, twinkle, little star, let someone know how loved they are. It's time to sparkle with this gorgeous star-themed certificate template.
Size: 183 B
Downloads:

7086

Filename: red-and-yellow-stars-holiday-certificate.doc
Download
Green Christmas Tree Gift Certificate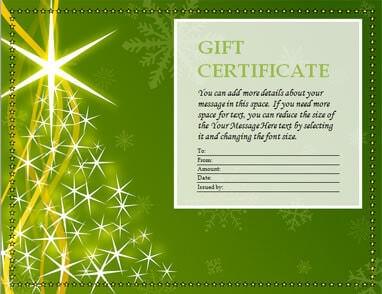 Give your loved one this festive gift certificate featuring a classic green Christmas tree with sparkling stars. Add a special message using the elegant cursive font, and highlight certificate details with underlined text.
Size: 183 B
Downloads:

12587

Filename: Green-Christmas-tree-gift-certificate.doc
Download
Gray Christmas Gift Certificate Template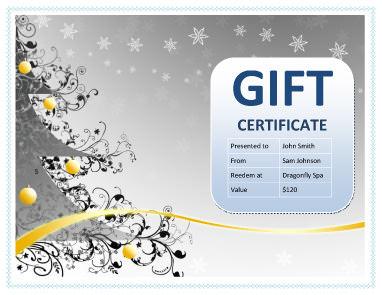 This gift certificate template is all about the wintery imagery. Make a statement with this gorgeous gray Christmas tree background containing pops of yellow.
Size: 183 B
Downloads:

11370

Filename: Gray-Christmas-gift-certificate-template.doc
Download
Christmas Snow Gift Certificate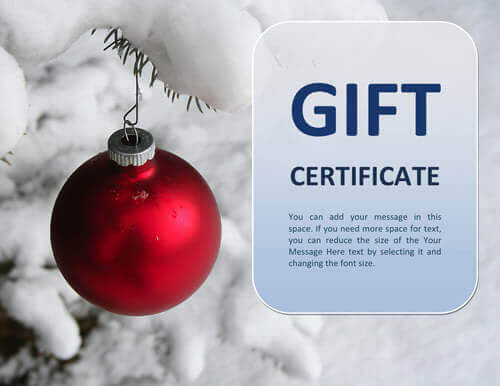 Make your gift certificate stand out with this template containing the image of a bright red bauble against a snow-covered tree.
Size: 183 B
Downloads:

14541

Filename: Christmas-snow-gift-certificate.doc
Download
Old Paper Christmas Gift Certificate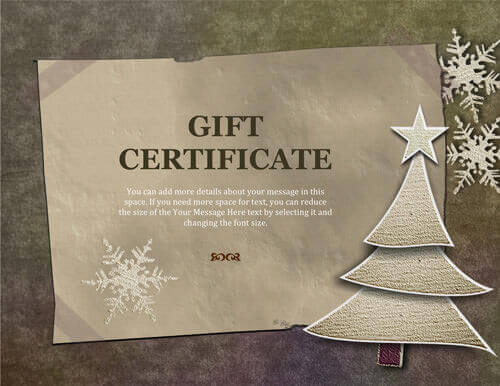 Add your personal message to this elegant gift certificate that exudes old-fashioned charm. For something a bit different, this template's background includes the effect of old paper plus a modern-style Christmas tree and snowflakes.
Size: 183 B
Downloads:

9903

Filename: Old-paper-Christmas-gift-certificate.doc
Download
Snowman Sample Gift Certificate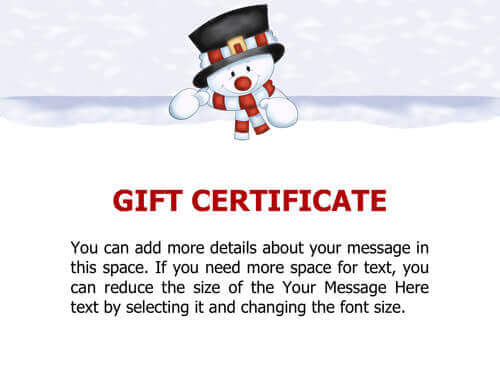 Add a little fun to your gift certificate with this sweet, smiling snowman. This is the perfect template for a child or anyone who is young at heart.
Size: 183 B
Downloads:

12864

Filename: Snowman-sample-gift-certificate.doc
Download