Certificate of Completion Templates
Simple And Professional Way To Recognize The Time And Effort Of Your Students Or Employees
Certificates of completion
can add value to any program—from kindergarten classrooms to management meetings, from Boy Scout troops to martial arts studios. Any program that involves incremental training will gain value with the addition of certificates to show when new milestones have been reached. See how to add value to
your resume
.
Do your employees feel that the training sessions they go to every quarter don't add value to their resumés? Has another pre-kindergartner in your preschool just learned to spell his name? Has the eight-year-old in your dojang gained his yellow belt, or the fifty-year-old his black belt? Certificates of completion are tangible markers that a student or employee can proudly display to show his advancement, or that families can keep as mementos.
Using Certificates of Completion
If your company offers employee-training services, or requires employees to receive training, a training certificate given at course completion can help show the value the company gives the training. Perhaps your facility requires a certain number of people be CPR certified or have 30-hour OSHA training. Or, perhaps your company has a series of training courses needed before employees can advance. Having certificates of completion displayed on the walls of departments or offices can show your employees that you value not only their skills, but also the time they've spent in training. Artistic, professional, and technical subjects are all excellent candidates for completion certificates. Completion Certificates are often offered for:
project management programs
professional development courses
advanced program training
short term training
various degree and certificate programs
Some more ideas for when to give certificates of completion include:
Software Skills – Illustrate your students' familiarity with various in-demand software programs. A course completion certificate allows you to show an individual has completed a course on any software you may wish to teach.
Technical skills – Whether a new employee has learned how to drive a forklift in your warehouse, or a long-term employee has completed the last training he needs to become a supervisor, a certificate of training enables you to show your employees the value you give your own training.
Business Entrepreneurship – Has a realtor in your office gotten their associate's degree? Their bachelor's? An MBA? While programs such as these offer their own diplomas, providing your employees with professional certificates to display in their office allows them to display that degree at home, and gives you the option of keeping the wall-ornaments in your workspace uniform.
Artistic and Design Courses – As with industrial technologies, design and art in today's world are very software driven. Giving certificates of completion to students or employees who have mastered new software can show everyone in your office that you value staying up-to-date with the latest technologies.
Workplace Safety Programs – From basic eyewash stations to 48-hour OSHA training, workplaces have safety programs. Deciding which are worthy of a certificate of completion is important, but demonstrating that you take safety seriously is always a good idea.
To show your students and employees the value you place on their time and the training you give or require them to have, create tiers of completion when appropriate. Every student who completes a course should receive a certificate to remind themselves of, and show their peers, their achievement. Has someone just completed the 10-hour OSHA training? Your company should recognize that with a certificate of completion to be displayed near their workstation. And, when they complete the 30-hour training, they should get another certificate to recognize that, as well. Combining tiers of completion in this way helps create a merit-based system for improving both morale and the effectiveness of the courses you offer or require.
How to Use a Free Resume Template
Adding certifications to a resume can help it stand out. You can create a new resume or update an existing one in our Resume Builder. It has free resume templates that are editable and customizable to your style, voice and needs. You can also count on expert recommendations personalized to your industry of choice and years of experience.
How to use a resume template
Following these easy, guided steps, you'll finish in minutes:
Select your level of experience: Whether you are starting out with no experience or have already been working for a decade, you will find a resume template to suit your needs.
Choose your resume template and color: If the recommended resume templates do not feel like you, select another from the Traditional, Modern or Creative categories. You can also view them all at once or change them during the preview stage.
Start from scratch or upload your current resume: If you already have a resume, upload it, and the builder will format it to fit your new resume template. You could also start from scratch by answering a few questions to populate the page.
Input your information: Add your contact information, work history and skills to the resume template. For skills, you can add them on your own or add the builder-suggested skills by jobs and industries.
Add any extra sections: Need more? To include those recently earned certifications, simply add sections to the resume template.
You will finish creating or updating your resume in a few minutes!
Build a Resume
Free Certificate of Completion Templates
Creating a certificate using an attractive, high-quality template will help your completion program look professional. Our templates are fully customizable – you can easily add your company logo, the recipient's name, the date, and other details. Browse our selection of free certificate templates to create your own personalized, printable certificate of project or training completion.
Course Completion Certificate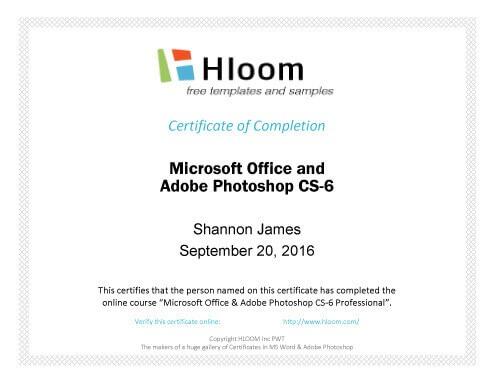 Whether someone has just passed a CPR course or finished a computer class, recognize the efforts with this simple completion certificate. A clean white background and pale gray border make it suitable for a range of achievements.
Size: 31 KB
Downloads:

18343

Filename: Course-Completion-Certificate.docx
Download
Generic Certificate of Competition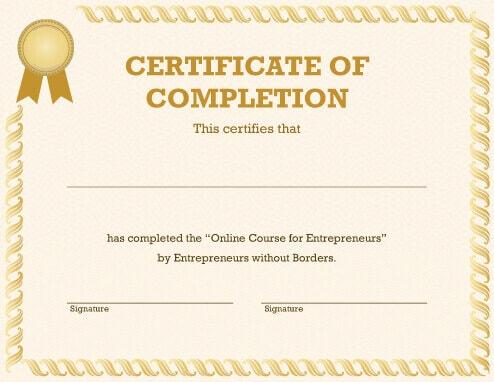 The gold ribbon and classy scrolled border on this certificate of completion are generic enough to work for a variety of purposes, such as awarding to students who've reached important milestones. Give this to student teams who've won a Brain Brawl competition or students who've mastered a martial arts level, for example.
Size: 183 B
Downloads:

44314

Filename: generic-certificate-competition.docx
Download
Project Completion Certificate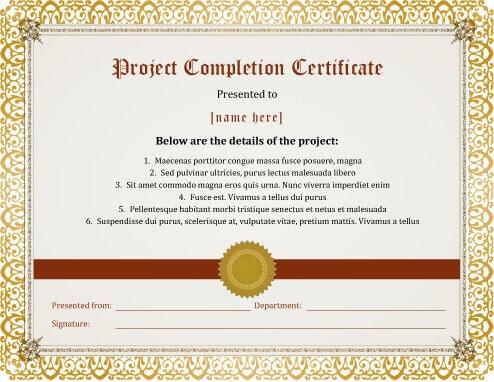 A fancy filigree border, gold seal, and crimson ribbon are eye-catching details on this certificate design. Use it to acknowledge employees on successful completion of a major project. Along with the details of the project, this free certificate template will display the name of each person who participated, so everyone can feel good about framing this and hanging it on a wall.
Size: 530 KB
Downloads:

21909

Filename: Project-Completion-Certificate.docx
Download
Work Completion Certificate Template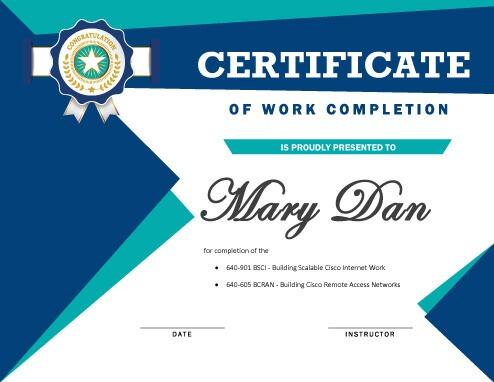 A bold color combo of blue and teal and a handsome star-and-ribbon graphic highlight this certificate of completion template. Award it to paramedics who've completed a strenuous training program or law enforcement personnel when they finish a certification course that advances their training or skills. It also works for students, teachers and anyone else who's finished a program or course of study.
Size: 210 KB
Downloads:

25031

Filename: Work-Completion-Certificate-Template.docx
Download
Blank Excellence Certificate Of Completion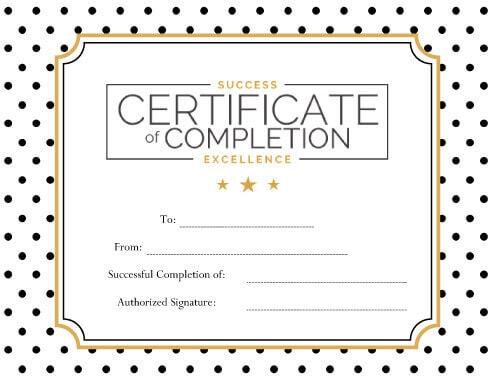 Polka dots and gold stars make this a fun and playful certificate of completion that kids will love. Teachers can reward students for special academic achievements, final completion of reading or spelling goals, or it can be used for end-of-the-school-year ceremonies, including graduating from Pre-K to Kindergarten.
Size: 183 B
Downloads:

13047

Filename: blank-excellence-certificate-completion.docx
Download
Degree Completion Certificate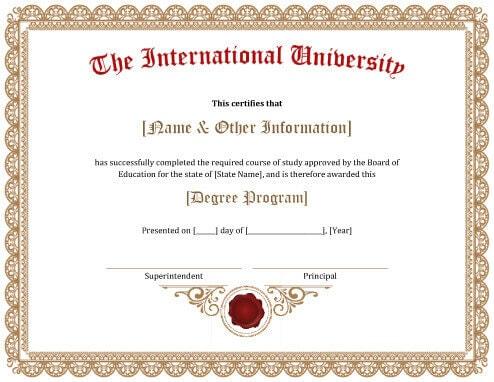 A bronze filigree border and scarlet seal make this degree completion certificate perfect for high school diplomas. Whether it's for a graduation ceremony at a small, private school or larger institution, the formal simplicity on this free certificate template is a wonderful way to celebrate academic achievements; it also works as an ESL certificate for students learning English.
Size: 244 KB
Downloads:

21236

Filename: Degree-Completion-Certificate.docx
Download
Elegant Training Completion Certificate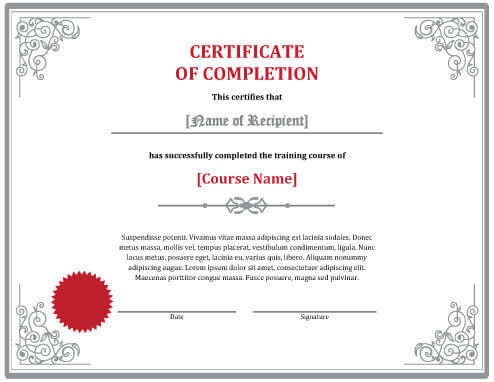 This beautiful training completion certificate features scrolled accents and a bright red seal that add to its elegance. Use it to celebrate employees who've mastered a strenuous training program or as an award certificate for sales personnel who've landed a major deal.
Size: 64 KB
Downloads:

51357

Filename: Elegant-Training-Completion-Certificate.docx
Download
For best results, use heavy card stock. Showing your employees the value you place on your certificates is an important aspect of incorporating a training program into your company culture. And, for those students and families who will keep your certificate of completion as a memento, heavy card stock will better stand the test of time.