Certificate Of Excellence Templates
Show Your Appreciation With Award Certificates
For employees, business partners, or students who've done a stellar job, consider giving a certificate of excellence award. While raises, bonuses, and other incentives can be very effective at rewarding good work, commemorating business and academic performance with a certificate of excellence remains one of the best ways to show appreciation
Creating Effective Excellence Program
Does Formal Recognition Produce Results?
Employers and educators often disagree on the effectiveness of excellence programs. However, as Kim Harrison discusses in his book
Creative Ideas for Employee Recognition
, real-world examples have strongly correlated excellence programs with improved revenue and employee morale. The Walt Disney World Resort, for example, instituted daily recognition of employees by supervisors. This simple change resulted in a 15% increase in morale. Moreover, "These results correlated highly with high guest-satisfaction scores, which showed a strong intent to return, and therefore directly flowed to increased profitability." Given this correlation between recognition, morale, and revenue, let's discuss some ways to implement an excellence award program in your institution.
Key Elements of an Effective Excellence Program
When done right, recognition of valuable employees and top students can push everyone to do a better job. Some of the key elements of a successful recognition program include being:
Timely

– Schedule events meant only to hand out a certificate of excellence, and make the events as timely as possible. Instead of scheduling bi-annual awards where somebody always has to win-regardless of actual performance- you should seek to draw a direct link between great work and formal recognition. Acknowledge excellent performance within a week of the recipient's action.

Context Driven

– When acknowledging an individual's work, make sure their achievement is tied into the context of institutional goals. What does the particular goal being met mean in the long run? By connecting your excellence program to real-world results, you drive employees to achieve those results. Without this context, a certificate of excellence can become just a random affirmation.

Appropriate in Scale

– If you give a certificate of excellence at your business, both the reward and the recognition event need to be appropriate to the performance being recognized. If you throw a huge event to congratulate an employee for having the cleanest workstation, you lose the ability to effectively congratulate the one who just closed a $1 million deal.

Authentic

– This is one of the reasons we don't recommend scheduling routine recognition events. When the events become routine, they lose authenticity and simply become another aspect of the daily grind. Authentic recognition with a quality certificate of excellence simply feels better.

Coupled With Valuable Incentives

– Although you can hand out a certificate of excellence award without a cash bonus, including some kind of material benefit with the award can make it much more valuable to employees. While money might seem like the most appropriate motivator, it isn't always the most effective. Sometimes, gaining temporary preferential treatment in some aspect of office culture does more-and here, the options are limitless. The key is to attach value to the certificate, and demonstrate appreciation of the recipient's work through that.
What NOT to Do with a Certificate of Excellence Award
Having covered what makes a business excellence certificate program work, we should briefly touch on some common pitfalls.
Forbes discusses
a study, done by Harvard Business School Assistant Professor Ian Larkin, and Professor Lamar Pierce and doctoral student Timothy Gubler from the Olin School of Business at Washington University in St. Louis, which found that, while more than 80 percent of employers have programs like these in place, very few actually see results. This is in part due to awards being given out when they are easily gamed or aren't meaningful. If you give a certificate of excellence to an employee for fulfilling a basic job expectation (like showing up for work on time), then you set the standard too low for any meaningful improvement to occur. Excellence programs need to be securely connected to real, demonstrable business excellence, preferably alongside statistics that show how valuable employee performance really is. The same goes for academic excellence—there are so many ways in which students can go above and beyond the scope of their assignments that handing out certificates simply for completing them sends the
wrong
message. Avoid creating an "everybody wins" environment and you'll be able to properly encourage the moments of greatness your team, department, or classroom actually generates.
How to Use a Free Resume Template
Adding certifications to a resume can help it stand out. You can create a new resume or update an existing one in our Resume Builder. It has free resume templates that are editable and customizable to your style, voice and needs. You can also count on expert recommendations personalized to your industry of choice and years of experience.
How to use a resume template
Following these easy, guided steps, you'll finish in minutes:
Select your level of experience: Whether you are starting out with no experience or have already been working for a decade, you will find a resume template to suit your needs.
Choose your resume template and color: If the recommended resume templates do not feel like you, select another from the Traditional, Modern or Creative categories. You can also view them all at once or change them during the preview stage.
Start from scratch or upload your current resume: If you already have a resume, upload it, and the builder will format it to fit your new resume template. You could also start from scratch by answering a few questions to populate the page.
Input your information: Add your contact information, work history and skills to the resume template. For skills, you can add them on your own or add the builder-suggested skills by jobs and industries.
Add any extra sections: Need more? To include those recently earned certifications, simply add sections to the resume template.
You will finish creating or updating your resume in a few minutes!
Build a Resume
Free Certificate of Excellence Templates
Below, you will find a number of customizable templates. Certificate of excellence awards are free to download, simplifying the process of creating your own employee or student recognition program. Simply print out the certificate, fill in the recipient's details, and sign for a professional-looking award certificate that formalizes your appreciation of their great work.
Blank Excellence Certificate Of Completion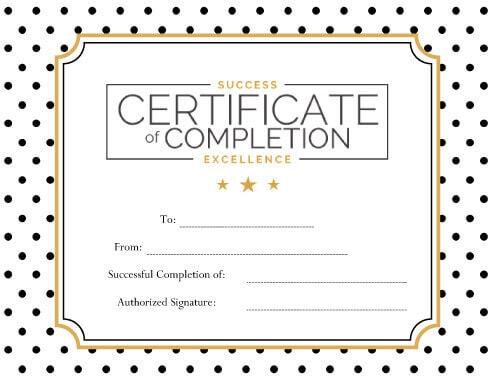 This certificate of completion has a creative design with black and gold that create a nice contrast of style. It can be used to recognize various types of accomplishments, ranging from hard work to operational excellence.
Size: 183 B
Downloads:

10856

Filename: blank-excellence-certificate-completion-2.docx
Download
Certificate Of Excellence Being Awesome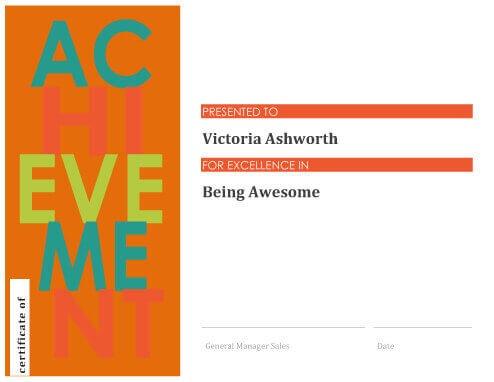 This free printable certificate has a free-flowing design with the large orange rectangle and asymmetric design. The template can be used to recognize someone for anything from leadership excellence to outstanding performance.
Size: 183 B
Downloads:

4679

Filename: certificate-excellence-awesome.docx
Download
Employee Excellence Certificate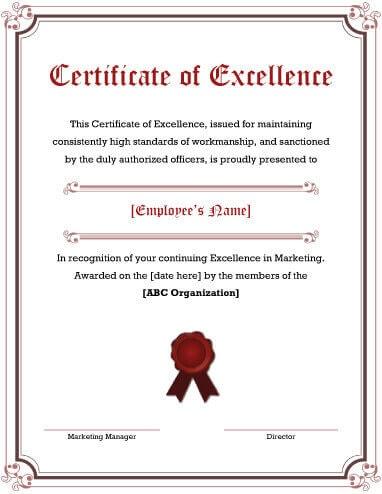 The ornate design of this certificate is a nice juxtaposition when compared to more informal awards. The calligraphic writing gives the document an official feel and can be used to recognize employees for specific accomplishments and milestones.
Size: 65 KB
Downloads:

14641

Filename: Employee-Excellence-Certificate.docx
Download
Simple Certificate of Excellence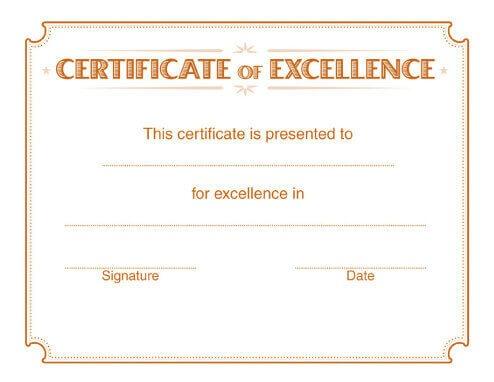 The simple design of this certificate means it can be used to recognize a myriad of different exploits. It could be used as a certificate of appreciation or to recognize an employee who has displayed exceptional skills.
Size: 183 B
Downloads:

9350

Filename: simple-certificate-excellence.docx
Download
Excellence Award Certificate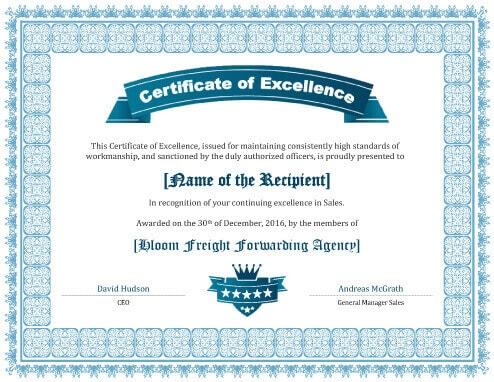 The decorative blue border and ribbons within the certificate give this document a celebratory feel. The template can be used to recognize a wide variety of employee skills and accomplishments, ranging from exceptional leadership to a commitment to teamwork.
Size: 183 B
Downloads:

15364

Filename: excellence-award-certificate-doc.doc
Download