Fake Certificate Templates
Creative Uses For Fake Certificats and 11 Free Templates
Do you ever wish marriage licenses and birth certificates came in duplicate, so that you could display one and keep another locked in a fireproof safe? Or that they came in sextuplicate so that the in-laws and spouses could have a copy, too. Or maybe even more than six so that you can use them as gifts or invitations. With our fake certificates, you can do just that. In this article, we'll look at some creative uses for fake marriage, birth, and divorce certificate templates. And, at the bottom of the article, we offer
11 free printable certificates
in a variety of styles for you to choose from.
Creative Fake Certificate Ideas
Announcements
Printable certificates are a fun and unique way to share the news of important events going on in your life. As an example, you can use a fake birth certificate to record and announce the birth of a child. Parents can save a copy of the certificate as a keepsake and mail out as many others as they want as a birth announcement. In the same way, fake baby birth certificates can also be used by parents who are still expecting—a pregnant mom may want to use the birth certificate to announce her pregnancy to the world. Fake marriage certificates can be sent to friends and relatives who couldn't make the wedding, in order to announce the date and place of your nuptials. Similarly, copies of a printed fake divorce certificate can be put in the mail and sent to people who need to know but aren't in that select group with whom you have to have that awkward and uncomfortable face-to-face meeting.
Decorations
Fake certificate printouts are an inexpensive and fun way to decorate for an upcoming event. You could use fake birth certificates as a cute touch to add to a baby shower. Friends and family members of the new parents may want to use the certificates to decorate when mom and baby come home from the hospital. Marriage certificates and marriage licenses work as a decorative item for a wedding shower, bachelor party, or bachelorette party. At the other end of the relationship spectrum, divorce parties are becoming increasingly popular. Men and women are eager to celebrate their newly single status, and a fake divorce certificate can be used as part of the party theme. Certificates could become a permanent part of your home décor, as well. A printable marriage certificate is the ideal commemorative item for your marriage. Official marriage certificates are not always aesthetically pleasing, not typically hung on the walls, and are expensive to get copies of. For home display purposes, you'll want a certificate with a beautiful and tasteful design.
Invitations
With fake certificates, you will save time and money by creating unique invitations to special events. Marriage certificate templates can be used within the invitations for a bridal shower or even the wedding. Guests will want to save the invitation as a keepsake to look back on the special day.
Gag Gifts
You can't go wrong with a fake certificate as a novelty item or gag gift. Did your spouse or in-law play a wicked trick on you last April 1
st
? Then consider getting back at them using one of our fake divorce certificates as a gag gift. Mail the certificate to them at the office to give them the scare of their lives. A fake birth certificate could be a hilarious way to shock the father-to-be and in-laws with the news you're expecting. You could also invite your friends and family over to announce the news. Display the birth certificate in a prominent areas of your home and see who is first to notice the announcement.
Mementos
Marriage and childbirth are events you may only experience once or twice in your lifetime. Your family will want to save mementos to always remember the special day. Fake marriage certificates can be given as a cherished memento to immediate family members, such as the couple's parents. Add a copy of the marriage certificate to your photo albums and scrapbooks as a remembrance of your special day. You could even make a collage with your certificate and a collection of wedding photos. The same could be done with a fake birth certificate and photos of your newborn baby. Another cute novelty idea for a marriage certificate is using the printable as a way to propose to your loved one. The certificates could also be fun props for engagement and wedding photos.
Reference
Fake certificates permit you to have a hard copy record of a marriage, divorce, or a child's birth. A fake divorce certificate and fake marriage certificate are especially helpful if you don't have immediate access to an official copy. Official birth certificates often take weeks to arrive, so you may want to use a fake certificate as a placeholder. Fake birth certificates also offer you the option of having either a copy of your short-form or long-form birth certificate on hand. A short-form certificate contains only the baby's vital statistics, while a
long-form birth certificate
may also have parents' addresses, names of those present at birth, and the time of birth.
Looking for fake degree certificates? See

this page

with free degree certificates for fake diploma, fake degree, college diploma, statement of marks, fake high school diploma, and more.
This is just a small sampling of the ways you can use a fake certificate to your benefit. If you're involved in a specific type of industry, you'll discover even more uses. For instance, if you're involved in stage, television or movie productions, a fake certificate can be printed out as a movie prop. Educators may want to print out fake certificates recognizing
excellent behavior
in their classroom.
How to Use a Free Resume Template
Adding certifications to a resume can help it stand out. You can create a new resume or update an existing one in our Resume Builder. It has free resume templates that are editable and customizable to your style, voice and needs. You can also count on expert recommendations personalized to your industry of choice and years of experience.
How to use a resume template
Following these easy, guided steps, you'll finish in minutes:
Select your level of experience: Whether you are starting out with no experience or have already been working for a decade, you will find a resume template to suit your needs.
Choose your resume template and color: If the recommended resume templates do not feel like you, select another from the Traditional, Modern or Creative categories. You can also view them all at once or change them during the preview stage.
Start from scratch or upload your current resume: If you already have a resume, upload it, and the builder will format it to fit your new resume template. You could also start from scratch by answering a few questions to populate the page.
Input your information: Add your contact information, work history and skills to the resume template. For skills, you can add them on your own or add the builder-suggested skills by jobs and industries.
Add any extra sections: Need more? To include those recently earned certifications, simply add sections to the resume template.
You will finish creating or updating your resume in a few minutes!
Build a Resume
Free Downloadable Fake Certificate Templates
Our fake certificate templates are free, downloadable, and easy to use. All you need to do is personalize them with your details, and print. Our backgrounds and fonts are sometimes whimsical and sometimes traditional, but always sure to please.
Birth
Baby Boy Birth Certificate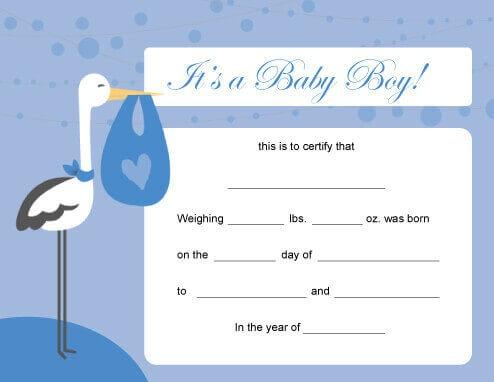 This baby boy birth certificate makes a wonderful memento you can share with grandparents and other family members while keeping the official long-form birth certificate safely stored away. Show how excited you are to announce the arrival of your bundle of boy with classic blue-on-blue printing highlighted with a vintage-style stork. A bright white, pre-printed text background allows plenty of space to memorialize your baby boy's vital birth information.
Size: 64 KB
Downloads:

6409

Filename: Baby-Boy-Birth-Certificate.docx
Download
Baptism Certificate Template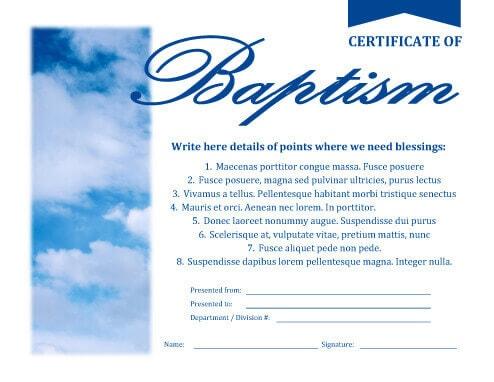 A baptism certificate can be used to commemorate one of life's important milestones. The cloudy blue sky and scripted font sets a serene tone for this certificate of baptism. Each family that chooses this template can personalize the requested blessings portion to meet their individual needs, and the bottom section provides clear, pre-printed lines to fill in the names and signatures of important participants who made baby's sacred event even more special.
Size: 143 KB
Downloads:

4050

Filename: Baptism-Certificate-Template.docx
Download
Cute Printable Birth Certificate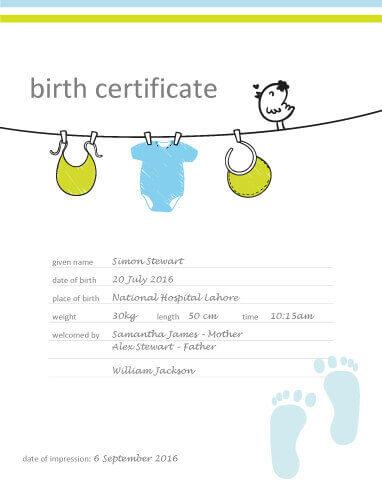 This printable birth certificate also works well as a baby announcement. The simple but cute design of a small bird on a clothesline drooping with baby bibs and onesies still manages to keep the focus of the certificate on the birth details. Printing instead of hand writing the information on this certificate makes it easier and faster to create multiple copies for all the friends and family who are waiting to hear your good news.
Size: 70 KB
Downloads:

4588

Filename: Cute-Printable-Birth-Certificate.docx
Download
DIY Birth Certificate Card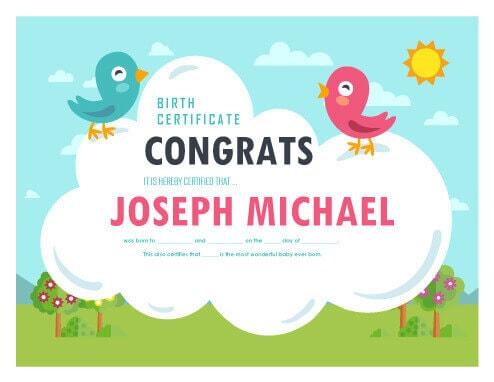 Pink and blue baby birds tweet the news of your baby's birth on this cheerful nature-themed DIY birth certificate card. A puffy white cloud is the perfect background for printing baby's important birth information including name, date and place of birth. The pastel blues, greens, yellows, and pinks in this card make it perfect for your baby girl or baby boy.
Size: 99 KB
Downloads:

4767

Filename: DIY-Birth-Certificate-Card.docx
Download
Simple Printable Birth Certificate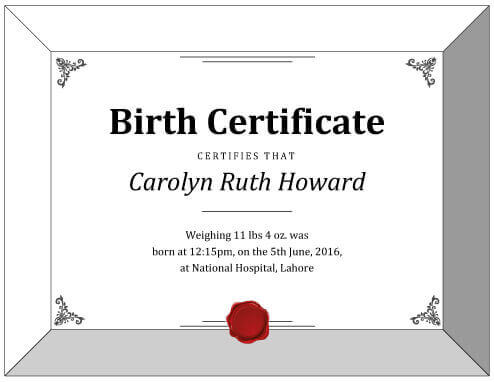 What an elegant keepsake this printable certificate would make for parents, family and friends to treasure. Scrolls adorn the corners of this crisp white document with baby's birth information printed in clean black text. A realistic-looking red "wax seal" adds a touch of formality to this classic birth certificate. Unlike a complicated long-form birth certificate, the message of this form is short and sweet.
Size: 198 KB
Downloads:

5726

Filename: Simple-Printable-Birth-Certificate.docx
Download
Marriage
Elegant Marriage Certificate Template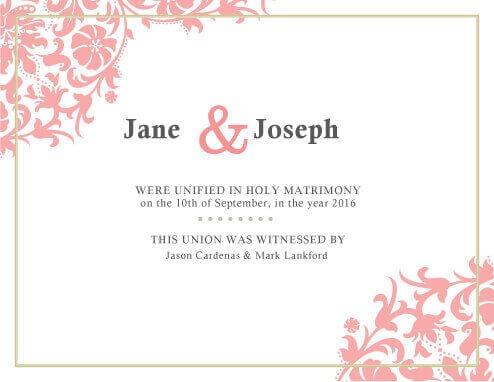 A fake marriage certificate is a sentimental reminder of your happiest day. This sweet and modern certificate with pink floral embellishments provides just enough room to announce the place and date of your nuptials and names of any witnesses—and of course the names of the bride and groom! A certificate such as this could double as a wedding announcement, be featured in a scrapbook, or be framed as a constant reminder of your union.
Size: 134 KB
Downloads:

32615

Filename: Elegant-Marriage-Certificate-Template.docx
Download
Elegant Marriage License Template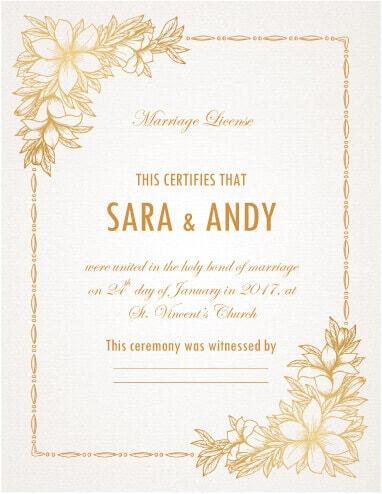 The gold-tone text and floral swags of this certificate tell everyone you prefer classic elegance. With a touch of formality in the printed script, this style makes the perfect personal keepsake or a gift to share with loved ones. With a copy of this fake marriage certificate framed and hanging on your wall, your spouse will have no excuse for forgetting the date of your wedding anniversary!
Size: 1 MB
Downloads:

19142

Filename: Elegant-Marriage-License-Template.docx
Download
Fake Marriage Certificate Template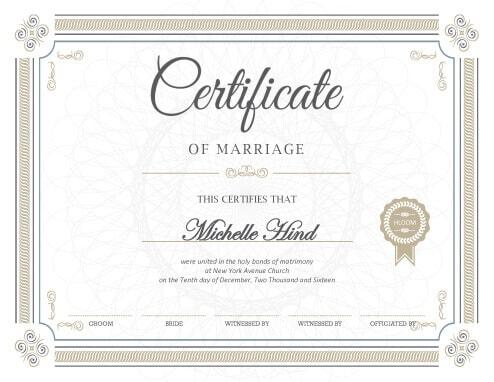 If you prefer a simple, official looking certificate of marriage, this one is for you. An ornate border surrounds the vital information field, including room for bride, groom, two witnesses and your wedding officiant to sign at the bottom. A classic insignia seals the deal on this realistic certificate. Use it as a practical joke or a practical wedding announcement.
Size: 260 KB
Downloads:

33038

Filename: Fake-Marriage-Certificate-Template.docx
Download
Fake Marriage License Template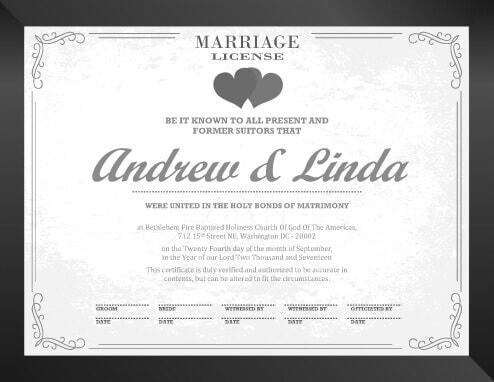 The youthful look of this fake marriage license is highlighted by two interlocking hearts and a fanciful flourish in each corner. Let your friends and family see your romantic side when you show them your license complete with signatures and a bold black border to surround it all.
Size: 693 KB
Downloads:

16248

Filename: Fake-Marriage-License-Template.docx
Download
Divorce
Fake Divorce Certificate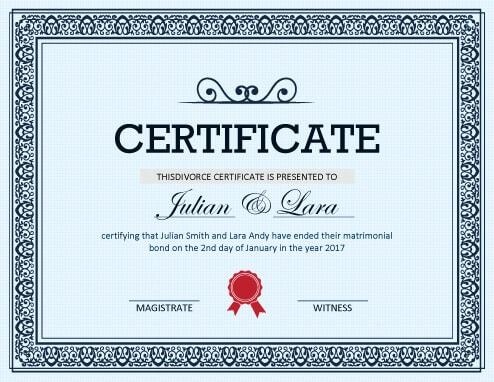 Presenting someone with a fake divorce certificate might be the best or worst prank you'll ever pull! This attractive and simple certificate with a vintage-style scrolled border piles on the old-world authenticity with a red seal and a space for signatures from a magistrate and an official witness. You could also frame this certificate and present it as a gift at a friend's divorce party.
Size: 227 KB
Downloads:

14789

Filename: Fake-Divorce-Certificate.docx
Download
Fake Divorce Decree Certificate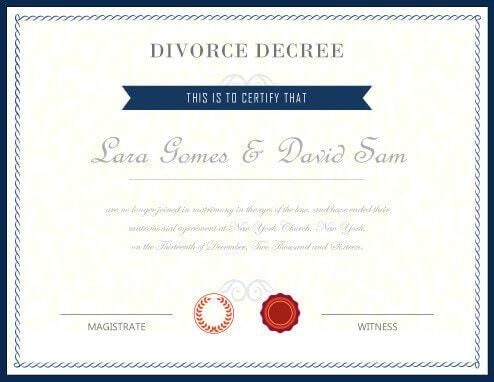 Straight to the point—that's the statement you'll make with this fake decree that sports a simple blue border and two official looking seals in red at the bottom. The simple style fake certificate makes it easy for anyone to see exactly when you became single again.
Size: 365 KB
Downloads:

9629

Filename: Fake-Divorce-Decree-Certificate.docx
Download