Certificate of Membership Templates
For membership-based organizations, part of serving their members is recognizing the people who make their activities possible. If you run, organize, or own an institution or club, you can benefit from using membership certificates for this purpose. Official member recognition makes the pivotal difference between a loosely organized club and a professional organization.
Recognizing Members
Recreational Group Membership
A high quality life membership certificate can offer a sense of legitimacy to any recreational organization. Whether you and your friends are passionate about sports, travel, automobiles or any of a wide variety of other subjects, demonstrable proof of membership allows you to create a brand poised for growth. Some examples of recreational groups that could benefit from membership certificates are:
Running and bicycling clubs
Competitive martial arts teams
Bowling teams
Crossfit studios and weightlifting clubs
College and K-12 membership programs
And many more
Church Membership
Religious organizations rely on membership to demonstrate their values and generate a tight-knit sense of community. Using a high quality certificate of membership template, you can offer the faithful a life membership to your church or religious organization. Combine a membership certificate autoenrollment program with your events to motivate people to join and remain with your church. If you take down contact information during user certificate autoenrollment, you can also create a newsletter that regularly, and directly, addresses your members.
LLC Membership
If you are in the process of incorporating a Limited Liability Company (LLC), membership certificate templates can offer an important means of establishing shared ownership. As an associate of one or more LLC's, you are required to establish a formal, contractual relationship with your partners in order to form the company. In most states, that relationship does not need to recognize a legal LLC membership certificate, but doing so can be beneficial, and is highly recommended by
business experts
. Much in the same way that corporations define ownership through stock certificates, membership certificates can define your LLC. Just make sure that you include provisions for certificate transaction in your LLC operating agreement. While LLCs are governed by state law, corporations are governed by federal law. If you are considering opening a corporation, you will be obliged to provide each of your shareholders with a stock certificate establishing partial ownership.
Volunteer Program Memberships
If you own, operate, or work for a social volunteer organization such as the
Lion Club
or
Leo Club
, you should offer members personalized certificates legitimizing the work they put into your cause. By using a certificate of membership template, your organization can enjoy an authenticity similar to major international charities. This is key to developing morale among your volunteers. Volunteers don't get paid for their work, but their contributions need to be recognized. The small step of giving membership certificates to your volunteers can have an enormous influence on the final results of your organization's activities.
How to Use a Free Resume Template
Adding certifications to a resume can help it stand out. You can create a new resume or update an existing one in our Resume Builder. It has free resume templates that are editable and customizable to your style, voice and needs. You can also count on expert recommendations personalized to your industry of choice and years of experience.
How to use a resume template
Following these easy, guided steps, you'll finish in minutes:
Select your level of experience: Whether you are starting out with no experience or have already been working for a decade, you will find a resume template to suit your needs.
Choose your resume template and color: If the recommended resume templates do not feel like you, select another from the Traditional, Modern or Creative categories. You can also view them all at once or change them during the preview stage.
Start from scratch or upload your current resume: If you already have a resume, upload it, and the builder will format it to fit your new resume template. You could also start from scratch by answering a few questions to populate the page.
Input your information: Add your contact information, work history and skills to the resume template. For skills, you can add them on your own or add the builder-suggested skills by jobs and industries.
Add any extra sections: Need more? To include those recently earned certifications, simply add sections to the resume template.
You will finish creating or updating your resume in a few minutes!
Build a Resume
Free Downloadable Certificate of Membership Template
Below, you'll find professional-quality membership certificate templates. Simply download the files and input your organization's information in the provided fields. It only takes minutes to create and print out an official membership certificate for your team, church, business, or volunteer organization.
Blank Membership Certificate
Size: 126 KB
Downloads:

13404

Filename: Blank-Membership-Certificate.docx
Download
Certificate of Church Membership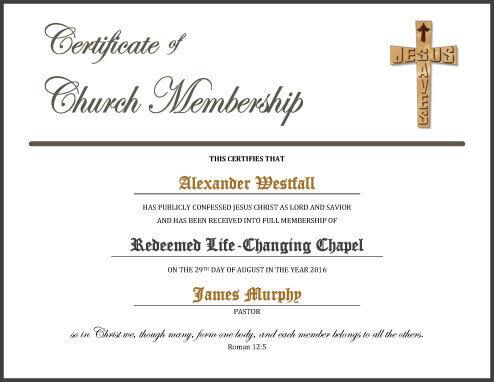 Size: 183 B
Downloads:

9782

Filename: certificate-church-membership.docx
Download
Certificate of Membership Template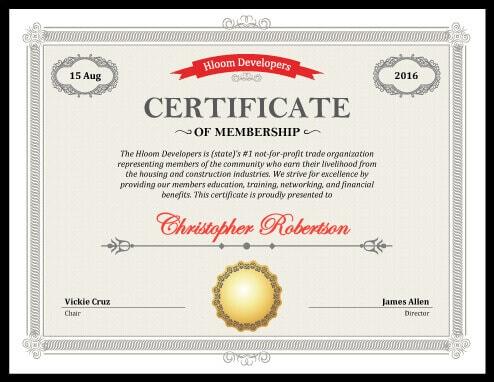 Size: 183 B
Downloads:

16108

Filename: certificate-membership-template.docx
Download
Church Membership Certificate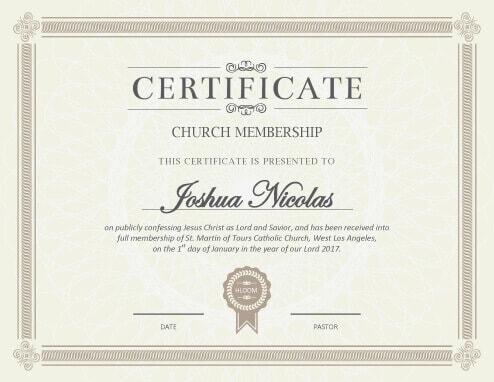 Size: 195 KB
Downloads:

20663

Filename: Church-Membership-Certificate.docx
Download
Printable Membership Certificate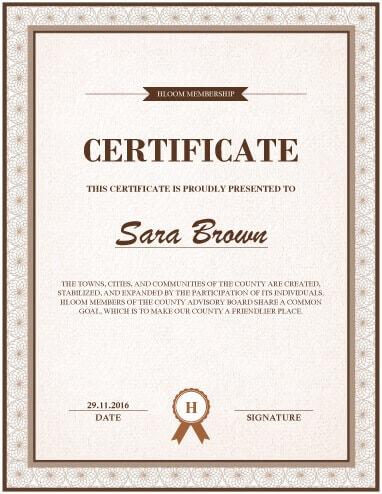 Size: 2 MB
Downloads:

10093

Filename: Printable-Membership-Certificate.docx
Download