Certificate of Origin
A certificate of origin is an official document used in international trade. Common abbreviations for a certificate of origin are CO, C/O and CoO, and the form is sometimes referred to as simply "Form A."

The purpose of a CO is to affirm that goods being prepared for export have been manufactured, produced, or processed in the named country of origin. A CO is prepared by the exporter and, to be considered valid, must include a tax identification number, be signed by the original exporter, and countersigned by a representative from the chamber of commerce at the site of export. Some destinations also require a countersignature by a consulate. The

International Chamber of Commerce World Chambers Federation

is the organization tasked with establishing international C/O guidelines and standardizing international trade certification procedures across the globe.
When Should a Certificate of Origin be Used?
Whether or not you need a certificate of origin form depends on what commodity you're shipping, how much of it is being shipped, where it's being shipped to, and your tariff classification. For example, some nations restrict goods originating from the U.S., while others give preference to U.S. goods. To further confuse matters, the rules for using a CO frequently change. According to the United Parcel Service, you will most likely need a CO if the US is the country of origin of your goods and the destination is any of the following countries:
Albania
Argentina
Austria
Belgium
Bolivia
Canada
Canary Islands
Denmark
Finland
France
Germany
Greece
Ireland
Israel
Italy
Japan
Kuwait
Mexico
Netherlands
Spain
United Kingdom
Even these countries offer exceptions and value limits. It's best to verify the criteria for your shipment and all necessary commercial invoices before sending. Speak with the Chamber of Commerce and the shipping company for up-to-date information.
Types of Certificates
There are
several types of certificates
of origin and each has a specific use.
For goods that are verifiably of North American Origin and are being shipped between Canada, Mexico and the U.S., use the North American Free Trade Agreement certificate of origin.
A preferential CO allows your buyer to pay low (or no) customs duty when goods are exported between countries with a Free Trade Agreement. This certificate provides the option for preferential tariff treatment.
Non-preferential certificates of origin are the most common type. They affirm that goods do not originate from specific bilateral or multilateral free trade agreements. Remember, the country where the manufacturer is located is considered the origin of the goods—not the country from which they are being shipped. Chambers authorized to issue certificates of origin are usually authorized to issue non-preferential COs.
How to Use a Free Resume Template
Adding certifications to a resume can help it stand out. You can create a new resume or update an existing one in our Resume Builder. It has free resume templates that are editable and customizable to your style, voice and needs. You can also count on expert recommendations personalized to your industry of choice and years of experience.
How to use a resume template
Following these easy, guided steps, you'll finish in minutes:
Select your level of experience: Whether you are starting out with no experience or have already been working for a decade, you will find a resume template to suit your needs.
Choose your resume template and color: If the recommended resume templates do not feel like you, select another from the Traditional, Modern or Creative categories. You can also view them all at once or change them during the preview stage.
Start from scratch or upload your current resume: If you already have a resume, upload it, and the builder will format it to fit your new resume template. You could also start from scratch by answering a few questions to populate the page.
Input your information: Add your contact information, work history and skills to the resume template. For skills, you can add them on your own or add the builder-suggested skills by jobs and industries.
Add any extra sections: Need more? To include those recently earned certifications, simply add sections to the resume template.
You will finish creating or updating your resume in a few minutes!
Build a Resume
Free Certificate of Origin Templates
The world of international shipping can be intimidating. Rules and regulations change and depend on the policies of importing countries. To keep up with the changes, electronic COs have become available on a limited basis, but security concerns make electronic options unusable for many exporters who do not want to share sensitive information on websites that may be unsecured or share user information. Below you will find a variety of free certificate of origin templates. Printing and using templates allows you to keep personal information private and obtain the correct CO for your needs at no cost.
Fancy Certificate of Origin Template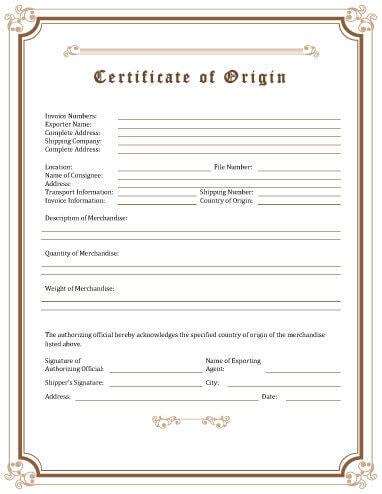 This certificate of origin template provides an elaborate way to display proof of origin. A fancy border around the edge features filigree design in each corner and at the top and bottom.
Size: 183 B
Downloads:

11177

Filename: certificate-origin-sample.docx
Download
Modern Certificate of Origin Template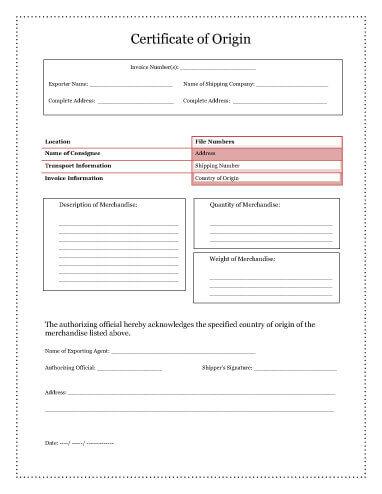 This clean, modern template uses boxes with borders to keep necessary information organized. Visual appeal is added by a simple dotted border. A box at the top makes the invoice number and information about the shipping company and exporter easy to find. In the middle, three boxes neatly organize the description, quantity, and weight of merchandise.
Size: 183 B
Downloads:

8011

Filename: certificate-origin-template-merchandise.docx
Download
Simple Certificate of Origin Template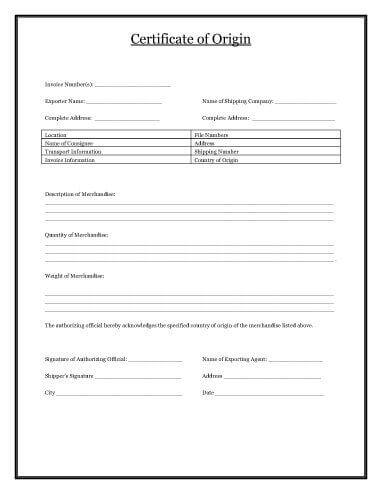 Put the focus on the essentials with this simple certificate of origin. A table near the top neatly contains detailed information, while lines are provided for other information about the merchandise, exporter, shipping company, and more. The neat, basic design makes this a versatile template.
Size: 183 B
Downloads:

8580

Filename: certificate-origin-template.docx
Download