Certificate of Participation Templates
A certificate of participation shows that a person has taken part in an activity, event, training session, competition, or financial exchange. These certificates may be required by a local government or other authority for a number of reasons. Or, it may be necessary to show that a person has complied with a legal prerequisite, a training requirement, or to display familiarity or competency.
Reasons to Use a Certificate of Participation
There are many reasons to consider using certificates of participation, from real estate financing to criminal law.
Conference Participation

– A certificate of participation may be useful as evidence of attending in a conference for a given industry. If you're hosting or helping to host such an event, consider giving certificates to attendees to not only show their employer they did attend, but also to give them a memento.

Community-related Event

– If you put on a community-related event, offering a certificate to your participants could be a great way to create residual publicity for your business or organization.

Real Estate Financing

– A participation certificate is frequently used in real estate finance as a financial document that investors use to indicate the purchase of a share of lease revenues. Or, the local authority may use the returns to build a facility that is then leased to a municipality. This releases the municipality from any restrictions on how much debt they can accumulate.

Rehab Programs

– If you're involved in the running of drug or alcohol rehab programs, then giving certificates of participation upon completion of your program may serve as a lasting, positive memory for the addict, reminding them of their success.
Other common examples of reasons a certificate of participation may be required by local governments include:
To display financial solvency in order to be awarded a lease, loan, long-term debt payment or other financing agreement
To show competence in a given area to qualify for employment, child custody, or for legal permits of various kinds
To be presented to a bond counsel in certain criminal law cases
For presentation to a regulatory body for general obligation purposes
To satisfy a recurring obligation to prove eligibility or competence each calendar year for licensing or other reasons
How to Use a Free Resume Template
Adding certifications to a resume can help it stand out. You can create a new resume or update an existing one in our Resume Builder. It has free resume templates that are editable and customizable to your style, voice and needs. You can also count on expert recommendations personalized to your industry of choice and years of experience.
How to use a resume template
Following these easy, guided steps, you'll finish in minutes:
Select your level of experience: Whether you are starting out with no experience or have already been working for a decade, you will find a resume template to suit your needs.
Choose your resume template and color: If the recommended resume templates do not feel like you, select another from the Traditional, Modern or Creative categories. You can also view them all at once or change them during the preview stage.
Start from scratch or upload your current resume: If you already have a resume, upload it, and the builder will format it to fit your new resume template. You could also start from scratch by answering a few questions to populate the page.
Input your information: Add your contact information, work history and skills to the resume template. For skills, you can add them on your own or add the builder-suggested skills by jobs and industries.
Add any extra sections: Need more? To include those recently earned certifications, simply add sections to the resume template.
You will finish creating or updating your resume in a few minutes!
Build a Resume
Download Certificates of Participation Templates
Sample designs can be found below. They are professionally designed, high-quality documents. You only need to download the certificate template, customize the fields, and print.
Printable Certificate Of Participation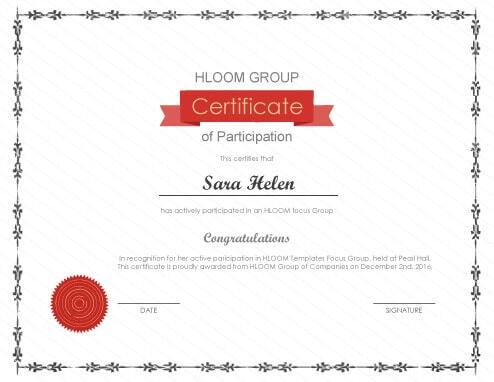 Size: 183 B
Downloads:

31708

Filename: printable-certificate-participation.docx
Download
Program Participation Certificate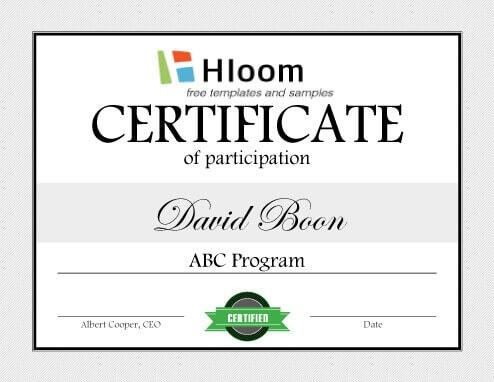 Size: 32 KB
Downloads:

11670

Filename: Program-Participation-Certificate.docx
Download
Workshop Participation Certificate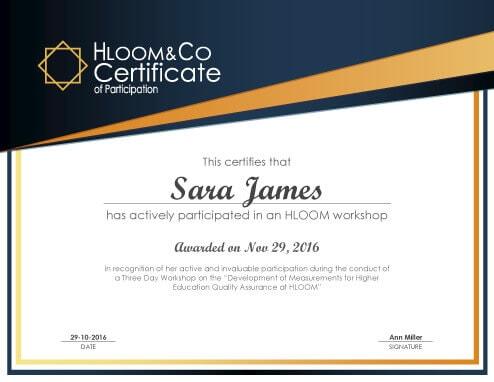 Size: 60 KB
Downloads:

28856

Filename: Workshop-Participation-Certificate.docx
Download