Salary Certificate Template
Salary certificates are used in the worlds of business and finance to certify a person's total income. Banks, for example, often request a salary certificate from the employer of a person seeking a home or personal loan. Whether you're a small business owner or a human resources professional, having an easy-to-administer salary certificate template can help you finish this task quickly.
Creating and Using Salary Certificates
Generally, a human resources professional is responsible for creating employee salary certificates within your company. Salary information is often kept private, so you may not want to ask your immediate supervisor or even division lead to create this type of documentation. If you work in a small business with no human resources department, the owner would be responsible for this task. Placing the provided template on company letterhead offers an efficient method of completing this type of documentation. Depending on their use, salary certificates (also known as a salary slip) may include:
Personal information from a birth certificate
Starting salary
Ending salary
Employment dates
Deduction information
Income tax information
Signature and title of the certifying individual, and the date
There are many occasions that you might need a salary certificate, or find that using one will make your life easier. Here are a few examples:
Finding a New Job

– When you enter a new job market, it may be helpful to have a salary certificate that lists your salary requirement, information about your gross total income, residence visa information, and more. Salary documentation is often dated, and is only valid for a single financial year. Having all of your basic salary information together on a certificate is one way to maintain continuity of information throughout your career. Anytime you start or end a position, you can request a salary certificate to keep on file. Salary letters are sometimes use as negotiation tools between the previous and new employers. If you are entering a new position and trying to negotiate a better salary than what is being offered, a salary certificate can be used to verify your previous salary. This can help you improve on the on the minimum salary for the position, or to negotiate better perks.

Getting a Loan

– Requesting money from a bank or other financial institution requires significant amounts of highly detailed paperwork. Lenders want to know that you will be able to pay back the money they loan, and may have salary requirements for loans of certain amounts or kinds. Many lenders will require a salary certificate or send a salary request letter to your employer's human resources department to get this information.

Promotions and Raises

– While in most cases you don't want salary information to become public, there are times when it is appropriate. More and more often, organizations are making the decision to be open about their salary. According to Sue Shellenbarger with The Wall Street Journal, companies such as Buffer, Whole Foods Market and more are choosing to post salary information either internally or even on their customer-facing website. The presentation of a salary certificate form at a company event when an employee achieves a promotion or receives a raise provides a visible token of accomplishment for all levels of employment, from mail room clerks to executive officers.

Public Service

– Whether you are operating a charitable service or running for re-election, a salary certificate can show your donors or your voters that your gross total income is modest or within the industry standard. From the owner of a small food bank to prime ministers and presidents, using salary certificates in this way can help alleviate any fears of corruption.
How to Use a Free Resume Template
Adding certifications to a resume can help it stand out. You can create a new resume or update an existing one in our Resume Builder. It has free resume templates that are editable and customizable to your style, voice and needs. You can also count on expert recommendations personalized to your industry of choice and years of experience.
How to use a resume template
Following these easy, guided steps, you'll finish in minutes:
Select your level of experience: Whether you are starting out with no experience or have already been working for a decade, you will find a resume template to suit your needs.
Choose your resume template and color: If the recommended resume templates do not feel like you, select another from the Traditional, Modern or Creative categories. You can also view them all at once or change them during the preview stage.
Start from scratch or upload your current resume: If you already have a resume, upload it, and the builder will format it to fit your new resume template. You could also start from scratch by answering a few questions to populate the page.
Input your information: Add your contact information, work history and skills to the resume template. For skills, you can add them on your own or add the builder-suggested skills by jobs and industries.
Add any extra sections: Need more? To include those recently earned certifications, simply add sections to the resume template.
You will finish creating or updating your resume in a few minutes!
Build a Resume
Printable Salary Certificate Templates
Below you will find several professionally designed salary certificate templates. Choose the format that is right for you, and download the template today. Keep it in your documents folder and you will be ready the next time an employee needs the information, or the next time you need to request it from your employer. The templates are all designed for your convenience, so you can quickly download the template and edit the details in Microsoft Word.
Simple Salary Certificate Template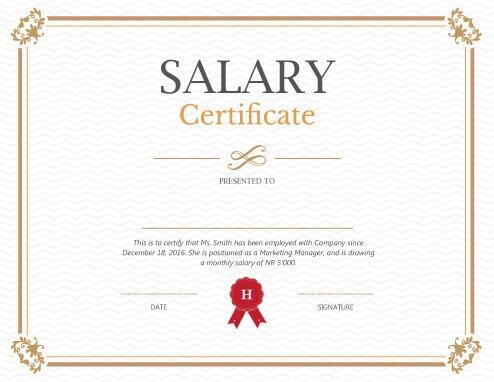 This basic salary certificate letter features a visually pleasing, spare design. A simple border and neutral colors make this an excellent, versatile choice for school districts or HR departments. Spaces are included for name of employee, date, and signature. A red seal motif at the bottom can be customized with a business initial.
Size: 183 B
Downloads:

5660

Filename: Salary-Certificate-Example.docx
Download
Fancy Salary Certificate Template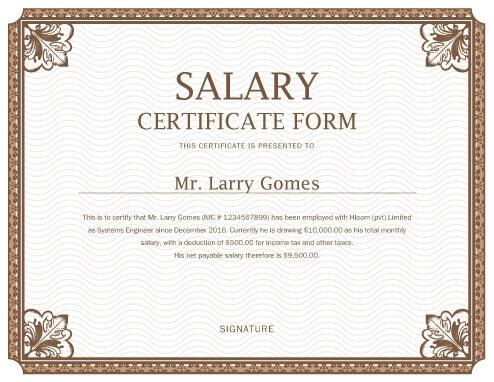 This fancy salary certificate sample makes a recent employment certification or new job role feel even more special. A neutral-colored border features a filigree design in each corner, and space is provided for employee name and signature in the center.
Size: 183 B
Downloads:

4537

Filename: Salary-Certificate-Form.docx
Download
Colorful Salary Certificate Template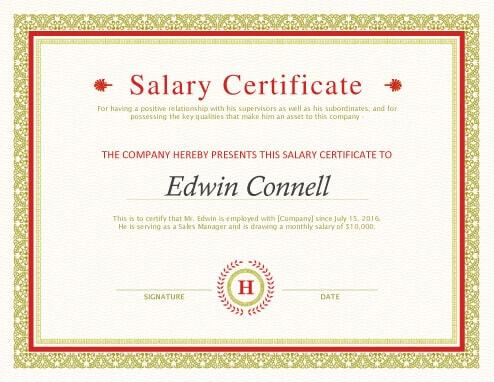 Use this brightly colored salary certificate format to certify monthly salary, average salary, or net salary. Space at the top allows a description of why the certificate letter is being presented. Below the employee's name, salary details can be given. Between the signature and date lines is a seal with space for the company's initial.
Size: 183 B
Downloads:

4121

Filename: Salary-Certificate-Sample.docx
Download