Stock Certificate Templates
Free Share Certificate Templates For Stock Purchases
Stock certificates
(aka
share certificates
) are legal documents that attest to the purchase of stock in a company. Each share certificate proves ownership in an allotment of stock—much like a receipt.
Typically, a shareholder receives a paper stock certificate from the brokerage firm that handled the transfer. Shareholders may also receive certificates from the company's transfer agent right after the share transfer.
Using Stock Certificate Templates
If you run, work for, or represent a business interested in pursuing investment opportunities, you're responsible for offering stock certificates to your investors. A high-quality stock certificate template makes this easy to do. Using a high-quality certificate template, you can easily formalize all the information on the share transfer agreement in certificate form. This information includes:
The name of the stockholder
The stockholder's address
The company whose shares are being bought
The cash value of the shares bought by the share holder
The number of shares purchased
The class and type of shares purchased
Terms and conditions for further share transfers
The company seal
If your company plans to offer shares of ownership to potential investors, all of this information will have to be compiled on a single legal document.
Value of Share Certificates for Investors
Since investors usually don't take physical control of the stocks they purchase, share certificates are the primary way to establish ownership. Shares in a company's stock represent assets that back up the investment, similar to collateral on a loan, formalized in a contract between the investor and the company. As the first document referred to if an investor and stock issuer enter into dispute, the share certificate is an important document. It provides the foundation for the relationship between the company and investor. Should a disagreement go to court, this document will help determine who wins the settlement. Similarly, stock certificates give companies a fair, uniform means of determining stock ownership. As a company could have large numbers of shares on the market, share certificate templates help organize the transaction history.
How to Use a Free Resume Template
Adding certifications to a resume can help it stand out. You can create a new resume or update an existing one in our Resume Builder. It has free resume templates that are editable and customizable to your style, voice and needs. You can also count on expert recommendations personalized to your industry of choice and years of experience.
How to use a resume template
Following these easy, guided steps, you'll finish in minutes:
Select your level of experience: Whether you are starting out with no experience or have already been working for a decade, you will find a resume template to suit your needs.
Choose your resume template and color: If the recommended resume templates do not feel like you, select another from the Traditional, Modern or Creative categories. You can also view them all at once or change them during the preview stage.
Start from scratch or upload your current resume: If you already have a resume, upload it, and the builder will format it to fit your new resume template. You could also start from scratch by answering a few questions to populate the page.
Input your information: Add your contact information, work history and skills to the resume template. For skills, you can add them on your own or add the builder-suggested skills by jobs and industries.
Add any extra sections: Need more? To include those recently earned certifications, simply add sections to the resume template.
You will finish creating or updating your resume in a few minutes!
Build a Resume
Free Stock Certificate Templates
Below you'll find free printable stock certificate templates. Stock certificates follow a simple, almost universal design, and these have been modelled after some of the best looking in the industry.
Shares Certificate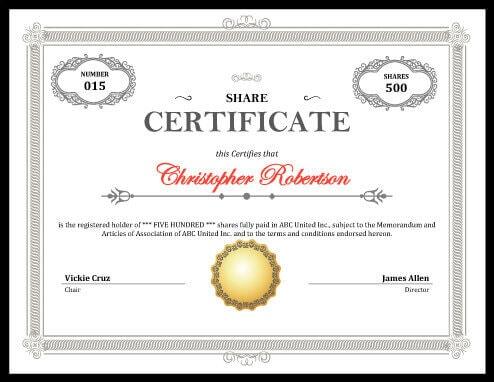 Size: 370 KB
Downloads:

13986

Filename: Shares-Certificate.docx
Download