Bake Sale Flyer Templates
You do not have to be a baker to put on a Bake sale!
Profitable bake sales don't just happen. You need to put a lot of work in organization, baking, fund raising and leading. Are you daunted by even the thought of putting on a bake sale event? Don't worry, this page will guide you through building a great bake sale fundraiser.
Planning a Bake Sale
Try this solution for a change: Be a Project Manager! The steps to building a bake sale are truly similar to the steps to build a house. Start with the foundation and build up to the roof. Prepare a "Charter" with the following information.
Who is the benefactor of the funds raised?
Who will take the lead as the principle coordinator?
Who can you enlist as team members?
What outside team help can you get?
How many days are there between the first meeting and sale date?
What is the vision for the bake sale?
Why are you having the bake sale?
Is it the easiest way to make money?
Is there a sense of urgency for the contribution?
Do you need an event to attract a large audience?
What is in it for the customer?
What tasks will the bake sale involve?
Next, the last item requires a list of all the "deliverables" or tasks to be performed and the resource for that task. If you perform the basics at the initiation of the project, the planning will make execution of the bake sale smooth and successful.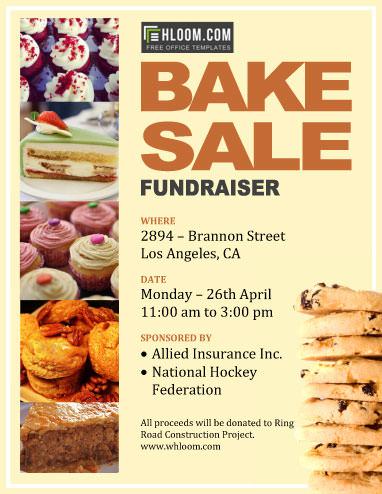 Size: 828 KB
Downloads:

14316

Download: zip and docx
Download
FEATURED TEMPLATE
Bakery Fundraiser
The photographic display bake sale poster gives a realistic sense of the goodies offered. With a place for website information and large print for details, this flyer works for a fund raising project to give a visual of baked selections. Perfect flyer for a church bake sale, fundraiser, or a bake sale sign.
How to have a bake sale
Resources

– Enlist specific team members who will be the core planning and execution group. Try to engage those with specialties that match the needs of the bake sale process. For example, people who are good with accounting, marketing, design, food prep, communication and fund raising make ideal delegates for those responsibilities.

Money

– Assign a "banker" who will track the money spent and the money raised. As a team, decide upon reasonable pricing for the baked items. List where you can count on contributions in money, time and sponsorship.

Bake Sale Products

– Get commitments from team members on baked items: cakes, pies, cookies, candy, and all other products, without overtaxing one person with too many things to bake. Get outside contributions from bakeries and groceries for supplies and/or baked goods. Assign the team a specific number of volunteers for each to recruit as bakers and workers for the day of the sale.

Advertising

– Non-profit advertising is fairly easy to get. The local TV stations usually have community calendar announcements. Radio stations also are happy to plug the event, and may even do the actual advertisement for you. Flyers need to go everywhere! Assign people to distribute flyers in their places of work and shopping areas. Place flyers at all public bulletin boards.

Theme and Decoration

– Using the vision for the bake sale project, decide upon appropriate decorations that not only show off the bake sale items, but also remind shoppers of the charity to receive the benefit. Use a theme that acts as a logo on the flyers, posters, letters and any other printed collateral that people will see.

Bake Supply storage, delivery and setup

– Establish the central location for bakers to bring their goods at a specific time. Determine "packaging" criteria for each baker or have a packaging party, where the team can wrap, cover, box, bag or decorate the items for display.

Communication

– As a bake sale project team, it is important to have planning meetings on a regular basis. A good rule is to have at least one meeting for every week or 10 days between the initial meeting and the sale. Additional meetings may be required for focused team responsibilities. Other means of communication may be handled through email, texting, phone or chat. There is a widely used saying in project management: "Communicate early and often." That rule helps the entire team stay informed and proactive.

Risk

– Yes, every plan has its risks! However, this plan can be made into a fun meeting for the team to brainstorm the "what-ifs" for any obstacles that may appear. For example, what is the risk of running out of goods to sell? As a team, prepare a plan B if there are more customers than expected. Or what if someone bakes an item that does not measure up to the quality expected? Have a contingency plan ready. To worry as a group relieves the pressure from the project leader and gives the team peace of mind.

The Day of the Sale

– Gather the volunteers early for instructions, supplies, assignments and any other information critical to sales success. It is nice to have a "uniform" for the volunteers, whether it is a cap, an apron or a nametag. Aprons are especially helpful if they have pockets to carry pens, sales receipts and transport money to the banker, if needed. Have a sort of pep rally immediately before the doors open, to get everyone pumped for the customers.

Close-Out

– At the end of the sale, clean up is necessary, so get help from the team and volunteers. Do not forget the breakdown of the equipment and supplies are part of the plan! Within a week's time, as the Bake Sale Leader, contact all team members and volunteers with a thank you and results report. In fact, send each a thank you note, or give them a small gift, or even treat them to a follow-up lunch meeting. The end of a project is a great time to review the success of the team's work and celebrate the success of the sale. Finally, if your project was fun, it is because you had a plan. Think of all the times you participated in events that "fell together." Were they successful? Handle your bake sale like a building project, a software upgrade, a convention or a business start-up, and you will be amazed at how smooth you can make any volunteer effort you perform.
Customizable Free Resume Templates
Hloom's free resume templates are preformatted with every section you need to showcase your career. They also include recommendations from career experts for your industry and experience level. The resume templates are customizable to suit your style and needs.
With easy, guided steps, the free resume templates are practical and convenient:
Select your favorite style: Visit the Resume Builder and select your years of experience and favorite template from the Traditional, Modern or Creative category. You can also choose to view all the styles at once.
Input your information: Add your contact information, education and work history. And don't worry if you're starting your career; the builder can create a resume for people with no experience. You will also have the option to add more sections, like hobbies, certifications, online portfolios and more.
Choose our expert recommendations: Throughout the entire process, you will have the option to select our expert recommended suggestions to make the most out of the resume template. From summary statements to skills, you will have the guidance of expert suggestions. You can always edit the information and customize the design to reflect your style and voice.
Build a Resume
Free Bake Sale Flyers
Here are some free printable flyers to get you started. You can use the theme you like and insert the information that is specific to your bake sale. Print them on your color printer or take the electronic file to a professional printer. The Bake Sale Free flyers will help you set the tone and the design of your event. Now, see? You do not have to be a baker to have a bake sale.
Charity Bake Sale Flyer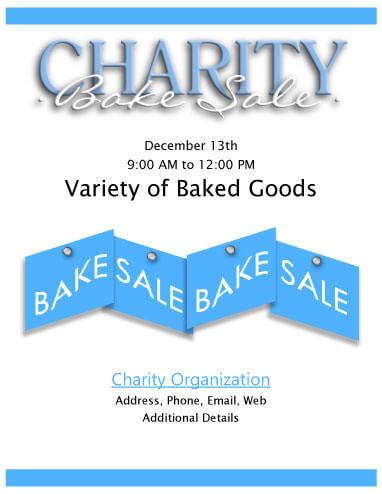 The beautiful blue color is an elegant way to announce your bake sale. Good for a charity event, the simplicity of the artwork and the word "Charity" makes an attractive statement with room to add details or a website address.
Size: KB
Downloads:

5430

Filename: Charity-Bake-Sale-Flyer.doc
Download
Cupcake Retro Bake Sale Poster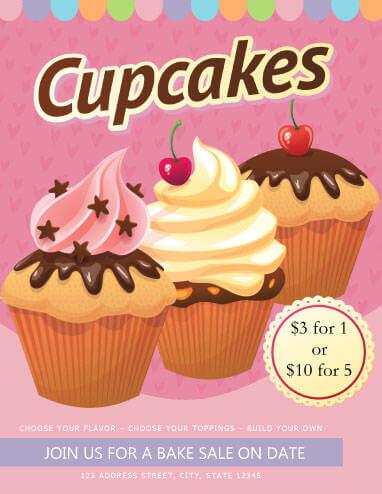 Three colorful cupcakes with cherries, chocolate, cream and sprinkles show off this cupcake sale flyer. The sticker for the pricing information stands out to help customers come prepared with their $$$.
Size: 845 KB
Downloads:

6778

Filename: Cupcake-Retro-Flyer.docx
Download
Colorful Cupcake and Background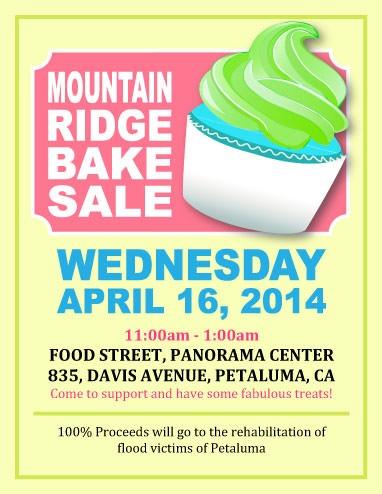 A splash of color with large letters will draw people to read more. Type the event information into the text boxes and print. The pastel colors allow home printing, without using too much ink.
Size: 191 KB
Downloads:

6302

Filename: Colorful-Cupcake-and-Background.docx
Download
Pastel background and Cupcakes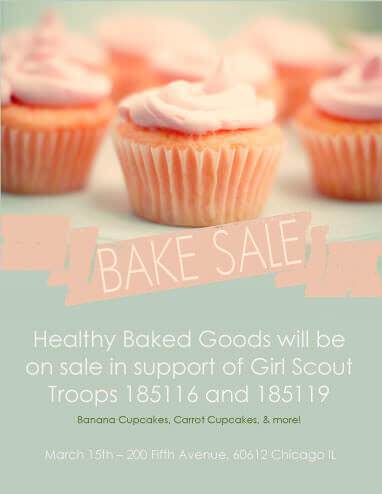 The pale colors include a photographic background with three pink and white cupcakes. Advertise your bake sale by email or mail with text boxes to fill in your information.
Size: KB
Downloads:

6789

Filename: Pastel-background-and-Cupcakes.docx
Download
Perfect in Pink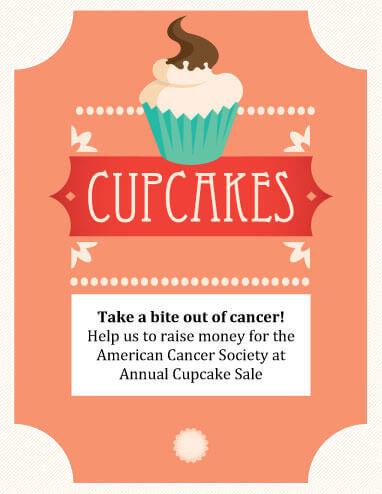 The pink theme poster template specifically emphasizes a cupcake sale for a cancer fighting benefit. Sell at "run for the cure" events for extra fund-raising. Post this flyer in hospital and imaging center waiting rooms. The words and graphics are already on the flyer to shout your cupcake sale message.
Size: 228 KB
Downloads:

5312

Filename: Perfect-in-Pink.docx
Download
Vegan Annual Bake Sale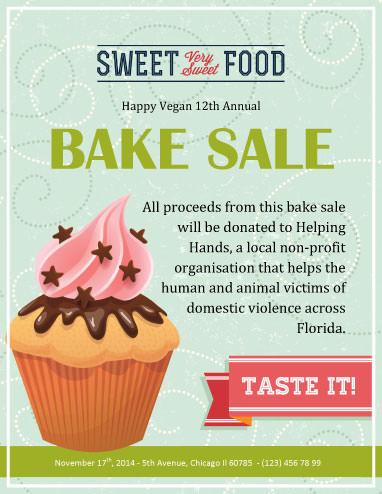 A large cupcake dripping with icing and sprinkles will spark the sweet tooth in customers. Large announcement lettering and room for details are printed on a subtle blue background.
Size: KB
Downloads:

6445

Filename: Vegan-Annual-Bake-Sale.docx
Download
Cartoon Chef Special Children Benefit Bake Sale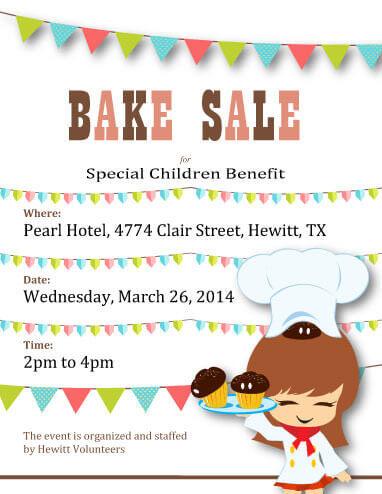 The cute chef with a tray of sweets is enough enticement to look at this easy to read flyer. Flags across the top and bottom give it a festive look. Good for children's benefit projects.
Size: KB
Downloads:

7405

Filename: Cartoon-Chef-Special-Children-Benefit-Bake-Sale.docx
Download
Wake Up to a Bake Sale Flyer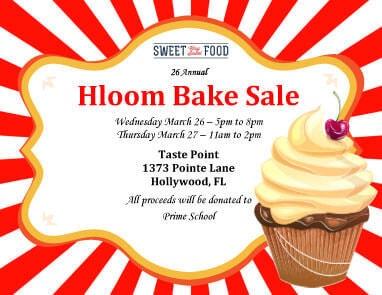 A sunburst background and a gold framed scroll announcement will get attention for a morning or noon bake sale. Enter detail next to the yummy frothy cupcake graphic and anticipate the crowds.
Size: KB
Downloads:

5737

Filename: Wake-Up-to-a-Bake-Sale-Flyer.docx
Download
Bake Sale Order Form Template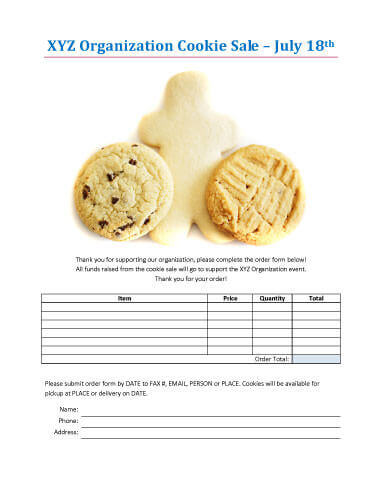 A display of sugary cookies above an order form is perfect for distribution by handout, email or posting. The details for ordering and pick-up are easy to fill in, and the flyer can be folded to put into a display rack.
Size: KB
Downloads:

4396

Filename: bake-sale-order-form-template.doc
Download
Bake Sale Recipe Sheet Template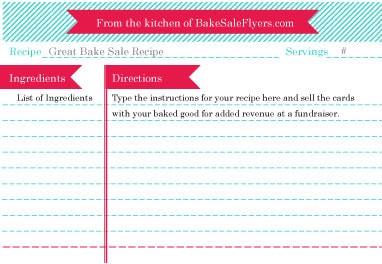 A recipe is a clever way to give Bake Sale customers a bonus. The Recipe title and serving header tops a nice layout for ingredients and directions. When a baked item is really popular, share the details with customers.
Size: 185 KB
Downloads:

3750

Filename: Bake-Sale-Recipe.doc
Download
Egg Face Bake Sale Fundraiser Flyer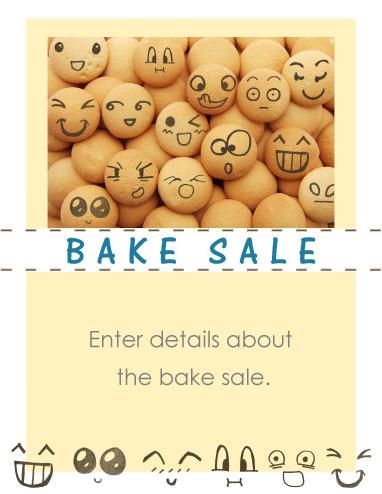 Adorable egg faces adorn a photographic cluster of eggs. Just the unique graphic will get smiles as customers read the details of your bake sale.
Size: 3 MB
Downloads:

4251

Filename: Egg-Face-Flyer.doc
Download
Resources
Some of the flyers on this page are adapted from flyers from
bakesaleflyers.com
(distributed under Creative Commons). Photo courtesy of
freepik.com
.