Free Cleaning Flyers
Flyers, ideas, and samples for house and office cleaning
Years ago,
cleaning flyers
were created from scratch. Now, you can make an attractive, attention-grabbing flyer quickly and efficiently using a template. Flyers are a simple and inexpensive way to effectively market your cleaning business. In our
flyer design templates
, the prep work is already done for you, leaving you more time to focus on your cleaning service.
Know Your Customers
To get the best results from your cleaning flyer marketing campaign, make sure you first
know what motivates your potential customers
. Are they busy executives? Students? Managers? Single moms? Why would they need your help? Is it because they don't have time to clean? Maybe they don't like cleaning, and can afford to hire help? Knowing your target audience will help you choose the right flyer design and the right wording to get the most from your advertising. For example, if you are targeting a conservative neighborhood with an older population, you may want to opt for a flyer with traditional fonts (New Century, Helvetica), and a straightforward design. If your target is a college town, you may want to use colors and flashy typeface, or find a way to add humor in the text. You can even try two different designs and see which flyer generates more leads.
Successful Cleaning Flyer Designs
Don't assume that using a template will produce a boring flyer. A good template provides a basic format that can be changed to fit you and your target audience perfectly. The variables go beyond just colors and fonts. You should also experiment with placement of text and images, to draw the reader's eye to the most important element in your flyer. That element might be contact information, service description, or anything else, depending on your audience and your goals. Regardless of the final design of your cleaning flyers, you will want to include the following:
Headline

: You only have a few seconds to get people's attention. Make sure to sum up your flyer in one short phrase or sentence. The headline should give readers an idea of what your flyer is about.

Name of business and contact info

: This information doesn't need to be the main focus of the flyer, but it's important to list it clearly so potential clients know how to contact you.

Cleaning service description

: Clearly state what kind of cleaning services you provide. You have limited space and you don't want to bore potential customers, so keep it short and to the point.

Specifics

: How is your cleaning business different from others? Why should they hire you? Maybe your specialty is cleaning small businesses, or cleaning using only all-natural products. Make yourself stand out from the cleaning industry competition.

Call to action

: Motivate potential clients to contact you as soon as possible. You can offer a coupon that is only valid for a certain time, or have a special offer for new customers.
Flyer Printing and Distribution
To save money, you can print your house cleaning flyers at home. However, professional flyer printing can give you a nicer-looking finished product. In fact, unless you're printing only a small number of copies, professional printing can be cheaper than using your home printer (since you will use a lot of expensive ink printing at home). Once your flyers are printed, distribute them in the areas where you would like to provide services. Hang your cleaning flyers in local grocery stores, salons, laundromats, restaurants, or schools. Be sure to get permission from the businesses before putting up a flyer there. You might even put your flyers on car windows at places your target audience is likely to visit, like the mall or grocery store. You can also mail out flyers, or go door-to-door in the neighborhood where you would like to work.
Customizable Free Resume Templates
Hloom's free resume templates are preformatted with every section you need to showcase your career. They also include recommendations from career experts for your industry and experience level. The resume templates are customizable to suit your style and needs.
With easy, guided steps, the free resume templates are practical and convenient:
Select your favorite style: Visit the Resume Builder and select your years of experience and favorite template from the Traditional, Modern or Creative category. You can also choose to view all the styles at once.
Input your information: Add your contact information, education and work history. And don't worry if you're starting your career; the builder can create a resume for people with no experience. You will also have the option to add more sections, like hobbies, certifications, online portfolios and more.
Choose our expert recommendations: Throughout the entire process, you will have the option to select our expert recommended suggestions to make the most out of the resume template. From summary statements to skills, you will have the guidance of expert suggestions. You can always edit the information and customize the design to reflect your style and voice.
Build a Resume
Download Free Cleaning Flyer Templates
We've designed these fourteen
free cleaning flyer templates
to help you with marketing your professional cleaning business.
Whether it is just starting or has been growing for a few years,
free flyer templates
are a great way to promote your business and acquire new customers. You can use these layouts to
generate leads, offer discounts
, or
advertise special deals
. Our flyer templates are
easy to make, cheap to produce,
and
highly effective
for getting your message to potential clients. Choose from our selection below, or create your own by using these flyer designs for inspiration. These printable flyers are
completely customizable
, so you can easily make them work for your cleaning business.
Flyer with coupons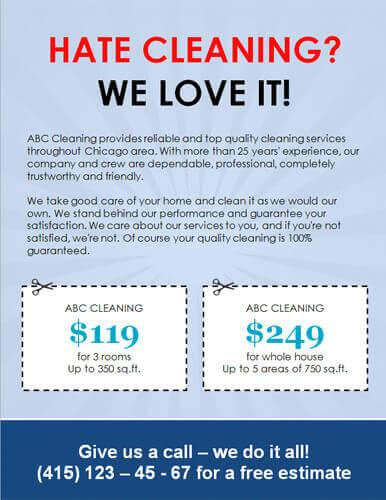 Simple flyer with two coupons to cut out to get special discount.
Size: 183 B
Downloads:

9523

Filename: flyer-with-coupons.doc
Download
Sparkling Clean Pop-Art Flyer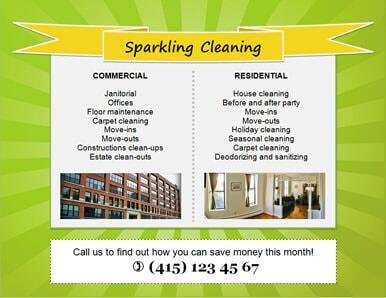 Bright design for companies that provide both commercial and residential services. Space for two images and description of different cleaning services provided.
Size: 183 B
Downloads:

10756

Filename: Sparkling-clean-pop-art-flyer.doc
Download
Special Discount Offer Template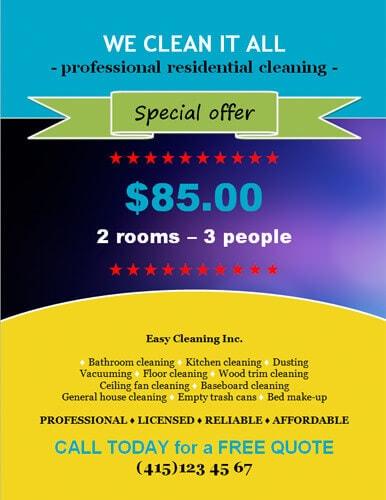 Template to promote special offer or discount. Top part of flyer describes the offer, bottom part can be used to describe cleaning services.
Size: 183 B
Downloads:

8485

Filename: special-discount-offer-template.doc
Download
Simple Tear-Off "Clean Me" Flyer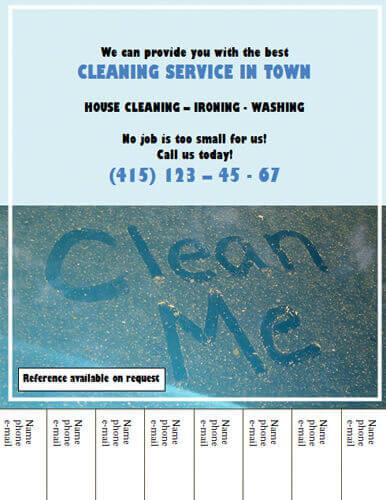 Simple cleaning flyer template with ideal image for car wash service or general cleaning service, plus tear-off strips for business contact info.
Size: 183 B
Downloads:

9281

Filename: simple-tear-off-clean-me-flyer.doc
Download
Do You Need Help Flyer Design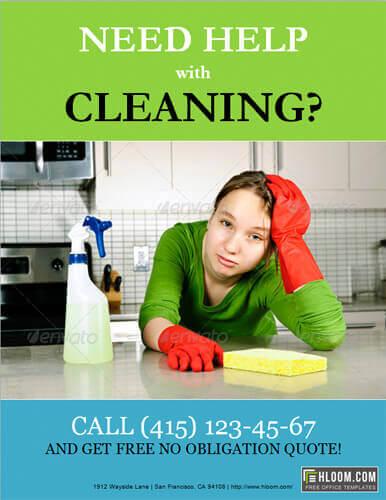 Basic professional flyer design with text and image. Image can be changed to promote specific cleaning services such as a window cleaning business.
Size: 183 B
Downloads:

8920

Filename: do-you-need-help-flyer-design.doc
Download
Free House Cleaning Template With Special Discount Offer
Attractive flyer template with text and graphic design to promote special offers for house cleaning, office cleaning, or other professional cleaning service.
Size: 183 B
Downloads:

8143

Filename: free-house-cleaning-template-with-special-discount-offer.doc
Download
Window Cleaning Service Flyer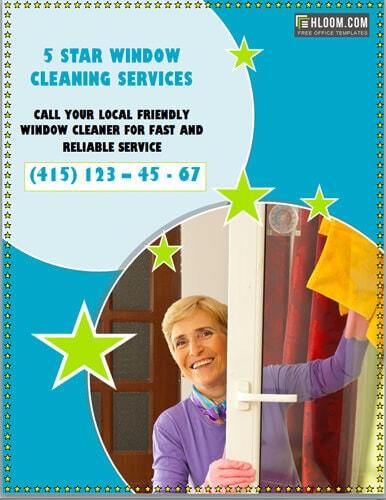 Sample design for window cleaning company. Replace image with different picture to create a flyer for another cleaning service, such as office cleaning or car wash service.
Size: 183 B
Downloads:

4621

Filename: Windows-cleaning-services-flyer.doc
Download
Cleaning Services Flyer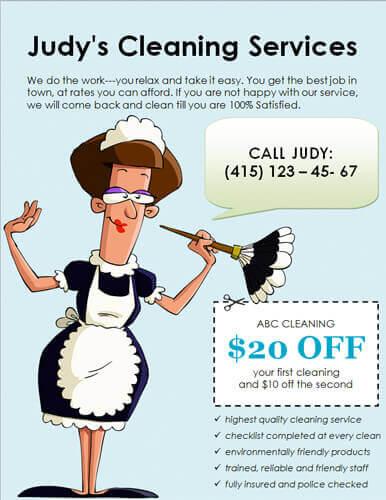 Original flyer design with cartoon image of a maid dusting a text box. Design has special offer coupon and bullet list for cleaning service description.
Size: 183 B
Downloads:

8656

Filename: Judys-Cleaning-Services.doc
Download
Professional Services Flyer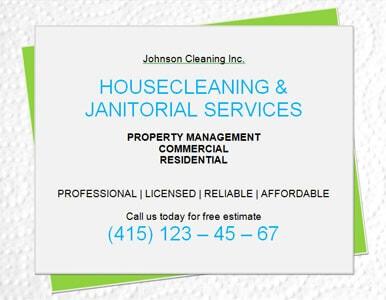 Simple landscape flyer template without images. Professional graphic design with clean fonts, great for a conservative target market.
Size: 183 B
Downloads:

5942

Filename: professional-services-flyer.doc
Download
Let Us Do The Dirty Work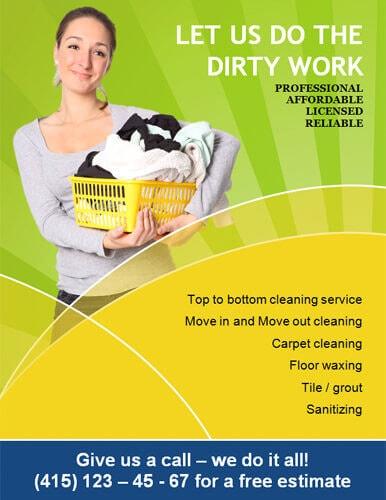 Attractive simple design with headline, list of cleaning services, and call to action. Features image on the left with text in right hand corner and contact info at the bottom.
Size: 183 B
Downloads:

6718

Filename: Let-us-do-the-dirty-work.doc
Download
Save Your Time Flyer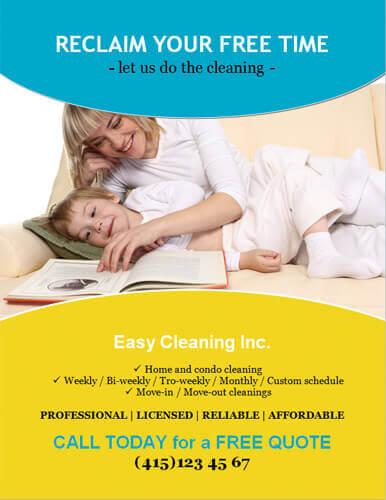 Simple flyer template with heading, image, list of cleaning services, and call to action. Entices potential customers to save time by hiring a professional cleaning service.
Size: 183 B
Downloads:

6371

Filename: save-your-time-flyer.doc
Download
Do You Have Time Flyer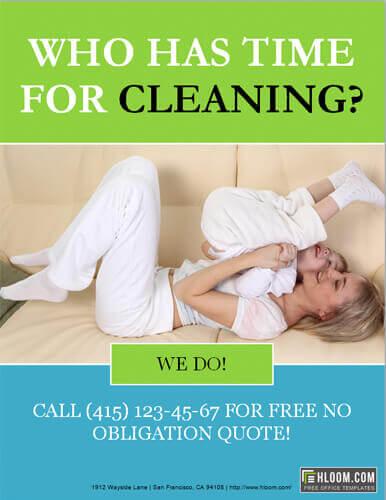 Designed to motivate potential clients to hire a cleaning service so they will not spend precious time on cleaning. Has image, heading, and call to action in an attractive, clean flyer template.
Size: 183 B
Downloads:

5549

Filename: do-you-have-time-flyer.doc
Download
Let Us Do All The Dirty Work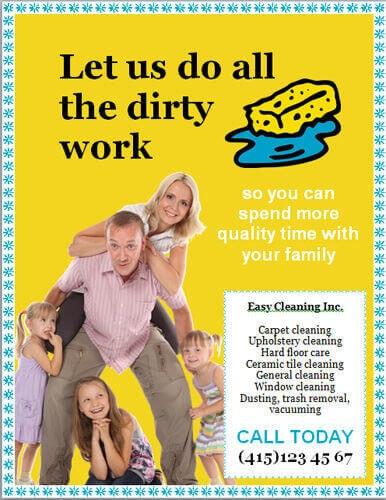 Another flyer design with text and image to motivate potential customers to save time with a professional cleaning service. Has heading, description of services, and call to action.
Size: 183 B
Downloads:

5295

Filename: Let-us-do-all-the-dirty-work.doc
Download
ABC Flyer Design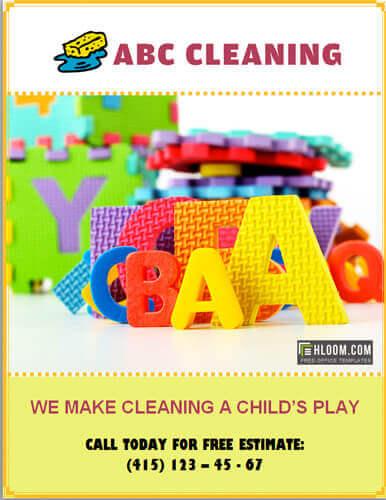 Basic flyer template with place for logo, image, tagline, and contact details. Text and image geared toward parents of young children, as well as schools and daycares that may need a professional cleaning service.
Size: 183 B
Downloads:

4330

Filename: abc-flyer-design.doc
Download
Image Credits and Cleaning Business Resources
Below, please find a few more useful resources for your cleaning business. Also, special thanks to the Flickr artists credited below for images we used in our free cleaning flyer templates.
Resources:
Image credits: