Free DayCare Flyer Templates
Make Your day Care Business Shine
Day care is the most important choice any parent makes about the care of children. When the parent is not available, who is? A day care business must communicate service, atmosphere, and qualifications to gain loyal customers. From a parent's perspective, the first impression of a day care provider's ads will set the tone for further investigation.
How To Advertise Day Care Facility
Of all the marketing efforts for a day care facility, "word-of-mouth" is priceless. To get the advantage of hitting a target market, informational flyers are easy to produce and distribute. When you use a flyer that you can customize, you can efficiently present your specialty, advantage and experience. Here are a few examples:
Church based day care
Use the theme that fits your religious emphasis
Pre-school and early training
Use graphics or photos that show children writing, building or singing
After school support
Use language and photos that show children interacting and studying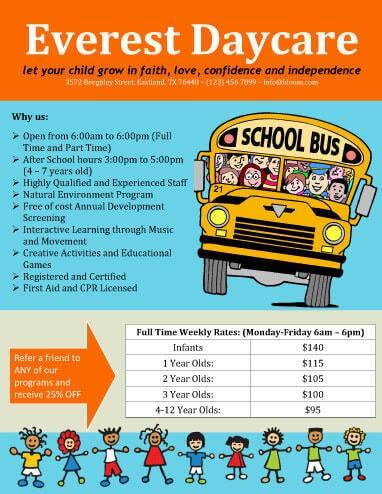 Size: KB
Downloads:

13273

Download: zip and docx
Download
FEATURED TEMPLATE
Full time Daycare flyer
Let your child grow in faith, love, confidence, and independence. Flyer with a lot of place for copy, and a pricing table.
Where and When To Advertise
Where
The flyers are printable on any color printer, when you are using an amount fewer than 50. If a mass mailing and handout situation is planned, take the digital file to a printer to save money and get a professional look. Here are some ideas for flyer distribution:
By mail to neighborhood residents and businesses
Visit local shopping areas (especially children's stores) and ask to post your flyer or leave a number in a countertop display for people to pick up
Leave flyers with local church offices and ask them to place in the Nursery or even handout to parents at church school
Send a digital copy to local or area newspapers to publish for a small fee
Give a stack of flyers to local area school offices and ask to have them posted or handed out to parents
Day care operations serve mostly local and nearby residents and businesses. If you emphasize your location, it will help the parent decide if your day care is close to home or place of work.
When
If you are new in the area, any time is good to get started. If you have seasonal business, distribute flyers a month before business drops. If you are already full to capacity, enlist other day care centers you know and trust as referrals. Summer is a peak time for full-time services, holidays a peak for short-term customers and evening care is a premium service in any season.
Free DayCare Flyers
Day care is more than a baby-sitting service; it is a teaching, learning, physical and mental enrichment benefit for parents. Showcase your care and benefits with your personalized flyer and message. Your DayCare flyer should tell as much as possible about particular services, responsibilities and role of a day care business.
First, the ad's appearance attracts attention.
Second, the details of location, hours, services and cost will help the parent make a quick assessment.
Third, the language of the flyer projects the quality that encourages the parent to call.
Be sure to include:
Age appropriate activities, such as potty training, eye-hand coordination, building blocks, drawing, coloring, music and exercise
Visuals of children and adult supervision, like a reading, music or art group
Location, times and cost, with a picture of the day care interior with kids, a chart of times and a list of service prices
Bright title header and prominent phone number with large lettering
Here are some flyers to help showcase your care and benefits with your personalized message.
Early Learning Preschool Flyer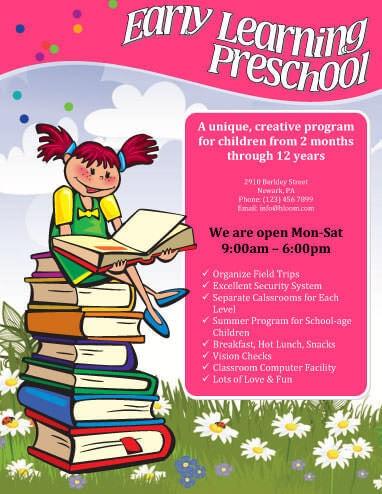 Visual and graphical flyer to advertise preschool program.
Size: KB
Downloads:

10966

Filename: Early-Learning-Preschool-Flyer.docx
Download
Bells and Bubbles ChildCare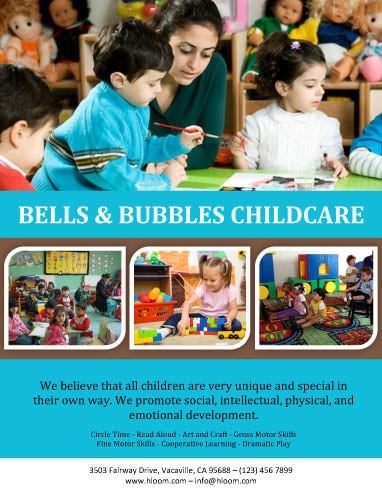 Simple flyer with visual focus on large image and tree smaller supporting images
Size: KB
Downloads:

8955

Filename: Bells-and-Bubbles-ChildCare.docx
Download
After School Childcare Program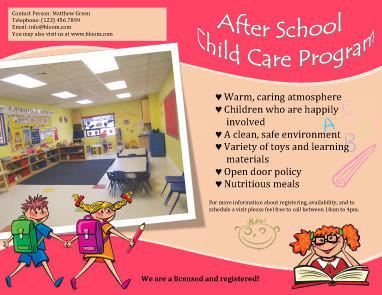 Playful flyer to advertise an After School Childcare Program with space for image, bullet points, address, and other important information.
Size: KB
Downloads:

8610

Filename: After-School-Childcare-Program.docx
Download
Basic Day Care Flyer Template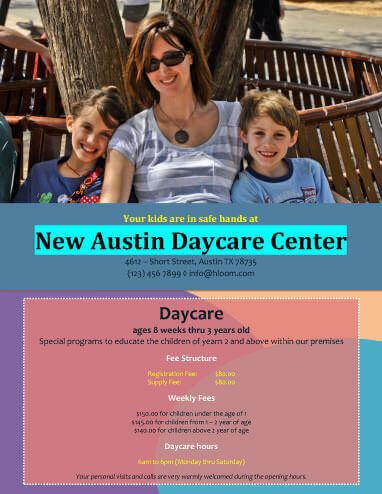 Very simple Daycare flyer template with large image and text box for daycare center info (fees, hours, address, etc.)
Size: 183 B
Downloads:

5170

Filename: Basic-Daycare-Flyer-Template.docx
Download