14 Free Labor Day Flyer / Invitation Templates
Printable ready-to-use flyers, leaflets, invitations, and announcements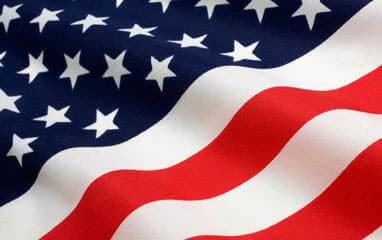 Labor Day was originally conceived in 1882 as a national holiday to observe the important contributions of the work force in a dynamic economy. The date itself varies as the first Monday in September is designated as Labor Day. As most of today's workers are given the day off on Labor Day, it is often spent with family and friends.
Celebrations
Aside from the parades and speeches, Labor Day also marks the end of summer. The three-day weekend is marked with beach and pool parties as swimsuit and shorts weather generally prevails at this time of the year. Reunions and barbecue gatherings are common as families prepare to face another school year.
Major Retail Events
Retailers schedule sale events during the Labor Day weekend to draw shoppers into stores on their days off. The holiday happens to be a time when consumers are looking for back-to-school bargains while preparing to change over their wardrobes for cooler temperatures. Households with students leaving the nest for college have more extensive shopping lists that may include furnishings, appliances and supplies to equip dorm rooms with the basics. Retailers are only too happy to comply by offering coupons, rebates and substantial markdowns on most items.
Celebrating Summer's End
Among fashionable people, Labor Day was the last day one could wear white outfits as this was traditionally the end of summer. As baseball season ends, college football season officially commences on Labor Day weekend. The National Football League's season begins shortly after.
Salute to Labor Day
With so much fanfare attached to Labor Day, it makes good sense to
capitalize on the marketing opportunities that this long weekend offers
. If you have promotions and special events lined up for Labor Day, consider creating flyers to spread the news to maximize your exposure. These handouts can be passed out in crowds, included as newspaper supplements or stacked in public places where promotional flyers are welcome. Whether you are promoting sales events, inviting the public to parties or hyping products and services, flyers make it easy to consolidate the information and selling points in an easy-to-read material that is convenient to distribute.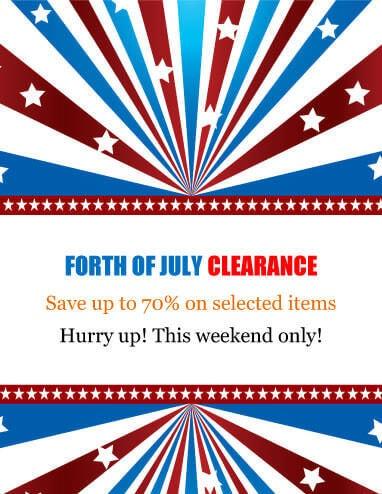 Size: KB
Downloads:

4042

Download: zip and docx
Download
FEATURED TEMPLATE
Clearance Flyer
Multi-purpose Labor Day flyer with blue and red flag theme
We have made it easy for you to
create flyers
for your Labor Day promotions using customizable
free labor day flyer templates
created especially for these purposes. Check these out, there is one suitable for your event.
All you can eat buffet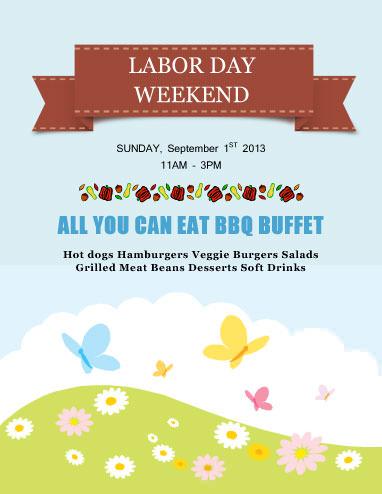 Multi-purpose flyer, simply change text to adapt to any event, sale, party.
Size: KB
Downloads:

3976

Filename: All-you-can-eat-buffet.docx
Download
Annual Fundrasing Flyer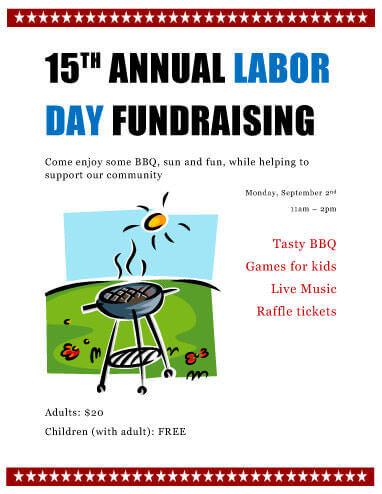 Simple labor day fundraising flyer template.
Size: 86 KB
Downloads:

3477

Filename: Annual-Fundrasing-Flyer.docx
Download
Barbecue Party Invite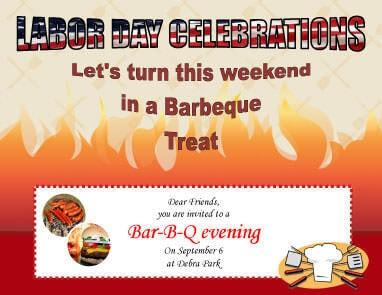 Landscape design with barbecue theme
Size: KB
Downloads:

3485

Filename: Barbecue-Party-Invite.docx
Download
BBQ invitation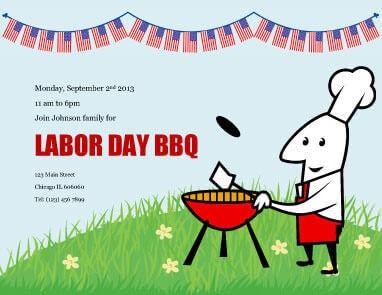 Cute, fresh and simple BBQ invitation flyer
Size: 183 B
Downloads:

3590

Filename: bbq-invitation.docx
Download
Weekend Sale Flyer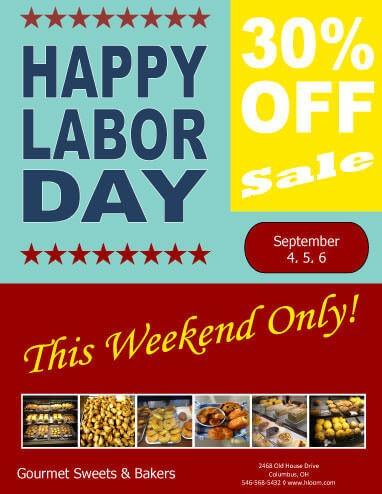 Weekend discount advertising poster / leaflet / flyer
Size: KB
Downloads:

3410

Filename: Weekend-Sale-Flyer.docx
Download
Barbeque Dinner Flyer
Labor Day Barbecue Dinner Invitation
Size: KB
Downloads:

3363

Filename: Barbeque-Dinner-Flyer.docx
Download
Red White and Blue Celebrations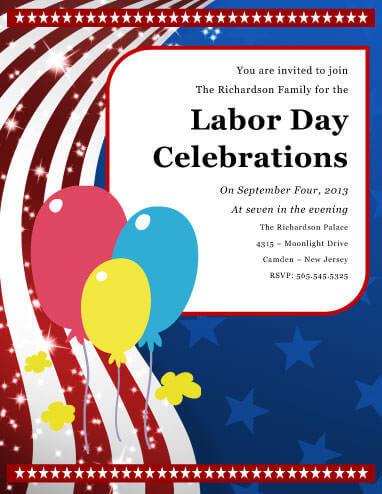 Multi-purpose flyer or invitation with red, white and blue patriotic theme.
Size: 183 B
Downloads:

3820

Filename: red-white-and-blue-celebrations.docx
Download
Cookout Party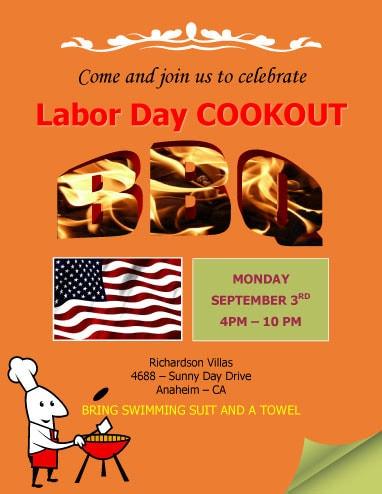 BBQ Cookout invitation or flyer
Size: 183 B
Downloads:

3422

Filename: cookout-party.docx
Download
Work Hours Notice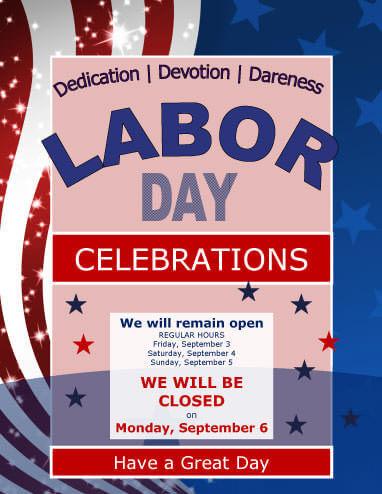 Patriotic theme for announcement, notice, or advertisement
Size: KB
Downloads:

4103

Filename: Work-Hours-Notice.docx
Download
Weekend Sale
Advertising leaflet with patriotic blue, red and white theme
Size: 183 B
Downloads:

3120

Filename: weekend-sale.docx
Download
Golden Theme Formal invitation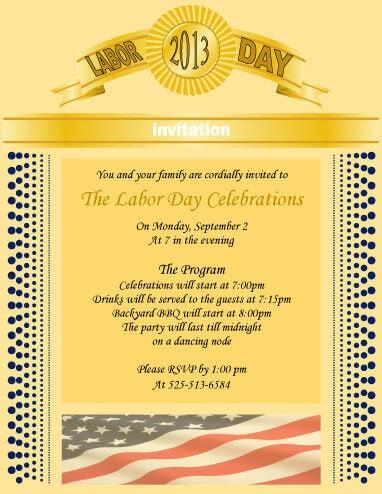 Yellow and blue formal invitation to a Labor Day event
Size: KB
Downloads:

3184

Filename: Golden-Theme-Formal-invitation.docx
Download
Party Flyer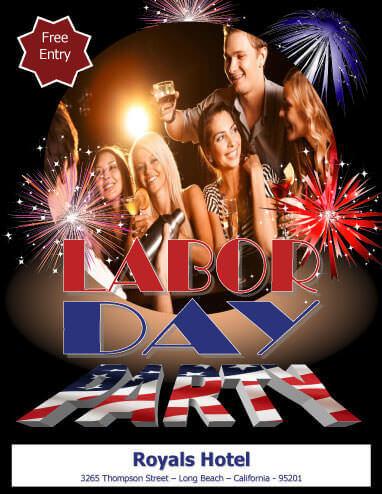 Labor Day Party invitation / announcement / poster
Size: 183 B
Downloads:

3183

Filename: party-flyer.docx
Download
Parade Invitation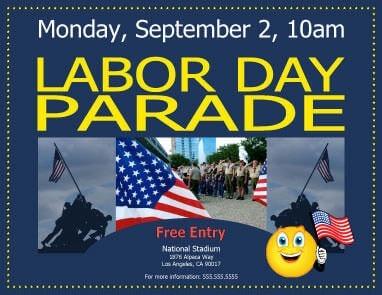 Event announcement landscape simple flyer design
Size: 183 B
Downloads:

3101

Filename: parade-invitation.docx
Download