Lawn Care Flyers
Printable ready-to-use lawn care flyer templates – free in Microsoft Word
Running a lawn care business can be a formidable process. You not only have to be skilled at all of the services you offer, but you also have to find clients. According to the Small Business Association, "
30% of businesses fail during the first two years
," and failure to market to the right customers is one of the reasons why.
The lawn care flyers we offer simplify the process of creating the print-marketing media that will help grow your lawn service business and avoid that 30% statistic. Landscaping flyer templates are more than simply cost-effective—they also allow you to personalize your flyer to meet the exact needs of your market.
What Kind of Services Should You Promote?
From the small restaurant franchise with a grass island in its parking lot to the million-dollar house with its acres of lawn and immaculate landscaping, a well crafted flyer will show customers not only the range of services you offer, but also your range of clientele. If your business is more than a simple lawn care service, make sure to show this on your lawn care flyer, and if you've had success landscaping a locally known home or business, then be sure to include that as a picture testimonial. If your landscaping flyer only promotes your mowing fees, then customers won't know what other services you offer.
Services That Are Frequently Overlooked
Landscaping
Design
Lawn mowing
Lawn maintenance
Hedge trimming
Fertilizing
Weed control
Flower bed planting
Sprinkler maintenance
Yard waste removal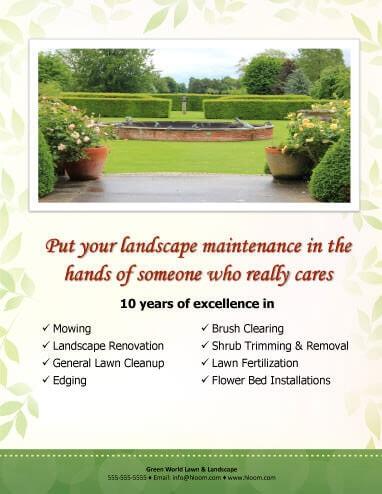 Size: 183 B
Downloads:

8896

Download: zip and docx
Download
FEATURED TEMPLATE
Service bullet points
Simple and elegant design with one large focus image and description of services offered.
Anatomy of a Great Lawn Care Flyer
Not all lawn care flyers are equally effective as a marketing tool. Flyers that aren't eye catching, that don't sell your business well, or that aren't marketed to the right people will be less effective at growing your landscaping business. Here are nine elements of great promotional lawn care flyer:
Headline

– According to PrintRunner, "Over 83% of people will only read your headline and nothing else." This means your lead is the most important part of your flyer. You may be the only lawn care service in the city, but if in your opening line you don't let customers know why they need you in their lives, then you'll miss catching a majority of your potential customers.

Images

– A picture is worth a thousand words, and great images of your work will hold potential customers' attention. Before and after photos will drive home the fact that you are able to make even the most unkempt yard look like a Better Homes and Garden photo. Just remember that the photos must be high quality—no image at all is better than one that is blurry or doesn't portray your work well.

Content

–Every word on your lawn care flyer should be chosen with care. Get rid of unnecessary words and focus on solving problems. Show potential customers why you are the business that is going to allow them to spend their time enjoying their yard, rather than working in it themselves. Consider adding a time-sensitive reason for homeowners to act right away. You can convince people to call your lawn care business by creating some irresistible offers such as 10% off when they book a three-month contract, or a limited-time offer for a free first mowing or lawn assessment.

Salesmanship

– As with any service, you need to sell yourself. Figure out what your clients need and then address why you are their best choice. Is your fertilizer locally sourced or responsible for lush lawns that are dandelion free? Is your crew experienced, professional, and fast? Do you have earth-moving equipment for larger jobs? Spell out why you are the best choice in lawn care, landscaping, and design for potential clients.

Timeliness

– Of course, a good time to promote your lawn service business is at the beginning of the spring season. But remember that most customers won't know that many plants need to be pruned in the winter months, that fertilizing needs to be done in the autumn, and that there are climate-friendly steps that can be taken to protect their lawn and landscaping during the hot, dry days of summer. Draw a correlation between your landscaping services and the beautiful yards in the neighborhood.

Testimonial

– Everyone loves to know that someone else tried a service and loved it. Ask satisfied clients if they will provide a testimonial that you can add to the flyer. Bonus points if you also get a photo of their amazing looking yard to go with it!

Contact information

– Don't forget to add the best ways to reach you. Put your name, phone number, website, email address, and even a photo of yourself and your crew. Remember to include your company logo, and make it easy for potential clients to find you by using colorful text and easy to read font.

Territory

– Depending on where you live, you may not want to target your entire town or city. By choosing a few neighborhoods or business districts, you and your crew can spend your time working on landscaping rather than commuting with trailers full of lawn care equipment, allowing you to make more money. An effective strategy with lawn care advertisements is to print them in batches to target yards within a small territory that you know is either under or poorly serviced. While lawn care flyers can be placed on car windshields, stapled to light posts, or mailed, meeting potential clients one-on-one is also a good idea. The general manager of that three-million-dollar facility won't be the person who reads her own business mail, but she'll take the time to listen to a sales pitch about making her plant look better for less money than she's spending now. Just be sure to dress professionally, and give her your business card as well as your business flyer.

No errors

– The last thing a well-crafted flyer contains is no grammatical or spelling errors. Keep your landscaping flyer looking professional by getting it proofread by either yourself or someone else to ensure that you aren't making a mistake in your flyer. This is your reputation at risk, so keep it looking great.
Create an Effective Lawn Care Marketing Campaign
How to Know if Your Landscaping Marketing Campaign Works
In order to know if your marketing campaign has worked, you need to
treat it like a science experiment
. Create metrics of your business the month before the flyer campaign. Take note of how many customers you have, how profitable the business is, how many man-hours were spent travelling, the cost of fuel, and other data you think your landscaping flyer campaign might impact. In the month following the release of the flyers, watch these metrics change. Small changes might be random chance, but larger changes mean your campaign is working. If you've targeted a specific neighborhood, ZIP Code, or business district, then watch to see if your crews spend more time in those areas—and more time spent in the same area means fewer man hours and less fuel wasted! If you've tried to reach out to a more expensive clientele, then check to see how that's affecting your bottom line.
What to Do if Your Metrics Don't Change
The Houston Chronicle
quotes JWM Business Services as stating that, "The average rate of return on direct mail campaigns is generally 1/2 to 2 percent." You should expect an even better rate of return if you target neighborhoods more directly than mail, perhaps by having your crew go door to door with flyers, or by cold calling businesses yourself. However, if you create a marketing campaign but your numbers don't change, then it's important not to give up. Instead, review our list of 9 Elements of Great Promotional Materials and ask if you've done the best job you can at creating your flyer. Perhaps you could use better or more targeted testimonials or better images. Or it may be that you need to update your flyer; if you're trying to market the new landscaping side to your business, or provide other new services, but are using old images from your lawn service, then you aren't reaching your clientele the way you need to. You may also need to use more generous offers—discounted services over time, or multiple free services—in order to get potential clients on board.
Make Lawn Care Flyers Part of Your Marketing Plan
Most business owners would agree that acquiring new lawn care clients is harder than digging out a
Juniperus communis
. Making lawn care flyers part of your marketing plan will pay off in spades!
Customizable Free Resume Templates
Hloom's free resume templates are preformatted with every section you need to showcase your career. They also include recommendations from career experts for your industry and experience level. The resume templates are customizable to suit your style and needs.
With easy, guided steps, the free resume templates are practical and convenient:
Select your favorite style: Visit the Resume Builder and select your years of experience and favorite template from the Traditional, Modern or Creative category. You can also choose to view all the styles at once.
Input your information: Add your contact information, education and work history. And don't worry if you're starting your career; the builder can create a resume for people with no experience. You will also have the option to add more sections, like hobbies, certifications, online portfolios and more.
Choose our expert recommendations: Throughout the entire process, you will have the option to select our expert recommended suggestions to make the most out of the resume template. From summary statements to skills, you will have the guidance of expert suggestions. You can always edit the information and customize the design to reflect your style and voice.
Build a Resume
Free Lawn Care Flyer Examples
Below you will find some of our favorite free landscaping flyer templates that you can use to promote and advertise your lawn care business and landscaping services. We've helped create the flyer design so that all you have to do is add your information. Simply download a template, fill in a few fields, and print!
Contemporary design with coupon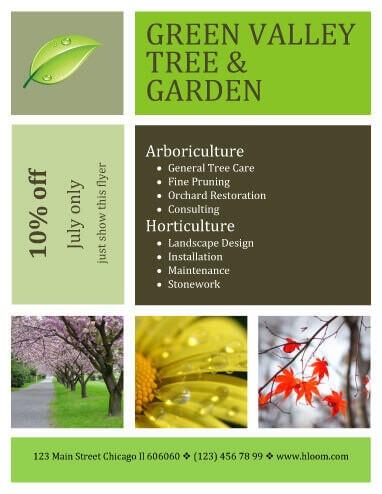 Modern design with colored blocks of text and images.
Size: KB
Downloads:

7922

Filename: Contemporary-design-with-coupon.docx
Download
Before and After Wooden Theme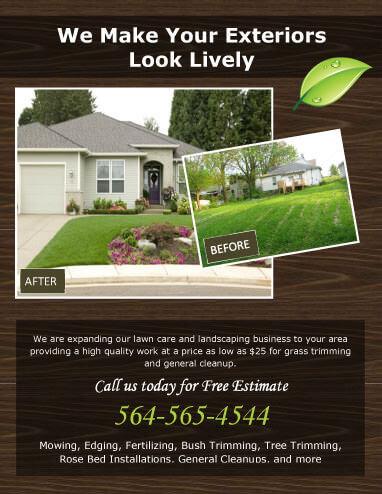 Dark theme with wooden background, before and after images as main focus.
Size: KB
Downloads:

5848

Filename: Before-and-After-Wooden-Theme.doc
Download
Lawn Cutting Just a Call Away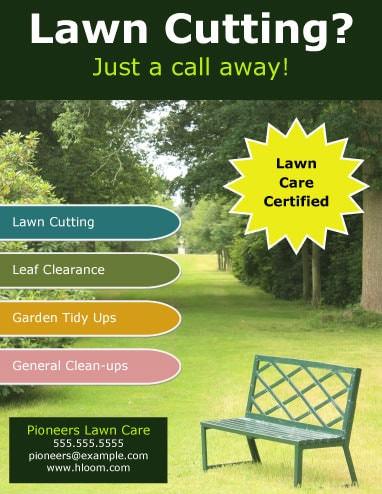 Simple flyer to advertise lawn cutting services.
Size: 183 B
Downloads:

8400

Filename: lawn-cutting-just-a-call-away.docx
Download
General Maintenance and Landscaping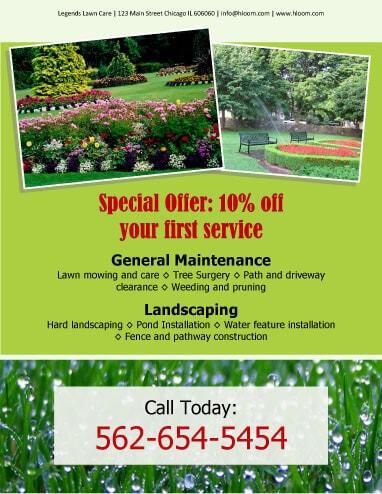 Basic design that will work well for almost any lawn care advertising strategy.
Size: KB
Downloads:

5659

Filename: General-Maintenance-and-Landscaping.docx
Download
MInimum Text Design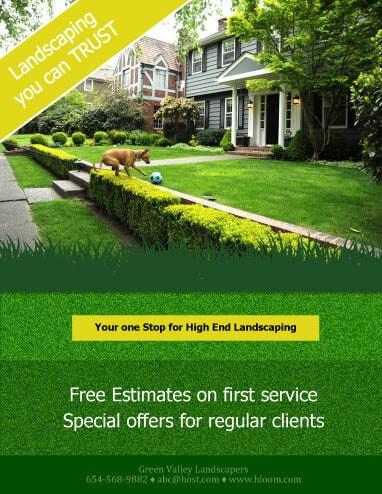 Flyer with very little text for those who do not want to write much. Place for large image and large titles.
Size: KB
Downloads:

5105

Filename: MInimum-Text-Design.docx
Download
We know the needs of your lawn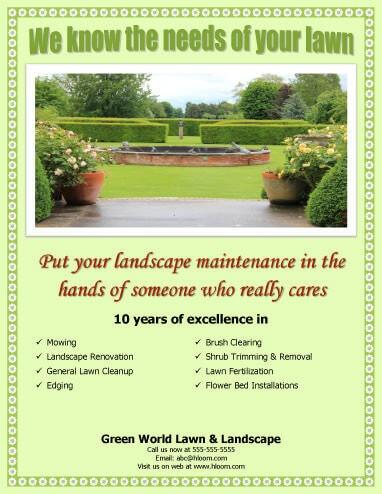 Simple version with one large image and text.
Size: KB
Downloads:

5186

Filename: We-know-the-needs-of-your-lawn.docx
Download
No Job too small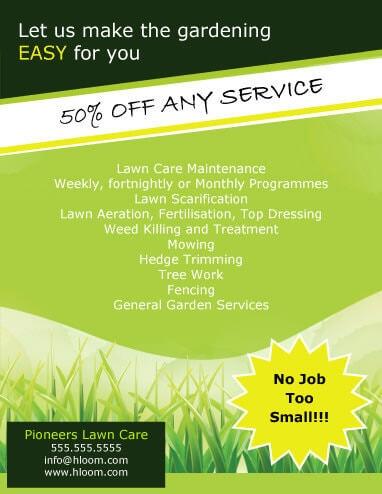 Offer / promotion / discount leaflet with description of services.
Size: KB
Downloads:

6820

Filename: No-Job-too-small.docx
Download
Free Estimate Offer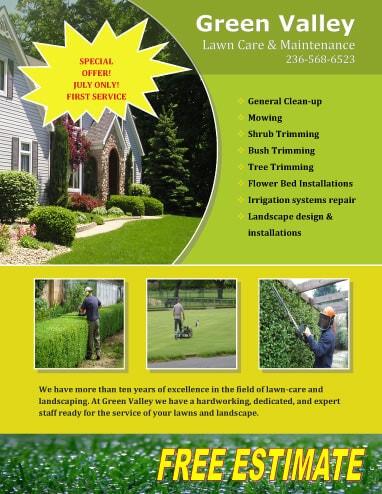 Multipurpose flyer with space for four images, description of company and services, and an offer or discount.
Size: KB
Downloads:

6583

Filename: Free-Estimate-Offer.docx
Download
Landscape with two images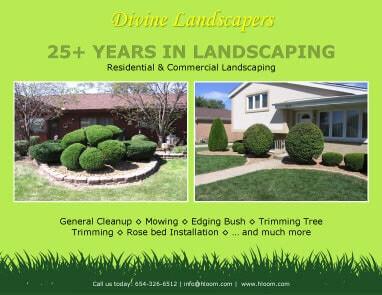 Basic design with two images. Can be also used as "before and after" theme.
Size: KB
Downloads:

4339

Filename: Landscape-with-two-images.docx
Download
Simple Design with circle image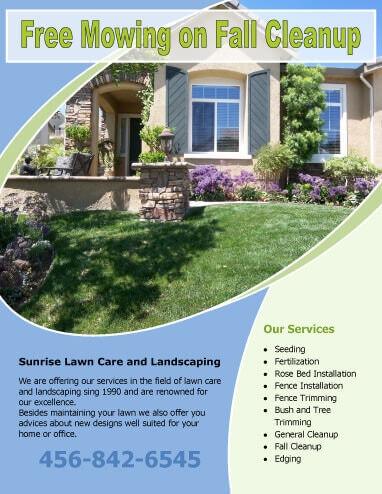 Simple theme with bullet points for services, text for company or offer description, large image and title.
Size: 183 B
Downloads:

5033

Filename: simple-design-with-circle-image.docx
Download
Free Trial Offer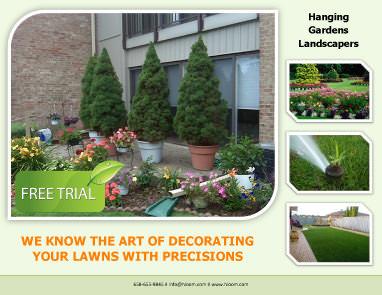 Basic design with one large and three small images.
Size: KB
Downloads:

3961

Filename: Free-Trial-Offer.docx
Download
Weed Control Service
Lawn Care services advertising flyer.
Size: KB
Downloads:

4759

Filename: Weed-Control-Service.docx
Download
Flowchart design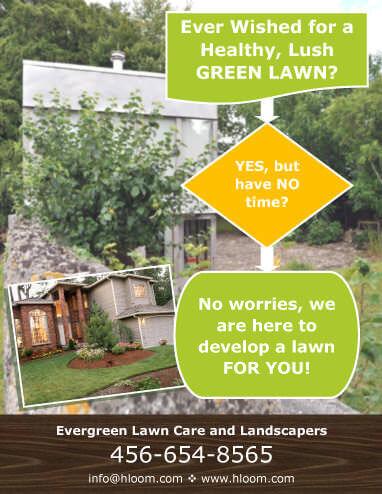 Question / answer marketing message with before and after images.
Size: KB
Downloads:

4020

Filename: Flowchart-design.doc
Download
Lawn Care Services with three coupons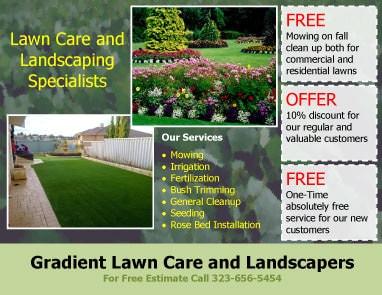 Simple design with place for text, images, and three offers.
Size: 183 B
Downloads:

5165

Filename: lawn-care-services-with-three-coupons.docx
Download