Free Printable Christmas Flyer Templates
Download our Christmas flyer templates and get into the holiday spirit with 40+ fun, festive designs
For retailers, the holiday season is an important time of year. Statista reports that the
holiday retail sales in the U.S. are now more than $630 billion
. As much as 30 percent of a retailer's annual sales occur during the holiday period. To make sure you're getting potential customers spending in
your
store, you'll need to get creative with your marketing. Choose from our range of
free Christmas flyer templates
for a simple way to promote your business and increase your sales this holiday season.
Why Use Christmas Flyers?
Many people's holiday traditions include the giving of gifts. For retailers, this means two things. First, that consumers want to spend their hard-earned money, and second, that they must compete with other retailers to entice consumers away from that hard-earned money. To keep up with the competition, your business must use every tactic it has available, including promotions, sale events, and special offers. Whether you own a brick-and-mortar store or operate an online business, you need a way to separate yourself from your competitors. Get also started with
your resume
. Seasonal specials and December discounts are two important strategies. Flyers are, as well—however, to stay ahead of your competition, make sure your flyers are seasonally appropriate and have holiday themes. A well designed Christmas flyer can help you:
Sell goods and services

– Including winter specials and discounts on your flyer is a great way to increase your Christmas-season sales. This can then create repeat business and give your overall sales a boost throughout the year.

Promote holiday events

– Whether you want to let employees know about an upcoming Christmas party or you're trumpeting a holiday fundraiser, a Christmas event flyer will help you spread the word.
Size: 785 KB
Downloads:

35052

Download: zip and doc
Download
FEATURED TEMPLATE
Elegant red decoration flyer
Elegant red design with Christmas decorations.
How to Create a Cracking Christmas Flyer
When creating your Christmas flyer, you need to consider both its imagery and text. Here we have provided some guidance on how to make the most of your content and get the best possible results.
Choose Festive Images
Visual appeal is critical in catching the reader's attention. You need to select images that draw the eye to your content and encourage the reader to learn more about what you're promoting. Of course, you should consider your audience and tailor any imagery to suit. For example, if your business sells Christmas trees, you'll likely want to use a picture of a Christmas tree to promote it. If you don't need to be this specific, you can always opt for more generic images such as Christmas presents, Santa Claus, a snowman, or baubles. When sourcing images for your Christmas flyer, you can pay for royalty-free stock photos from such sites as Shutterstock. Another option is to download free images from sites such as Pixabay, but be aware that the choice of available imagery is more limited. Whatever you choose to do, make sure you have permission to use the images and are not infringing on any copyrights.
Write Text That Excites
Whether you are promoting a special offer, discount, or seasonal special, the flyer's text may make the difference between a couple of extra sales and potentially hundreds of new and repeat customers. To create an informative and enticing flyer, here are the key items to include:
Title

– Usually the first thing section that is read, the title needs to let the reader know what you're promoting. Examples include "Holiday Sale Up To 40% Off!" or "Christmas Eve Service." Place the title in a prominent position and use a large, legible font that contrasts with the background color. If the flyer is not for a specific Christmas promotion, the title may simply be "Merry Christmas" or "Happy New Year."

Description

– Under the title, you may want to include a section to add further information relevant to your event, promotion, or greeting. If you are promoting a one-off event, don't forget to include its date, time, and location.

Call-to-action

– Depending on what you're using the flyer for, you may want to use phrases such as "Place your order today" or "RSVP before December 15th." An effective call-to-action lets the reader know what they need to do next and should encourage them to act sooner rather than later.

Contact details

– So that potential customers know where to get their great deal, make sure to include details on how to contact you. This may include a physical address, website, telephone number, or social media accounts.
How to Promote Your Christmas Flyer
Once you have created your festive flyers, it's time to distribute them. When deciding on a strategy for promoting your flyers, you need to consider your target audience and where you are likely to find them. For general flyer distribution ideas, take a look at our
Free Flyer Templates
page. Also, here are some Christmas flyer promotion options you may want to consider based on your specific needs:
Dress someone up in a festive-themed costume to hand out flyers in your area. Santa Claus or a reindeer is sure to catch the attention of passersby.
Send a "Winter Specials" email to your newsletter subscribers. Make it extra special by attaching a personalized season's greetings e-card.
Hold a stall at a Christmas market and offer a flyer to every person who makes a purchase or enquiries about your business.
Another important aspect is timing. It may seem obvious, but there is little point in distributing flyers during spring if you are promoting a winter special. Carefully considering all the distribution options in advance will ensure you get your flyer in front of the right people, in the right place, and at the right time.
Customizable Free Resume Templates
Hloom's free resume templates are preformatted with every section you need to showcase your career. They also include recommendations from career experts for your industry and experience level. The resume templates are customizable to suit your style and needs.
With easy, guided steps, the free resume templates are practical and convenient:
Select your favorite style: Visit the Resume Builder and select your years of experience and favorite template from the Traditional, Modern or Creative category. You can also choose to view all the styles at once.
Input your information: Add your contact information, education and work history. And don't worry if you're starting your career; the builder can create a resume for people with no experience. You will also have the option to add more sections, like hobbies, certifications, online portfolios and more.
Choose our expert recommendations: Throughout the entire process, you will have the option to select our expert recommended suggestions to make the most out of the resume template. From summary statements to skills, you will have the guidance of expert suggestions. You can always edit the information and customize the design to reflect your style and voice.
Build a Resume
Christmas Flyer Examples
If you don't have time to design a flyer from scratch, download one of our free Christmas flyer templates. It's as simple as customizing the text and images, then printing and distributing the finalized flyer. We have lots of different themes to choose from, and we also have templates that can be used to create season's greetings cards as well as Christmas and New Year event invitations.
Christmas Sales
Old paper Christmas flyer
Blue snowflakes Christmas flyer free template
Christmas tree green flyer free template
Christmas snow flyer free template
Santa Claus Ho-Ho-Ho Christmas flyer
Christmas tree flyer design
Red christmas party flyer
Gray elegant Christmas greeting card
Seasons Greetings Card
Dinner And Cocktail Party
Dinner And Dancing Evening Invite
Dinner Party Invitation
Charity Event With Santa
Children Christmas Party
Children Holiday Party
Annual Christmas Dinner
Annual Fair Announcement
Christmas Eve Service
Christmas Lunch Invitation
Christmas Luncheon Invitation
Christmas Menu
Church Concert Flyer
Community Concert Program
Discount Shopping Flyer
Square Holiday Postcard
Sending Heartfelt Wishes
Wishing Merry Christmas
Retro Santa Card
Generic Merry Christmas Card
Happy Holidays With Ribbon
Join Us For Christmas Celebration
Season Thank You Card
Merry Christmas With Bubbles For Text
After Christmas Sales
Create your own message and look professional with our After Christmas Sale flyer templates. Downloadable in Microsoft Word, the flyers are easy to customize with your logo, location, offers and product description.
Colorful Sale Tags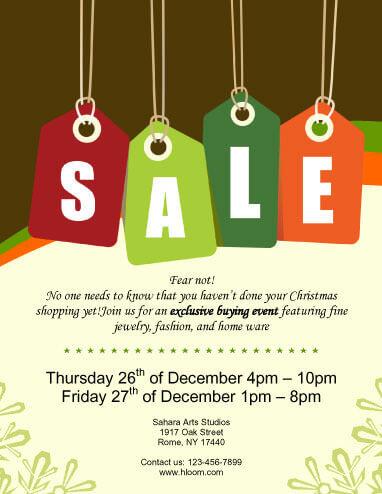 Generic design will fit any type of merchandise from fine jewelry to a men's store. The text boxes have room for dates and details in a stately font style.
Size: 254 KB
Downloads:

4182

Filename: Colorful-Sale-Tags.docx
Download
Gift Box With Sunrise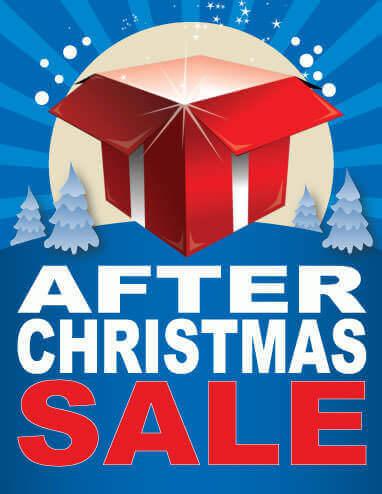 Clean graphic with large letters requires little or no editing. You can insert a text box or logo for more information if required.
Size: KB
Downloads:

3771

Filename: Gift-Box-with-Sunrise.docx
Download
Christmas Toy Sale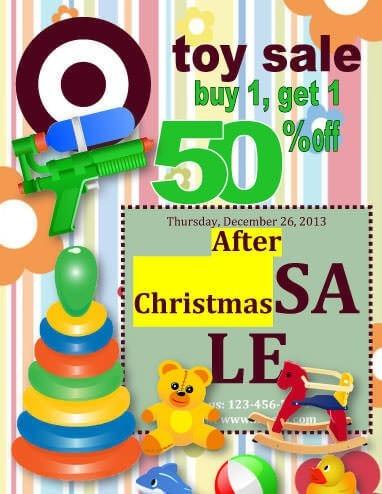 This colorful flyer is appropriate for the little people's shops. A rocking horse and other toys create a playful design.
Size: KB
Downloads:

3431

Filename: Christmas-Toy-Sale.docx
Download
Contemporary Announcement Design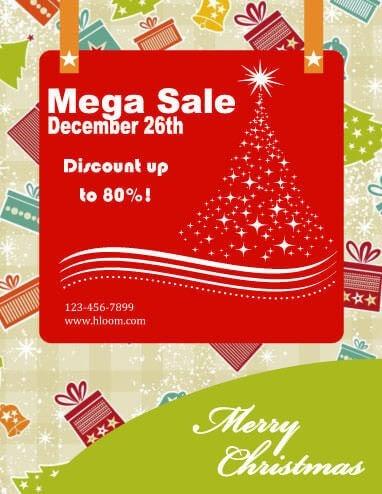 Seasonal red and fresh green colors announce the details of your sale. Several text boxes are ready to fill in, for logo, address and sale information.
Size: KB
Downloads:

3990

Filename: Contemporary-Announcement-Design.docx
Download
After Christmas Bake Sale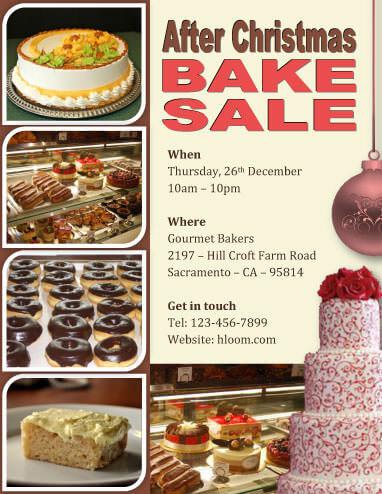 Yummy food and subtle tones! Insert photos of your baking masterpieces or any other foods you have on sale. A fund raising event, bakery or grocer can use this advertisement.
Size: KB
Downloads:

3820

Filename: After-Christmas-Bake-Sale.docx
Download
Ribbon, Gifts And Balloons In A Fun Design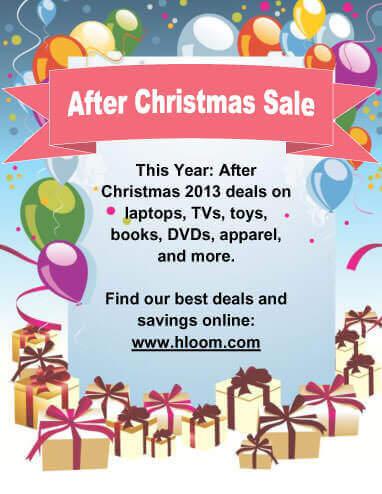 The large red ribbon announcement tops a lively background with party gifts and balloons. Perfect for advertising children's clothes, toy stores, party places.
Size: KB
Downloads:

3844

Filename: Ribbon-gifts-and-balloons-in-a-fun-design.docx
Download
Elegant Gift Wrap Discounts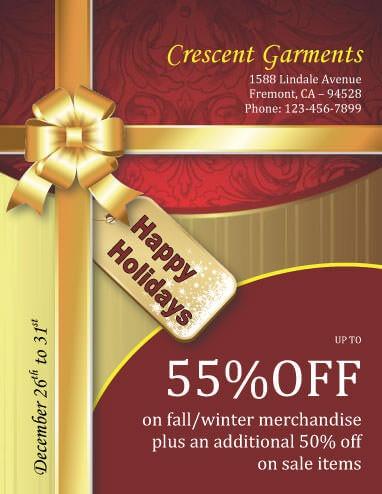 Gold wrapping paper with a shiny ribbon background sets the stage for a sale at a gift shop, clothing store, home or decoration market. Your location and sale details along with dates and/or hours can be customized.
Size: KB
Downloads:

4187

Filename: Elegant-Gift-Wrap-Discounts.docx
Download
Exploding Shopping Bag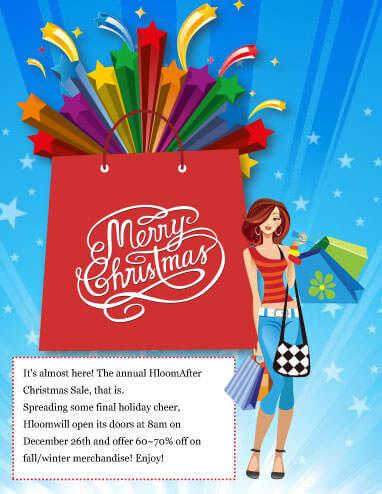 For a youthful appeal, this flyer requires little editing. A large text box is a good place to insert all the details about your sales event.
Size: KB
Downloads:

3724

Filename: Exploding-Shopping-bag.docx
Download
Big Sale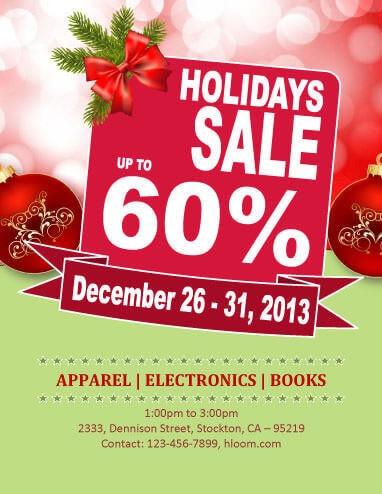 Red and green color scheme with Christmas decoration, stars, and ribbon. Bright and cheerful, the sale information stands out. You can add dates and store information in the artful boxes.
Size: 519 KB
Downloads:

4491

Filename: Big-Sale.docx
Download
Resources
To create these beautiful Christmas Flyer Templates we used free graphics from different sources. If you would like to download original vector files, see these links: