16 Free Printable DIY Raffle Flyer Templates
Promote your fundraiser event with our printable raffle templates
Organizing a fundraiser and raffle can be a time-consuming activity and requires a lot of planning and work. One thing you want to focus on is
raising awareness
. After all, organizing a perfect event nobody attends won't get you any closer to reaching your goal.
What makes a good raffle flyer?
To be effective a flyer should contain all of the essential information the raffle ticket buyer might be interested in. Information should be neatly arranged so that it is easy to find and answers all of the viewer's immediate questions. Here are a few examples of information typically found on raffle flyers:
Price of the raffle ticket(s)
Brief description or picture of prizes being offered
What the money is being raised for and who it will benefit
When the drawing will be held
How the winners will be notified
Contact information
Raise awareness and publicize:
Contact media (newspapers, radio, and television) who are in the business of covering local news and events.
Consider paid advertising (ads in a local newspaper, online banner ads, etc.)
See if event sponsors can help – they are just as interested in good media exposure as you are
Hand out of hang posters and flyers
Distribute press releases
Use social networks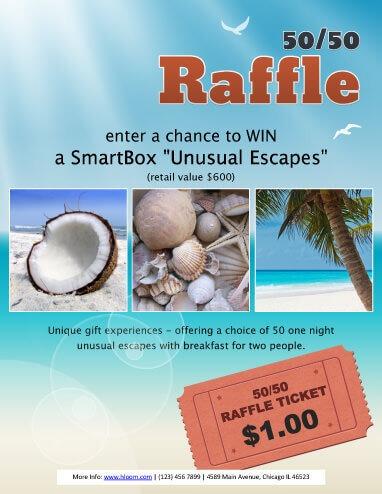 Size: 1 MB
Downloads:

5864

Download: zip and docx
Download
FEATURED TEMPLATE
Unusual Escapes Raffle
Ocean and beach travel design theme for a 50/50 raffle.
If you are using flyers and posters to promote your event, consider using our perfectly designed
raffle flyer templates
to
save a lot of time and effort
. We also have
Free Raffle Ticket templates
and detailed tutorial on how to create your own customized raffle tickets with Microsoft Word mail merge.
Free raffle flyer templates
Below you will find a number of different designs for
various types of fundraising and raffle events
: prize or cash raffle, raffle with one or several prizes, donation, fundraising for a cause, 50/50 raffle, and more. You can use these templates as samples to get an idea for creating your own flyer or you can use them as they are by simply adding your own text. The templates contain text boxes which have already been formatted to contain essential information pertaining to your raffle. The raffle template only needs to be edited to provide the information that is needed such as time, date and contact information.
Surprize Gift Raffle
Shopping Spree Raffle Drawing
Raffle Flyer
Fundraising for a cause Raffle
Generic design with single prize
Raffle with 2 prizes
iPad mini raffle
Single Prize simple design
Raffle with several prizes
iPad Tuition Raffle
Prize or Cash Raffle Flyer
Donation with Drawing
Fundraising raffle with 3 prizes
Raffle with 3 cash prizes
Gun Raffle