Free Kids Birthday Invitations
20+ Free Printable Birthday Invitations for All Ages
If you're in the throes of planning your child's birthday celebration, you no doubt want to give them the party of their dreams. A lot of pressure is on parents to host bigger and better celebrations, and what better way to set the tone than to create and send out personalized, professional-looking invitations. This resource will help with what information to include in kids birthday invitations, and what to consider when designing and printing.
Key Elements
After you've chosen a theme, finalized the guest list, and locked in where and when to hold your child's party, it's time to write the invitations. There should be enough information, but not so much that guests overlook some of the key details. Here are the sections you should include:
Honoree – The child's name should take pride of place along with how old they are going to be. As an example, let the guests know that "Maddy is turning 5" and that they are invited to help celebrate her birthday.
Date – It's best to include the day of the week and date of the party on the invite. That way, there will be no confusion on the guest's part as to whether their child may need to skip their usual activity that day.
Time – Don't forget to include the start and end times so parents know how long they need to stay or when they are required to pick up their child.
Venue – Whether you are holding the celebrations at your house or at another location, make it clear on the invitation by writing out the address in full. You could even include a map or directions if the venue is a little difficult to find.
RSVP – It can be extremely frustrating when guests fail to let you know whether they're able to attend your party. RSVP means "Please reply," but some guests may overlook this section of the invite. Make it easy on guests and yourself by asking them to respond to a particular person using the provided contact number or email address.
Special information – Do guests need to come dressed as their favorite character for your Disney theme party? Will they need to bring their swimsuit or a change of clothes? Let them know well in advance to allow time to prepare and so that nobody is left out of the fun because you didn't give clear instructions.
Birthday Invitation Wording
You've added all the necessary information, and now you have the chance to create a custom invitation with a section of special text. You can keep it simple or, if you have a way with words, devise a rhyme or poem. Not sure what to write? Here are some examples to help get your creative juices flowing:
I'm turning 7! You're invited to help celebrate my big day.
My first birthday will be really fun. Come and join me as I turn one!
Our little man is turning 4 and we want to hear your loudest ROAR! Please come dressed as a dinosaur.
Would you like more ideas? Head over to Pinterest and browse the
Birthday party invitation wording
Pin board for inspiration.
Design, Printing, & Presentation
The invitation details are key to ensuring your guests arrive at the right place, at the right time, and with the right costume. However, to create a child birthday party invitation that will be the envy of other children and parents alike, here is what you need to consider:
Design – Making use of striking graphics and illustrations will take your invitation to the next level. An Internet search can bring up thousands of royalty-free stock images, and you may even be able to source suitable images for free on sites such as Pixabay. If you want a truly unique design, including a photo of the birthday girl or birthday boy is a cute way to personalize your invitations.
Paper and printing quality – Once you have finalized the invitation text and design, selecting high-quality print finishes is essential to creating a lasting impression on your invitees. Card stock is thicker and more durable than standard printing paper, so it is a great choice for professional-looking birthday invitations.
Presentation – To give your invitation card a special final touch, opt for envelopes that complement the style of your chosen invitation. Build the excitement for your little guests by hinting at what's to come. Maybe seal the envelopes using themed stickers, or you could eliminate an envelope altogether and present the invitation in person as a scroll tied with ribbon instead. How fun for a pirate-themed party!
Free Examples
Below are 33 kids' party invitation examples for you to choose from, available in a variety of themes, styles, and designs. Fully editable and printable, feel free to use these templates to create a unique, personalized invitation for your child's birthday party. Then you're all set to send them out to your little VIPs.
You can also check out our
general party
,
birthday party
and
Christmas party
templates to create a memorable invitation that your guests will love.
Hello Kitty
This iconic character is loved by kids and adults alike, and now you can create gorgeous birthday invitations using these adorable Hello Kitty templates.
Hello Kitty Party Invitation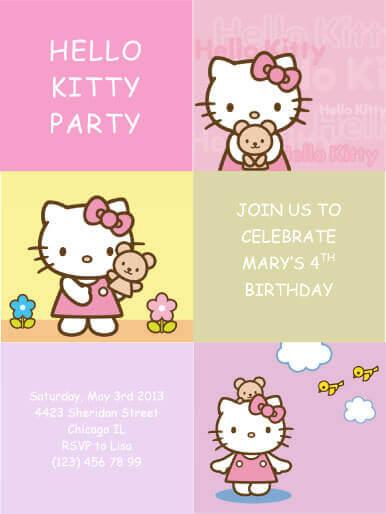 Cute pink birthday card with Hello Kitty design theme.
Size: 201 KB
Downloads:

12719

Filename: Hello-Kitty-Party-Invitation.docx
Uploaded: 2013-05-14 19:26:00 / 3000
Download
Hello Kitty with Pink Streamers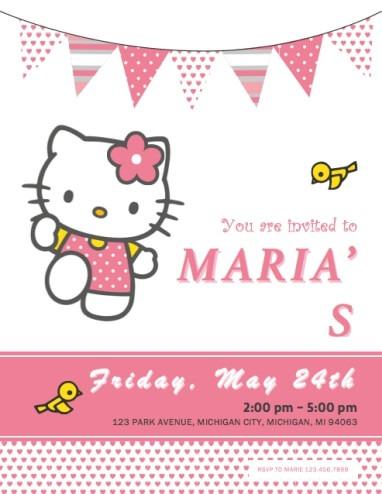 This fun birthday party invitation features Hello Kitty in a pink jumper and yellow shirt, dancing while a cheerful yellow bird flies nearby. The bottom of this invitation is dotted with tiny hearts, making this the perfect birthday invitation for any little girl (or boy) who loves pink.
Size: 387 KB
Downloads:

3444

Filename: Hello-Kitty-Pink-Streamers.docx
Uploaded: 2017-05-05 13:48:00 / 88066
Download
Vintage Pink and Yellow Print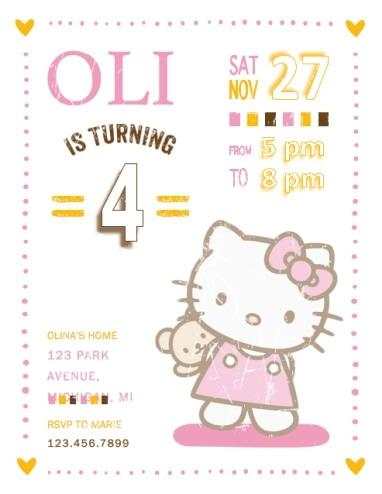 This simple yet sophisticated invitation features pink and yellow designs with a faded, vintage look.
Size: 465 KB
Downloads:

3259

Filename: Vintage-Pink-Yellow-Print.docx
Uploaded: 2017-05-05 13:55:00 / 88073
Download
Stars, Stripes, and Strawberries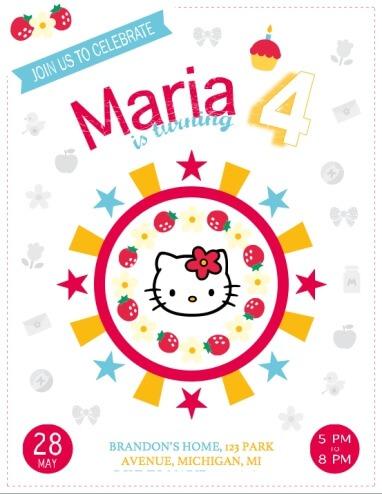 Hello Kitty is encircled by a ring of white flowers and bright red strawberries in the center of this cheery invitation. An additional ring of alternating yellow stripes and red and blue stars surrounds Hello Kitty, providing a summery feel perfect for a pool party, outdoor picnic, or other warm-weather birthday party.
Size: 274 KB
Downloads:

2962

Filename: Stars-Stripes-Strawberries.docx
Uploaded: 2017-05-05 13:58:00 / 88079
Download
Blue and Yellow Banners and Balloons
If you assume a Hello Kitty party theme is just for girls or those who love pink, then think again. In this blue and yellow invitation, perfect for boys and tomboys alike, Hello Kitty stands just off-center.
Size: 268 KB
Downloads:

2842

Filename: Blue-Yellow-Banners-Balloons.docx
Uploaded: 2017-05-05 14:01:00 / 88084
Download
A Ride on a Heart Air Balloon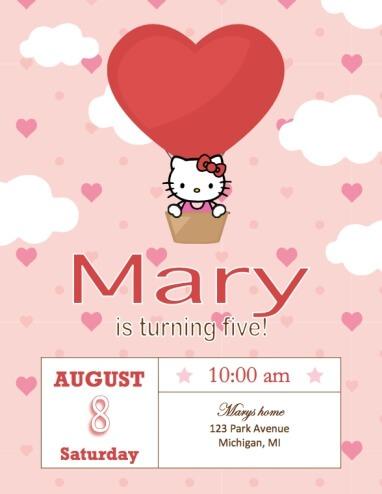 This eye-catching invitation is perfect for any little girl birthday, but may be ideal for those whose parties have a balloon (or heart) Hello Kitty theme.
Size: 231 KB
Downloads:

3051

Filename: Ride-Heart-Air-Balloon.docx
Uploaded: 2017-05-05 14:03:00 / 88088
Download
Mickey Mouse
The original Disney mascot, Mickey Mouse is one of the world's most recognizable characters. Choose from a range of fun and colorful invitations that will delight both boys and girls.
Party with Mickey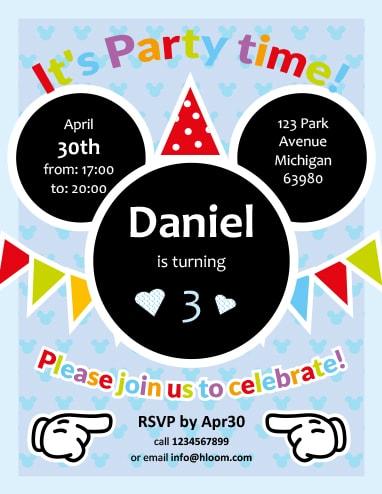 Set a happy tone for your party with this adorable birthday party invite, featuring bright, multi-colored letters and banners. This sweet card is available with both pink and blue backgrounds, making it perfect for both girls and boys. Important details are displayed in Mickey's ears for a unique look that is easy to read.
Size: 183 B
Downloads:

4274

Filename: party-with-mickey.docx
Uploaded: 2017-05-22 14:11:00 / 88201
Download
Red and Black Mickey Speech Bubble
For a bit of timeless fun, the red and black polka dot background of this invitation template is a must. The classic look continues with a relaxed Mickey providing your party details in a speech bubble. Yellow outlines, combined with red and white lettering, create a bold, high-contrast look that is easy to read.
Size: 340 KB
Downloads:

3644

Filename: Red-Black-Mickey-Speech-Bubble.docx
Uploaded: 2017-05-22 14:15:00 / 88210
Download
Put on Your Ears and Cheer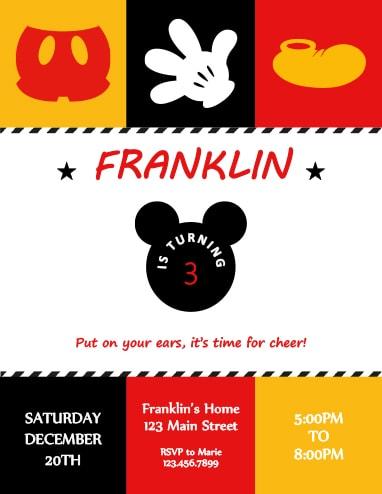 Make a bold statement with this distinctive invitation template. The red, black, and yellow color scheme with mouse ears in the center is a traditional look that is perfect for any party. All of your details, including, date, location and time, are displayed in high-contrast boxes along the bottom for a streamlined and organized look.
Size: 183 B
Downloads:

2947

Filename: put-ears-cheer.docx
Uploaded: 2017-05-22 14:18:00 / 88216
Download
Mickey's Sun Burst Party Invitation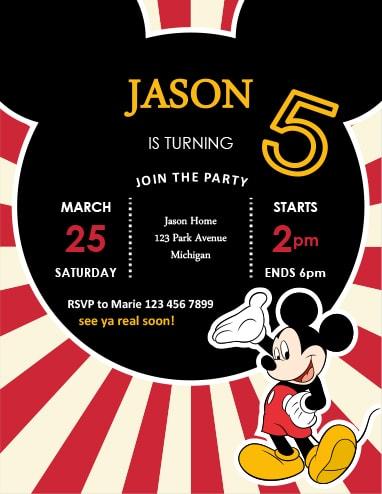 You are sure to grab attention when you invite people to your amusement park party with this high-energy card template. A distinctive red sunburst draws attention to large Mickey ears containing all the important details of your party. Below, an enthusiastic Mickey welcomes guests and gets the party started.
Size: 183 B
Downloads:

3834

Filename: mickeys-sun-burst-party-invitation.docx
Uploaded: 2017-05-22 14:21:00 / 88223
Download
Red and Yellow Celebration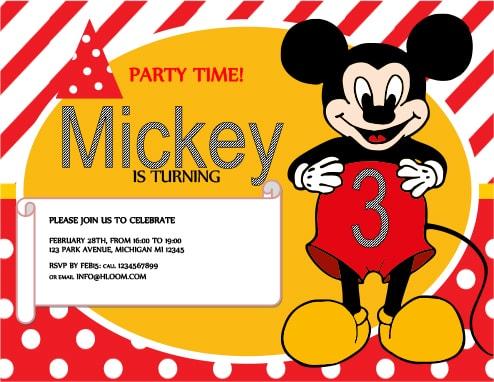 Jump-start your social gathering with this fun, festive child birthday invitation. Coordinating striped and polka dotted backgrounds let an adorable Mickey Mouse stand out. A white scroll draws attention to your party details. This one-of-a-kind template is perfect for your next Mickey-themed or amusement park party.
Size: 306 KB
Downloads:

2572

Filename: Red-Yellow-Celebration.docx
Uploaded: 2017-05-22 14:23:00 / 88229
Download
Minnie's Pretty in Pink
Showcase your soft, sweet side with this charming invitation card template. The delicate scallop trim and light pink and white background makes this the perfect invitation for any little lady or young man who loves Minnie Mouse. Card's message surround a heart that holds Minnie's smiling face, completing the delightful look.
Size: 183 B
Downloads:

3795

Filename: minnies-pretty-pink.docx
Uploaded: 2017-05-22 14:25:00 / 88238
Download
Mickey's Popping Comic Book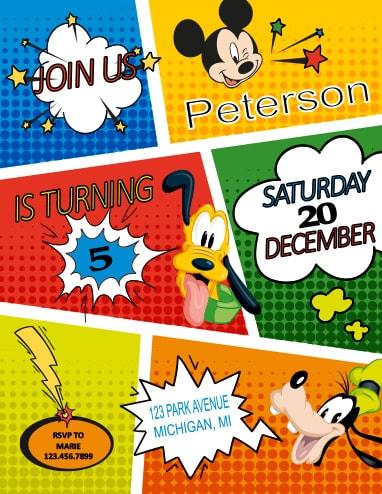 This high-energy card template features a comic book style that is irresistible to little boys and girls. Mickey, Goofy, and Pluto are each in their own comic book pane, while their action-packed word bubbles relate all your party details. Vivid blocks of color add to the exciting look. When printed on card stock, this invitation template is an unforgettable start to your birthday or amusement park party.
Size: 183 B
Downloads:

3166

Filename: mickeys-popping-comic-book.docx
Uploaded: 2017-05-22 14:28:00 / 88243
Download
Confetti Birthday Party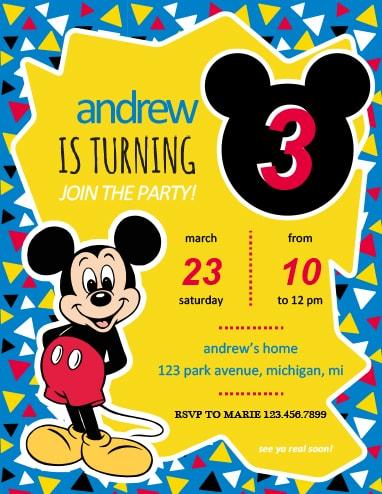 Mickey is ready to party, and your guests will be too when they receive this colorful birthday invitation card. This bold template features a blue border with multi-colored confetti that is a classic party look. Your event details pop in blue, black, and red letters over a yellow backdrop. Mickey ears, containing your child's age, complete the classic design.
Size: 174 KB
Downloads:

3513

Filename: Confetti-Birthday-Party.docx
Uploaded: 2017-05-22 14:32:00 / 88249
Download
Mickey & Friends Clubhouse Invitation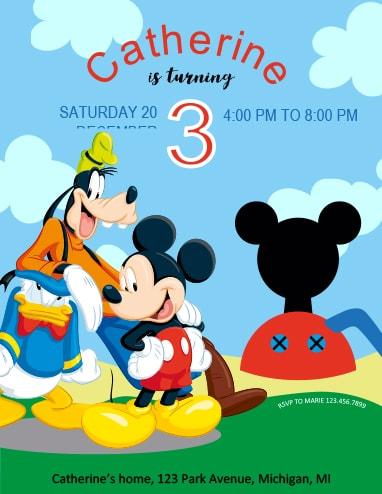 Mickey and friends welcome your guests on this playful clubhouse invitation card. This fun birthday party invitation features a bright, airy look that is perfect for an outdoor party. The blue background with fluffy clouds lets the red, black, and dark blue lettering stand out. Mickey, Goofy, and Donald Duck joke around and encourage your guests to get in on the fun.
Size: 297 KB
Downloads:

2928

Filename: Mickey-Friends-Clubhouse.docx
Uploaded: 2017-05-22 14:35:00 / 88256
Download
Mickey Mouse template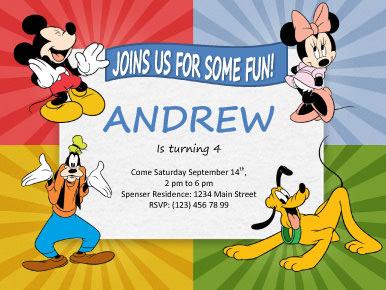 Gender-neutral colorful Mickey Mouse invitation template.
Size: 183 B
Downloads:

11937

Filename: mickey-mouse-template.docx
Uploaded: 2013-05-14 19:20:00 / 2998
Download
Princess
These princess-themed invitation templates are sure to please any little girl dreaming of an enchanted celebration filled with sparkle and magic.
Princess Ann Pink Invite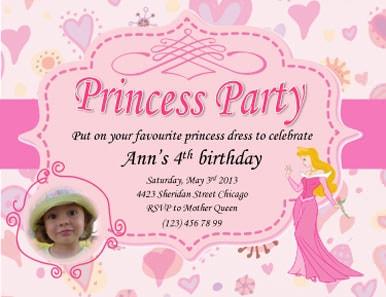 Pink invitation for girls: princess party, birthday party, bounce house party, jungle party, movie night, or other little girl party.
Size: 183 B
Downloads:

13129

Filename: princess-ann-pink-invite.docx
Uploaded: 2013-05-14 19:31:00 / 3004
Download
Pink Child Birthday Party Design With Princess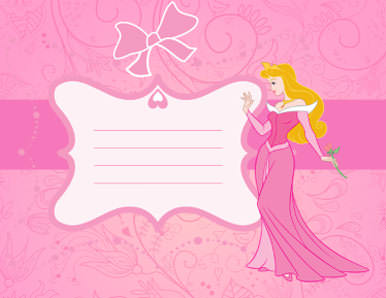 Blank child party invitation invitation where you can write in information by hand. Pink color theme with princess.
Size: 183 B
Downloads:

5892

Filename: blank-pink-design-with-princess.docx
Uploaded: 2013-05-14 19:35:00 / 3006
Download
Royal Affair Girl Birthday Invite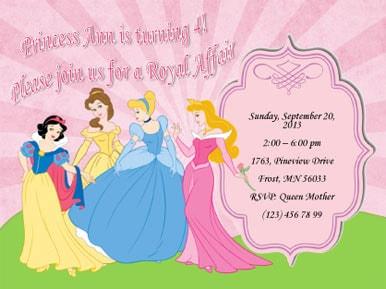 Free pink princess party invitation design.
Size: 183 B
Downloads:

9892

Filename: royal-affair-theme.docx
Uploaded: 2013-05-14 19:46:00 / 3012
Download
Tinkerbell Theme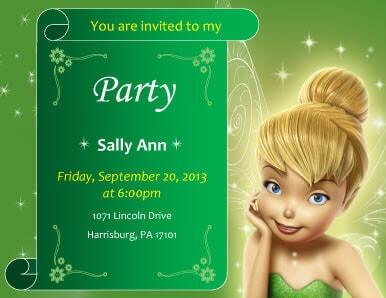 Disney Tinker-bell green elegant fairy design with flowers and stars.
Size: 183 B
Downloads:

9730

Filename: tinkerbell-theme.docx
Uploaded: 2013-05-14 19:51:00 / 3016
Download
For a Boy
Our selection of blue-themed templates can be used to create party invitations for a very special birthday boy. The simple but stylish designs are great for any celebration that calls for a touch of sophistication.
Simple Blue Boy Birthday Party Invitation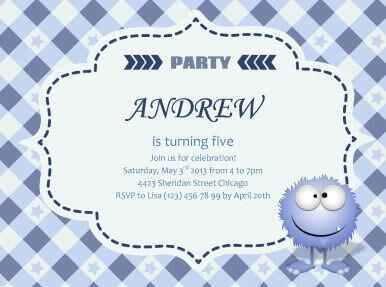 Basic blue multi-purpose invitation for a boy - generic design can be used as a birthday invitation, or for any other party.
Size: 392 KB
Downloads:

7235

Filename: Simple-Blue-Boy-Party-Invitation.docx
Uploaded: 2013-05-14 19:18:00 / 2996
Download
Heraldic Design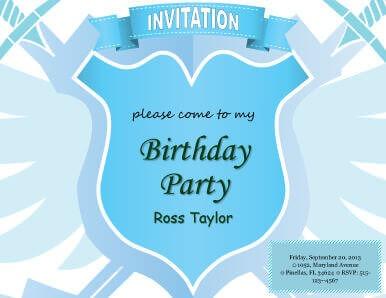 Blue invitation for boys: heraldic theme with emblem, ribbon, and swords.
Size: 183 B
Downloads:

5111

Filename: heraldic-design.docx
Uploaded: 2013-05-14 19:48:00 / 3014
Download
Birthday party invitation for little boys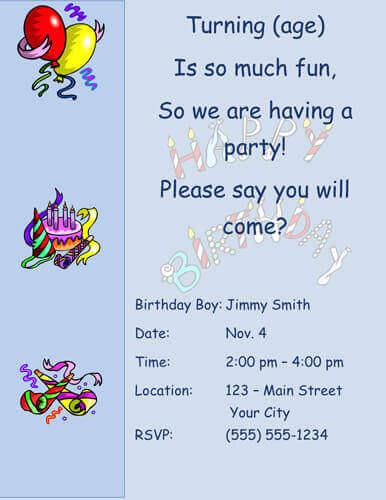 A template for a little boys birthday party. You add his age, address etc. Everything else is done!
Size: 183 B
Downloads:

6235

Filename: birthday-party-invitation-for-little-boys.docx
Uploaded: 2011-11-17 20:25:00 / 3028
Download
For a Girl
The birthday girl will be tickled pink with these gorgeous birthday invitation templates. Get the party started with an invitation that perfectly complements your little lady's unique sense of style.
Flower generic theme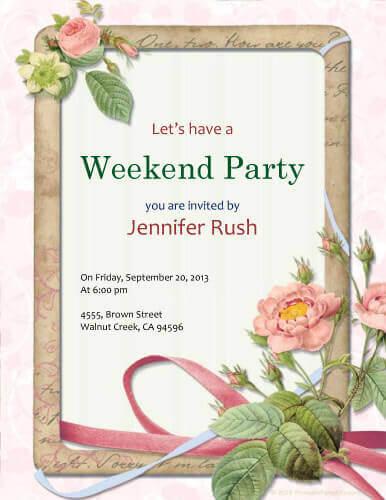 Elegant and subtle design with flowers.
Size: 183 B
Downloads:

5866

Filename: flower-generic-theme.docx
Uploaded: 2013-05-14 19:58:00 / 3024
Download
Birthday party invitation for little girls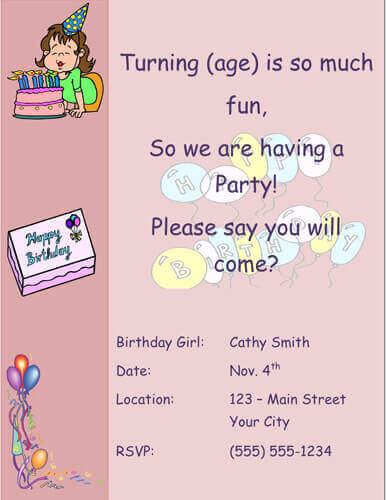 A birthday party invitation for a little girl. Just add their name, age, etc. - everything else is taken care of.
Size: 183 B
Downloads:

5918

Filename: birthday-party-invitation-for-little-girls.docx
Uploaded: 2011-11-17 20:21:00 / 3026
Download
Superhero
If you want to get your child's party off to a flying start, create an invitation that packs a punch with these amazing superhero invitation templates.
Costume Kid Birthday Party Invitation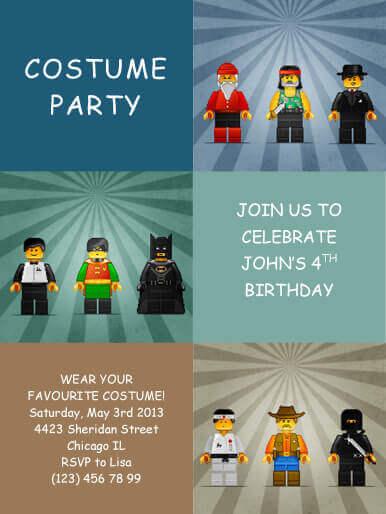 Boy costume kid birthday party invitation. Easily change images and colors to create your own unique design.
Size: 250 KB
Downloads:

8020

Filename: Costume-Party-Invitation.docx
Uploaded: 2013-05-14 19:29:00 / 3002
Download
Cars Theme Birthday Party Invitation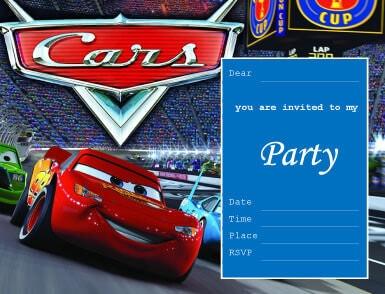 Disney Cars boy party invitation, blue colour theme with picture of Lightning McQueen.
Size: 183 B
Downloads:

12976

Filename: cars-party-theme.docx
Uploaded: 2013-05-14 19:41:00 / 3008
Download
Robot Party Kid Birthday Invitation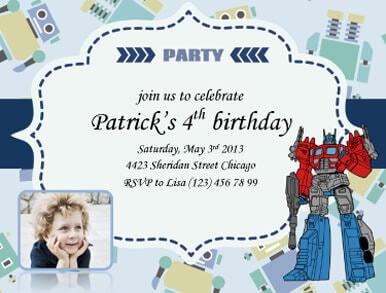 Boy party invitation, robot theme. You can change an image of a robot and you can add an image of a birthday boy.
Size: 620 KB
Downloads:

6184

Filename: Patrick-Robot-Party-Invite.docx
Uploaded: 2013-05-14 19:44:00 / 3010
Download
Pokemon Party Design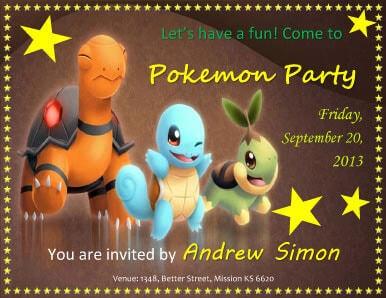 Brown design for Pokemon theme Party.
Size: 183 B
Downloads:

5432

Filename: pokemon-party-design.docx
Uploaded: 2013-05-14 19:56:00 / 3022
Download
Simple Designs
No matter the occasion and whatever the theme, you're sure to impress with these fully customizable invitations.
Simple design with balloons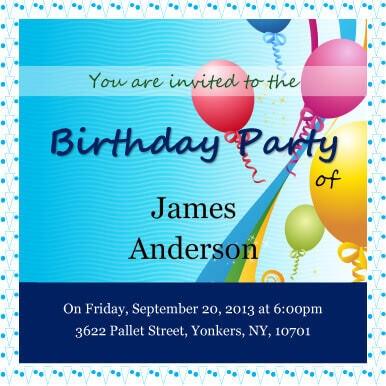 Gender Neutral multi-purpose design with balloons.
Size: 183 B
Downloads:

11739

Filename: simple-design-with-balloons.docx
Uploaded: 2013-05-14 19:53:00 / 3018
Download
Abstract blue theme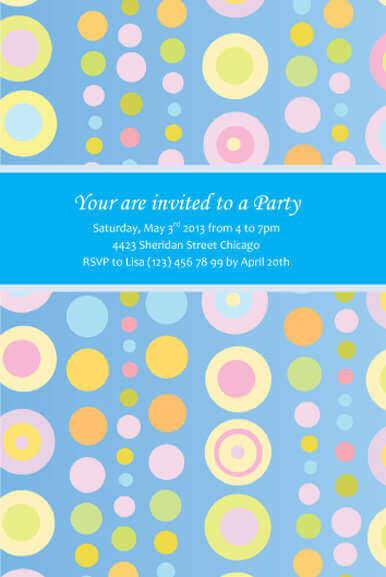 Basic gender-neutral design for any party.
Size: 183 B
Downloads:

6840

Filename: abstract-blue-theme.docx
Uploaded: 2013-05-14 19:55:00 / 3020
Download
Child Party Generic Design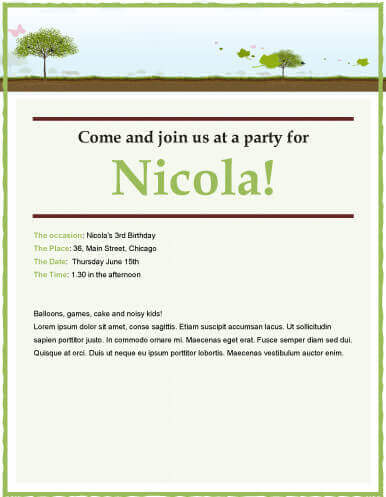 Green simple theme for boys and girls. Great for spring parties, birthday parties, or any other event.
Size: 183 B
Downloads:

5886

Filename: children-party-generic-design.doc
Uploaded: 2010-05-20 13:23:00 / 2303
Download