Free Printable Party Invitation Templates
Download Our Customizable Templates to Create Personalized Party Invitations
Do you want professional-looking invitations for your party, but don't have the design skills to match? All you need to do is download our free printable party invitation templates and customize the content to create beautifully designed invitations for your special event. Scroll down to find 26 editable party invitation examples you can use right now.
What to Include in Your Party Invitation
The look and feel of your invitation will depend on your party theme, but, according to
Announcingit.com
, all party invitations should state:
Purpose

– Make it clear to your guests what event the invitation is for. Are you hosting a pool party, or are you inviting your employees to a Christmas party? Whatever the event, use a large font and a contrasting color to the background so that it stands out on the invitation.

Name of honoree and/or host

– If you are creating an invitation on behalf of someone else, you may wish to include their name as the host. This may also be the case for a club party or corporate party invitation. If the party is for a specific person, e.g. you are inviting guests to a birthday party, make the honoree's name pride of place on the invitation.

Day, date and time

– Why list the day and date? To provide clarity! Some people will remember that the party was on a certain Saturday. Others will remember it by the day of the month. It's also a good idea to include the start and finish times so guests can make transportation arrangements and make plans for the rest of the day. As an example, you could write "Sunday, October 1, 2017, 1:00 p.m. to 4:00 p.m."

Place

– When sending out invitations, you want to provide the correct information to help guests find the event easily. Many cities have similar-sounding street names, such as Sycamore Road, Sycamore Avenue, Sycamore Court, etc. so it's best to provide the full street address including city, state and ZIP Code. If the event location is potentially difficult to find, consider including the name and phone number of the venue. If your party is being held in two locations — perhaps you're inviting family to the graduation ceremony at the college and back to the house for the celebration — make this clear on the invitation.

RSVP

– You want to know how many people will come to the party or event. And if you've hired a caterer, you may need to provide a final headcount several days before the event. In the invitation, let people know how they should respond, and by what date. The easiest and most common way to encourage responses is to request an RSVP, an acronym for the French phrase, Répondez, s'il vous plaît, which translates loosely as "Respond, please." For example, at the end of your invitation, you might include, "RSVP to [contact name] at [phone number] by [date]."

Dress code

– If there is a specific dress code for your party, spell it out for your guests. Whether it be a black-tie corporate event or a princess-themed birthday party, giving instructions well in advance will ensure that guests are wearing the correct attire and that nobody is left out of the fun.
Sample Wording
Here are some invitation wording ideas to suit various party themes:
Generic party invitation:
You're invited! Please join us to help celebrate [event].
Halloween party invitation:
Come and join us if you dare. You're invited to a Halloween scare!
Retirement party invitation:
We invite you to join in the celebration of [name]'s retirement after [number] years!
Housewarming party invitation:
The scenery has changed, and the address is new, but our door's always open to family and friends like you. Please stop by and see our new home!
Corporate party invitation:
To express our sincere appreciation for all you do, you are cordially invited to a Client Appreciation Dinner. Please join us for dinner and drinks at [venue.]
Block party invitation:
Meet, greet and eat with neighbors at our first annual Summer Block Party.
Summer party invitation:
Come dressed in Hawaiian. The theme is set. We're throwing a luau you'll never forget.
Birthday party invitation:
We're blowing up balloons and icing the cake! There's a big birthday party that we hope you can make!
Baby shower invitation:
They're expecting a baby, a new bundle of joy. A very special gift, be it a girl or a boy!
Valentine party invitation:
You and your valentine are lovingly invited to a Valentine's Day Dinner Party.
Going away party invitation:
[Honoree's name] is leaving to set sail on a new adventure. Come along and wish [him/her] well as [he/she] embarks on [his/her] journey.
Pool party invitation:
The sun is hot, but the water is cool. Join us for a summer party by the pool.
1920s party invitation:
[Honoree's name] is turning 30! Let's help [him/her] say goodbye to [his/her] roaring 20s. Costumes are a must!
Graduation party invitation:
Graduating Class of [year]. Please come and celebrate with us at a graduation dinner for [honoree's name.]
Bridal shower invitation:
Let's wrap up our best wishes and shower the bride with love! We're throwing a Bridal Shower for [honoree's name.]
Bachelor party invitation:
[Honoree's name] is tying the knot! Join us for one last evening of fun.
Vintage tea party invitation:
You are cordially invited to attend a ladies' afternoon tea. Tea hats and pearls encouraged.
Garden party invitation:
The table is set and the garden is ready! Please join us for our first annual Garden Party.
Christmas party invitation:
Christmas comes but once a year; let's get together for some holiday cheer! You and a guest are cordially invited to our Annual Christmas Party.
Jewelry party invitation:
Every girl needs some bling! Join us for cocktails and sparkle at our girls night in hosted by [host's name.]
Video game party invitation:
Game on! It's time to take fun to the next level for [honoree's name]'s birthday. Learn also how to customize your
cover letter
. For more ideas,
Invitation Consultants
have hundreds of invitation wording samples for almost any party or event you can think of!
Customizable Resume Templates
Hloom's free resume templates are preformatted and customizable to your personal style and experience.
How to use a resume template
To use a resume template, visit our builder page. Start the process by answering background questions that will help suggest resume templates that will work for you:
Select your years of experience: If you have no experience, our builder will suggest resume templates to showcase your skills. On the other hand, if you have over a decade of experience, it'll suggest resume templates to showcase your work history.
Select a template and color: Pick the resume template from the suggested list, or select to view them all and choose a style you prefer.
Input your information: Add all your contact information, work history, education and skills.
Personalize: Throughout the entire process, you will be able to edit, add or remove anything you want to suit your style.
You can create or update your resume in just minutes with Hloom's free resume templates. Make use of the customizable features to add your own touch and voice.
Build a Resume
Free Examples
Pressed for time to create an invitation? Not sure how to design a party invitation? Download one of our free party invitation templates, all professionally designed in Word. Whether the invitation is for an informal event such as a barbecue or pool party, or a more formal gathering like a baby shower or wedding, our templates make it easy to create eye-catching invitations without the need to spend hours crafting them. Because the templates are formatted for you, you won't have to figure out where to place the personalized information or graphics, or which font would work best.
The entire process is streamlined to save you time, while still giving you the creativity to make your invitations feel personal. Simply select the template you want and customize the key elements.Templates below are generic and can be customized to suit most events. For more specific examples, check out our
Christmas Party Invitations
,
Kids Party Invitations
and
Birthday Party Invitations
.
Formal
When hosting high-end events, company customers and important guests are often invited. Choose formal language, such as:
You are cordially invited to attend [event name.]
We request the honor of your presence at [event name.]
The pleasure of your company is requested to celebrate the holiday season.
When designing a formal invitation, it is best to choose a neutral color palette and use classic, traditional imagery. You should also use a font type that brings a touch of elegance to your design. Here are some of the formal events you can use these templates for:
Wedding
Annual ball
Rehearsal dinner
Cocktail party
Business After Hours Cocktail Party Invitation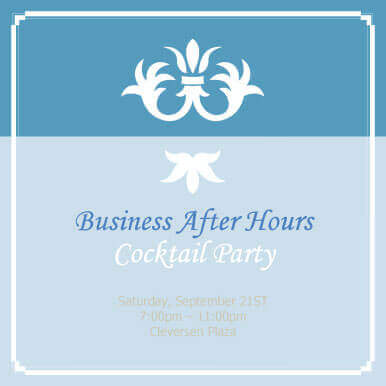 Invite colleagues, employees, well-wishers and partners to a Cocktail Party or another business event with this free printable invitation template.
Size: 97 KB
Downloads:

13333

Filename: Business-After-Hours-Cocktail-Party-Invitation.docx
Download
Eat Drink and be Merry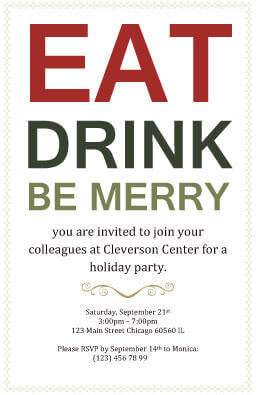 This free invitation is designed using different text sizes and colors. Easy to edit, easy to print.
Size: 56 KB
Downloads:

15066

Filename: Eat-Drink-and-be-Merry.docx
Download
Holiday Celebration Simple Corporate invitation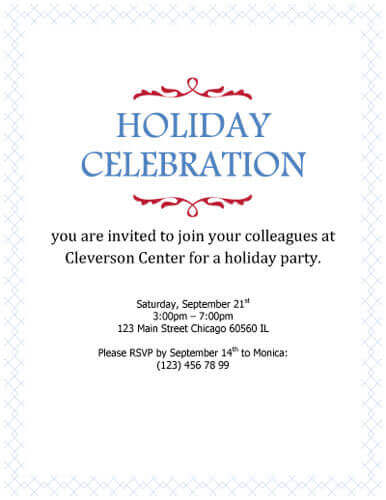 An elegant, formal invitation to invite partners or associates to a Holiday Celebration
Size: 50 KB
Downloads:

16318

Filename: Holiday-Celebration-Simple-Corporate-invitation.docx
Download
Holyday Extravaganza Invitation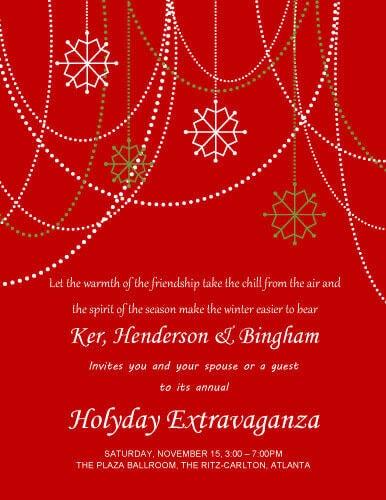 Invite your clients, colleagues, associates with this red invitation card. Created with Word shapes and fully editable (no images).
Size: 83 KB
Downloads:

9904

Filename: Holyday-Extravaganza-Invitation.docx
Download
Executive Club Meeting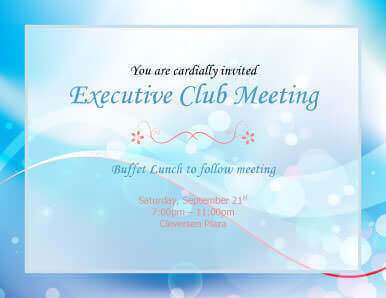 Abstract design with blue background and large message box for invitation text.
Size: 169 KB
Downloads:

11157

Filename: Executive-Club-Meeting.docx
Download
Joy of the season party Invititon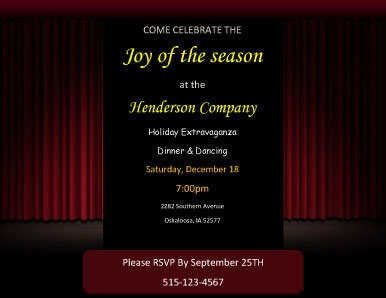 Dark elegant design that will be perfect for any event with performance.
Size: 183 B
Downloads:

8708

Filename: joy-of-the-season-party-invititon.docx
Download
Spring and Flowers theme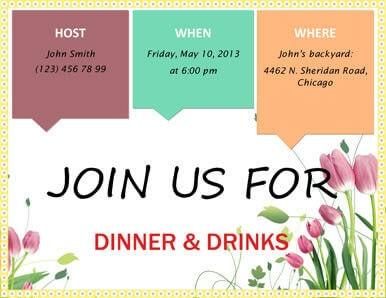 Garden party invitation design with subtle colours and an image of flowers.
Size: 183 B
Downloads:

14990

Filename: spring-and-flowers-theme.docx
Download
Colorful Squares blue design
Game-like theme that can be used for different occasions.
Size: 183 B
Downloads:

12227

Filename: colorful-squares-blue-design.docx
Download
Yellow background with snowflakes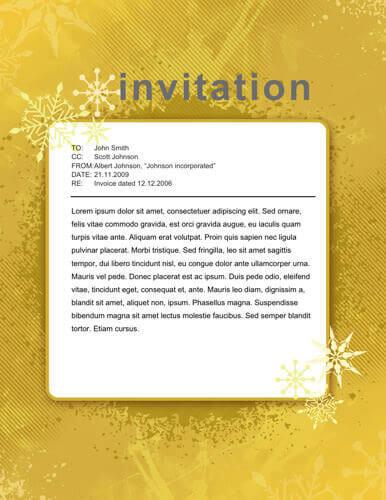 The yellow backdrop presents a creative design for a creative party! This email-style Christmas party invitation is great for an office Christmas party.
Size: KB
Downloads:

16232

Filename: yellow-background-with-snowflakes.doc
Download
Casual
Casual, or informal events, can be anything from an internal event at a small company to a party for friends and family. There is no need to use sophisticated-sounding words here; opt for short and simple text instead:
You're invited to an [event type] for family and friends.
Come and celebrate with us! We're hosting a [party type]. We hope you'll join us!
Please join us for an evening of drinks and dancing.
With this type of event, you have a lot of freedom when designing your invitation. This is your chance to use bold colors, fun fonts and eye-catching images to suit your event. Just a few casual events you could use our templates for:
Pool party
Kids birthday party
Housewarming party
Baby shower
Red Floral header template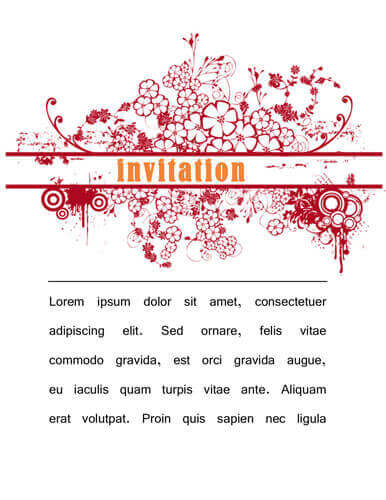 Another floral design with red color theme and flower heading.
Size: 183 B
Downloads:

24757

Filename: red-floral-header-template.doc
Download
Brown grunge sample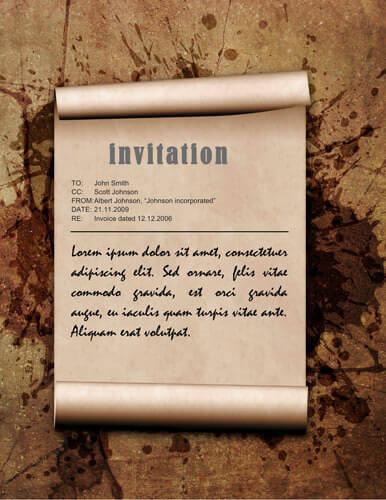 Grunge design that can be used for an invitation, flyer, notice, memo, or other purpose.
Size: 183 B
Downloads:

21187

Filename: brown-grunge-sample.doc
Download
Peace Love and Cocktails Party Invitation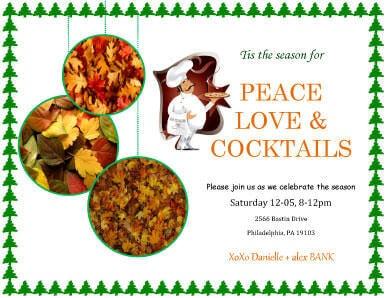 Design for season celebration party, company barbecue, or business lunch / dinner event.
Size: 183 B
Downloads:

6098

Filename: peace-love-and-cocktails-party-invitation.docx
Download
Festival Dinner Invitation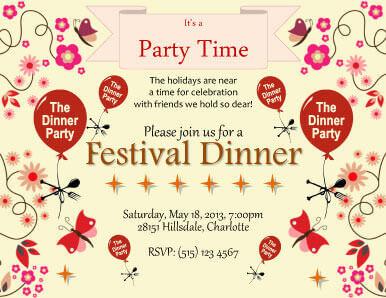 Flowers, butterflies, ribbons, stars, balloons, and ornaments: creative cheerful party design.
Size: 255 KB
Downloads:

9197

Filename: Festival-Dinner-Invitation.docx
Download
Vintage Holiday Party Invitation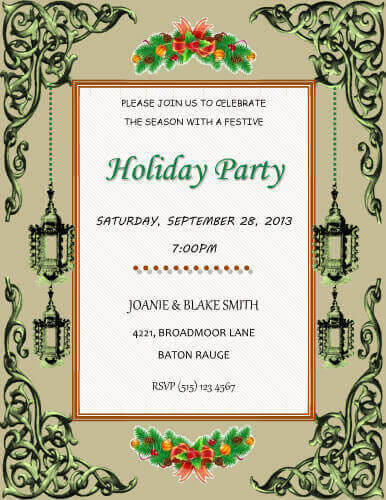 Multi-purpose office event invitation.
Size: 183 B
Downloads:

7858

Filename: vintage-holiday-party-invitation.docx
Download
Floral Background simple party invitation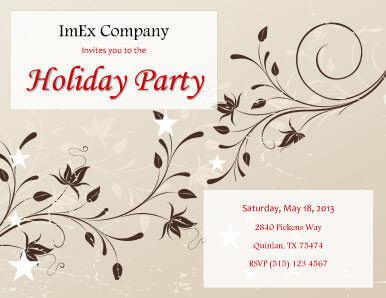 Simple floral design with two text boxes.
Size: 183 B
Downloads:

10302

Filename: floral-background-simple-party-invitation.docx
Download
Floral header template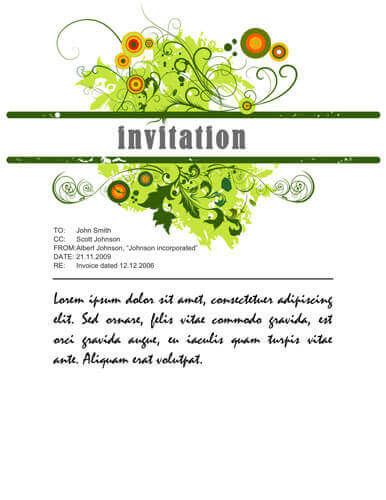 Simple design with floral pattern background, the word "Invitation", the invitation details (fields "to", "cc", "from", "date", "regarding"), and the card message. You can remove some fields to make the template less formal.
Size: 183 B
Downloads:

22420

Filename: floral-header-template.doc
Download
Green floral design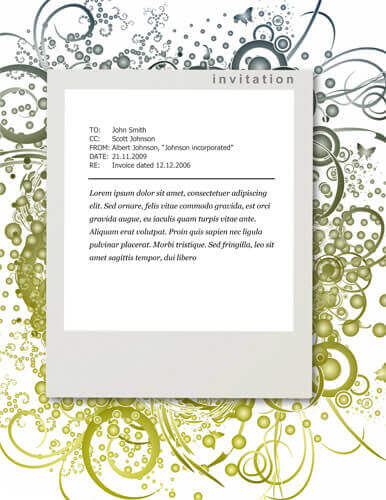 Invitation card template with green floral design, an abstract theme with beautiful swirls and butterflies.
Size: 183 B
Downloads:

24899

Filename: green-floral-design.doc
Download
Green Theme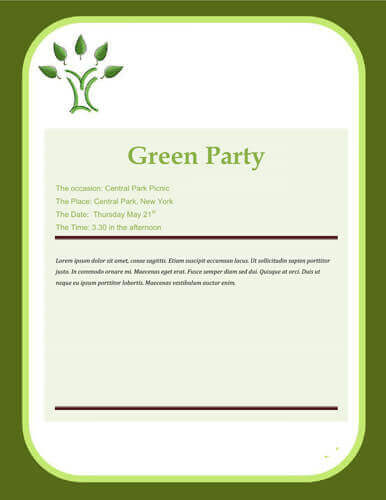 Simple green template with a copy space for your text. Use this template to invite people to a garden party, spring party, or a barbecue.
Size: 183 B
Downloads:

8844

Filename: green-theme.doc
Download
Simple invite design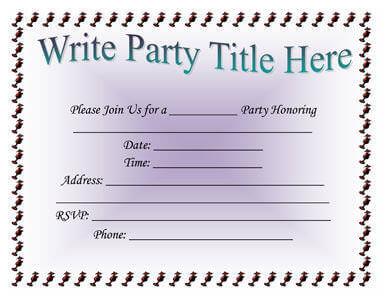 Very simple invitation that can be used for pretty much any occasion. Change text, add your own image.
Size: 183 B
Downloads:

11769

Filename: simple-invite-design.doc
Download
Corporate
You may be hosting an internal company celebration or inviting clients to your corporate event. Either way, the language used in your invitation doesn't need to be overly formal, but it should not be casual either. Set a professional tone by choosing the same language that is used for inter-office communication. Here are some wording ideas for holiday-season corporate events:
You're invited to an evening of laughter and good cheer at the office holiday party!
It's that time of year again! [Company] invites you to the annual office Christmas party.
To celebrate another great year, please join us for dinner, drinks and holiday cheer.
Here are some corporate events you can use these examples for:
Office party
Golf tournament
Grand opening
Client appreciation dinner
Neutral Corporate Party invitation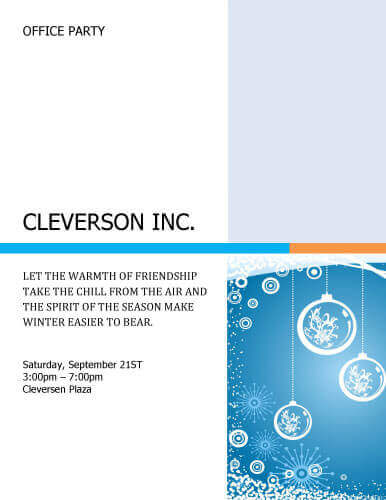 Neutral and elegant corporate style theme. Replace theme image with your own to create unique design.
Size: 183 B
Downloads:

8543

Filename: neutral-corporate-party-invitation.docx
Download
Large Title office Party Inviate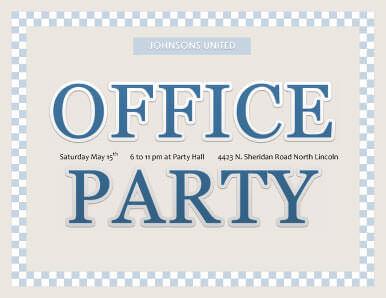 Simple text-only invitation with checker border. Soft pastel should be changed to something more attention-getting and catchy if used to draw attention.
Size: 183 B
Downloads:

6211

Filename: large-title-office-party-inviate.docx
Download
Office party invitation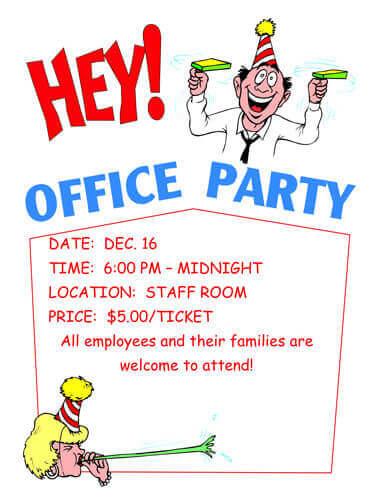 Simple yet effective office party invitation. Communicate the time, venue, location, and payment per head. If the party has no entrance fee you can remove this part from the template.
Size: 70 KB
Downloads:

8264

Filename: Office-party-invitation.docx
Download
It's a party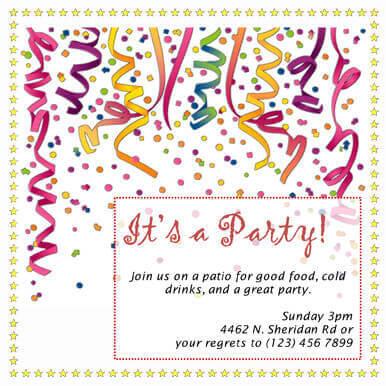 Another basic sample that will work for just about any occasion. This design is 5.5' x 5.5' so get your scissors ready if you are printing on a home printer.
Size: 183 B
Downloads:

31174

Filename: its-a-party.docx
Download
Club party invite design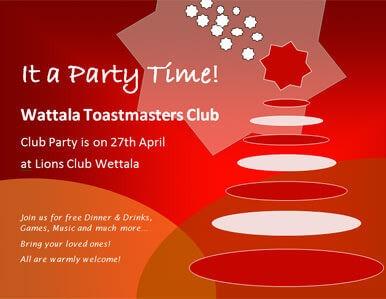 Generic red theme that can be used for different types of invitations.
Size: 183 B
Downloads:

8668

Filename: club-party-invite-design.docx
Download
Who When Where design sample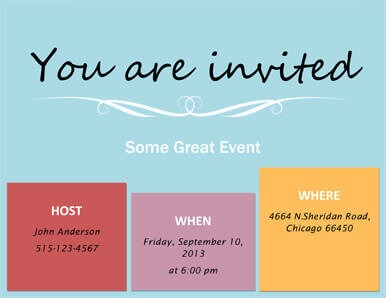 Party invitation for any occasion with colourful design. Three squares to give information about host, time and date, and location of the venue.
Size: 183 B
Downloads:

13459

Filename: who-when-where-design-sample.docx
Download
Multi-purpose invitation template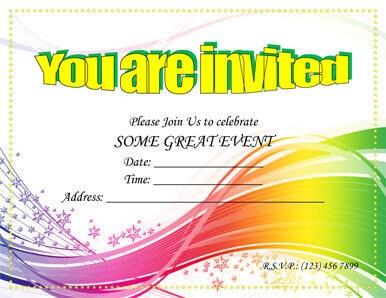 General invitation template that can be used for different occasions: birthday party, dinner, celebration, garden party, etc.
Size: 183 B
Downloads:

15285

Filename: multi-purpose-invitation-template.docx
Download