Photography Invoice Templates
Hourly, Flat Rate, Itemized, Time plus Cost, Service, with or without Licensing, Expenses
Work smarter, not harder. How you invoice your clients can determine whether or not you are leaving money on the table. Let's look at different invoicing approaches, their pros and cons, and find the one that makes the most sense. Each method comes with photography invoice template in
Microsoft Word
and
Excel
.
Hourly Invoicing
When you invoice hourly, you get paid for the time it actually takes to complete the task.
Pros:
Have control over your time.
Get paid for work that takes longer than you estimated.
Can focus on quality without feeling rushed.
Cons:
Can't give a client a solid figure.
Client expectations don't always line up with the amount of time that activities take.
Clients unhappy that it took longer than they thought and want to renegotiate after the fact.
Trouble-shooting Hourly Method:
Know your client's expectations in terms of hours before you start.
Discuss best and worst case scenario with estimates of cost.
Foster trust with the client that you are an experienced professional who uses time wisely.
Be prepared, have the expected time details of the project determined, and be organized to help avoid any cause for dispute later.
Hourly Invoice Templates
Hourly - Word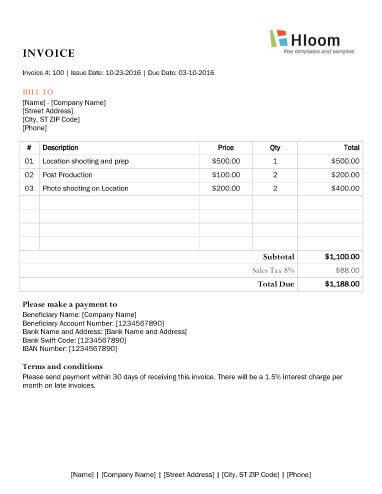 Clearly communicate with clients how your time was used. Ensure the client has everything they need to send payment and to contact you.
Size: 96 KB
Downloads:

13822

Filename: Photography-Invoice-Hourly-Word.docx
Download
Hourly - Excel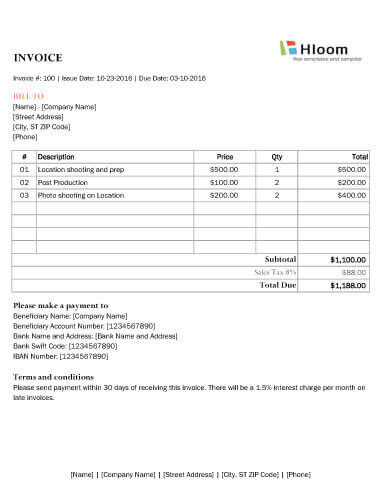 Clearly state hours worked, the date the payment is due, and any special terms. Easily edit it in Excel, add formulas, and keep track from sheet to sheet and spreadsheet to spreadsheet.
Size: 178 KB
Downloads:

6242

Filename: Photography-Invoice-Hourly-Excel.xlsx
Download
Lump Sum Invoicing
In Lump Sum invoicing, you and the client settle on a fixed price for the service.
Pros:
Know exactly how much you'll make on the job.
If it doesn't take as long as you thought, you come out ahead.
The client knows exactly what they will pay, avoiding disputes later.
You won't feel like someone is watching how you use "their" time.
Cons:
You make the same amount even if the job takes longer.
Really need to know how long the job should actually take in order to settle on a price that is fair for both you and the client.
If it takes longer than expected, you will be out the time and money.
Clients can be very demanding, and will often ask for extra work that they expected to be included in your lump sum price, which would put you in the position of losing money to keep your client happy.
Trouble-Shooting Lump Sum Method:
Determine your client's expectations regarding what is covered in the lump sum before you begin work.
Know the value of your time and how long each aspect takes.
Take a stance beforehand on whether "the customer is always right" or "I'm flexible and accommodating, but won't be taken advantage of."
Lump Sum Invoice Templates
LumpSum - Word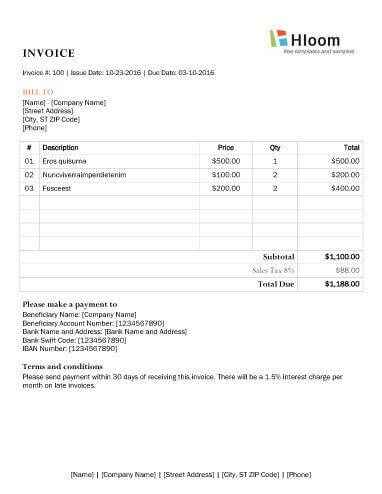 Keep things simple for your client. Your client knows exactly what they will be paying, so there is no confusion later.
Size: 96 KB
Downloads:

9327

Filename: Photography-Invoice-LumpSum-Word.docx
Download
LumpSum - Excel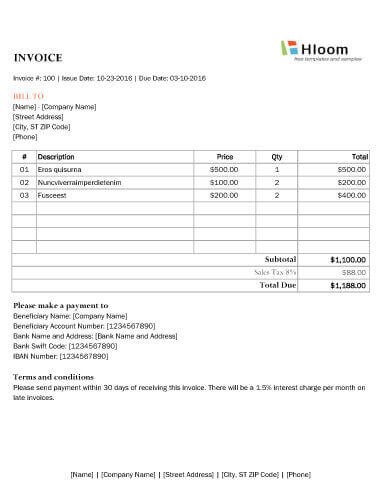 Keep the billing clear and straightforward with the Lump Sum Template. The client has everything they need to send payment and contact you.
Size: 177 KB
Downloads:

5133

Filename: Photography-Invoice-LumpSum-Excel.xlsx
Download
Time Plus Cost Invoicing
Hourly invoicing where the client pays (typically through you) for materials, transport,etc.
Pros:
It is clearer to the client what they are paying for.
You are never out for extra materials that you may need.
There is flexibility for during-project or last minute decisions for you and the client without you losing out.
Cons:
The invoice looks more complicated to the client/takes longer to explain.
The client will not have a set price before hand, which can be disconcerting.
The client may try to "nickel and dime" you …. "How much can I save if we don't do this? What about this? And this? What's that for? Do you really need it?"
Trouble-Shooting the Time Plus Cost Method
Talk to your client beforehand about what materials cost.
Clearly communicate if a client decision will increase the cost of the project.
Time Plus Cost Invoice Templates
Time plus Cost - Word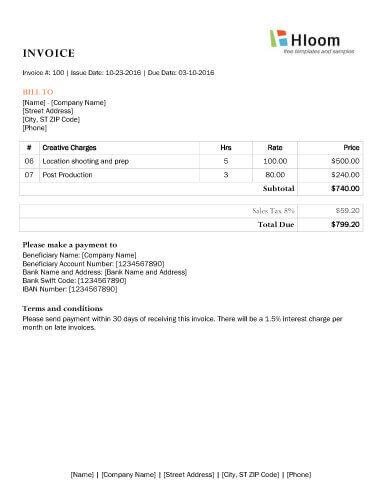 Display how your hours were used and how much goes to materials, travel, etc. Well laid out columns mean that everything is clear to you and the client.
Size: 47 KB
Downloads:

4643

Filename: Photography-Invoice-Time-plus-Cost-Word.docx
Download
Time plus Cost - Excel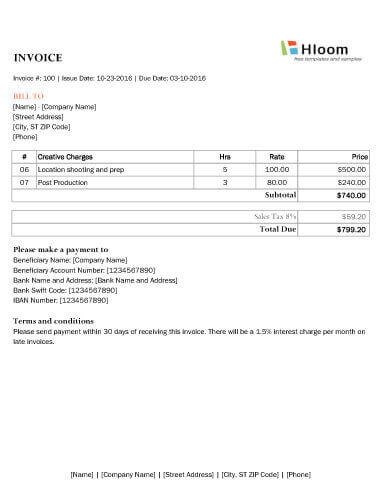 The client can see a clearly itemized list of your expenses (travel, materials, etc.) with this template. It's simple to fill out and easy to explain to the client.
Size: 177 KB
Downloads:

4139

Filename: Photography-Invoice-Time-plus-Cost-Excel.xlsx
Download
Service-Expenses-Licensing Invoicing
You are billing for a service, plus your expenses (materials, travel, etc.), plus you retain the ownership of your images, and sell a license for the client to use them over a certain period of time and for certain purposes, with or without attribution, etc.
Pros:
The images are yours. After the client's license expires, if it is not renewed, you may sell, license, or distribute them.
The client knows exactly what they are paying for, the terms, etc.
You may make additional income if the client renews the license.
Cons:
Need to keep track of the client over a longer period of time to assure they are not using images inappropriately during or after the license term.
More complex to explain to the client.
Troubleshooting the Service-Expenses-Licensing Method
Be sure the client understands that they do not own the images.
Set up a schedule to periodically check with the client regarding usage, need for renewal, or new services.
Service-Expenses-Licensing Invoice Templates
Services Expenses Licensing - Word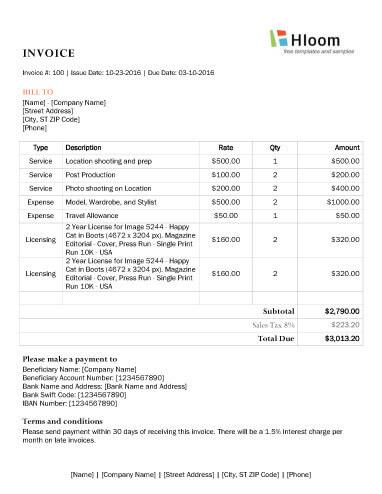 Maintain total control over the services and how your images are used in the future. Easy edit it in Word to explain the terms of the licensing agreement in simple yet clear language.
Size: 120 KB
Downloads:

5131

Filename: Photography-Invoice-Services-Expenses-Licensing-Word.docx
Download
Services Expenses Licensing - Excel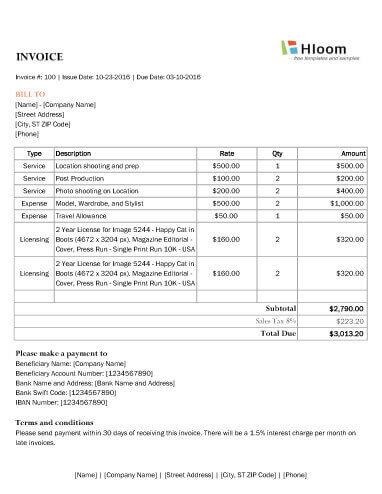 Clear and concise Licensing template to ensure the client understands your licensing agreement. Edit it in Excel to meet your unique needs with formulas.
Size: 178 KB
Downloads:

4176

Filename: Photography-Invoice-Services-Expenses-Licensing-Excel.xlsx
Download
Free Resume Templates
Like bookkeeping and data entry, invoicing is a sought-after skill in many industries, from fashion to transportation to small businesses. You could start a new career, change your current one, or change industries. Before you start, work on your resume. Hloom also offers free resume templates with expert advice.
How to use a resume template?
Hloom's resume templates are easy to use. Visit our Resume Builder:
Answer a few prompts regarding your career and work experience.
Customize a free resume template.
If you already have a resume template, upload it and the builder will format it.
Edit, add or remove sections to better suit your needs.
Use the career expert recommendations as a guide throughout the process.
Build a Resume
Invoice Software vs Free Templates
When deciding whether to use invoice software or free templates to create your photography invoices, there are several points to consider:
Cost

– If you opt to download free professional invoice templates, there is no financial commitment, whereas invoice software can have significant upfront and ongoing fees. Often, invoice software is advertised as being free, but this can mean that the included features are limited and that a paid upgrade would be required for full functionality.

Time

– As a busy freelance photographer, you probably have little time to spend on administrative tasks. An invoice software package can offer a streamlined, efficient way to invoice your clients and follow up on overdue payments. If you are looking for a simple invoicing solution, invoice templates are probably more suitable as they require very little time to set up.

Ease of use

– Invoice templates are generally user-friendly and intuitive due to the simplicity of the designs. Our templates are created to be used in MS Word and MS Excel, programs that most people are familiar with and are comfortable using. Invoice software tends to be more complex and technical, meaning you may need special training on how to use the software.

Flexibility

– There are so many choices when it comes to invoice templates that you are sure to find one that suits your business. If you find that you need to amend sections, our free photography invoice templates are fully customizable, giving you the ability to edit, add and remove relevant sections. With invoice software, the level of customization is limited to what the software creators allow.

Features

– Many invoice software programs include useful features such as automation of payment reminders and receipts, integration with apps, and storage of customer and inventory information. Managed software also benefits from regular updates (legal, tax, etc.) The simplicity of free invoice templates means that many of these features aren't available, but again, if you want an invoicing solution without the bells and whistles, invoice templates are for you.

Access

– Many invoice software programs are web-based, which is great if you need to complete invoicing on the go and using multiple devices. If, for whatever reason, you are unable to access the internet, you lose your ability to invoice, and this can be highly inconvenient. Once you have downloaded an invoice template, it can be completed offline and printed for your customers, if required.
Regardless of the method you choose, make sure it works for you and your client. Clearly communicate with your client about how your billing works, so there are no surprises or misunderstandings later.