Travel Expense Report and Claim Form
Download fully editable expense forms in Word and Excel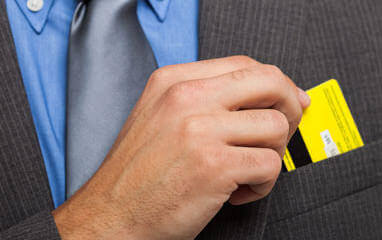 Business traveling is quite frequent for employees from different departments within an organization. Sales personnel often travels across the country or internationally to visit customers. Marketing personnel often travels to promote products and services. Technical support often travels to provide support on site. Management often travels for all kind of reasons. Whenever that happens, company is then responsible to reimburse the expenses to its employee; travel expense claim form, also known as reimbursement form, is usually used to record and to claim all the spendings. Different companies will have different rules for filling out the form: check what is required before filling out and submitting yours wether you company has any policies regarding professional travel expenses. Work-related expenses often include lodging, fuel, transport tickets, parking fees, meals but, depending on the type of business travel and industry, it can be pretty much anything: clothing, education, phone, gadgets, furniture, even entertainment . All in all, to claim something as an expense:
you must have spent the money
the expense must be related to your job
you must have a record to prove the expense
When to use it?
The employee is traveling to a remote area from his/her residence or workplace.
Traveling period is longer than one business day.
When NOT to use it?
For personal (non-business) traveling.
For any lavish or extravaganza travel.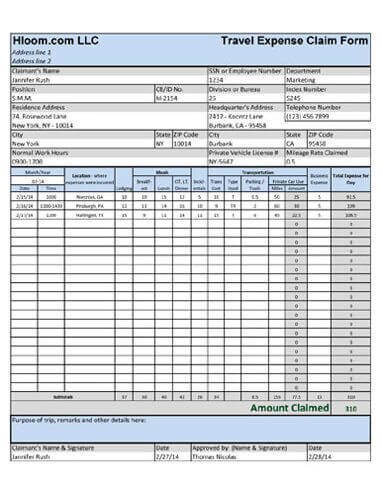 Size: 19 KB
Downloads:

8085

Download: zip and xlsx
Download
FEATURED TEMPLATE
Travel Expense Claim Form
Use this form to record the expenses incurred during travelling for the purpose of business-related activities, e.g. meeting, attending seminars, conferences, etc. to receive reimbursement from a company.
Download
Filling out Expense claim form template
Below is a general purpose travel expense claim form that you can use 'as is' or modify to your needs. The form is created in Excel, and can be used in OpenOffice of Mac Numbers. Here is how you should use it:
Normal Work Hours
: Enter your normal working hours in twenty-four-hour format, e.g. 0900-1700.
Mileage Rate Claimed
: In case of using personal vehicle for business travel enter the rate allowed by the company.
Month/Year
: Enter the numeric designation of month and 2 ending digits of the year when the first expense was incurred.
Date and Time
: Enter date and time of traveling in twenty-four-hour format. If the departure and return was on the same date then mention departure and return time side-by-side separated my hyphen (-), e.g., 1200-1640.
Location – where expenses were incurred
: Enter the name of the city, town, etc where the expense was incurred (you may also use abbreviations here).
Lodging
: Enter to total cost of lodging.
Meals
: Record the cost of breakfast, lunch, and dinner.
Incidentals
: Enter the expenses such as laundry, cleaning, pressing of cloths, etc.
Transportation / Transportation Cost
: Record the cost (fare) or transportation (public transport, taxi, vehicle hire). Enter the actual amount in case of cash payment or use "CC" for credit card and "C" for credit transaction.
Type Used
: Enter the type of transportation used. You can use abbreviations such as "B" for bus, "T" for train, "TR" for truck, etc.
Parking / Tools
: Enter the expenses such as parking, tool tax, etc.
Miles
: Enter the number of miles driven for business.
Amount
: DO NOT edit this column as it is automatically updated by multiplying "Mile" and "Mileage Rate Claimed".
Total Expense for Day
: DO NOT edit this column as it is automatically updated by summing up the respective entries.
Purpose of trip, remarks and other details
: Type the purpose of your trip and / or other remarks (be relevant). Here is another template – courtesy of exceltemplate.net – that you can use to record your daily expenses.
Travel Expense Report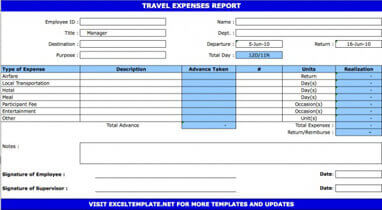 Simple Travel Expense Report with two worksheets. Enter your daily expenses in daily expenses summary, and have daily expenses summed together in a summary report.
Size: 183 B
Downloads:

5684

Filename: travel-expense-report.xls
Download