Packing Slip Templates
Free printable packing slip templates in Word and Excel
There are a lot of systems that businesses use when it comes to selling their products. A popular document that's used in business when shipping items is a
packing slip
. This shipping document is also often called a shipping list, packing list, waybill, a bill of parcel, unpacking note, delivery docket, delivery list, manifest or customer receipt.
A packing slip is an itemized list of articles that are included in the shipping package. This list can be found either inside the parcel or in an attached shipping pouch on the outside. This document will detail the quantity of items shipped and a description of each of them, although some packing slips also have more information such as the weight of the package contents, the price of the items, an order number, a company logo or even a personalized message. What information you choose to include on your packing slip will depend on your business and your products.
Packing Item Documents
When it comes to packing items for shipment there are several types of document that a small business will often use. Invoices and packing slips are different in many ways but are often mistaken for each other. An invoice is the bill your company sends out to the customer to retrieve payment. Typically, this will include details about the transaction, including the products that were purchased, the quantities and prices of each item, and the buyer and seller's addresses. Invoices must also include an invoice number, which is required to keep track of orders and payments received. An invoice is sent to the person who pays for the product, which may not be the person who actually receives the package.A packing slip is in no way a receipt or invoice and shouldn't be treated as such. Unlike an invoice, packing slips usually do not have any financial information on them, although this is not impossible. Another similar document is a waybill. A waybill is an official shipping document that is used to identify its consignor, consignee, origin and destination. It also describes the contents of the package but is prepared by the shipping company, rather than the business. Shipping companies use waybills for their internal records and control.A delivery note is another document some businesses choose to send with the package. It also lists the contents of the package, but it requires a signature from the buyer and must then be returned to the seller as proof of delivery.
When and Why to Include a Packing Slip
While some smaller businesses choose to leave out a packing slip, this is a mistake. Packing slips serve many valuable purposes and can help save you a lot of time, energy and money in the long run.Help identify lost cargoWhen packages for delivery get lost, the Postal Service's Dead Letter Office employees have to do a little bit of detective work to find them. Sometimes a package will get wet or scuffed, making it impossible to read the address label on the front of the box. If this is the case the employee will have to open the box in hopes there will be enough information inside to get the package delivered to the right person. So when the address on the front of the box becomes illegible for any reason, having a packing slip inside the box or in a protected plastic pouch will make their job easier, and ensure the package reaches your customer. The packing slip should have both your address and the buyer's address for this reason.Inform about the contents of a packageThe packing slip helps to inform the customer of what they ordered, when they ordered it, and from where. Since a lot of people order many products online, it can become a hassle to remember what they ordered and from which organization. The packing slip helps shoppers to stay on top of what they've received and what they need to keep an eye out for. They can simply cross-reference the items they have ordered with the packing slip to check off the items they've received.Permit inspection by customsIn many countries, packing slips are suggested for international shipments because it makes it easier when travelling through customs. The packing slip is a way to inform government agencies of the contents of the package, as well as the weight and price. This is especially helpful during transport through customs and can help ensure your package is cleared of government checks and procedures in a timely fashion and without any problems. In this instance, a packing slip that is kept in a clear, plastic pouch on the outside of the package makes their job much easier, as they won't have to open the parcel up to find the packing slip.
What Should Be Included on a Packing Slip
Not every template for a packing list will be right for you. There's no one-size-fits-all in this case because what you decide to include will vary greatly depending on your business and the products you offer. However, there are some things that every packing slip template should include:
Order date
Order number
Sending information
Products included
Quantity of products
Return address
Some additional things you might want to have on your packing list include:
Pricing information
Weight of content
Personalized message
Your company logo
Free Packing Slip Templates
Below you will find our collection of packing slip templates for both Word and Excel. They are all available online for free download. Why not use one in the next parcel your business sends out?
Simple packing list in Excel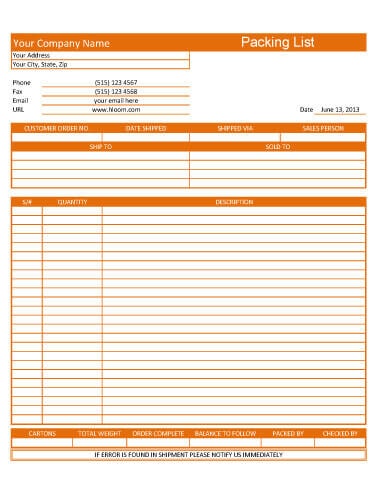 Simple blank packing slip sample in Excel, orange color theme.
Size: 24 KB
Downloads:

19163

Filename: Simple-packing-list-in-Excel.xlsx
Download
Packing List Order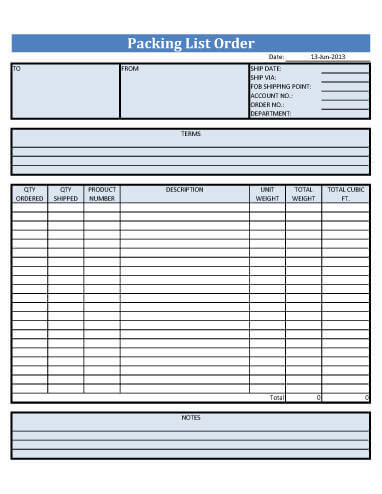 Packing list spreadsheet to calculate total weight and volume of a package.
Size: 22 KB
Downloads:

12098

Filename: Packing-List-Order.xlsx
Download
Packing List with buyer and vendor codes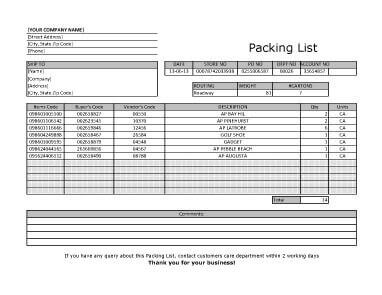 This template for excel includes buyer and vendor codes, item code, description, quantity, and units. It automatically calculates total quantity.
Size: 23 KB
Downloads:

11394

Filename: Packing-List-with-buyer-and-vendor-codes.xlsx
Download
Packing Slip by number of boxes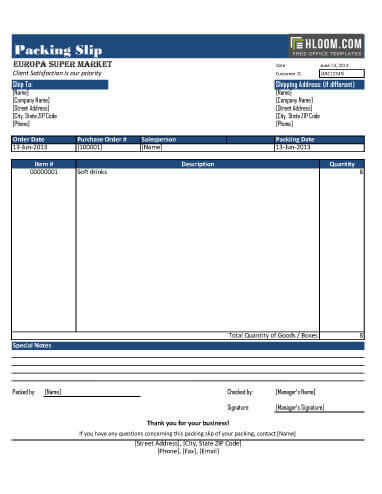 Similar to an invoice template, this shipping list format comes with a formula to calculate number of boxes / quantity. Other information includes order date, purchase order number, sales person, purchase date, invoice number, item number, description, and quantity, notes, packaged and ordered by names, signature lines.
Size: 39 KB
Downloads:

10161

Filename: Packing-Slip-by-number-of-boxes.xlsx
Download
Business Packing Slip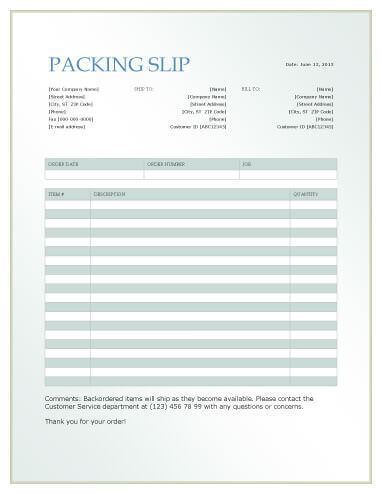 Shipping packing list template with light blue gradient background and alternating table rows.
Size: 80 KB
Downloads:

7323

Filename: Packing-slip-with-gradient.doc
Download
Packing Slip with Return Form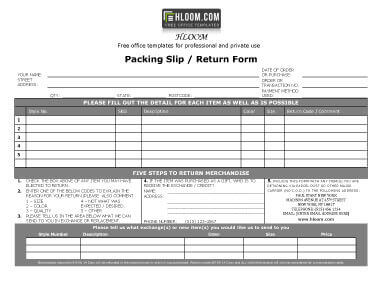 Waybill and product return form on a single page.
Size: 61 KB
Downloads:

6089

Filename: Packing-Slip-with-Return-Form.docx
Download
Packing Slip with order and ship quantity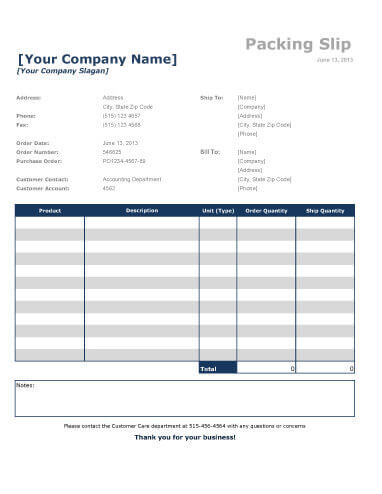 Spreadsheet waybill template to show both ordered and shipped quantities.
Size: 23 KB
Downloads:

8034

Filename: Packing-Slip-with-order-and-ship-quantity.xlsx
Download
Basic Sample in Word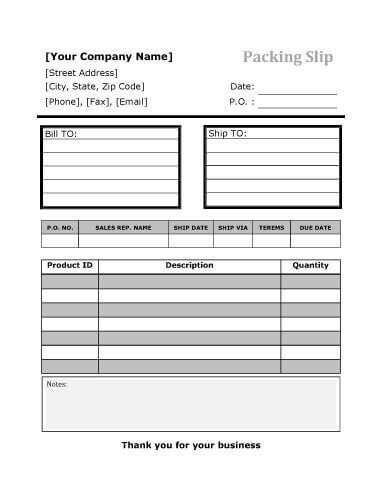 Neutral black and white design with alternating table rows.
Size: 183 B
Downloads:

8112

Filename: basic-sample-in-word.docx
Download
Basic Packing Slip in Word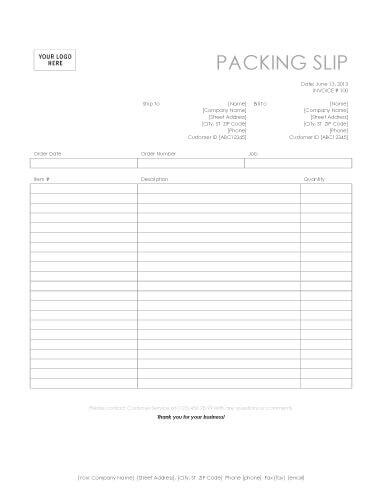 Very simple and neutral design, basic but also easy-to-use format.
Size: 183 B
Downloads:

7690

Filename: Basic-Packing-Slip-in-Word.doc
Download
Landscape Packing Slip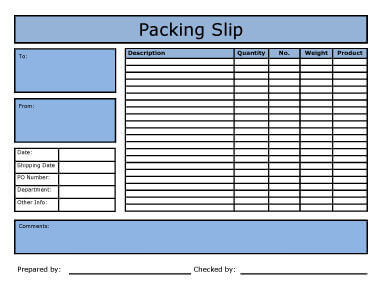 Another typical waybill sample with multiple tables to fit necessary information about the shipment.
Size: 52 KB
Downloads:

5383

Filename: Landscape-Packing-Slip.docx
Download
Packaging slip handwritten invoice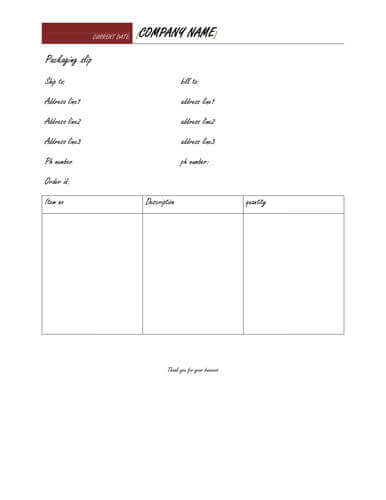 Slip with handwritten appearance; lists the items along with their description and quantity.
Size: 32 KB
Downloads:

5843

Filename: Packaging-slip-handwritten-invoice.doc
Download