The Ultimate Guide Resumes in 2022
Your resume deftly summarizes your professional strengths and merits. Employers rely on it to determine if you qualify for a position, a decision often made in as little as 7 seconds. Our online tools will help you create a professional, persuasive resume that can open doors in the hiring process.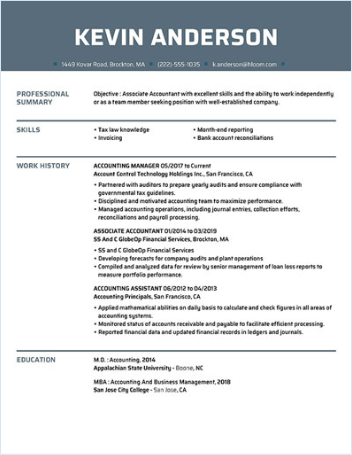 Use This Template
Rate this Template
Featured In:
Table of Contents
Here are more resources that can help you
The Best Resume DIY Tools
Applying for a job can be daunting, but you can simplify it by approaching it on a step-by-step basis. Write your resume, format it, edit, revise, edit again and submit. To help you through each step, we collected our favorite resume-writing tools and guides to make this a real DIY job-seeking project.
Properly organized columns and paragraph breaks can make or break a resume design. If the applicant tracking systems (ATS) that most employers rely on can't determine where resume sections begin and end, your resume will be discarded before a hiring manager ever sees it. We make designing your resume foolproof with a vast library of free and downloadable templates. From simple designs that are well-suited to traditional industries like banking and law, to modern and contemporary resumes that appeal to up-and-coming companies in tech and creative industries, we created 400+ free templates that can help elevate your resume to a serious applicant contender.
You may have a general layout in mind, but how do you flesh out your resume? Get an idea of what you should include with our select library of resume examples. We showcase examples of popular job titles across multiple industries that range from accounting, customer service, engineering and more. These documents can help you get a general understanding of what your fellow applicants showcase when they apply for jobs in your industry. Understanding and reflecting the language used in these examples will help solidify your position as a strong candidate.
Not all resumes are created equal – there are three resume formats that benefit different job seekers. Our resume format guide breaks down each resume by their strengths and weaknesses to help you find your perfect match, whether you're a recent graduate with qualifying skills or a career professional with over 10 years of experience.
Our "How to Write a Resume" guide acts as your step-by-step resource to polish each section of your resume. Our professional writing tips could help you avoid critical errors that would automatically disqualify your resume for consideration by a hiring manager. Our easy follow advice will help you make the best use of our templates and examples.

No need to struggle with glitchy columns formats, restrictive text space for your work history and accomplishments, or difficult downloads. Let us help you cross the resume finish line with a premium tool. Our Resume Builder offers dozens of customizable resume templates to help you personalize your applications, suggests recruiter-approved content for thousands of different job positions to help you through every chapter of your career, and auto-formats all of your resume content for you.