Free Downloadable Administrative Resume Templates and Expert Writing Tips
Use This Template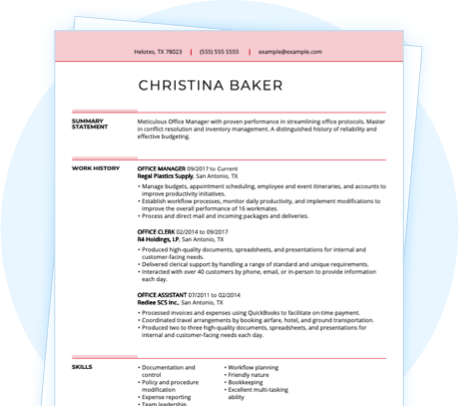 Featured In:
Table of Contents
Here are more resources that can help you
No office can function effectively without an office manager, administrative assistant or executive assistant. We'll help you land your next administrative position by showcasing your organizational, managerial, and social skills with career-specific resume examples, downloadable templates, and our list of top administrative skills.
Best Free Downloadable Resume Templates for Administrative Jobs
Hire Me

This elegant administrative resume is easy to download to your word processing program. Reformat the sections as needed, add your personal and professional accomplishments, and customize them to suit your job-seeking needs.

Elegant Traditional

This standard resume from our free DIY downloadable library is ideal for administrative positions in long-established companies. The simple design appeals to most people and places the focus on your accomplishments. Download this resume to your preferred word processing software.

Vocational

This zero-frills resume prioritizes your qualifications and accomplishments over design. As an administrative professional, you can list examples such as installing new scheduling software that minimized wait times and autofilled conference call option.

Vibrant

This simple but elegant chronological resume uses tables and grids to outline your previous job and their related responsibilities. The design elements make it easy for hiring managers to skim through your career timeline.

Upfront

This traditional resume uses strategic bursts of color to differentiate the various resume sections. The chronological structure is ideal for job seekers with a steady history of 10 or more years in administrative work.

Texture

This technical resume template borrows heavily from CVs and allows you to add administrative awards, certifications, and a graded skills list to showcase your training and competencies alongside your career accomplishments.
9 Administrative Resume Examples
Not all resumes are made equal, nor can they accomplish the same goals. Most resumes follow three well-known formats; chronological, combination, and functional formats. Each of these layouts can serve you and highlight different aspects of your administrative skills and knowledge.
We created administrative resume examples for each one. Let's walk through them and explain the pros and cons.
Chronological Resume
The chronological resume is the most well-known format and is the ideal format for candidates with over 10 years of experience. We strongly recommend that your use this format for the following administrative job openings:
Executive assistants, office managers, and secretaries spend years honing their skills and streamlining office operations. A chronological administrative resume helps you demonstrate those skills and accomplishments in the following manners:
1. Executive assistants: Highly trained individuals that help to streamline the day-to-day operations of department heads and executive-level managers. This Professional Experience section sits near the top of the page; the focus on your administrative career helps you demonstrate a decade of experience.

2. Office managers: Detail-oriented individuals who ensure the smooth running of day-to-day office operations. May oversee office management alone or run a small team of administrative support staff. The reverse-chronological timeline helps showcase Jimmy Nelson's promotions and quantifiable accomplishments such as managing a branch of 50+ employees.

3. Secretaries: Highly-trained individuals who manage the schedules and day-to-day operations of department heads and C-level executives. The reverse-chronological timeline demonstrates Louise Walsh's experience with executives and customers.
Combination Resume
The combination borrows many of the same sections as the chronological resume, but it switches the placement of the skills section to place equal importance on professional abilities and accomplishments. This allows you to play up your organizational, social, and administrative skills first followed by quantifiable proof of your previous accomplishments.
A combination administrative resume is ideal for younger candidates with ample training and education, but limited practical experience in the administrative field. We strongly recommend this format if you're applying for the following job opportunities:
1. Administrative Assistants: An ideal job for entry- to mid-level applicants, you should use the combination resume if you have a minimum of three years of organizational work experience. The placement of skills just above your work history helps showcase technical administrative skills, which help Dennis Burke prove their qualifications despite a short work history.

2. Legal Assistant: The knowledgeable and organized support of a law office or attorney, a legal assistant should showcase their knowledge of legal administrative tasks such as filing affidavits or briefs in addition to their strong organizational, listening, and research skills. Although placed lower than a chronological resume, Beatrice Vega's work history still makes up most of her resume and shares ample quantifiable metrics.

3. Office Assistant:

Highly organized individuals who help perform routine clerical and administrative tasks such as scheduling and organizing appointments, supporting staff with organizational tasks, and managing office files.
Functional Resume
The functional resume is the least familiar resume but can be beneficial under specific circumstances. This resume is also known as a skills-based resume and creates specialized sections to focus on responsibilities and accomplishments based on abilities, not work history.
Unlike the previously mentioned resumes, the functional resume is not applicant tracking systems (ATS) friendly and should be used under specific circumstances. Use this resume with small family-owned businesses, offices of 10 or fewer employees, or direct referral applications. It's ideal for career changers, recent graduates, or relocating applicants.
Although this format has some risks, we strongly recommend that you use this resume to showcase your applicable organization and management skills for the following job openings:
1. Personal Assistant:

Similar to other administrative roles, a PA can help with time and daily management of professional and personal schedules, organizing emails, scheduling meetings, taking notes, and fielding calls. The focus on skills allows you to organize your skills into specific administrative fields such as organizational (filing, time management, attention to detail), scheduling (Google calendar, project management, customer service), and administrative skills (verbal communication, listening, written communication).

2. Executive Assistant: Although these highly trained individuals can benefit from a steady career, opt for a functional resume if you took a lengthy leave of absence for academic, medical, or family leave. A Summary of Qualifications can showcase accomplishments by skill type, not by former employers. This allows you to focus on your skills and downplays potential work gaps, frequent career changes, or short-length jobs.

3. Personal Secretary:

The friendly and organized face of a personal office or department, a

secretary

is an ideal entry-level position with strong customer service, scheduling, and organizational skills. This functional resume separates a traditional work history into two sections; a functional Work History section featuring job title, name of employer, and general years of employment and a separate Summary of Qualification featuring work-related accomplishments.
What Can You Earn as an Administrative Professional?
If you're curious about this career tract or planning your next steps, you may wonder how much you can earn as an administrative professional. Your potential administrative earnings may vary according to your specialization, location and employer.
According to the Bureau of Labor Statistics, these are average national wages for the following administrative branches.
National based on industry
Average hourly wage
Average annual wage
All industry
Average hourly wage
$51.98
Average annual wage
$108,120
Local governments
Average hourly wage
$47.79
Average annual wage
$99,400
Private companies and enterprises
Average hourly wage
$59.49
Average annual wage
$123,730
Colleges, universities and professional schools
Average hourly wage
$49.39
Average annual wage
$102,730
Medical and surgical hospitals
Average hourly wage
$53.53
Average annual wage
$111,350
State governments
Average hourly wage
$46.06
Average annual wage
$95,800
Office administrative services
Average hourly wage
$52.74
Average annual wage
$109,690
Top Administrative Skills for Your Resume
Skills are the understated heroes of your resume. You'll showcase your soft, hard, and technical skills across the following resume sections:
Professional Summary: Feature one to two skills within this brief three-sentence paragraph. For example, a legal assistant might mention their relative speed in filing trial briefs and transcribing testimonies under their summary statement. Still a personal assistant would showcase their ability to confirm appointments and quickly find alternate venues or staff members in the event of a last-minute cancellation.
Skills Section: Feature six to eight skills in bullet list form. For example, the hypothetical legal assistant we mentioned features legal administrative skills such as organizing files, requesting subpoenas, collaborating with paralegals, typing speed, note-taking, and attention to detail.
Work History: Feature one skill per descriptive sentence under each former role. For example, a personal assistant might refer to their time management skills by writing that they "Identified redundant meetings and streamlined department calendars, providing department heads additional time to review quarterly projections and react to real-time finances."
To help you bolster your resume and accurately demonstrate your qualifications, we compiled a list of the frequently requested administrative skills found on active job boards.
Soft skills
Soft skills are also known as the skills that enable you to be a communicative team member and functional employee. As an administrative professional, you'll want to showcase the following interpersonal skills:
1. Verbal communication
2. Written communication
3. Organizational skills
4. Time management
5. Resourcefulness
6. Detail-oriented
7. Attention to detail
8. Social anticipations
9. Strategic planning
10. Listening skills
Hard skills
Hard skills are learned and practiced skills that require specific knowledge related to a job or task. As an administrative professional, these learned skills often include familiarity with time management programs, spreadsheets, and schedules. We share a few skills that might strengthen your administrative resume:
1. Correspondence organization
2. Answer telephones
3. Document management
4. Email and faxing
5. Maintain and organize office records
6. Maintain and organize files
7. Order and inventory office supplies
8. Troubleshoot printing machines
9. Dictation
10. Note-taking
Technical skills
Technical skills are highly specialized abilities or knowledge used to perform practical tasks:
1. Quickbooks
2. Outlook
3. Gmail
4. IT knowledge
5. Microsoft Office 365
6. Microsoft Office 2016/2019
7. Google Workspace
Best 5 Certifications for Your Administrative Resume
Although you can learn on the job, you may find help finding a specialized or high-paying position by studying and registering for specialized administrative courses. You can feature these additional courses on your education sections underneath your degrees.
Professional Administrative Certification of Excellence (PACE)
Certified Professional – Human Resource Administrative (IPMA-CP)
Project Management (PM)
Certified Administrative Professional (CAP)
Microsoft Office Specialist: Expert – Office 365 and Office 2019
Improve Your Writing Speed With a Resume Builder
Lend yourself an extra hand by using our specialized program. Our Resume Builder features job-specific content suggestions, section-by-section writing advice, professionally designed templates, and unlimited online storage to accommodate each tailored resume. Build your resume and cover letter in less time than the average job seeker.
Build a Resume
FAQ
Updated: March 13, 2023
What are the top 3 skills of an administrative assistant?
Your top 3 skills will vary depending on the administrative role you're applying for. Administrative assistants should feature the following top 3 requested skills on their resume.
Written and verbal communication skills
Organization
Attention to detail
What do administrative assistants mention under a summary statement?
Your summary statement, also known as the professional summary we mentioned before, needs to showcase one or two skills mentioned on the job advertisement. An interview-winning statement will accomplish the following goals
Identify the main hiring need from the open job opportunity
Showcase a professional skill or ability that fills the main hiring need.
Share a practical example of your skill set in effect.
What are examples of administrative duties?
If you're interested in pursuing an administrative career, you're probably curious about your potential daily responsibilities. Most administratives duties fall into the following examples:
Manage and transfer incoming calls.
Manage appointments and event calendars
Organized staff meetings
Handle incoming and outgoing mail
Prepare office memos and reports
Maintain filing systems and electronic databases