Administrative Assistant Resumes | Free Downloadable Templates, Examples & Guide
Use This Template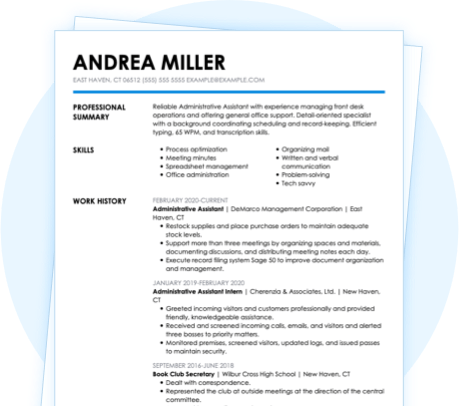 Featured In:
Table of Contents
Here are more resources that can help you
When applying for an administrative assistant position, you'll need a resume with the same attention to detail and structure you bring to your job. To help you achieve this task, we created this complete guide on how to write an administrative assistant resume and paired it with practical examples for your learning benefit.
Administrative Assistant Resume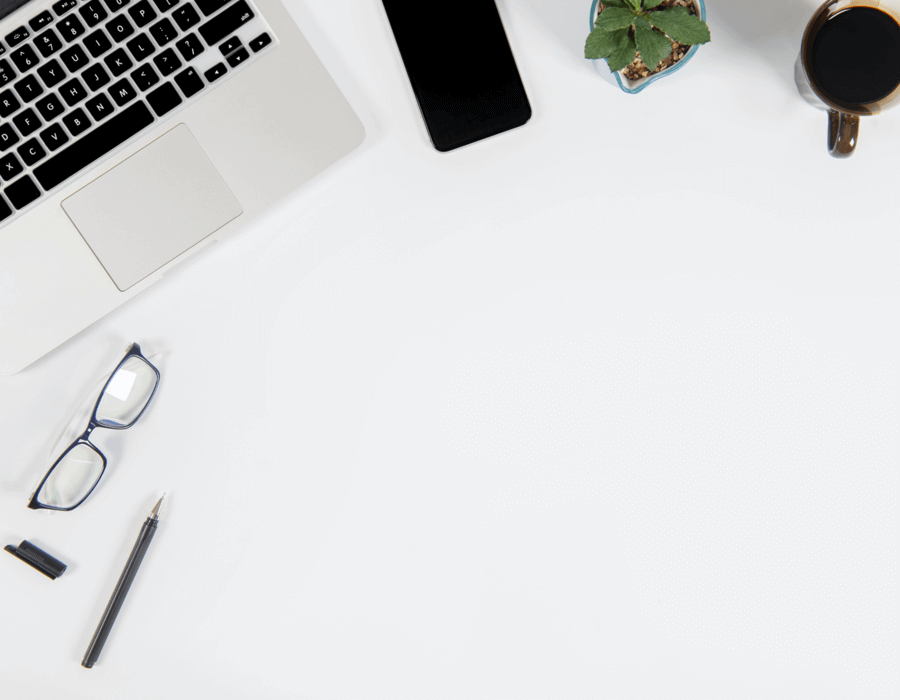 Administrative Assistant Resume
Use this administrative assistant resume example to see what you should include in each section and format your resume correctly.

Every resume should include:

Contact information with your name, e-mail, phone number and location.
An impactful professional summary or objective statement.
Work experience in reverse-chronological order.
Quantifiable achievements in the work history section.
A variety of hard, soft and technical skills.
An education section that lists your degree and school.
Custom sections such as certifications, licenses or awards.
Free Downloadable Resume Templates
Prepare to Write Your Resume
Diving into writing your resume without any preparation can be overwhelming. To make the process smooth for you, we gathered some tips to get you ready with all the information and tools you need to write a great resume. Before sitting down on your computer to look for the ideal template or starting to draft sections, make sure you complete these steps:
Study your desired role's job description and list the top requirements needed for the position. Pay attention to the skills they're looking for, such as spreadsheet management, office administration, and organizing mail. If you match most of the requirements, you have a good chance of being considered for the job.
Have your data on hand by creating a list of top achievements in your previous and current roles. You'll need to wow employers with specific accomplishments, projects or initiatives that show your impact. Including metrics in numbers, percentages and dollar amounts is a great way to validate your achievements.
Remember to first and foremost be professional. No matter the type of job or the company's culture, there is an etiquette you need to follow when it comes to applying for jobs. Make sure your email doesn't include any nicknames or funny phrases (i.e., coolguymark321@xyz.com).
Be aware of your audience. Before your resume reaches your potential boss, a recruiter and an applicant tracking system (ATS) will likely do it beforehand. Recruiters are trained professionals who will be looking for spelling mistakes and overused terms like "team player" or "hard worker." The same applies to ATS, which can sabotage your resume if you use fancy fonts, incorrect spelling, or include acronyms without the full concept. Always have both the term and its official acronym. Example: "certified public accountant (CPA)."
Browse resume examples for your desired role. A resume example will show you what a hypothetical candidate's resume looks like. You'll see real examples of what type of skills and accomplishments you should include and how to phrase your resume's content appropriately.
Choose the Right Resume Format
Once you've prepared to write your resume, you should determine the appropriate resume format. Resume formats serve as layouts that help you highlight your strengths and downplay any weaknesses. Depending on the amount of experience you have, you'll choose between the three main formats: chronological, functional, and combination.
Candidates with long and consistent careers will do best with the chronological format by showcasing their extensive list of past professional experiences. On the other hand, applicants with little to no previous experience that want to showcase their skills should choose the functional resume. Candidates who are changing careers or are applying for promotions should opt for the combination format, which will give them the benefit of a balanced resume with equal focus on both the work history and skill sections.
Check out our resume formats guide for more details on how to execute each type of resume.
Chronological

Functional

Combination
How to Write Your Resume With Examples
This step-by-step guide will teach you everything about writing an effective administrative assistant resume. With the help of our resume-writing tips and practical examples, you'll be able to craft an interview-ready resume in no time.
1. Spruce up your Career Objective.
You can use two strategies for your resume's opening statement: the career objective or the summary statement. We recommend using the summary statement since its focus is on showing how a candidate can fulfill the employer's specific needs for the role. On the other hand, the career objective is an appropriate strategy for entry-level professionals, career changers or individuals reentering the workforce.
Let's say you just got your associate degree, and you're looking for a full-time administrative assistant position. Your career objective should establish your goal in this role, contextualize the skills you developed through your education, and draw attention to relevant coursework or internships.
Compare the following poor example of a career objective with the good example further below.
Poor example:
"I'm seeking a full-time job as an administrative assistant, and I'm very eager to work for your office. I believe that I would benefit from the fast-paced environment to polish my skills."
This failed career objective tells us nothing about the candidate's skills and only focuses on what they can gain.
Good example:
"Recent Graduate with an AAS - Administrative Assistant interested in applying for a role in your firm. Equipped with two years of informal experience in reception and database management through work in the college's admissions office. Eager to expand on record-keeping, billing and basic accounting skills."
This career objective tackles this candidate's lack of experience positively by listing valuable skills gained through a part-time job in college. This example is specific about the type of skills the candidate has and their level of education, giving the employer a better idea of the candidate's talents. This strategy is the best choice for this scenario because it tackles a red flag in the candidate's resume — in this case, a lack of formal experience — and presents it in a positive light.
Make the most of your summary statement by personalizing it with these writing tips:
Add quantifiable contributions that help employers visualize the impact of your efforts such as the number of staff members you supervised or the number of labor costs saved by your collaboration with another department.
Include two or three of your most job-relevant skills, such as spreadsheet management or data entry; bonus points if they appear as keywords in the job description. Your career objective will encompass all your professional attributes by adding skills alongside your goals, level of education, and impressive accomplishments.
Share any relevant certifications that show you're more than qualified for the job, for example, being certified in MS Office or Google Suite. Including the strongest elements of your resume in the career objective ensures hiring managers learn the best of you even if they just skim your resume.
Study this summary statement example and choose your strategy wisely:
"Resourceful Administrative Assistant adept at anticipating professional needs and proactively identifying and resolving problems. Bringing over five years experience of unparalleled organization standards. Proficient in rigorous bookkeeping with accounting background. Excellent staff management and delegation skills."
2. Gather and categorize your skills.
Top Administrative Assistant skills
to put in your resume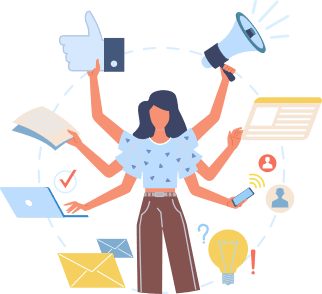 2.
Office Administration Procedures
Your resume should include at least one skills section consisting of six to eight skills. To maximize your chances of getting an interview, you can increase this number by distributing more skills throughout different sections of your resume, such as in the work history and professional summary.
Besides a listed section, you can have an expanded skills section with three to four bullet points per skill. These bullet points consist of examples of tasks and accomplishments that demonstrate how you executed each skill.
Let's look at the example below to understand better:
Skills
Organization
Managed four executives' agendas, including booking monthly business trips, scheduling daily appointments, and recording bi-weekly board meetings.
Developed a cloud-based database and digitized over 250 existing files to track office finances, reducing error margin by 21%.
Routed and distributed over 75 weekly letters and 40+ daily emails to the proper departments and individuals in the organization.
This robust skills section goes into detail when describing tasks and accomplishments while legitimizing them with provable metrics.
It's important to note that the skills you use here aren't repeated in other sections throughout your resume. You can diversify the skills on your resume by making sure you have a good mix of all three skills types: soft, hard and technical.
Soft skills are a set of personal abilities that describe the way you work independently of your job or industry. Valuable soft skills for an administrative assistant can be phone etiquette, problem-solving, prioritization, and delegation.
Hard skills are acquired through education, training or practical experience. They relate more closely to your particular job. An administrative assistant should have hard skills like database management, billing and record-keeping, data entry, and editing.
Technical skills refer to your level of understanding of certain technologies and digital tools. For example, an administrative assistant can list the following technical skills: proficiency with accounting software, expertise in MS Office programs, and knowledge of mass-mailing systems.
Take a look at this list of administrative assistant skills, and add the ones you possess to your resume.
Soft Skills:
Communication (written and verbal)
Organization
Prioritization
Delegation
Problem-solving
Attention to detail
Multitasking
Flexibility
Anticipates needs
Public speaking and presentation skills
Hard skills:
Editing and proofreading
Office administration procedures
Billing and record-keeping
Data entry
Database management
Spreadsheets
Accounting
Business administration
Calendar management
Travel management
Inventory and supply management
Technical skills:
Expert in MS Office, i.e., Word, Excel, PowerPoint
Proficiency in accounting software, i.e., QuickBooks, Sage X3, Xero
Advanced knowledge of mailing tools, i.e., MailChimp
Adept in customer relationship management software, i.e., Salesforce, Zoho CRM, HubSpot
Skilled in project management tools, i.e., Monday, Asana, Agile
You can also find more job-specific skills for administrative assistants in our Resume Builder. Our resume-writing tool automatically suggests skills and pre-written content so you can finish your resume faster!
3. Showcase your work history.
Your work history consists of your most recent jobs organized in reverse chronological order. You start with your current or most recent role and work your way backward.
Every work history entry needs to include the job title, name of workplace, location, and dates of employment. Follow each entry with three to four bullet points describing your most impressive tasks and accomplishments.
Let's compare these poor and good examples of a work history to better understand how to write this section correctly.
Poor example:
Work History
February 2018 - Current
Administrative Assistant | Voyage Flights & Trips | Miami, FL
Managed CEO's contact book and routinely communicated with clients
Kept track of important office files and updated spreadsheets when necessary
Organized travel itineraries of company executives
This example doesn't go in-depth when describing tasks nor mentions any particular achievements. Without quantifiable achievements or skills, this work history seems generic and unimpressive.
Good example:
Work History
February 2018 - Current
Administrative Assistant | Voyage Flights & Trips | Miami, FL
Managed over 350 external contacts for the CEO and kept track of periodic communication records with VIP clients.
Produced more than 25 rigorous office files daily and created quarterly state of the company presentations for over 100 executive and staff members.
Monitored complex calendar management of 10 executives focusing on the proper allocation of executive availability.
This work history entry is much more comprehensive than the previous one. By including specific examples of job duties and backing them up with numbers, the work history accurately conveys the candidate is an efficient professional.
If you want to fortify your work history, even more, follow these tips:
Focus on the job requirements: Instead of listing all your previous job duties and skills, pay attention to what the employer is asking for. Share examples of tasks and accomplishments that show you can bring solutions to this new role.
Include quantifiable achievements: Whether it's the number of hours worked per shift or increases in productivity, try to add quantifiable achievements in your work history. These metrics prove to the employer you've had a unique and measurable impact on your previous roles.
Pull keywords from the job advertisement: Show hiring managers you're the perfect candidate for the role by including keywords from the job description. These keywords will be desired skills or job requirements. Having them in your resume, whenever they apply to your skillset, will add a lot of value to your application.
4. Finish with your Contact Information, Education and any custom sections
Education
Your education section consists of your degree, institution where you studied, its location and graduation dates. We always advise candidates with a high school diploma or GED to omit that graduation date to avoid hiring bias from employers.
Although employers do not always require it, it's common to have a postsecondary degree in Business Administration, Office Management, Secretarial Science or Office Systems. For general administrative assistant roles, an associate degree in these fields can suffice. If you're applying for an executive assistant or executive secretary position, a bachelor's degree in these areas of study is to be expected.
Administrative assistants can also specialize themselves to work in the medical or legal fields. Whether you have a BA, an AA or an administrative assistant certification, relevant coursework for legal or medical terminology and procedures are crucial if you want to be a specialized administrative assistant in these fields.
Certifications, Licenses and Custom Sections
After including your key resume sections, you can consider adding extra sections to list any certifications, licenses, or training you've acquired to advance your administrative skills and knowledge.
Certifications an administrative assistant should have are:
Microsoft Office Specialist
This certifies that you have expert knowledge and management of Microsoft Office Suite products, such as Word, PowerPoint, Excel, Outlook, Access and more.
Google Workspace Certification
This certification ensures you have a mastery of all G Suite tools such as Gmail, Drive, Sheets, Forms, Docs and Google Meet.
Certified Administrative Professional
This continuing education certificate guarantees that you have the knowledge and the practical ability to be an administrative professional. It requires you to have at least two years of experience under your belt.
Fundamental Payroll Certification
Show you have a baseline competency in payroll production, payroll accounting, payroll taxation and payroll systems with this renewable certification.
You should also be taking continuing education and training courses throughout your career. Having this in your resume ensures employers you're keeping up with the latest programs and technologies and you're interested in advancing your career.
Some training courses you should consider are:
Finance and Accounting for Administrative Professionals
Project Management for Administrative Professionals
Leadership & Management
Data Management
IT & Cyber Security
Your contact information should be practical and straightforward. Just add your full name, the city and state you're based, your phone number and your professional email address.
Free Downloadable Resume Templates for Administrative Assistants
Use these free downloadable administrative assistant templates to edit on your preferred word processor. Once downloaded, simply replace the filler text with your own resume content and fix any formatting hiccups.
FAQ
What are the top 3 skills of an administrative assistant?
Every administrative assistant role will have its own requirements based on the goals the employer wants to achieve with this position. For instance, an administrative assistant in a real estate firm won't require the same top skills as an administrative assistant in a non-profit organization. However, three essential top skills any administrative assistant should possess are excellent organizational skills, dependability and problem solving skills.
How can an administrative assistant stand out?
In a competitive job market with fellow candidates with similar skills, you are right to look for ways to stand out to your potential employer. A strong skill set will cement you as a desirable candidate, but showing initiative, planning ahead and anticipating needs will make you an essential asset.
What is a good objective statement for an administrative assistant?
If you're applying for a first time job as an administrative assistant, a good objective statement should establish what you hope to accomplish in your role and how the company will benefit from your endeavors. For example, an objective statement for an administrative assistant in a real estate firm could say that the candidate expects to shadow agents to gain knowledge of negotiation tactics, financing, mortgages and specific legal matters. However, remember to pivot this to benefit the employer and remind them that gaining that knowledge will allow you to be a more efficient administrative assistant that can anticipate needs and solve problems quicker and better.