Construction Resumes: Overview
Construction professionals are vital in bringing structures to life and supporting various industries. There are diverse job titles such as:
Construction Worker
Construction Manager
Architect
Civil Engineer
Estimator
To succeed in the construction field, one must possess a combination of technical and soft skills. Employers highly value effective communication, problem-solving abilities, and attention to detail.
Ready to take the next step in your construction career? Explore our entire collection of customizable resume examples and downloadable templates to craft a resume that sets you apart in this dynamic industry.
Construction Superintendent Resume Example
This construction resume example exemplifies the key elements that make your resume stand out and grab the attention of potential employers.
Professional Fonts and Formatting:

The use of professional fonts and consistent formatting throughout the resume gives it a polished appearance to impress construction employers.

Quantified Experience:

Accomplishments are quantified with numbers and metrics, demonstrating the candidate's impact on previous projects.

Tailored for the Job:

The resume is tailored to the specific job applied for, aligning the candidate's skills with the requirements of the construction superintendent position.

Clean and Organized Layout:

This resume's layout is easy on the eyes, with clear sections and headings that make it simple to navigate.
Construction Project Manager Resume Example
This construction project manager example resume impresses employers with unique qualities that set it apart from the rest, particularly due to its design and content choices.
Effective Whitespace:

Ample white space ensures that the content is not overwhelming and allows for a balanced presentation.

Relevant Project Experience:

Detailed descriptions of past projects provide a comprehensive view of the candidate's experience and contributions.

Well Written Summary:

The candidate's career summary is engaging and effectively communicates their passion for construction and career goals.

Consistent Branding:

The resume's design aligns with the industry's aesthetic, making it instantly recognizable as a construction professional's document.
How to Write a Construction Resume: A Step-by-Step Guide
Writing a compelling construction resume is a critical step in securing your dream job in the industry. Follow this resume writing guide to ensure your construction resume showcases your skills and qualifications effectively:
Choose a Format:

There are three types of resume formats and you should pick the one that best fits your needs. The chronological resume format is the most common and focuses on job history.

The functional resume format is less common and not as ATS-friendly, however, it is good for those with less experience, like recent high school graduates, because it focuses on transferable skills. Finally, there is the combination resume format, which uses elements from both the chronological and functional approaches.

Contact Information

Ensure your contact information is clear and up-to-date. Include your full name, phone number, a professional email address, city and state of residence, and a LinkedIn profile if appropriate.

Summary or Objective:

Start off your resume with a powerful summary or objective statement. A resume summary, typically 2-3 sentences, highlights your relevant experience, skills, and what you bring to the role.

An objective statement outlines your career goals and how they align with the customer service position you're pursuing. Choose the one that best suits your situation and customize it for each specific job application.

Work History:

Detail your work history in reverse chronological order, starting with your most recent position. Include job title, company name, dates employed, key responsibilities and accomplishments. Make sure to use action verbs and quantify your experience as much as possible.

Skills:

Highlight both technical skills and soft skills that are essential in the construction industry. Include skills such as project management, equipment operation, safety protocols, and any relevant certifications or licenses.

Education:

List your educational background, starting with your highest degree or certification. Include the type of degree or certification earned, the name of the institution, and location. If relevant and helpful, you can include other information such as GPA or graduation date.

Additional Sections (optional):

Consider adding additional sections to further enhance your construction resume such as certifications (such as OSHA), trainings, professional affiliations, languages, and awards to help enhance your construction resume.
Key Skills and Certifications For Construction Resumes
To excel in the construction industry, possessing a combination of hard skills, soft skills and relevant certifications is crucial. Here's a breakdown of the top skills and certifications that can make your construction resume stand out:
Top 5 Hard Skills for Construction Jobs
Blueprint Reading: The ability to interpret and work from construction blueprints is essential for understanding project plans and specifications.
Equipment Operation: Proficiency in operating heavy machinery and construction equipment, such as excavators, bulldozers, and cranes, is highly valued.
Structural Analysis: Understanding the principles of structural analysis helps ensure the safety and stability of construction projects.
Materials Knowledge: Familiarity with various construction materials and their applications is crucial for selecting the right materials for each project.
Safety Protocols: Mastery of safety regulations and protocols is essential for maintaining a safe work environment and preventing accidents on construction sites.
Top 5 Soft Skills for Construction Jobs
Communication: Effective communication is vital for coordinating with team members, subcontractors, and clients, ensuring everyone is on the same page.
Problem-Solving: Construction projects often present unexpected challenges, and adapting and finding solutions is a valuable skill.
Attention to Detail: Precision is crucial in construction to avoid costly errors and ensure the quality of work.
Teamwork: Collaborative teamwork is a cornerstone of successful construction projects, requiring working harmoniously with diverse teams.
Time Management: Managing project timelines and meeting deadlines is essential to keep construction projects on track and within budget.
Top 5 Certifications for Construction
OSHA 30-Hour Certification: This certification demonstrates a commitment to workplace safety and is often required on construction sites.
LEED Certification: For professionals involved in sustainable construction, this certification showcases expertise in green building practices.
CPR and First Aid: These certifications are valuable for ensuring the safety and well-being of team members in the event of accidents or emergencies.
Project Management Professional (PMP): Ideal for construction managers, this certification validates skills in project planning and execution.
Welding Certifications: Various welding certifications, such as AWS (American Welding Society) certifications, are valuable for welders in construction.
Incorporating these skills and certifications into your construction resume demonstrates your competence and increases your chances of landing your desired construction job.
Here's What People Are Saying About Us
12 Tips For Writing A Construction Job Resume
Creating a construction job resume that stands out in a competitive job market requires attention to detail and a strategic approach. Follow these tips to ensure your construction resume makes a lasting impression:
Tailor Your Resume: Customize your resume for each job application. Highlight the skills, experiences, and qualifications most relevant to your specific construction job.
Use Action Verbs: Start each bullet point with powerful action verbs to describe your accomplishments. Action verbs like "managed," "constructed," and "implemented" convey your impact effectively.
Quantify Achievements: Whenever possible, use quantifiable metrics to showcase your achievements. For example, mention how you reduced project costs by a certain percentage or completed projects ahead of schedule.
Highlight Certifications: Place your relevant certifications prominently on your resume. These certifications demonstrate your commitment to safety and industry standards, as well as can reveal certain technical skills.
Emphasize Safety: Stress your commitment to safety in your resume. Mention any safety training, protocols, or procedures you've implemented to create a secure work environment.
Showcase Soft Skills: Don't forget to highlight your soft skills, such as teamwork, communication, and problem-solving. These skills are invaluable in the construction industry.
Include Relevant Keywords: Incorporate industry-specific keywords from the job posting into your resume. This can help your resume pass through applicant tracking systems (ATS) and reach human recruiters.
Be Concise: Keep your resume concise and focused. Aim for a one-page resume if possible, and prioritize the most important information.
Proofread Thoroughly: Carefully proofread your resume to eliminate typos and grammatical errors. Errors can create a negative impression on potential employers.
Seek Feedback: Ask a trusted friend or colleague to review your resume. Fresh eyes can catch areas for improvement that you might have missed.
Include a Portfolio: Consider including a link to an online portfolio showcasing your construction projects if applicable. Visual evidence of your work can be highly compelling.
Update Regularly: Keep your construction resume updated with your latest accomplishments, skills, and certifications. This ensures you're always ready for new opportunities.
By following these tips, you'll be well-equipped to create a construction resume that meets industry standards and sets you apart as a top candidate in the construction job market.
View Similar Resume Examples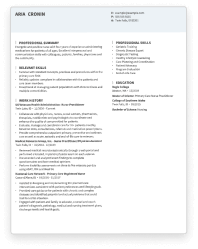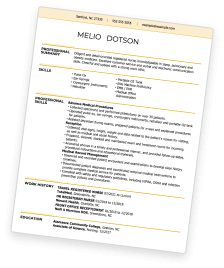 Save Time With Hloom's Resume Builder
Key Takeaways
In the construction industry, prioritizing safety is crucial. Showcase your commitment to safety through certifications, training, and adherence to industry standards.

Tailor your construction resume for each job application by emphasizing the skills and experiences most relevant to the specific role you're pursuing.

Use quantifiable metrics to highlight your accomplishments, demonstrating your impact on cost savings, project completion times, and safety improvements.

While hard skills like equipment operation and blueprint reading are essential, don't forget to emphasize soft skills such as communication and teamwork, which are equally valuable in construction.

Regularly update your construction resume with new certifications, skills, and achievements. A well-maintained resume ensures you're always ready for new opportunities in the dynamic construction field.
Save Time With Hloom's Cover Letter Builder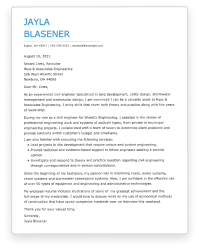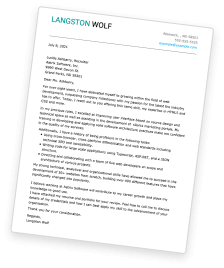 Construction Job Resume FAQ
Updated: April 11, 2022
The preferred resume format in construction often depends on your career stage. Experienced professionals may use a chronological format to highlight their work history, while those changing careers or with employment gaps might opt for a functional format to emphasize skills. A combination format can also work well for versatility by using features from both formats.
Certifications are highly important on a construction resume. They demonstrate your commitment to safety, adherence to industry standards, and expertise in specific areas. Certifications like OSHA 30-Hour and industry-specific credentials can make your resume more appealing to employers.
In the skills section, include a mix of technical skills like equipment operation, blueprint reading, and structural analysis, along with soft skills such as communication, problem-solving, and teamwork. Highlight certifications, safety protocols, and any additional skills relevant to the job you're applying for.
Although not necessary, including a summary or objective on your resume for a construction job can be very useful. It briefly overviews your career goals and what you bring to the construction role. By tailoring this section to the specific job you're applying for, you can make a strong initial impression with potential employers.
To stand out, customize your resume for each application, emphasizing relevant construction skills and qualifications. Quantify your achievements, showcase safety initiatives, and include industry-specific keywords. Highlight soft skills like communication and teamwork, and maintain a clean, professional layout.
Yes, you can include non-construction work experience if it's relevant to the job you're applying for. Transferable skills like project management, leadership, and problem-solving gained from non-construction roles can be valuable in the industry.
Yes, it is a good idea to
include a cover letter
when applying for a construction job. A cover letter complements your resume by allowing you to express your enthusiasm for the position, highlight specific qualifications, and explain how your skills match the job requirements. It provides a more personalized introduction to your application.