Finance Resumes: Overview
Finance professionals are crucial in managing and optimizing financial resources within organizations. They are responsible for strategic financial planning, budgeting, risk assessment, and ensuring fiscal responsibility.
Popular roles in finance include:
Financial Analyst
Investment Banker
Accounting Manager
Chief Financial Officer (CFO)
Financial Planner
In the competitive world of finance, possessing the right skills and qualifications is essential. Employers seek candidates with strong analytical abilities, attention to detail, financial acumen, and excellent communication skills. Additionally, certifications like CFA (Chartered Financial Analyst) and CPA (Certified Public Accountant) can set you apart.
In this article, you will find high-quality examples of finance resumes. For more options, explore our entire collection of professional resume examples and customizable templates to create a standout resume that gets you noticed by top employers.
Finance Resume Example: Branch Manager
This exceptional branch manager example showcases the elements that make a standout finance resume for several reasons.
Professional Design:

The resume's clean and organized layout ensures easy readability, making it aesthetically pleasing and clear in its communication.

Quantifiable Achievements:

The resume includes quantifiable achievements, such as "12.5% increase in sales%," which demonstrate real impact and showcases unique value of the candidate.

Effective Summary:

The summary is tailored to the finance role, highlighting relevant skills and experience, while highlighting a passion for the position.

Efficient Whitespace:

The careful use of white space makes the content easy on the eyes and also brings important qualifications to attention.
Finance Resume Example: Credit Analyst
This well crafted credit analyst resume example provides another perspective on what makes an effective finance resume with the help of its choices in content and design.
Colorful Header:

It uses a unique color scheme in the header that grabs attention without distracting from the rest of the resume, engaging the reader with creative professionalism.

Keyword Placement:

This resume example incorporates finance-specific keywords, optimizing it for applicant tracking systems (ATS) and helps qualifications stand out with readers.

Relevant Experience:

The experience of this finance resume shows a work history filled with important qualifications and successful results.

Clear Headings:

Section dividers are creatively designed to break up the content, making it easy to navigate.
How to Write a Finance Resume: A Step-by-Step Guide
Are you ready to create a finance resume that makes a lasting impression on potential employers? Our step-by-step guide will help you craft a winning resume and let you take your career to the next level!
Pick a Format:

When it comes to crafting your resume, you've got a variety of options to consider. Check out the different resume formats available and select the one that suits you best. The chronological resume format is the most commonly used choice, centering on your job history.

On the flip side, the functional resume format offers an alternative approach. While it's not as prevalent and may not be as ATS-friendly, it can be a solid pick, particularly for individuals with limited experience. Recent high school graduates, for instance, can benefit from its focus on transferable skills. Lastly, there's the combination resume format, blending elements from both the chronological and functional methods.

Contact Information:

Include your name, phone number, email address, and LinkedIn profile (if applicable). Ensure your contact details are up-to-date and professional.

Summary or Objective:

Energize your resume by initiating it with a compelling introduction or purposeful declaration. A resume summary, typically comprised of 2-3 sentences, spotlights your pertinent background, proficiencies, and the value you bring to the role.

An objective statement delineates your vocational aspirations and how they harmonize with the customer service position you're pursuing. Select the one that aligns most suitably with your circumstances and tailor it for each distinct job application.

Work History:

Detail your work experience in reverse-chronological order. Include your job title, company name, dates of employment, and key responsibilities and achievements. Use quantifiable metrics wherever possible to demonstrate your impact.

Skills:

List your finance-related hard and soft skills. Hard skills may include financial analysis, data analysis, or software proficiency. Soft skills may encompass communication, teamwork, and problem-solving abilities.

Education:

Share your educational background, including degrees, institutions, graduation dates, and relevant certifications. Highlight any finance-specific qualifications, such as CFA or CPA.

Additional Sections (optional):

Consider including additional sections like professional memberships, publications, or language proficiency, if applicable and relevant to your finance career.
Key Skills and Certifications For Finance Resumes
In the world of finance, having the right skills and certifications is crucial to stand out in the competitive job market. Here are the top hard skills, soft skills, and certifications that can make your finance resume shine.
Top 5 Hard Skills for Finance
Financial Analysis: Proficiency in analyzing financial data and making data-driven decisions is fundamental in finance roles.
Excel and Financial Software: Mastery of computer skills and spreadsheet software like Excel and financial tools is a must for data management and analysis.
Risk Management: The ability to assess and mitigate financial risks is essential to protect assets and investments.
Financial Modeling: Skill in building financial models helps in forecasting and strategic planning.
Regulatory Compliance: Understanding financial regulations and compliance requirements is critical, especially in finance.
Top 5 Soft Skills for Finance
Analytical Thinking: Finance professionals should have strong analytical skills to interpret complex financial data.
Communication: Effective communication is key for presenting financial insights to colleagues, clients, and stakeholders.
Attention to Detail: In finance, precision matters. Being detail-oriented ensures accurate financial reporting.
Problem Solving: Finance roles often involve identifying and solving financial challenges and inefficiencies.
Teamwork: Collaborating with cross-functional teams is common in finance departments, so strong teamwork skills are valuable.
Top 5 Certifications for Finance
Chartered Financial Analyst (CFA): A globally recognized certification demonstrating expertise in investment management and financial analysis.
Certified Public Accountant (CPA): Essential for accounting and auditing roles, showcasing your understanding of accounting principles.
Certified Management Accountant (CMA): Focusing on financial management and costing, it's ideal for management accounting careers.
Financial Risk Manager (FRM): Ideal for risk management professionals, it signifies expertise in assessing and managing financial risk.
Certified Treasury Professional (CTP): Demonstrates proficiency in treasury and cash management, a valuable skill in finance.
In conclusion, incorporating these hard and soft skills, along with relevant certifications, into your finance resume will not only make it more attractive to employers but also demonstrate your readiness to excel in the finance industry.
Here's What People Are Saying About Us
10 Tips For Writing a Finance Resume
Tailor Your Resume: Customize your resume for each job application, emphasizing skills and experiences relevant to the specific role in finance.
Quantify Achievements: Use numbers and quantifiable metrics to showcase your impact, such as "Managed a portfolio worth $X million" or "Increased revenue by X%."
Keyword Optimization: Incorporate finance-specific keywords from the job description to improve your chances of passing through applicant tracking systems (ATS).
Professional Summary: Write a concise professional summary at the beginning of your resume, highlighting your career goals and key qualifications.
Highlight Technical Skills: Include a section dedicated to technical skills, listing software proficiency and financial tools you're familiar with.
Relevant Certifications: Place your finance-related certifications prominently in the education section or under a dedicated certifications section.
Use Action Verbs: Start bullet points with strong action verbs like "led," "managed," "analyzed," or "implemented" to convey your accomplishments effectively.
Reverse Chronological Order: List your work experience in reverse-chronological order, with the most recent job first.
Include Internships: Don't overlook internships or relevant volunteer experiences, especially if you're new to the finance field.
Proofread Thoroughly: Eliminate errors by proofreading your resume carefully. Consider seeking feedback from a trusted friend or colleague in finance.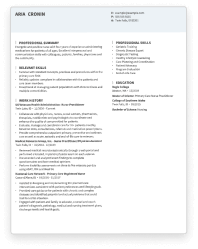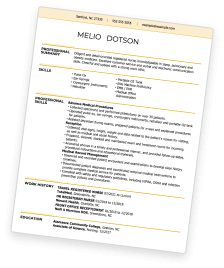 Save Time With Hloom's Resume Builder
Key Takeaways:
Crafting an effective finance resume is essential for professionals seeking opportunities in this competitive field.

Finance resumes should be tailored to the specific job you're applying for, with a focus on quantifiable achievements.

Including the right hard and soft skills, along with relevant certifications, can significantly enhance your finance resume.

Utilize industry-specific keywords to improve your resume's visibility to applicant tracking systems (ATS).

Following best practices such as using action verbs, proofreading, and selecting the appropriate resume format will help you create a standout finance resume.
Save Time With Hloom's Cover Letter Builder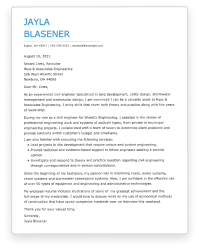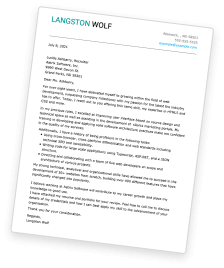 Finance Resume FAQ
Updated: October 05, 2023
Tailoring your finance resume involves a strategic approach. Begin by thoroughly studying the job description to understand the specific requirements of the position. Identify keywords, skills, and qualifications that the employer is seeking. Then, customize your resume by highlighting relevant experiences, achievements, and skills that align with the job posting. This not only helps your resume pass through applicant tracking systems (ATS) but also demonstrates to recruiters that you are a strong fit for the role.
The ideal length for a finance resume is typically one to two pages. It's essential to strike a balance between providing enough information to showcase your qualifications and keeping the document concise and easy to read. For experienced professionals, a two-page resume is acceptable, while recent graduates or those with limited experience can aim for a one-page resume. Focus on including your most significant achievements and relevant details to make the most of the available space.
Including your GPA on your finance resume is a decision influenced by several factors. If you are a recent graduate with a strong GPA (typically 3.0 or higher), it can be beneficial to include it, as it demonstrates your academic excellence. However, for experienced professionals, it's generally not necessary to include your GPA. Instead, emphasize your work experience, skills, and accomplishments in the finance field. Always remember to prioritize the information that is most relevant to the specific job you're applying for.
Making your finance resume stand out requires a combination of effective content and presentation. Use specific numbers and metrics to highlight your accomplishments, such as revenue increases, cost savings, or investment returns. Incorporate relevant keywords from the job description to optimize your resume for ATS and align it with the employer's needs. If you have finance-related certifications like CFA or CPA, showcase them prominently in your education or certification section.
While cover letters are not always mandatory, they can be valuable for finance professionals. A well-crafted cover letter provides an opportunity to express your genuine interest in the position, explain how your skills align with the job requirements, and convey your enthusiasm for the organization. It also showcases your written communication skills, which are essential in finance roles. While not every application may require a cover letter, consider preparing one for positions that are particularly important or competitive. It's an additional tool to strengthen your application and make a positive impression on recruiters.
Writing a resume for a finance job requires a thoughtful approach. Carefully review the job description to identify the skills and qualifications the employer is seeking, and emphasize relevant experiences and achievements. Select the appropriate resume format based on your career history and goals. Common formats for finance resumes include chronological, functional, and combination. Tailor your choice to showcase your strengths effectively.