Graphic and Web Design Resumes: Overview
Graphic and web design professionals are crucial in visually communicating ideas, products, and services. They design captivating graphics, create user-friendly websites, and ensure a seamless user experience, with job titles such as:
Graphic Designer
Web Designer
UI/UX Designer
Creative Director
Digital Marketing Designer
To excel in this competitive field, graphic and web designers need a creative eye, proficiency in design software, and excellent communication skills.
This guide is here to help you build the best resume possible for your next graphic or web design job. For more help, check out our entire library of customizable resume examples and downloadable templates today!
Web Designer Resume Example
This example of a web designer's resume showcases experience and skills in an attractive and professional format that you can use as a template for your next job application.
Easy to Read:

The clearly defined sections and use of a professional font make it easy for hiring managers to find the necessary information quickly. Font choices are critical to great graphic and web design, so choose an attractive, readable font in a legible font size.

Professional Summary:

This web designer's resume summary example concisely summarizes key skills and experiences at the top of the document which immediately grabs attention. A well-written professional summary is a great way to quickly catch a hiring manager's eyes.

Design/Layout:

The resume features an eye-catching layout with subtle use of color and well-balanced white space. This web designer resume template uses a chronological format, highlighting work experience.

Skills Section:

A dedicated skills section highlights technical expertise relevant to web design. For example, Adobe Photoshop, Illustrator and Dreamweaver, Responsive/Adaptive Design and Wireframing.
Graphic Designer Resume Example
Take a look at this graphic designer resume example which uses an engaging design with a focus on skills to effectively showcase qualifications.
Visual Appeal:

Subtle color palettes and design elements make this resume visually appealing. For a creative job like graphic web design, the format and layout of your resume can help you stand out from the competition.

Summary Statement:

A professional summary or objective statement is a chance to make a first impression by concisely describing your skills and abilities. For example, a graphic designer may mention they are knowledgeable about logos, marketing materials and website design.

Well-Organized:

This resume template utilizes clear headings, divided into easy-to-read sections emphasizing skills rather than job experience. This functional format is an excellent choice for anyone just beginning their career in graphic web design.

Summary of Qualifications:

This graphic designer resume template includes an overview of qualifications, which is an excellent choice for graphic designers without an extensive work history.
How to Write a Graphic and Web Design Resume: A Step-by-Step Guide
Unsurprisingly, writing a great resume is key to getting the job you want. Check out our step-by-step guide to help you come up with the best resume possible for your next graphic or web design opportunity.
Choose a Format:

Choose between chronological, functional, or combination resume formats. Chronological resumes are great for someone with years of experience, while a combination format may work best for someone just starting out. Consider your resume layout carefully as well. As a graphic or web designer, a visually appealing resume will make the best first impression.

Contact Information:

Include your full name, phone number, email address, location, and LinkedIn profile if applicable. Ensure your information is accurate and up-to-date. This information should be featured prominently at the top of your resume so it is easy to find.

Summary or Objective:

Craft a compelling summary or objective statement to make a great impression on the hiring manager. Be concise but descriptive to highlight your skills and experience in 2-3 sentences. For example, "Strategic web designer specializing in modern web design for a wide range of clients. Skilled at balancing aesthetics with usability to exceed client expectations."

Work History:

Detail your relevant work experience, including job titles, companies, dates, and key accomplishments. List previous employers in reverse chronological order, with your most recent job at the top. Use bullet points to include details about each role that align with the job description you are applying for.

Skills:

Highlight the technical and soft skills that make you a standout designer. Be sure to highlight skills most relevant to the job you are applying for. Skills like WordPress, CMS experience, Wireframing, Adobe Photoshop, Illustrator and Dreamweaver, Website Optimization, and JavaScript are usually highly sought-after graphic and web design skills.

Education:

List your educational qualifications and any relevant certifications or courses. Highlight your most relevant courses or certifications, especially if they are mentioned in the job description.

Additional Sections (optional):

As space allows, you can Include other relevant sections, such as awards, publications, or a QR code or URL linking to an online portfolio of your design work.
Key Skills and Certifications For Graphic and Web Design Resumes
To shine in the world of graphic and web design, you'll need a mix of technical skills and soft skills, as well as certifications to showcase your expertise. Incorporating these qualifications on your resume is a key component to a successful job application.
Top 5 Hard Skills for Graphic and Web Design Resumes
Proficiency in Adobe Creative Suite: Mastery of Photoshop, Illustrator, and InDesign is commonly required for graphic and web design job roles. These computer skills are industry standards, enabling you to create and edit visuals, illustrations and layouts creatively and precisely.
Web Development Skills: Many graphic and web design roles require proficiency in HTML, CSS, and JavaScript. Including these skills on your graphic and web design resume highlights your ability to craft interactive and dynamic web content.
User Experience (UX) Design: The ability to create intuitive and user-friendly interfaces is a highly sought-after skill. The user experience is critical to any website to ensure customer satisfaction and brand loyalty.
Responsive Design: Incorporating responsive design on your resume is imperative in today's context, as it signifies your capability to design websites that adapt seamlessly to various screen sizes and devices, ultimately increasing user engagement.
Typography: Featuring your proficiency in typography is essential as it showcases your skill in selecting and implementing fonts effectively, ensuring a smooth and visually appealing reading experience for users.
Top 5 Soft Skills for Graphic and Web Design Resumes
Creativity: Emphasizing your creativity on your resume is essential because it underscores your capacity to generate innovative and visually appealing design concepts that captivate audiences.
Communication: Highlighting excellent communication skills on your resume is crucial for building rapport with clients and fostering effective collaboration with team members, which is essential in graphic and web design projects.
Time Management: Consistently meeting project deadlines while juggling multiple projects simultaneously requires excellent organizational and time management skills.
Attention to Detail: Showcase your keen attention to detail on your resume to convey your dedication to precision in design work, a quality highly valued in graphic and web design.
Adaptability: Noting your adaptability will demonstrate your capacity to keep up with evolving design trends. Meeting changing client needs and managing shifting priorities is an essential skill for designers.
Top 5 Certifications for Graphic and Web Design Resumes
Adobe Certified Expert (ACE): Including the ACE certification demonstrates proficiency in Adobe software, which is a fundamental toolset for graphic and web design.
Certified Web Designer: Highlighting your status as a Certified Web Designer will validate your web design skills and demonstrate competence in web design to potential employers.
User Experience (UX) Certification: This certificate indicates expertise in UX design principles and will qualify you for jobs in technology, retail, finance, energy and more. Highlight this certification to present yourself as a valuable asset to potential employers.
Front-End Development Certification: There are various front-end developer certificate programs to improve and confirm your web development skills. These certifications will demonstrate your capability to create interactive and user-friendly content.
Responsive Web Design Certification: Showcasing a Responsive Web Design certification on your resume is essential, as it underscores your proficiency in creating web pages that are visually appealing and functional on any device, a skill highly sought after in today's digital landscape.
Without question, incorporating hard skills and soft skills along with relevant certifications into your graphic and web design resume will enhance your credibility and help you stand out from the crowd.
Here's What People Are Saying About Us
10 Tips For Writing A Graphic and Web Design Resume
Tailor Your Resume: Customize your resume for each job application. Highlight skills and qualifications that match the job requirements. Incorporate keywords from the job description to capture the recruiter's attention when possible.
Quantify Achievements: Include concrete numbers and measurable results detailing your experience and accomplishments. For instance, mention the number of clients you've collaborated with or the percentage increase in customer satisfaction you achieved.
Showcase Soft Skills: Emphasize your ability to collaborate with cross-functional teams by showcasing effective communication, adaptability, and problem-solving skills. Communicating technical information to non-technical audiences is crucial to customer satisfaction in the field of graphic and web design.
Stay Current with Design Trends: Keep yourself updated with the latest web design trends, tools, and technologies to demonstrate your commitment to staying relevant in the field. Be aware of aesthetic trends and styles to prevent designs from looking dated or out of style.
Proofread Thoroughly: Eliminate errors and ensure a polished resume by meticulously proofreading your document. Even a small typo can detract from your professionalism.
Use Action Verbs: Describe your contributions using powerful action verbs to convey your achievements more vividly and make your resume engaging. For example, instead of saying you increased efficiency, say you accelerated it!
Include a Professional Summary or Objective: Start your resume with a concise, professional summary or objective statement that provides a snapshot of your qualifications and career goals.
Customize Your Skills Section: Tailor your skills section to align with the specific job requirements. Highlight the skills most relevant to the position you're applying for. When possible, include keywords from the job posting to pass initial screening by recruiters or Applicant Tracking Systems.
Keep It Concise and Readable: Create a resume that is easy to scan by using clear headings, bullet points, and concise language. Avoid overwhelming the reader with excessive information or complicated design elements.
Seek Feedback and Improvement: Don't hesitate to seek feedback from mentors, colleagues, or professionals in the industry to continuously improve your resume and make it more impactful.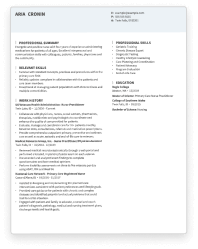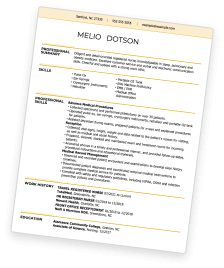 Save Time With Hloom's Resume Builder
Key Takeaways
A successful graphic and web design resume combines visually appealing aesthetics with clear and concise content.

Hard and soft skills, as well as certifications, play a crucial role in impressing hiring managers and potential employers.

Tailoring your resume to the job description is essential for catching the hiring manager's attention. Try to highlight any skills or experience mentioned in the job posting.

Stay updated with the latest design technology trends and continuously improve your skills.

Attention to detail, proficiency in design software and effective communication are key skills for graphic and web designers.
Save Time With Hloom's Cover Letter Builder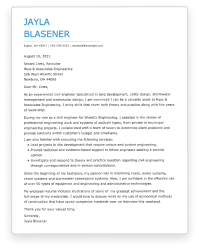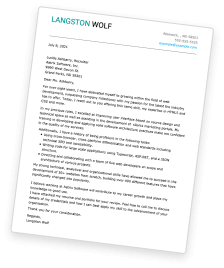 FAQ
Updated: October 12, 2023
It's generally not necessary to include references directly on your resume. Instead, you can create a separate document with references and provide it when requested during the interview process. Use the space on your resume to focus on your skills, experiences, and achievements.
Balancing creativity with readability is key. You can incorporate creativity using a unique but professional layout, color scheme, and typography. Ensure your design choices enhance the overall presentation and don't distract from the content. Simplicity can also be creative when executed effectively.
Adobe Creative Suite, including Photoshop, Illustrator, and InDesign, is widely used in the industry. Familiarity with web development tools like HTML, CSS, and JavaScript is also valuable.
Yes, including personal projects and freelance work can demonstrate your initiative, versatility, and commitment to design. If these projects showcase relevant skills or achievements, consider creating a dedicated section on your resume to highlight them.
Address employment gaps by being honest and strategic. If you were involved in freelance work, courses, or personal projects during the gap, include that in your resume. Use a functional or combination resume format to shift the focus to your skills and accomplishments rather than chronology. During interviews, explain how your experiences during the gap contribute to your qualifications.