Your resume is a one- to two-page document that summarizes your employment potential in one quick pitch. Strategically showcasing specific skills can help elevate you to the top of the candidate pile. But how do you know which skills to add to your resume? Hloom pulled together a list of the most recruiter-desired skills along with expert writing tips on how to increase the persuasiveness of your resume.
Defining Hard and Soft Skills
Resume skills fall into two categories: soft skills and hard skills, according to the Society of Human Resource Management. We'll show you the difference between these two types of skills, and then present those which we've identified as the very best into top-performing categories.
Hard Skills:

According to LinkedIn, hard skills relate to your learned abilities, including any training and education that results in your ability to complete a specific task or work requirement. Examples of this include software training, IT skills, an understanding of the AP/MLA stylebook, or some similar learned skills.

For our own purposes, Hloom organizes hard skills into the following subset of skills. Please note that this isn't a definitive list and there are multiple ways to organize your skills:

Data analysis
Computer programming
Administrative
Finance
Soft Skills:

According to the same study by LinkedIn, soft skills relate to the way we complete or adapt to tasks. They relate to your behavior or method of thinking, rather than any specific training or certificate course that you complete.

We organize our soft skills into the following subset of skills. As we mentioned before, this is a flexible breakdown of skills:

Customer service
Management
Sales
Organization
Communication
Collaboration
Top 20 Most-Requested Soft Skills
1.

Communication

2.

Emotional intelligence

3.

Customer service

4.

Management

5.

Sales

6.

Organization

7.

Collaboration

8.

Conflict management

9.

Time management

10.

Stress management
11.

Culture fit

12.

Productivity and personal drive

13.

Storytelling

14.

Adaptability

15.

Persuasion

16.

Creativity

17.

Empathy

18.

Self-confidence

19.

Positive attitude

20.

Flexibility
Top 20 Most-Requested Hard Skills
1.

Data analysis

2.

Computer programming

3.

Administrative skills

4.

Financial skills

5.

Cloud computing

6.

Artificial intelligence

7.

Analytical thinking

8.

UX design

9.

Mobile application development

10.

Video production
11.

Translation and localization

12.

Audio production

13.

Social media marketing

14.

Business analysis

15.

Journalising

16.

Digital marketing

17.

Industrial design

18.

Competitive strategies

19.

Software testing

20.

Corporate communication
How to Identify and Showcase the Right Skills for Each Job
Although most resumes have dedicated skills sections, a good resume writer can slip additional skills into their resume. The trick is to highlight the most relevant skills to the job at hand in the dedicated skills section, but organically mention additional skills within your professional summary and work experience section.
Pro Tip
How do you find the most relevant skills for a specific job? Easy — go back to the original job posting. At first glance, the job advertisement may look like it outlines the responsibilities and desired qualifications, but there's more information there than meets the eye. Scan the ad for repeated or highlighted keywords or requirements. These keywords are the most-desired qualifications for that specific job. If you possess those skills, feature them prominently in your resume.
Now, we'll show you where to place these desired skills on your resume. There are three primary resume formats recruiters love: the chronological, functional and combination formats. We'll focus on the skill-themed strengths of these three resume formats, but Hloom also has an in-depth guide that breaks down each resume section for you.
Chronological: The chronological resume format features a skills section that sits between your work history section and education section. Since this format prioritizes professional experience, you'll only feature six to eight bulleted skills in the formalized section. As we mentioned before, however, you can add additional skills and proficiencies in the work history and summary statements. We'll dive into how below.
Functional: The functional resume format is affectionately known as the skills-based resume. Although the layout may change and shift, this resume downplays formal work experience and focuses on a combination of the following skills: job-related skills, transferable skills and adaptive/personal skills. You'll provide additional context to your skills. We'll provide examples below.
Combination:The combination is exactly that, a combined resume format that highlights the strengths of the chronological and functional resumes by giving your work history and skills equal weight on the page. Your skills normally sit above your formal work history on this format, but you'll still list an average of six skills in this section and feature additional skills throughout your resume.
Where to Include Skills on Your Resume
As we mentioned before, each of the three main resume formats feature some form of a dedicated skills section. This is the obvious place to showcase any prominent skills.
Skills Section
Chronological: You'll want to add skills that supplement your work history and summary statement, the two sections that come before the skills section in a chronological resume format. For example, if you're a sales associate seeking a store lead position (summary statement), have multiple years of experience and spoke about your previous cashier training and proficiency with numbers (work history section), you'll want to mention familiarity with the various programs your store used (skills section).

Chronological Example

Strong communication skills
Engaged team member
Strong sales numbers
Process 20 transactions per hour
Point-of-sale (POS) systems training
Positive customer service
Functional: This skills-based format focuses more on your capabilities than any formal training or professional experience, and is best suited for those: seeking to change their careers, with a gap in employment, or looking for their first position. Rather than just stating a skill, you'll add examples of how you demonstrate these skills sets.

Functional Example

Customer Service

Escorted guests to the fitting room, suggested flattering products, and helped style new items according to their personal look.
Greeted guests at the entrance and guided interested shoppers to our latest wares.
Introduced members to our loyal rewards programs and averaged one credit card sign-up per shift.

Merchandising

Learned each folding method and was able to properly display units in less than five seconds while engaging with customers.
Memorized the store layout and was able to correctly escort guests to the appropriate sections of the store.
Monitored sales floor and merchandise to minimize shrink.
Provided guests with the best visual experience in our store.
Combination: The combination resume is an interesting format. The skills section is as sparse as the chronological resume, but sits higher on the page. Since your skills sit in a more prominent area of your resume, you'll want to feature the most-desired skills here. Scan the job ad for the most frequently mentioned skills and requirements and place them in this section if you possess them.

Combination Example

Strongest sales numbers in district.
Increased loyalty member sign-ups.
Established customer trust and loyalty with frequent shoppers.
Identified opportunities to minimize shrink.
Try our resume builder and let it work it's magic with our skills section drag & drop feature of the most in-demand skills and more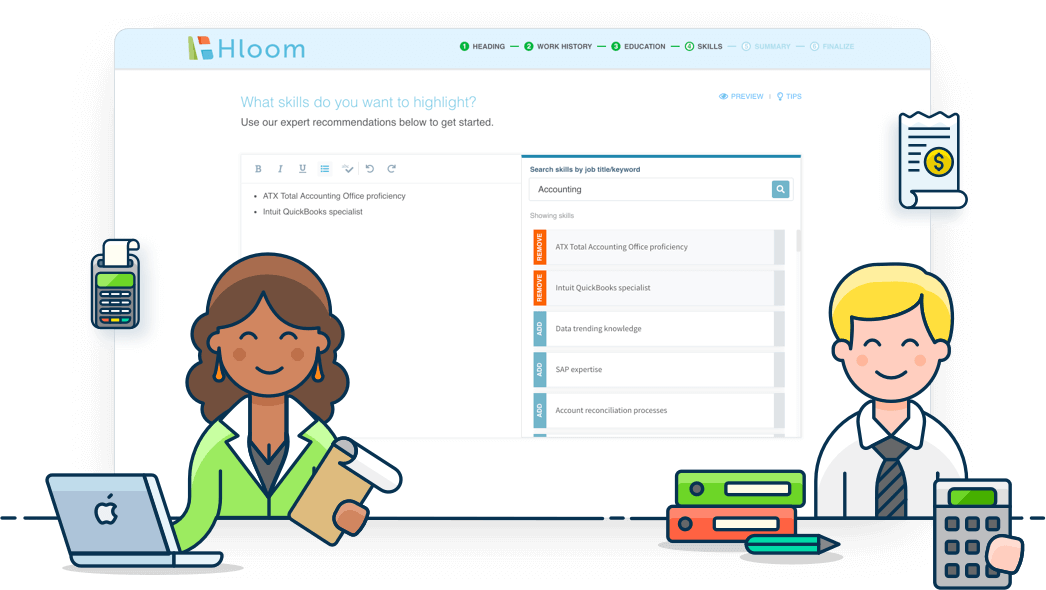 Build Your Resume
Summary Statement
Fortunately, all three resume formats feature the summary statement directly under your name. This brief statement quickly explains how your experience and passion makes you perfect for the role. The ideal statement is a short three sentences that catches the hiring manager's attention and compels them to read on.
Since this section is so concise, you'll only want to mention one important skill set here. That skill set can cover one desirable skill or be interpreted into multiple skills like the example below. Scan the job post for the first repeated requirement and include that in your statement — it'll demonstrate that you pay close attention and that you have the correct experience for the role.
Summary Statement Example
Compassionate registered nurse with over 15 years of experience in pediatric patient care in small practices and large hospital environments. Works well with diverse patient population, and can foster trusting relationships with patients and families to improve communication and outcomes.
The job candidate summarizes their qualifications while slipping in their skills and explaining how practical those skills are.
Compassionate registered nurse with over 15 years of experience in pediatric patient care in small practices and large hospital environments. Works well with diverse patient population, and can foster trusting relationships with patients and families to improve communication and outcomes.
The Most Requested Skills
Customer Service Skills
1.

Clear communication

2.

Empathy

3.

Product knowledge

4.

Positive attitude

5.

Self-control

6.

Sense of responsibility

7.

Patience

8.

Strong listening skills

9.

Attentiveness

10.

Time management
11.

Ability to learn and improve

12.

Knowledge retention

13.

Calm under pressure

14.

Adaptability

15.

Professionalism

16.

Acting chops

17.

Rapid response reaction

18.

Flexibility

19.

Problem-solving skills

20.

Confidence
Management Skills
1.

Leadership

2.

Communication

3.

Collaboration

4.

Critical thinking

5.

Financial acuity

6.

Project management

7.

Social skills

8.

Prioritization

9.

Rational decision-making

10.

Coordination with project stakeholders

11.

Delegation

12

Lead group efforts
13.

Galvanize group efforts

14.

Motivational speaker

15.

Adaptable

16.

Develop and maintain team trust

17.

Motivating

18.

Relevant hands-on experience

19.

Advanced operational training

20.

ORAPAPA (Opportunities, Risks, Alternatives and Improvements, Past Experience, Analysis, People, and Alignment and Ethics)
Collaborative Skills
1.

Trustworthy

2.

Ability to clarify roles

Pro tip: Clarifying roles ties in closely with communication skills, but also relates to your understanding of your team. How can you expect your teammates and employees to understand their roles if you can't accurately describe them?

3.

Open and effective communication

4.

Diversity of ideas

5.

Direct team focus

Pro tip: There's a fine line between directing and controlling your team. Giving clear direction to your team can lead to innovative growth and change, whereas controlling your team limits creativity and can decrease motivation.
6.

Ability to read the room

7.

Setting and maintaining realistic deadlines

8.

Flexibility

9.

Routinely touching base with team

10.

Openness to working outside specialties

11.

Establishing strong mentor/mentee bonds

12.

Being an active member of industry social group

13.

Team-builder

14.

Helpful in completing teammate tasks

15.

Coordinating with multiple departments

16.

Listening and acting on input from others
Organization Skills
1.

Administrative experience

2.

Creative thinking

3.

Productivity tracking

4.

Brainstorming effective processes

5.

Analytical skills

6.

Decisiveness

7.

Project management and tracking

8.

Strategic planning experience/support

9.

Collaborative skills

10.

Delegation skills
11.

Set goals and deadlines

12.

Lead group projects

13.

Budget

14.

Structure data and trends

15.

Scheduling experience

16.

Structural planning

17.

Organize presentations

18.

Mental organizational ability

19.

Set work-life balance

20.

Problem-solving
Communication Skills
1.

Active listener and participant

2.

Provide positive or productive feedback

3.

Gauge body language and social cues

4.

Communicate with large groups

5.

Public speaking skills

6.

Assertive and confident

7.

Quickly absorb and process information

8.

Clarify complex thought and ideas

9.

Cross-cultural understanding

Pro tip:

Recent studies have shown that

diverse workplaces are more profitable

. The wide range of viewpoints and backgrounds lead to well-rounded and inclusive products. An ability to openly engage and collaborate with multiple ideologies and perspectives is seen as a necessary skill in today's job market.
10.

Willing to hear multiple arguments

11.

Ask questions to clarify projects or goals

12.

Open and friendly team collaborator

13.

Encourage honest communication

14.

Quickly communicate project statuses

15.

Open to constructive feedback

16.

Recognize appropriate channels of communication

Pro tip: There's an abundance of communication tools to keep workers connected. It's critical that you understand which channels are best suited for which topics of conversation. For example, you wouldn't inform your fellow stakeholders that they've been removed from a project via text. That conversation would be better suited to a face-to-face followed by a summarizing email that includes your fellow stakeholders.
Sales Skills
1.

Problem-solving

2.

Product knowledge

3.

Drive and focus

4.

Curiosity

5.

Integrity

6.

Charisma

7.

Emotional and self-awareness

8.

Resiliency

Pro tip: There's no way around it — at some point in your career you'll have a rude or aggressive customer. Maybe they had a bad day and you were the unwitting tipping point; perhaps they're a curmudgeon with a fat wallet. Whatever the reason, the savviest salespeople need the ability to steer the conversation and attempt to salvage the business relationship. You also need the ability to shake it off if the conversation ends poorly.
9.

Management skills

10.

Ability to multitask

11.

Rapport-building skills

12.

Persuasive

13.

Self-motivated

14.

Competitive

15.

Collaborative

16.

Strong initiative and self-motivated
Data Analysis Skills
1.

Statistical program training

2.

Knowledge of programming languages (R/SAS, SQL, Python, etc)

3.

Data visualization creation

4.

Experience in data mining

5.

Gather data from primary and secondary sources

6.

Organize data into clearly defined data sets
7.

Discard irrelevant or unrelated information

8.

Identify trends or patterns and translate to business opportunities

9.

Create concise and legible data reports or data visualizations for project partners

10.

Create and maintain databases and/or data systems
Computer Programming Skills
1.

Problem-solving ability

2.

Strong memory

3.

Innovative

4.

Process and brainstorm improvements

5.

System administration experience

6.

Software/hardware installation

7.

IT troubleshooting

8

Provide onsite tech support

9.

Vendor management

10.

Self-motivated and independent

11.

Cloud management

12.

Familiarity with multiple operating systems

Pro tip: It helps with be familiar with the three main operating systems; Windows, MacOS and Linux.

13.

Familiarity with database management programs

Pro tip: You'll want to be familiar with at least one of the following programs; Oracle, SQL, MySQL, Microsoft Access, Teradata
14.

Familiarity with one or more coding languages

Pro tip: If a job requires strong computer programming skills, it's helpful to know one or more of the following languages: HTML, JavaScript, Python, CSS, content management systems or code libraries.

15.

Familiarity with programming software

Pro tip: Be familiar with Java, JavaScript, MySQL, CQL, C#, C++, Python, Ruby on Rails and iOS.

16.

Familiarity with Microsoft Office Suite

Pro tip: This skill set can look a bit dated, as most hiring managers assume that you know your way around Microsoft Office. However, if the job description specifically calls for expertise in Excel or Word, you need to prominently feature this on your resume.

17.

Network automation

18.

Installation and maintenance of conferencing materials

19.

Email management and maintenance

20.

Experienced in website analytics
Administrative Skills
1.

Filing and document management

2.

Above average typing speed

3.

Open to flexible working hours

4.

Bookkeeping and budgeting

5.

Familiarity with office equipment

6.

Exemplary customer service skills

7.

Strong researching skills
8.

Motivated

9.

Self-starter

10.

Strong social media management

11.

Familiarity with Microsoft Office Suite

12.

Excellent time management

13.

Database management

14.

Proven track record
Finance Skills
1.

Project management

2.

Formal accounting certificates or education

3.

Understanding of accounting standards, techniques and principles

4.

Problem-solving skills

5.

Technologically proficient

6.

Highly ethical

7.

Foresight and analytical ability

8.

Interpersonal skills

9.

Strong communication skills

10.

Intuitive financial reporting
11.

Moderate knowledge of accounting software

12.

Innovative mindset

13.

Cost analysis

14.

Cost reduction

15.

Familiarity with GAAP, Microsoft Excel and ledgers

16.

Analytical and prioritization abilities

17.

Risk management

Pro tip: You're handling the money — you need to be incredibly organized to thrive in this position. Hiring managers want to know if you can effectively schedule your time, create and maintain quarterly budgets, and complete projects and paperwork in a timely manner.